How do you stay fresh faced at Disney World?
Believe me, it isn't by accident. It requires some research, for sure. Thankfully lots of people have gone before me and braved the all-day heat, the afternoon rain showers, and the many miles of walking and sweating throughout the day.
Two WDW trips ago, there was this woman boarding the ferryboat in front of me. It was August, and her face was FLAWLESS. I asked her what her secret was, and she said that she uses Anastasia of Beverly Hills Stick Foundation, set with powder.
You MUST set with powder, no question. Elf makes an HD invisible powder that comes in a compact. It's actually pretty great for the $5 price tag.  I love that it has a mirror, and I use a makeup puff that I store in the compact. Many people love fragrance free Coty Airspun Powder, but it is hard to travel with its bulky packaging.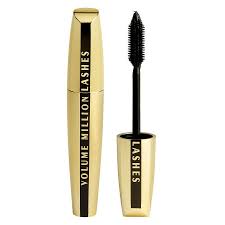 Another great product that works for me was Hourglass Vanish Foundation Stick.  I use it, not only for Disney, but when I am at the pool daily in the summer.  I recommend waterproof products for sure.  For eyeliner, I use the Kat Von D Tattoo Liner in waterproof black, and waterproof mascara L'oreal Voluminous Million Lashes.  (Many beauty vloggers recommend other Voluminous mascaras, as there are at least three types.)
For lipstick, I recommend L'Oreal Infallible Lip 2 Step. It stays on forever. I also use Revlon Colorstay Overtime.  This stuff is "foodproof", which is good for me, because sampling the food at Disney is a main reason for me to go!  It comes with a gloss that you have to put on over the top to protect the color.  It is similar to Lipsense, but has been around a lot longer, and my sister used to use it exclusively during her 20s "going out days."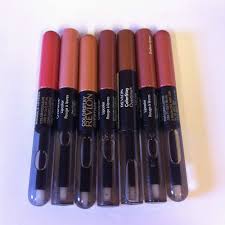 If you are in Disney in August, do NOT put lipstick in your bag, as it will melt.  I find lip stains and tubed lip glosses also work well.  In fact, I put on the Revlon product and leave the tube back in the hotel. Using a balm or gloss is enough to refresh throughout the day.
Gel nailcolor is a good way to jazz up a look that is heat proof, and always carry a hair tie with you.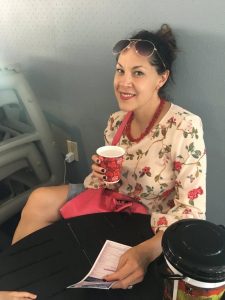 Lastly, don't be afraid of jewelry.  I really love the "Disney Bounding", which if you don't know, is dressing in Disney-inspired, but not costume-y outfits.  (The shirt I have on is in the first photo is from the Lauren Conrad Snow White series.  I paired it with Disney official Snow White apple earrings that I purchased at the Marketplace Co-op at Disney Springs.)
I hope these suggestions work for you, and have a great time at Walt Disney World!
Thanks for Popping In!
Join our newsletter mailing list for exclusive content. Click Here