When doing a ridiculous amount of research for our first Disney trip, I read about a card game played in the Magic Kingdom called Sorcerers of the Magic Kingdom. My eldest was deep into Pokémon at the time (this was before Pokémon Go was a thing), and this sounded perfect for a 10-year old-boy.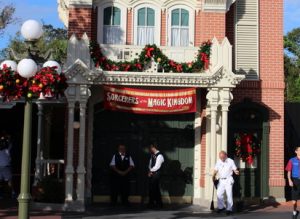 Sorcerers is an free interactive game that debuted in at the Magic Kingdom in 2012. To start the game, head to the Firehouse located between City Hall and the Harmony Barber Shop on Main Street, U.S.A. Castmembers will present you with a pack of cards, a map, and a key card. They will also explain the rules of the game, which are pretty easy.
Each person is entitled to one pack of cards per day, so therefore to maximize play, all four of us received a pack of cards (even though only the kiddos were playing). Each card has a character with their special powers. If your kids have played Pokémon, the cards are similar in the sense that each card has a different strength as well as different defense levels.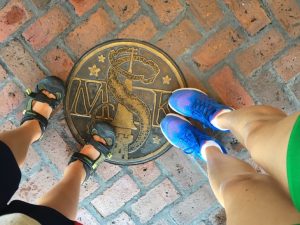 The key card is used at a variety of hidden portals throughout the park to start the game. You will go through the park with a map and stand on the designated circle and face an area where you see a keyhole. When you show your key card, a magical portal will activate in an unexpected place. A story will be told, and you will use your character cards you received to "battle" the situation presented. The situations are very mild.  For example, Ursula has stolen something and you might use your Bolt's Bark card to "defeat" her to ensure you get your item back.
The powers of each card relate to a Disney character. My favorite card so far is "Snow White's Housecleaning Princess Spell".
Each trip to the portals takes only a few minutes, so it is a great thing to do as you wander through the park. You can start the game in several different places, so you can usually begin wherever you were headed into the park anyway.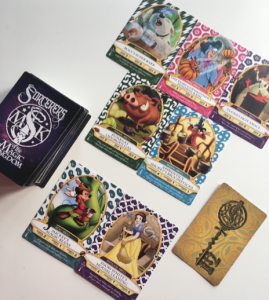 There are about 70 different cards, which are really fun to collect. My son brings his cards each time we return to Disney, and even when he returns home, he invents different cards games with them.
This game has a feel of a scavenger hunt, combined with a battling card game, sprinkled with the Magic of Disney. I love that the portals are in places you wouldn't notice if you didn't know about the game. It is so fun to see where they are hidden!
My children are five years apart, and we thought this was the perfect age where both kids would enjoy the Disney Magic. I recently asked my almost 13-year-old if he was too old for Disney and games like Sorcerers. He very strongly let me know that he was indeed NOT too old for Disney!
So on your next trip to the Magic Kingdom, stop by the firehouse and pick up a pack of cards for you or your kiddos. It's an awesome Disney extra for the whole family.
Thanks For Popping In!