Is there anything better than going to an 11:30 am showing of a Disney movie in the middle of summer?
I'm always not sure about live action movies, as my imagination and my vision of illustrated Disney characters does not want to be disappointed. To my relief, I really loved what the film looked like. It was set in London and the English countryside, with one area being a contrast to the other. The characters retain the Pooh-ness of the colorful Children's books, but also have a vintage feel from the original books. They also told the story, including the not so nice parts, in a way that wouldn't be as disturbing for the little ones, but got the point across. It made me wonder: are there really more stories about Christopher Robin as he grew up?  I would read those.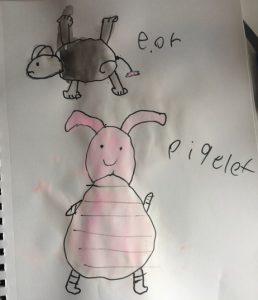 There is a good message in this tale that we can all learn from, and many of Pooh's favorite quotes are tastefully sprinkled throughout the film in a way that let me hear them in a new way!
I don't want to spoil the movie for you, but the Hundred Acre Wood looks like a place where I could breathe, relax, and restore from the stressors of life. This film reminded me to be a child.
When I returned from a meeting last night, my daughter had done several drawings of Pooh and his friends, and I could tell she really enjoyed the film as well.
Christopher Robin was a great movie with a sweet story, beautiful visuals, and a gentle message for us all.