The gondolas are coming. Are you ready?
Disney's new transportation system is in a testing stage right now, but starting on September 29, traveling through the sky via a state-of-the-art gondola will be available to all Disney guests.
The new gondolas are much more advanced than the old sky buckets that use to traverse between Fantasyland and Tomorrowland in the Magic Kingdom. But for those of us who remember the old buckets, seeing the new gondolas sailing through the air brings about some happy memories.
But that's not to say there aren't a lot of opinions and questions about how the gondolas will work.
For one, how will guests get in and out of the cars safely? From what we've heard, when a gondola moves into a station, it will detach from the fast-moving cable and move at a slow crawl so passengers can board. Once loaded, the gondola re-attaches to the cable and whisks guests away.
The second concern is the lack of air-conditioning. Florida is hot. So how does Disney plan to keep guests cool? From those with experience riding similar gondolas elsewhere, open vents and the cars' swift movement creates a comfortable breeze.
What about lightning? Did you know that Florida has more lightning strikes than any other state in the country? Freak storms are common in the sunshine state, so it is expected that the gondolas will suspend service during inclement weather.
Disney Skyliner gondolas will connect Epcot and Hollywood Studios to four resorts—Art of Animation Resort, Pop Century Resort, Caribbean Beach Resort and the new Riviera Resort (scheduled to open in December).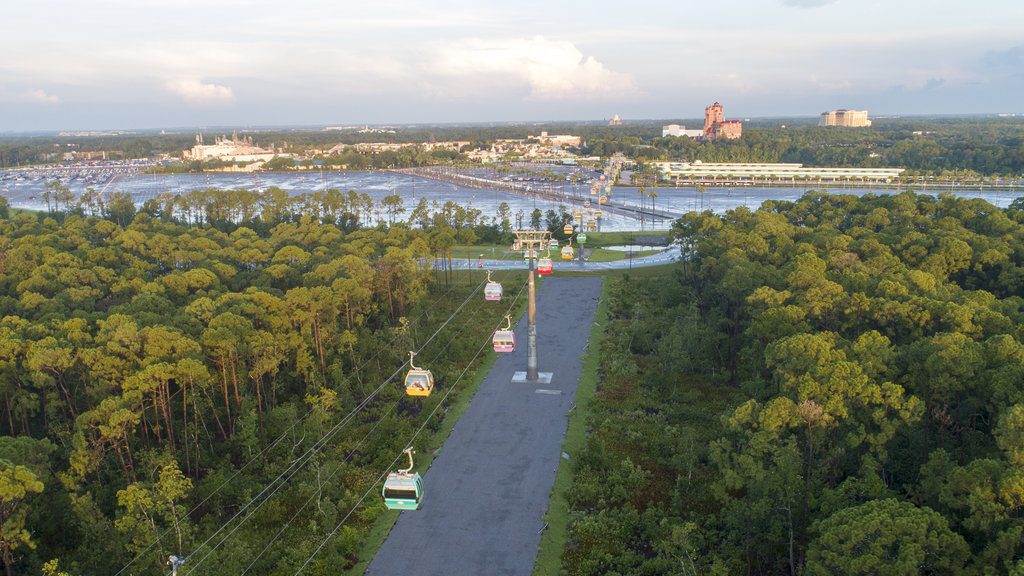 So how do you feel about the new Skyliners? Excited or scared? This is what the team said:
"I think they are such a cool idea and a great way for crowd control at the end of the night, so you aren't waiting an hour for a bus, monorail, boat, etc.," Brooke says. "It brings back nostalgia to the older folks, too, who came when they were younger and remember riding them. I also love how Disney themed them and put characters on the outside. So, freaking cute. But they 100% need to do something about the "bases". The huge grey poles in the middle of parking lots is just not Disney. Masking them in some way would make it a LOT more appealing. Maybe have vines growing up them, plants, flowers, just something. But overall, I think it's so smart considering crowds will be at an all-time high with the anniversary (Walt Disney World's 50th) coming up in a couple of years, Star Wars land, and all the other new rides."
"I'm pretty excited to try the gondolas," Jennifer says. "I think it will be pretty cool to see them overhead as we traverse the property. We like to stay at the Beach Club Villas, and we enjoyed our quiet International Gateway entrance to Epcot, so I am a little disappointed that traffic will pick up there. But overall, I think they will add vibrancy and energy to the Walt Disney World experience."
"I think that they will help the crowds on buses to Hollywood Studios," Marcus (who's 10) says. "And I think they'll give a great view to guests because it will make a whole new experience for people who want to see the Disney property from the air. I'm not too concerned about being scared. I think they will be safe and not swaying and rocking. I trust Disney."
"Mixed reviews from me," Erin says. "I'm sure they would be cool if you were staying at a resort that uses them and you aren't in too much of a hurry to get where you are going. But I'm upset with the aesthetic that has affected by my beloved Boardwalk entrance. I also know people are worried about how crowded and hot they will get. The verdict is still out, I guess, until I get the chance to ride it myself."
"I want to ride them," Matthew (who's 8) says. "They look so cool, especially the Star Wars ones."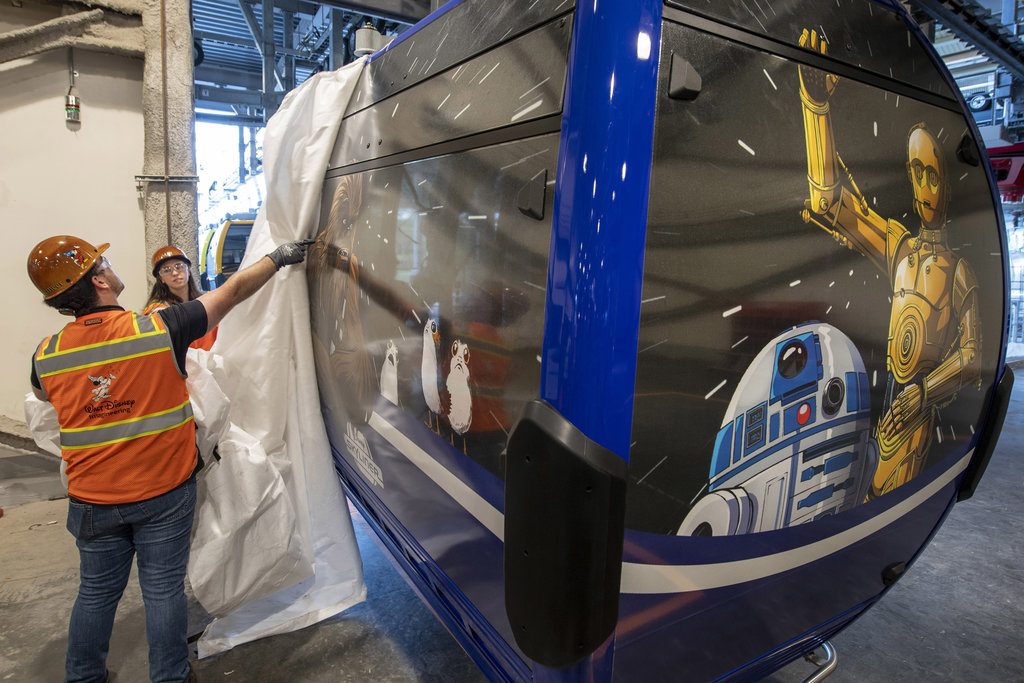 "I always really liked them in the Magic Kingdom," Kirk says. "But the new ones are much bigger and are a bit of an eye sore. The big metal poles should be painted so they blend better. In the end though, I appreciate anything that gets you around quickly, and I think they will. Over all I think the characters on the cars are fun and bright and add some excitement above your head. Other than the big poles, I like 'em."
As for me, I'm a little scared of heights. So, don't expect to see me in line on opening day waiting to snag a ride. I think I'll give it a good six months of accident-free operation before I give the gondolas a try. But I do look forward to seeing what kind of view they will provide. Hollywood Studios does not currently have a "magical" entrance opportunity like Magic Kingdom and Epcot. So, I look forward to is seeing if the gondolas will fill that role. And I really, really hope that they help ease the congestion when commuting to-and-from the parks by car or bus.
Let us know what you think in the comments.
(All photos in this post are courtesy of Disney.)
Thanks For Popping In!
Click Here To Subscribe To The Main Street Pop In Newsletter. It's FREE!
Follow MAIN STREET POP IN on
facebook
instagram
twitter