If you're someone who gets a Disney fix through shopping, then this is the list for you!
For the month of November, team members Kim and Cat will post a new piece of Disney swag to this page every day! Each item will be something that one or both of them have purchased and have used or plan to give as a gift.
We will check before posting to make sure that the items included are still available and at what price. If an item is sold out during November, we will add that information to the post and, as best we can, recommend a substitute.
Now that we've dispensed with all the boring stuff, "Let's Shop!"
Hi everyone! It's Kim and Cat, your quirky Main Street Pop In bloggers. Our 2020 motto is, "If we can't get to the parks, let's bring the parks to us!" (No seriously, if we added up all the Disney merch we've accumulated since March of 2020, it may add up to the cost of an actual vacation.)
This month we are sharing 30 of our most beloved purchases this year. Happy Shopping!
Nov. 30: MORE EARS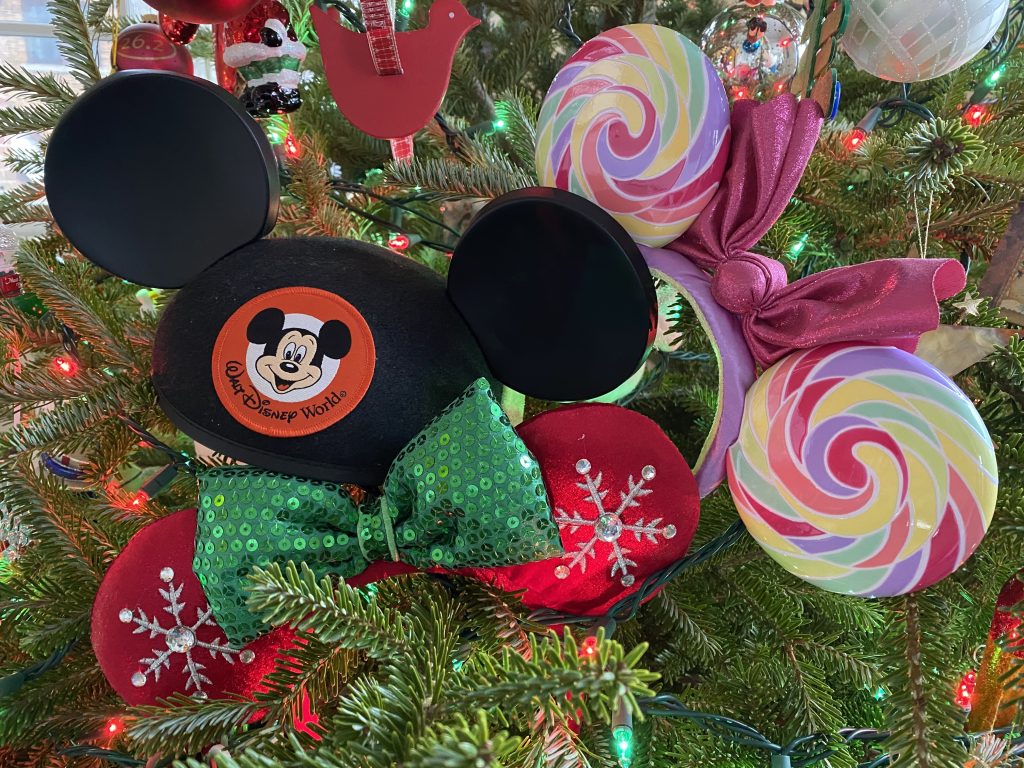 KIM & CAT: It's our last day of November's "30 Gifts In 30 Days" countdown!
We're assuming if you're reading this you are probably a BIG Disney fan and you already own a set of "ears". But our last gift suggestion for 2020 is MORE EARS! There are so many choices ranging from $8 at the big box stores to almost $60 special-edition designer ears. You can also find loads of custom-made ears on Etsy, or better yet, make a pair at home. Click here to see the hundreds that popped up when we search for "ears" on shopDisney.
Thank you for checking out this year's gift list. Scroll down and see all 30 of our suggestions. Most are still available and there are links embedding into each post. If you'd like to see past years' gift lists, click here.
Happy Shopping, and as always, thanks for POPPING IN!!!
Nov. 29: Handmade Pillows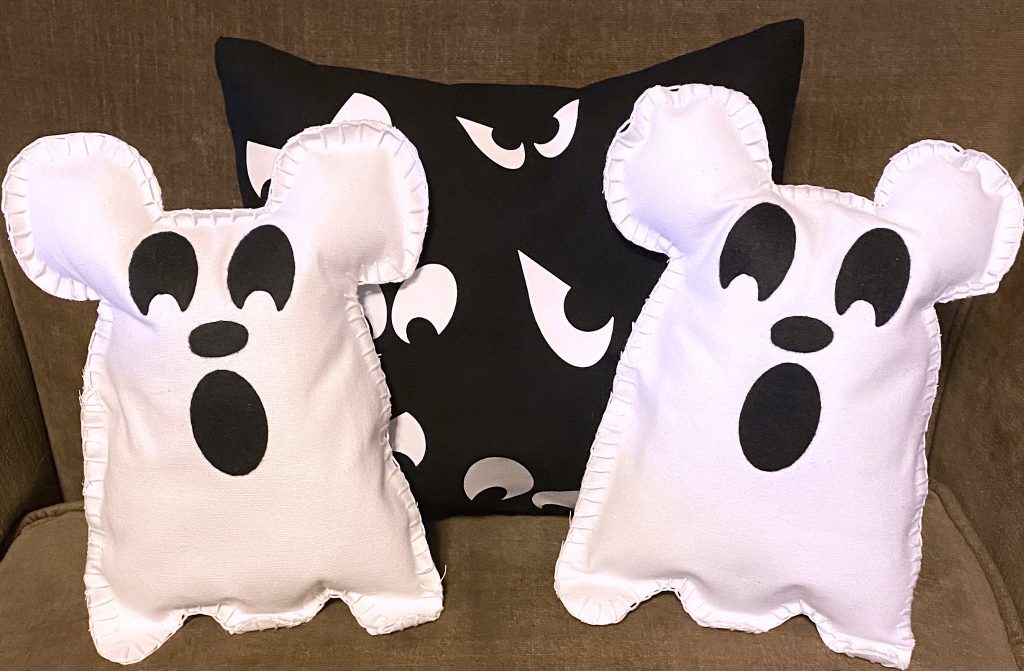 KIM: Just because Halloween is over, doesn't mean you can't put a little "Not So Scary" fun into Christmas. Impossibly Fun Creations is an Etsy store that makes adorable, Disney-Inspired pillows, banners, and garlands. The Mickey Ghost pillow stands 10" tall and today is marked down 50% at $10 per ghost. The Foolish Mortals pillow cover glows in the dark. It is 10 x 10 inches in size and on sale for $15.
Based in Orlando, I got the link to Impossibly Fun Creations through the furloughed Disney employees list being circulated amongst fans (click here for more info). I loved the quality and cuteness of the Halloween merchandise so much that I recently went back to see what it was making for Christmas. It's awesome! I just put in an order for the site's "Let it Snow" collection ($91 for a Let it Snow pillow cover, two Mickey snowflake pillows, a Mickey snowflake garland, and matching ornaments). Also check out the store's Very Merry Holiday Treats line and the Galactic Holiday line featuring Baby Yodas, Porgs, and Endor Elves.
Nov. 28: Artist Calendar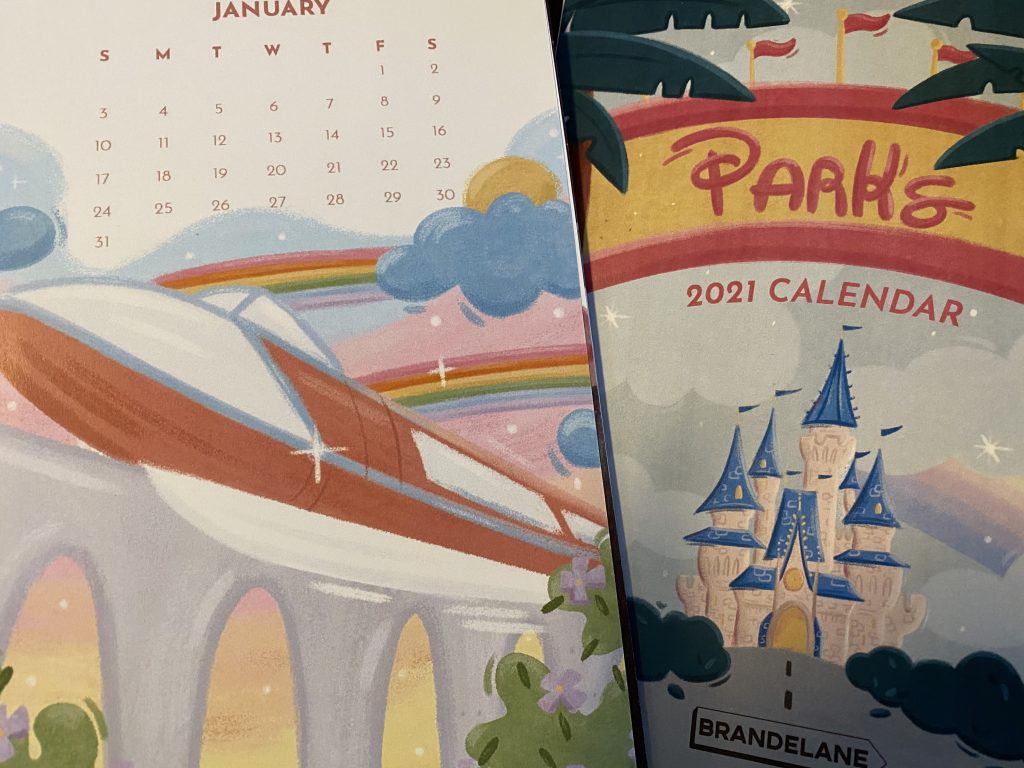 Today, I want to share with you the work of a fantastic artist, Brandi Monard. She creates the most whimsical, Disney-inspired artwork. I just ordered two of her Parks 2021 Calendars for $19 each (one's for me and one's for a friend).
In addition to calendars, Monard's online store, Brandelane, (www.brandelane.com) sells prints, stickers, outrageously unique tees, patches, and masks. Check it out! I hope one day Disney brings her to the EPCOT International Festival of the Arts. She'd make a great addition.
Nov. 27: D23 Membership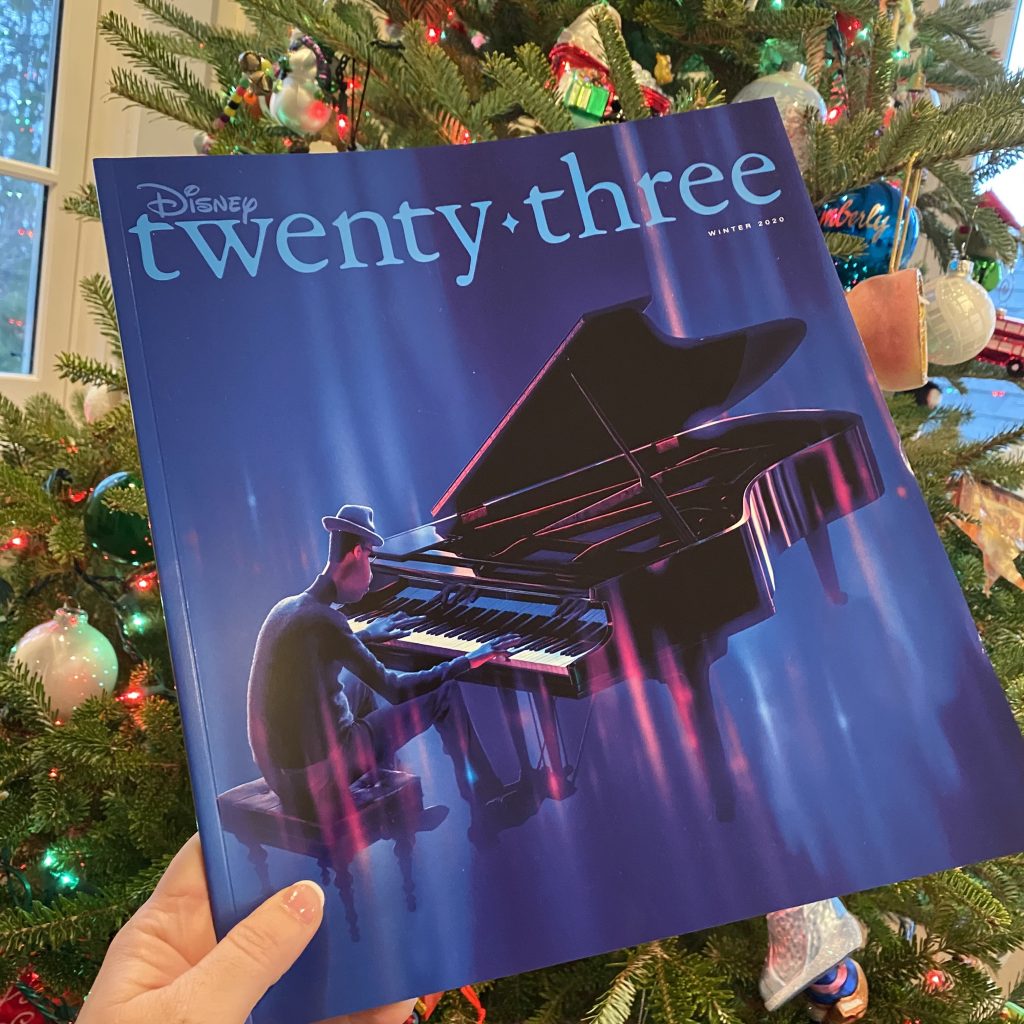 KIM: Know a Disney fan who has everything? Get them a D23 Membership. D23 is the "Official Disney Fan Club". D stands for Disney and 23 represents 1923, the year Walt and Roy Disney founded the company.
Membership comes with an annual gift, quarterly issues of twenty-three, access to special events (a number of this year's events were virtual but free), and discounts on Disney travel, shopping, and dining.
A D23 Gold Membership is $100 per year and a D23 Gold Family Membership is $130. From now until Nov. 30, Disney is offering 50% off a new Gold Family Membership (use the Promo Code: D23ADVENTURE). Get more information at www.D23.com
Happy Thanksgiving!
Nov. 26: FastPass Ornament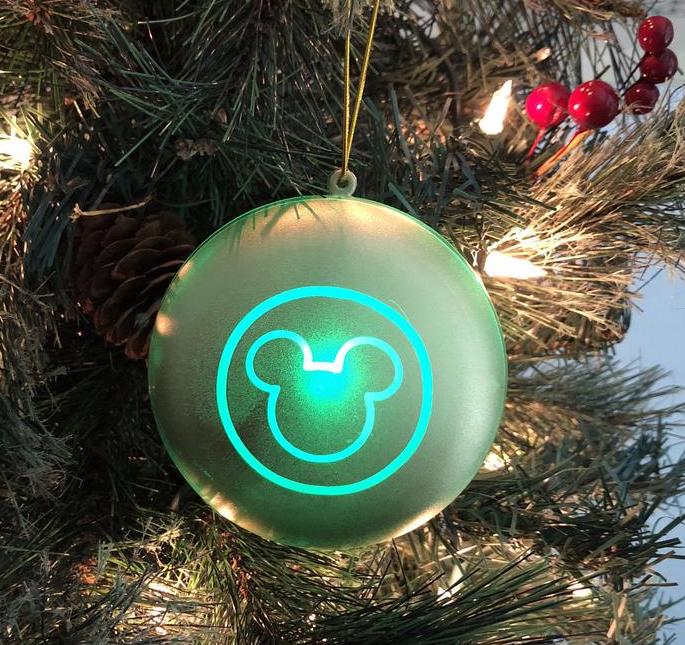 KIM: The Disney ornament of the year celebrates the green (or purple) glow of a successful FastPass scan. I purchased this FastPass Ornament on Etsy for $25 from NthinginParticular (click here to link directly to the item.) NthinginParticular is a vendor I found on the Ear for Each Other Facebook page (see Nov. 25's post below).

Nov. 25: Cast Member Creations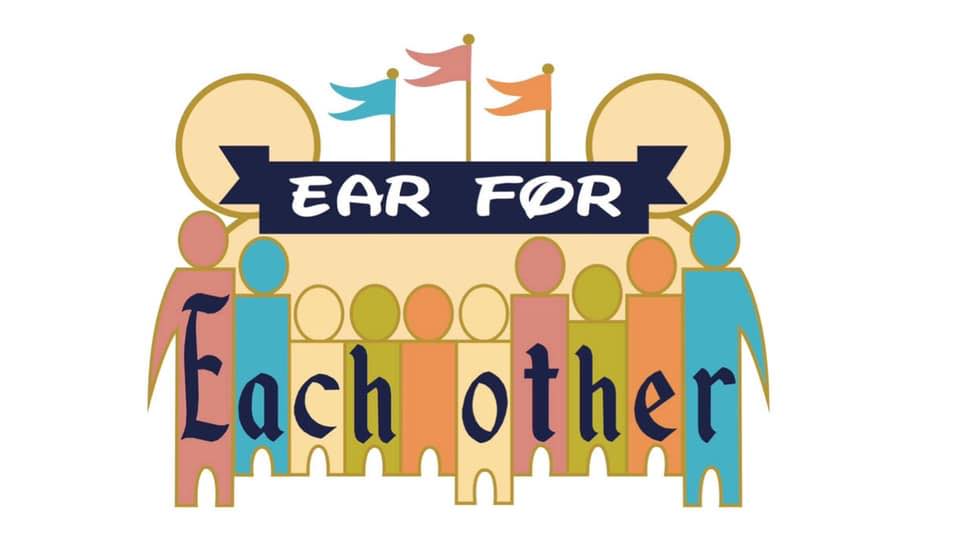 KIM & CAT: Handmade creations and services offered by displaced and furloughed Disney Cast Members are being promoted through the Facebook group Ear For Each Other. It's a great way to find one-of-a-kind gifts and help some small businesses and side hustles. Check it out at https://www.facebook.com/groups/earforeachother.
Nov. 24: Marc Davis Book Set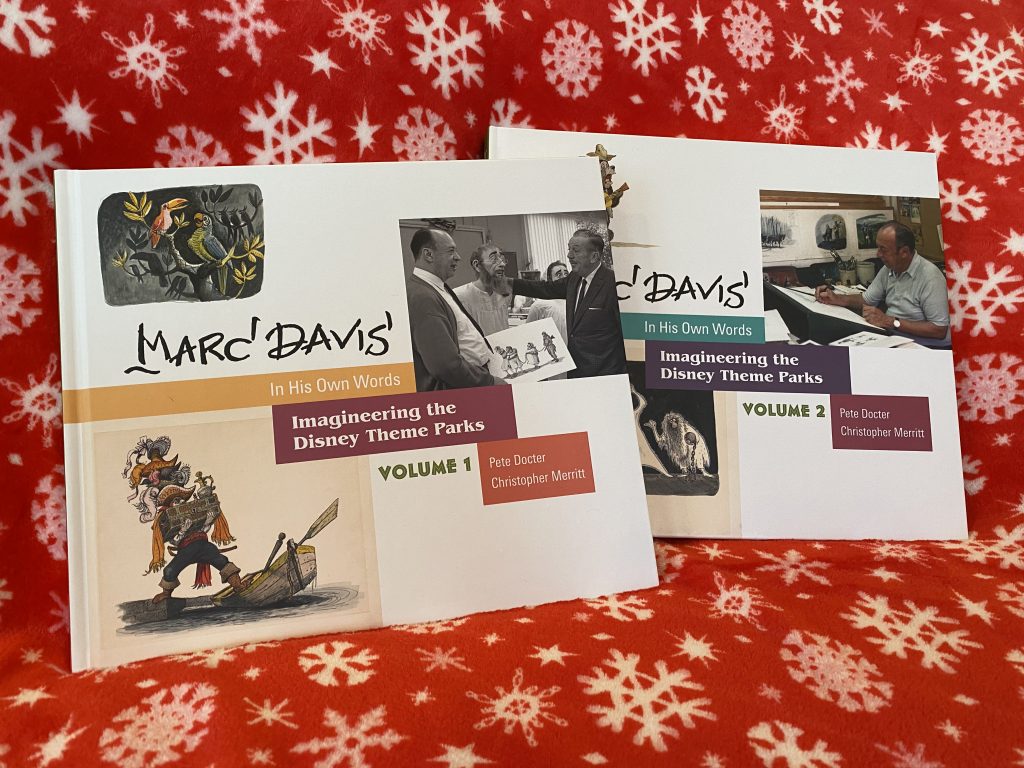 KIM: A must-have for Disney history buffs! Marc Davis in His Own Words: Imagineering the Disney Theme Parks by Pete Docter and Christopher Merritt is an incredible two-volume book set using words, photos, and archive pieces to dive deep into the long career of artist, Imagineer, and company leader Marc Davis.
Amazon lists the set for $83.99 but currently offers a $28 coupon, which lowers the price to $59.35.
Nov. 23: ABC Mugs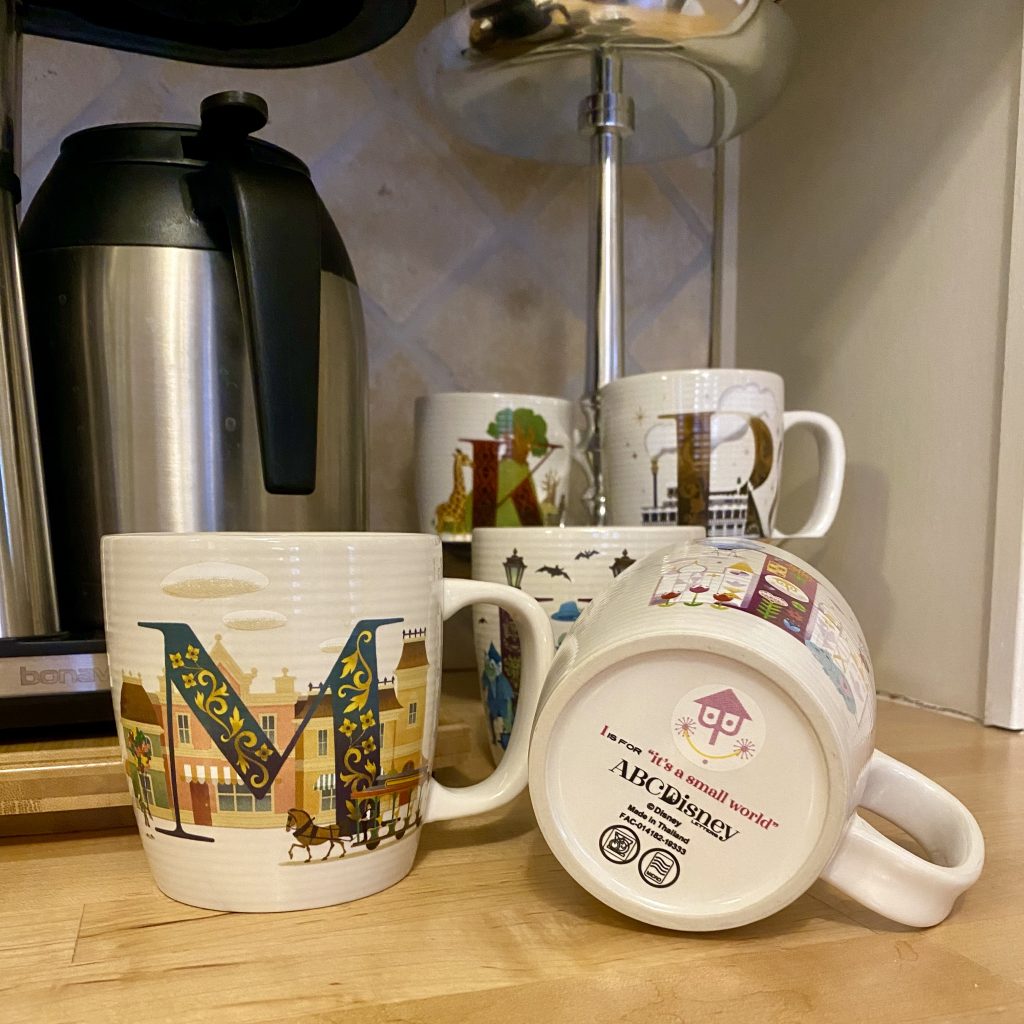 KIM: Like Mary Poppins, I love practical things, and what's more practical than a mug? I can get a Disney fix while drinking coffee, tea, or hot chocolate. A good mug is also practical for serving soup, holding pencils, or acting as a paperweight.
Disney Parks ABC Mugs are available in the parks and at shop Disney for $14.99. The mugs are high-quality with beautiful artwork. Each holds approximately 16 ounces. I have 5, and I LOVE them all!
Nov. 22: Advent Calendars
KIM: Advent calendars have always been big in our home. Sometimes we make our own, some years we've purchased the LEGO versions, but this year I thought I'd see what Disney had to offer.
ShopDisney has a few choices. The Mickey and Minnie Mouse Plush Advent Calendar is currently on sale for $44.98 (Click Here). The website also has men's or women's Holiday Advent Sock Calendars for $29.99 (Click Here for the women's, Click Here for the men's).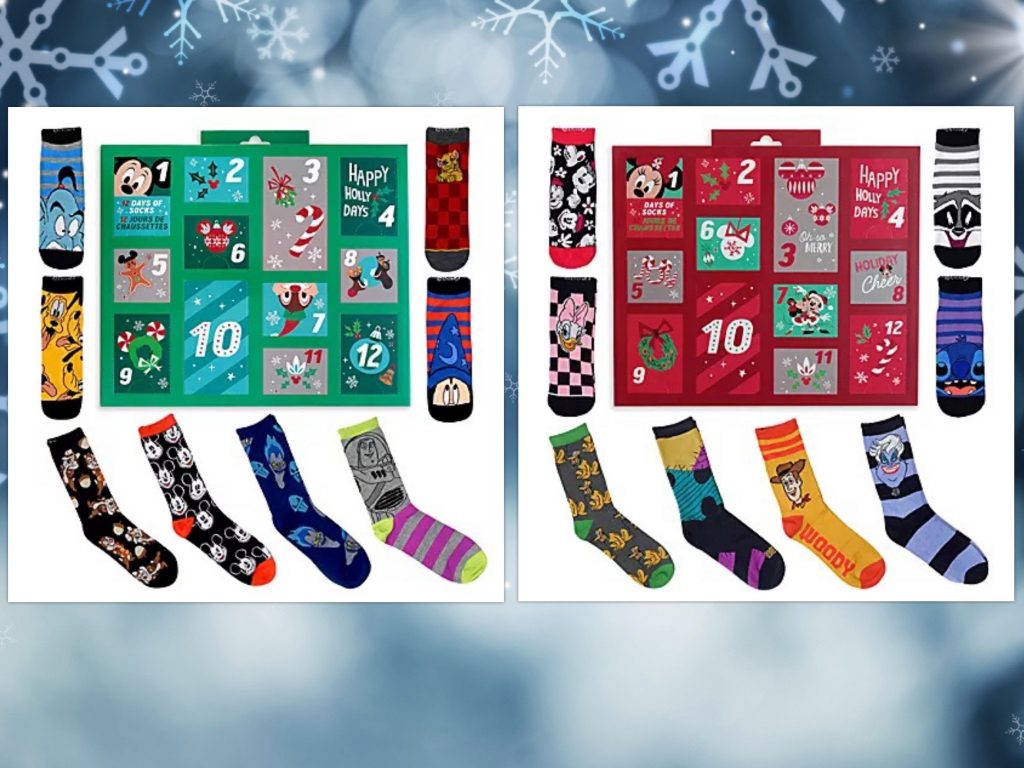 Unfortunately, the Animators' Collection "littles" advent calendars have sold out online. We'll keep checking to see if they come back into stock and post a link if they do.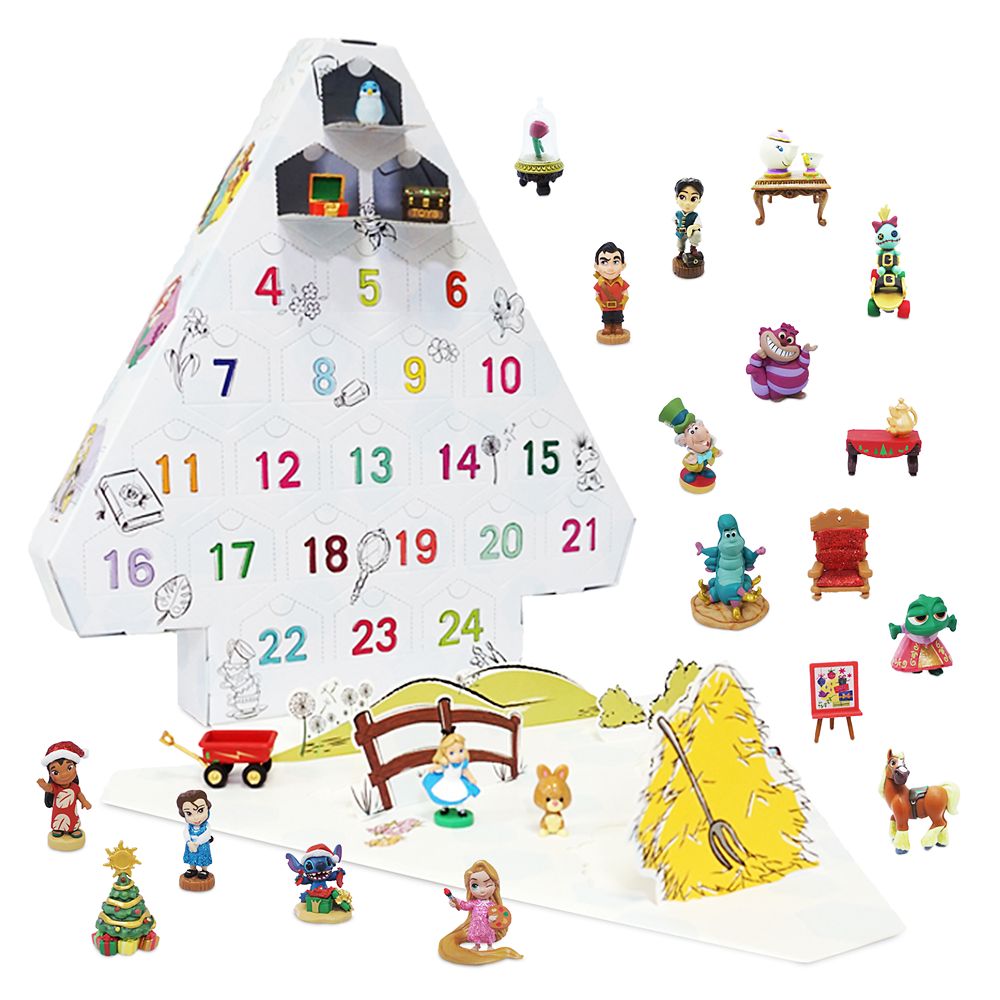 Nov. 21: Cookie Cutters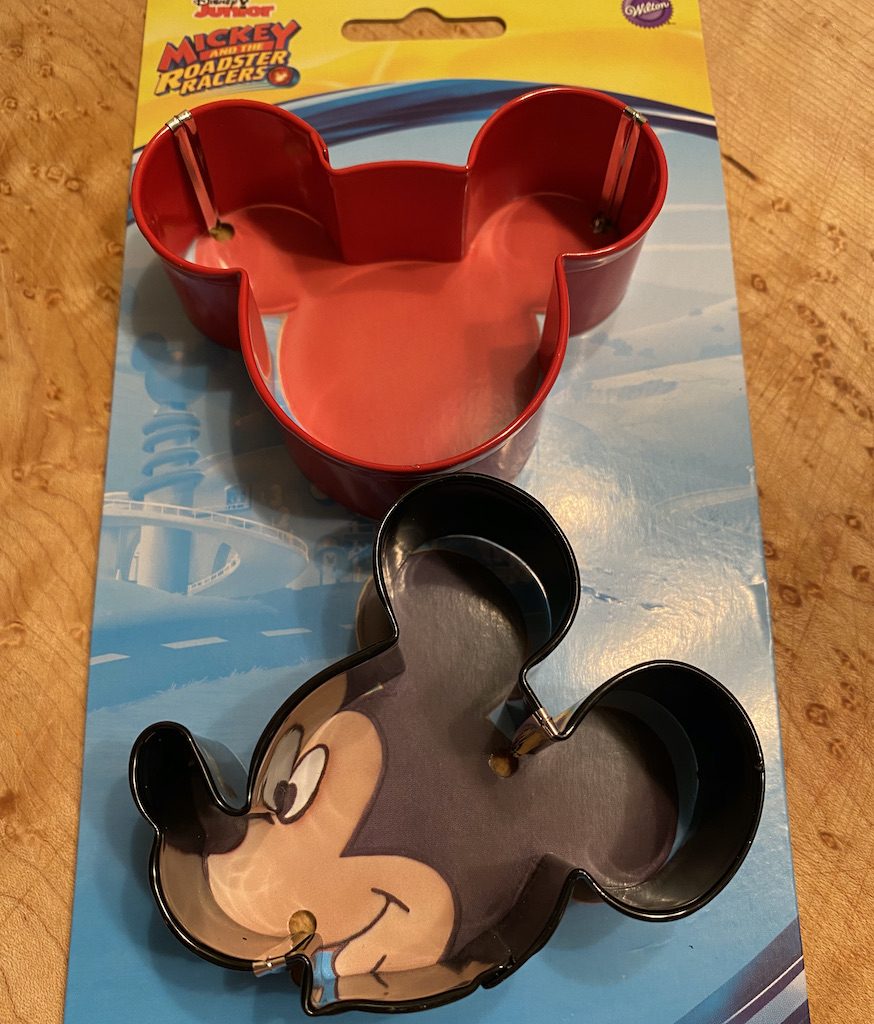 CAT: This pair of Wilton Mickey Mouse Cookie Cutters was a steal on Amazon for $3.69. Each shape makes a 3-inch cookie. A great hostess gift! For crafters or scrapbook makers, these silhouettes come in handy for lots of projects.
Nov. 20: Mickey Pens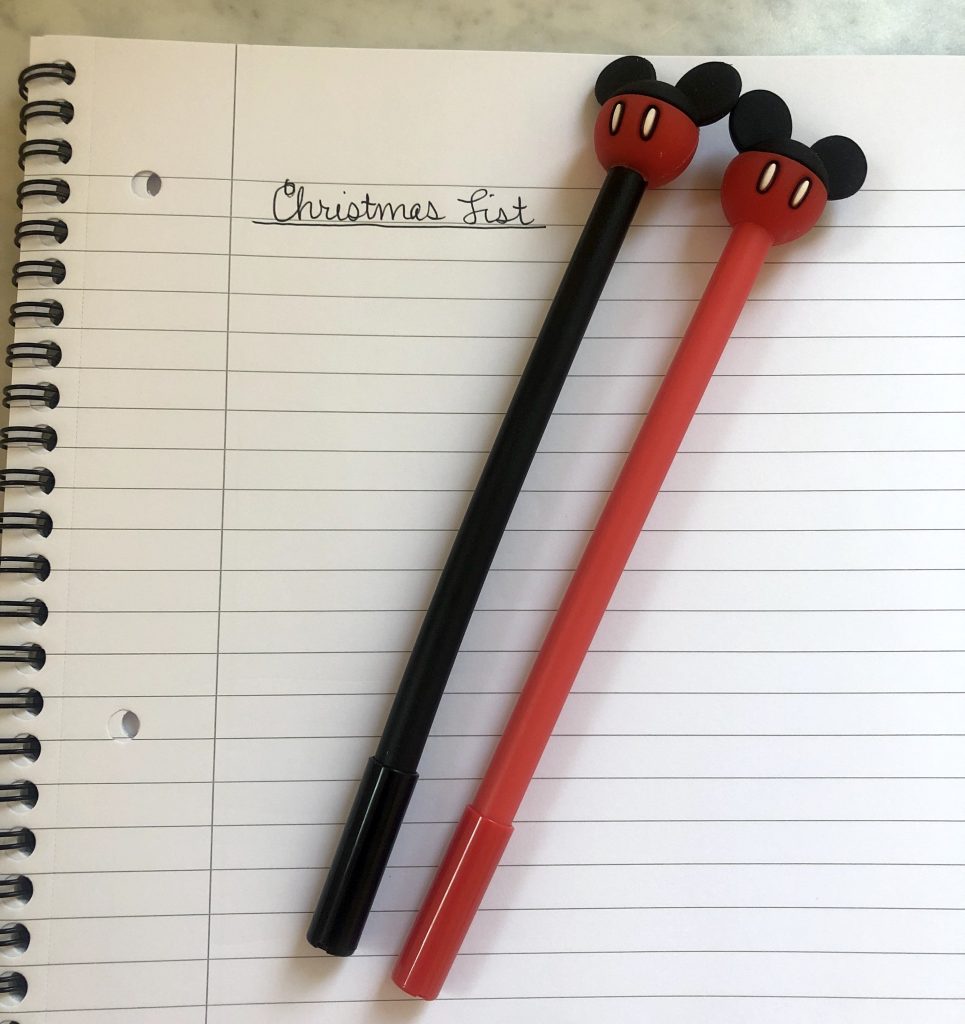 CAT: Studio Calico sells scrapbooking supplies either by monthly subscription or by individual item. Recently, they had a sale that featured fun pens from past kits, and I had to have the Mickey ones! Perfect stocking stuffer for both kids.
The pens sell for $3 each (click here for a link directly to the site). Not only are these Mickey pens cute, but they also have a thin point and write really nice!
Nov. 19: Disney Smells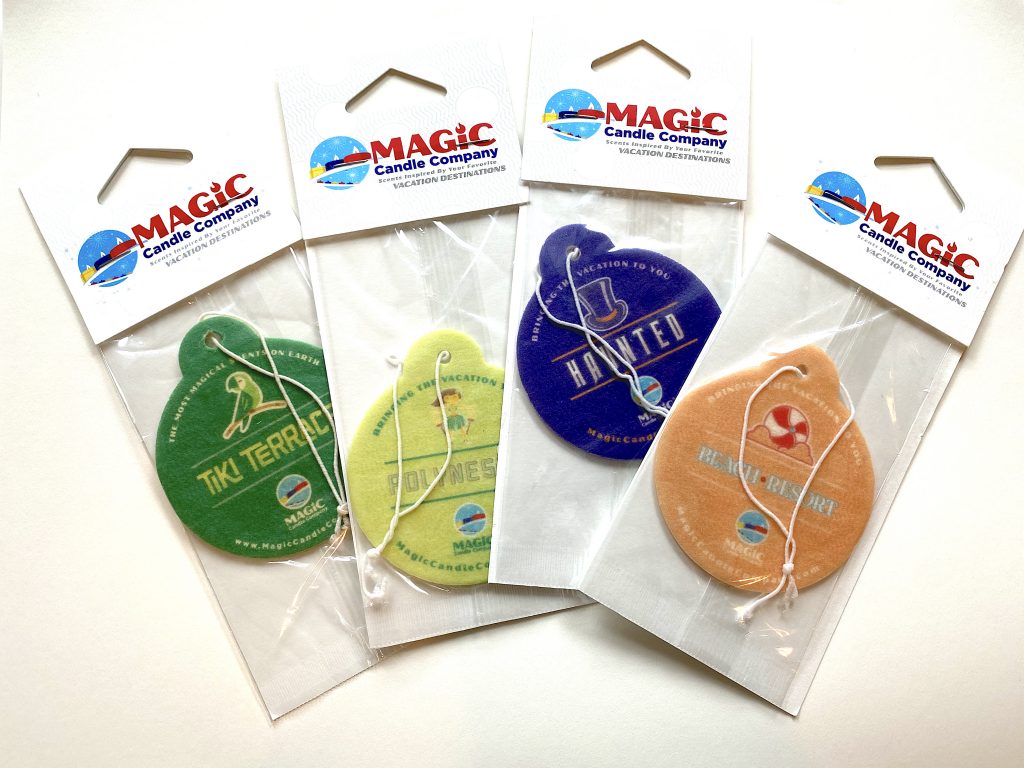 KIM: When I can't be at Disney, I love that I can make my kitchen smell like the Main Street Bakery or my car like the Contemporary Resort or "the boys' bathroom" like the Polynesian's Lobby. Magic Candle Company obviously has candles ($16.95-$22.95), but it also offers its Disney scents in wax melts ($7.95), fragrance oils ($7.95), air fresheners ($5.95), room sprays ($14.95), and bath products ($19.95-$24.95). It also has hand sanitizers and soaps, an incredibly timely offering this holiday season ($7.95-$14.95).
Today, I used the discount code OFFHAND15 and saved more than $14. For a limited time, shipping is also free on orders over $75.
Nov. 18: Nameplates

KIM: Main Street Pop In is just a hobby for us, but we feel more official with this Disney Style Name Plate in the office! I ordered this nameplate on Etsy from We Love 3D. I got to pick the color and the font. Pricing is based on how many letters are printed. This long one cost $28.37.
We Love 3D also sells key chains, bookmarks, and wall art. The plastic used is biodegradable, which is a positive selling point. The shop offers many fonts, so it's not just a place for Disney fans. For example, Harry Potter and Game of Thrones-themed nameplates can be made, too.
Right now, We Love 3D is catching up on orders but hopes to start taking new ones at the end of November.
Nov. 17: Thanksgiving Plates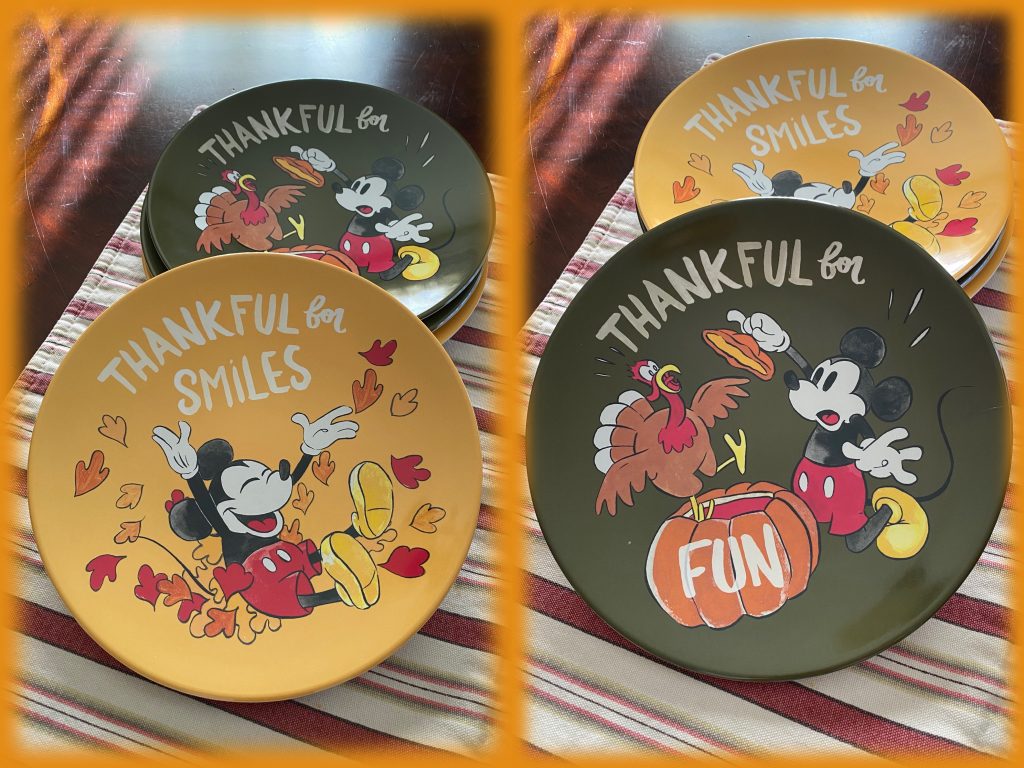 KIM: Pottery Barn Kids has marked down these adorable Thanksgiving plates from $9 to $5. Sporting the themes of Fun, Sharing, Smiles, and Thanksgiving and using fall colors, what I love most about these plates is that they celebrate the very overlooked holiday of Thanksgiving! Online, I was only able to snag the plates shown above – Mickey and the turkey (my favorite) and Mickey jumping in the leaves – but there are two other designs, which may still be available in stores.
The 9" plates are made of melamine. Matching utensils, tumblers, placemats, bowls, and chargers are also available in the collection and on sale. A Christmas-themed set is on the site too, but not on sale. Yet!
Nov. 16: Merry & Scary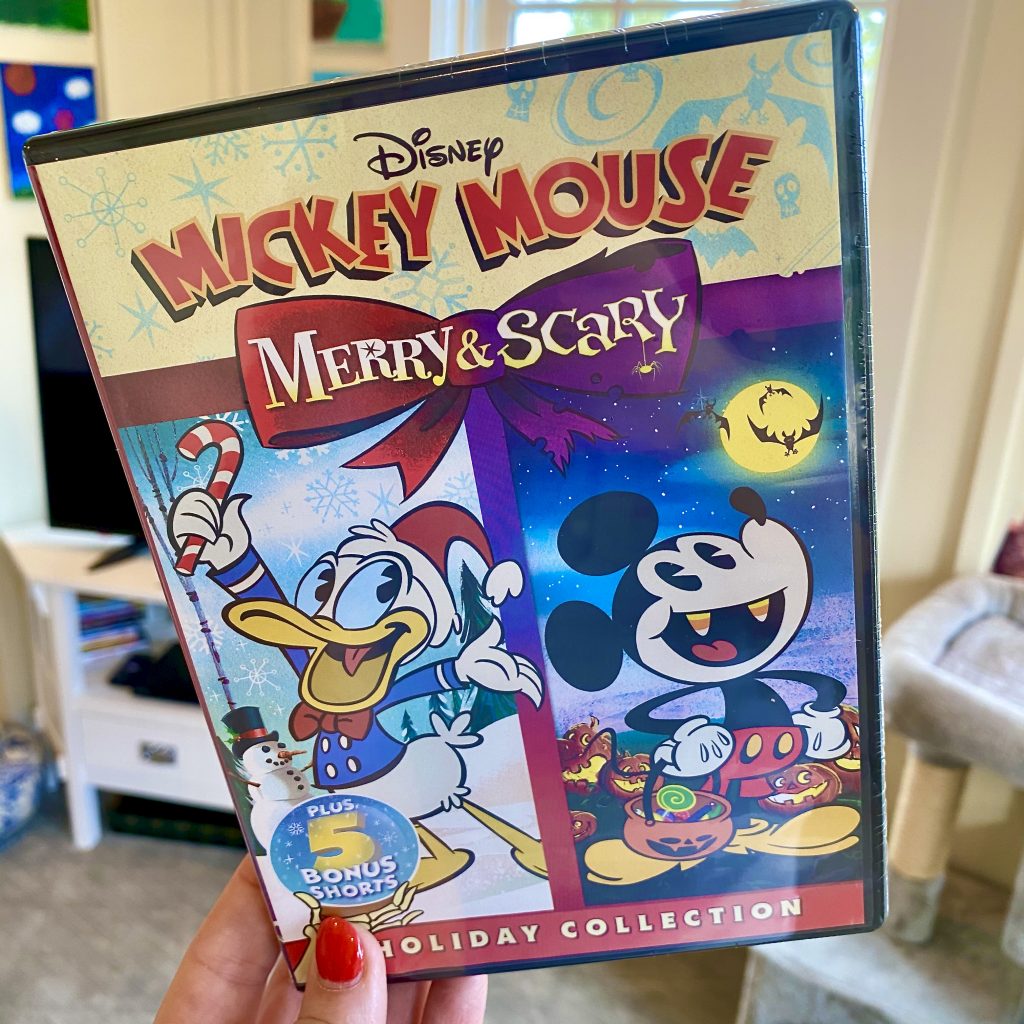 KIM: Mickey Mouse Merry & Scary has been around since 2017, but it's definitely one to add to your collection if you have a stack of movies you love to re-watch every holiday. Because it has Halloween and Christmas content, it provides the perfect viewing for that limbo between the holidays, very much like The Nightmare Before Christmas. The shorts are contemporary, so don't expect a saccharin-sweet Mickey. He's a little bit of a rebel and an instigator, which was the characteristic Mickey had in a number of his very early cartoons. For only $10 on Amazon, you can't go wrong with Merry & Scary.
Nov. 15: Galaxy's Edge Cookbook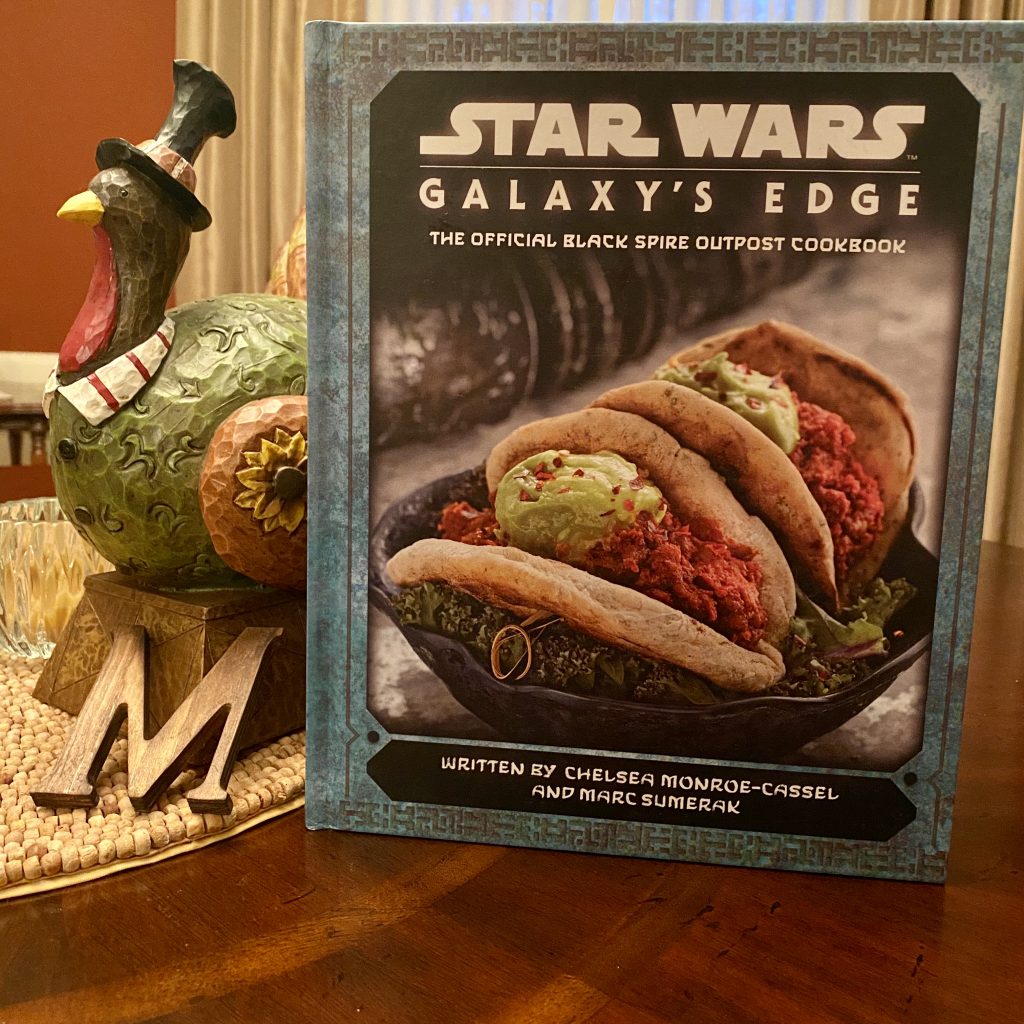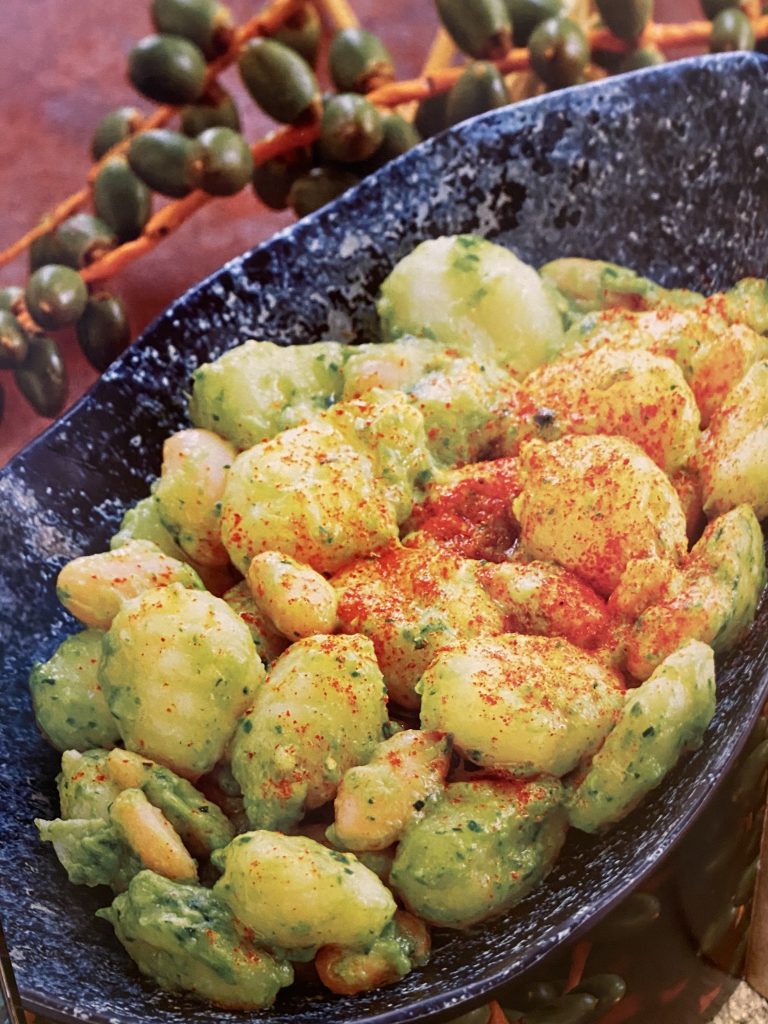 KIM: The Star Wars: Galaxy's Edge Cookbook by Chelsea Monroe-Cassel and Marc Sumerak definitely gets 5 stars for creativity. But does the food taste as good as it weirdly looks? The two recipes I've tried so far have. They were the Ronto Wrap (a spicy take on the Sloppy Joe with naan-like bread) and the Sweet Sand Cookie (almond and brown sugar cookies).
Two other recipes I'm eyeing for Thanksgiving are the Stuffed Puffer Pig (a tenderloin stuffed with spinach, apple, fennel, and sage) and Huttese Slime Pods (gnocchi and cannellini beans in a cheesy spinach/pistachio sauce). 2020 has been pretty weird so far, why not make this year's Thanksgiving menu match?
The Galaxy's Edge Cookbook is $21.80 at Target or on Amazon.
Nov. 14: Holiday Socks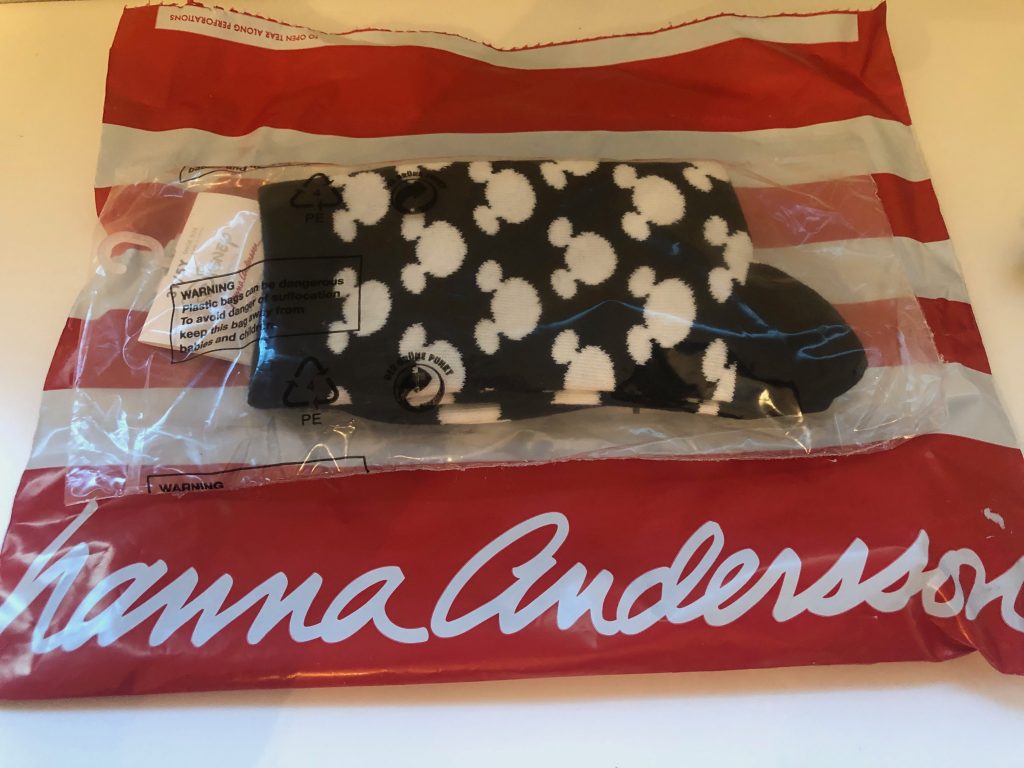 CAT: Getting socks for the holidays isn't so bad when they feature a silhouette of Mickey Mouse. These Disney Classic Basic Socks come in red and white or black and white. They are $12 from Hanna Andersson.
Nov. 13: Baby Yoda Pin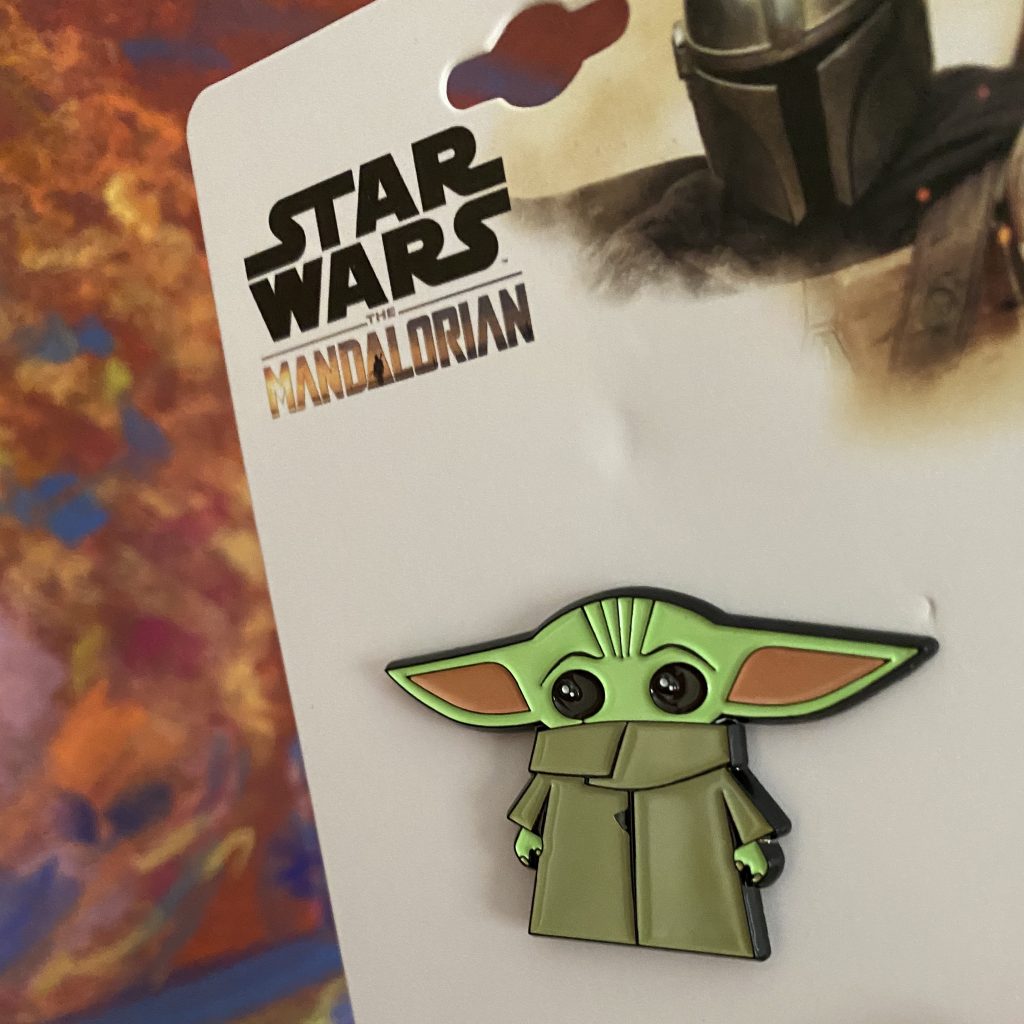 KIM: A new episode of The Mandalorian dropped this morning and it reminded me of the Little Baby Yoda (officially called, The Child) pin that I found on Amazon for $9.99. If you have someone on your list who collects pins, this one is irresistible!
Nov. 12: Straw Tumbler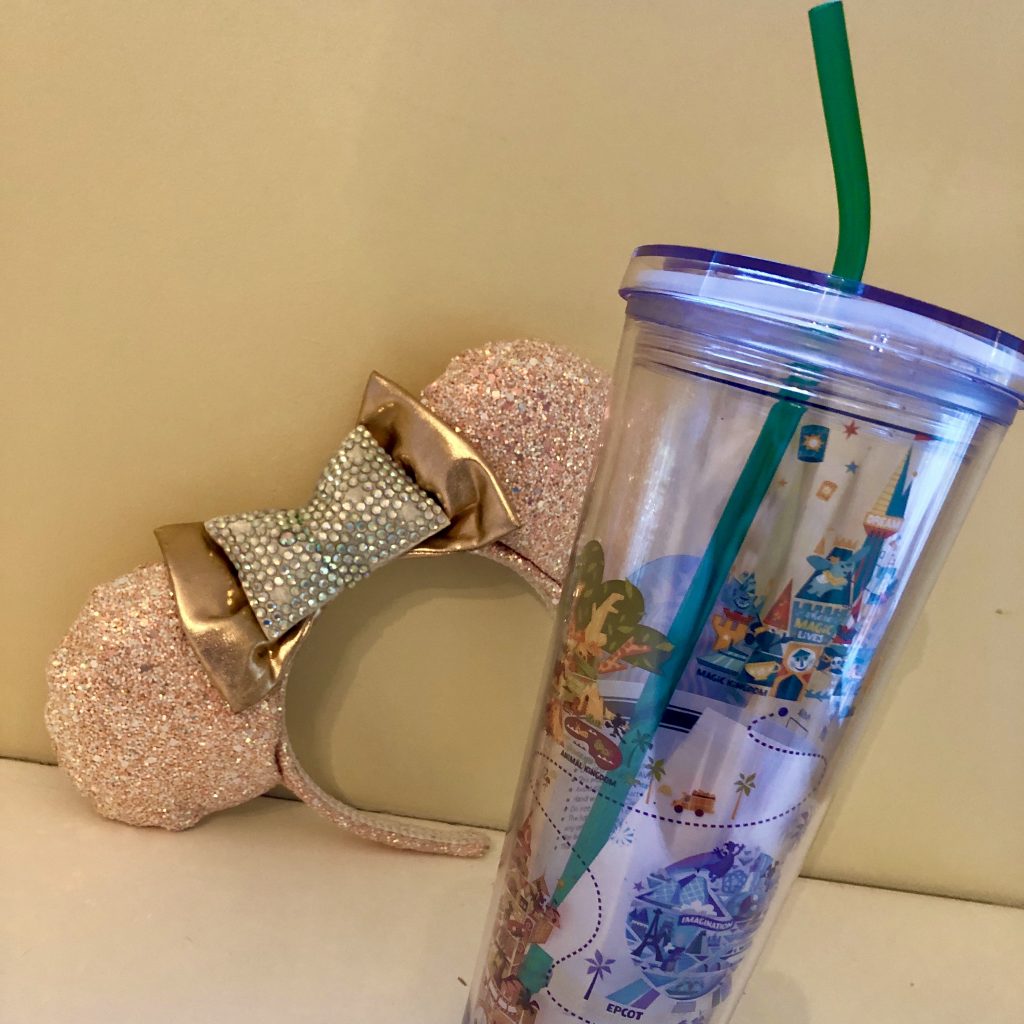 CAT: Here's a gift that can help pay for itself. The Walt Disney World Tumbler with Straw by Starbucks can get you future discounts on drinks at participating Disney Parks Starbucks location.
This tumbler is specially designed exclusively for Disney. It includes art renderings of all four parks and the Starbucks logo. You should be able to find one at any of the Starbucks locations on property, such as the Main Street Bakery. But if you can't get to the parks, you can also order the tumbler online at ShopDisney for $24.99*.
The tumbler holds 24 ounces and is intended for cold drinks. A gift like this is perfect for keeping the receiver hydrated at the parks or on the tennis court back home!
Nov. 11: Classic Dolls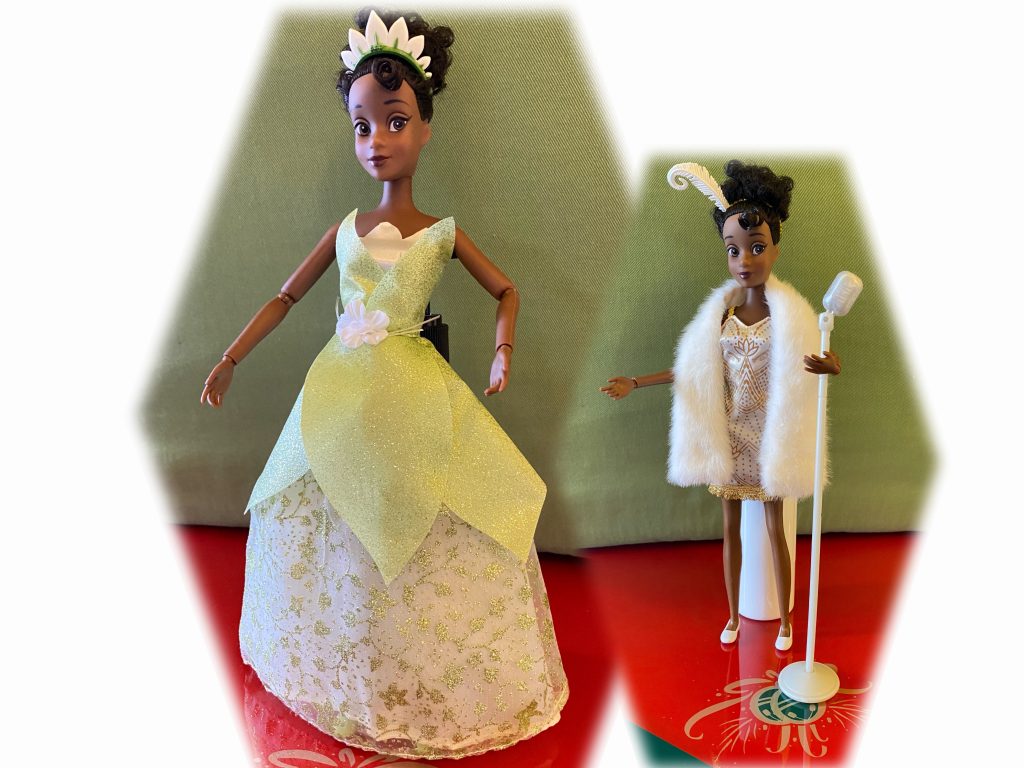 KIM: Disney recently marked down its line of classic dolls from $16.99 to $12.50. Because I love the story and music from Princess and the Frog, I couldn't resist ordering the Tiana doll and her elegant nightclub outfit. What I love most about the line of classic dolls is that the clothes can be shared (clothing accessory packs sell for $9.99). My friend's daughter loves swapping outfits, allowing Tiana to dress as Snow White, Aurora, or Jasmine. The Classic Dolls currently available at ShopDisney in the 11 ½" size include Rapunzel, Cinderella, Belle, Snow White, Jasmine, Tiana, Ariel, Pocahontas, Aurora, Mulan, Megara, Esmeralda, Merida, Anna, and Elsa.
Nov. 10: Nightmare Cooler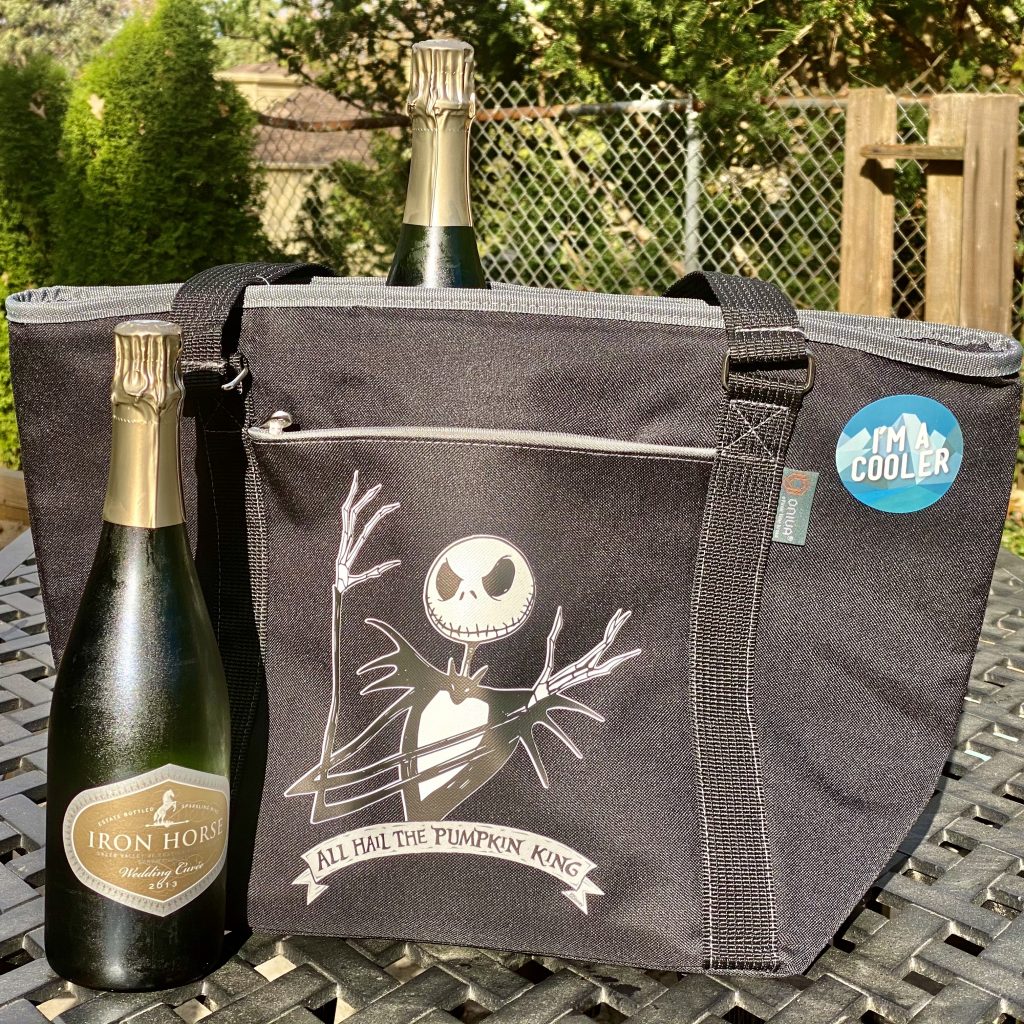 KIM: Do you love The Nightmare Before Christmas? I just picked up this heavy-duty tote from Target for $39.99. I was thinking it would be great for delivering gifts of Iron Horse Sparkling Wine (the vineyard that creates the Fairytale sparkling wine served at Disney World) this season.
The tote is heat-sealed and water-resistant with the capacity to store 24 cans (so it's also your impromptu weight workout for the day). According to Target, it's also a handy beach bag for wet suits and towels and a reusable grocery bag for hauling home frozen and cold food. All hail the pumpkin king!
Nov. 9: Countdown Calendar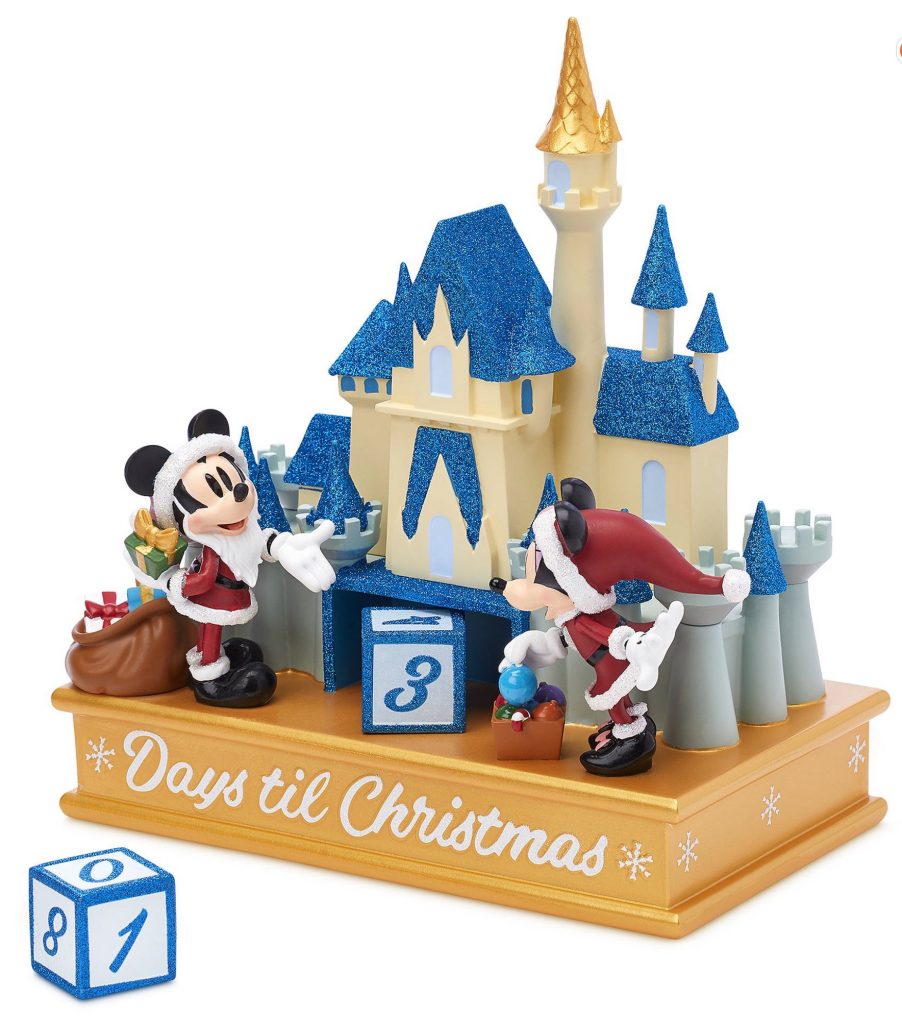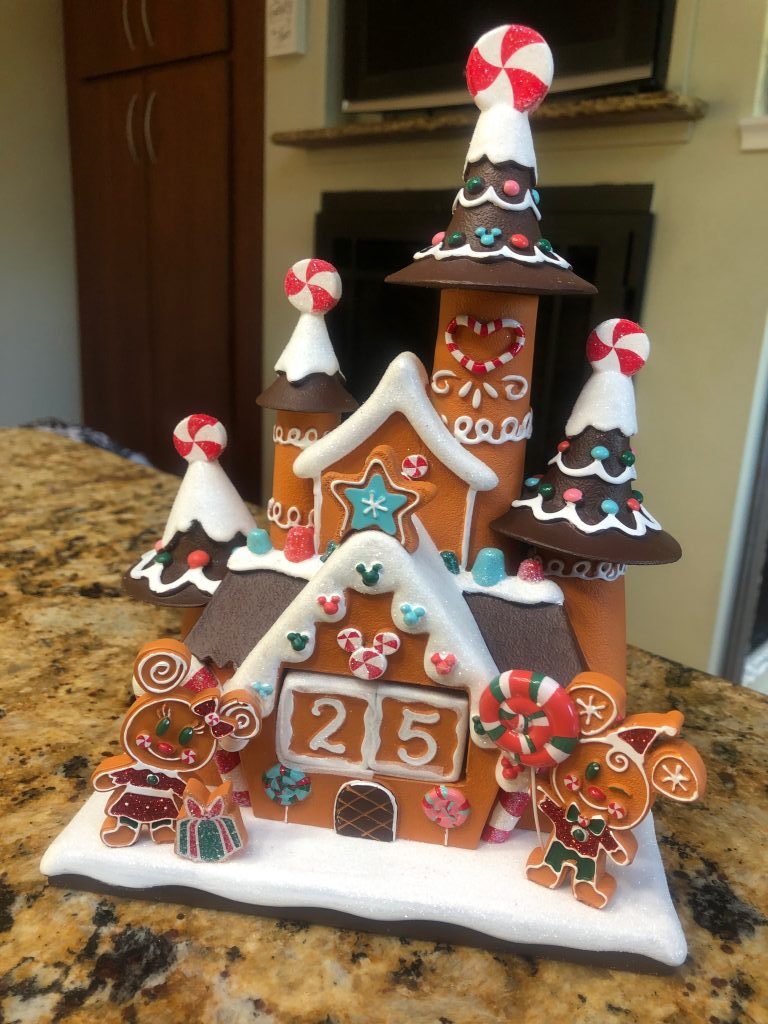 CAT: As quickly as I purchased this year's Mickey and Minnie Countdown Calendar, it sold out. I was so bummed because our countdown tries to only feature merchandise that is in stock for November, and this house is just so cute! It's a gingerbread version of Cinderella Castle with Mickey and Minnie gingerbread cookies at the base.
But now Disney has put out a new countdown calendar!
The Mickey and Minnie Mouse Christmas Countdown Calendar is now available for $49.99 at Shop Disney*. This one features Fantasyland Castle with Mickey and Minnie at the base and two cubes for counting. It's white, blue and gold and a little over 8-inches high. Click this link to order.
Nov. 8: Minnie Mouse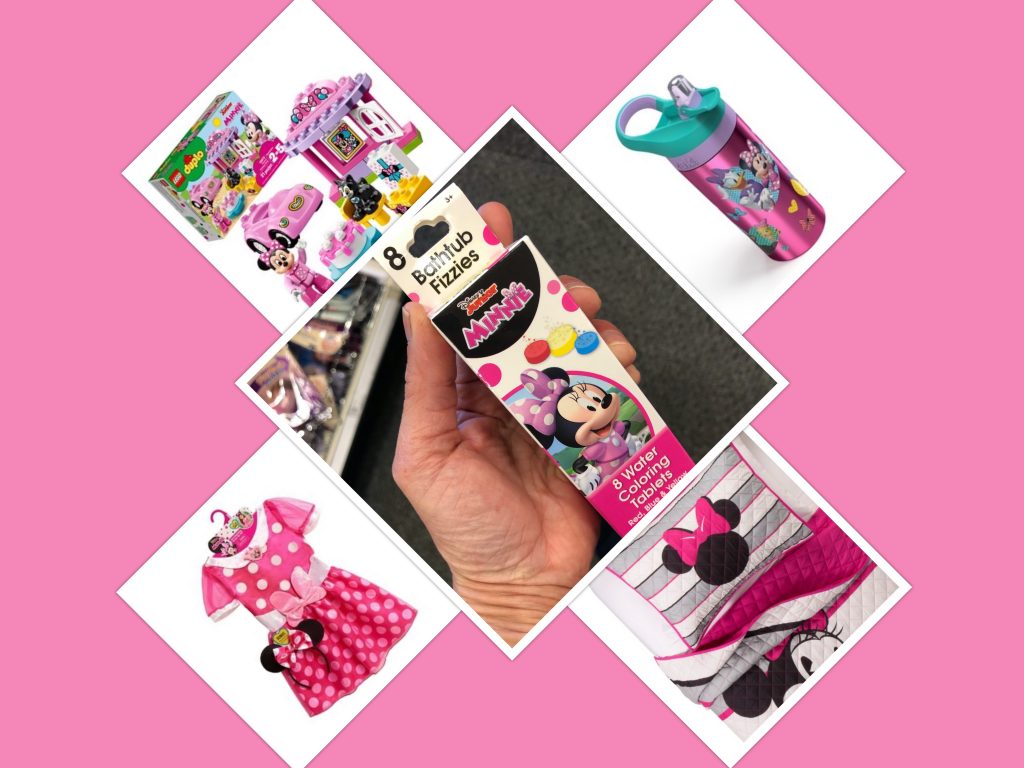 CAT: Target has everything Minnie Mouse right now from pink polka-dotted dresses with matching ears ($16.59) to comforters ($32.99). Of course, I found more stocking stuffers: bathtub fizzies (dollar spot), sunglasses ($4.79), and a pink and green water bottle ($8.99).
Team Hack: Don't forget that at Target, Red Card discounts also apply to Disney Gift Cards. Add up how much you may spend on food during your Disney vacation and purchase enough Disney gift cards to cover it at Target. With a Red Card discount, you'll save a total of $20 on four $100 gift cards. That's equivalent to a quick-service meal and a Mickey Bar!
Nov. 7: Holiday Magic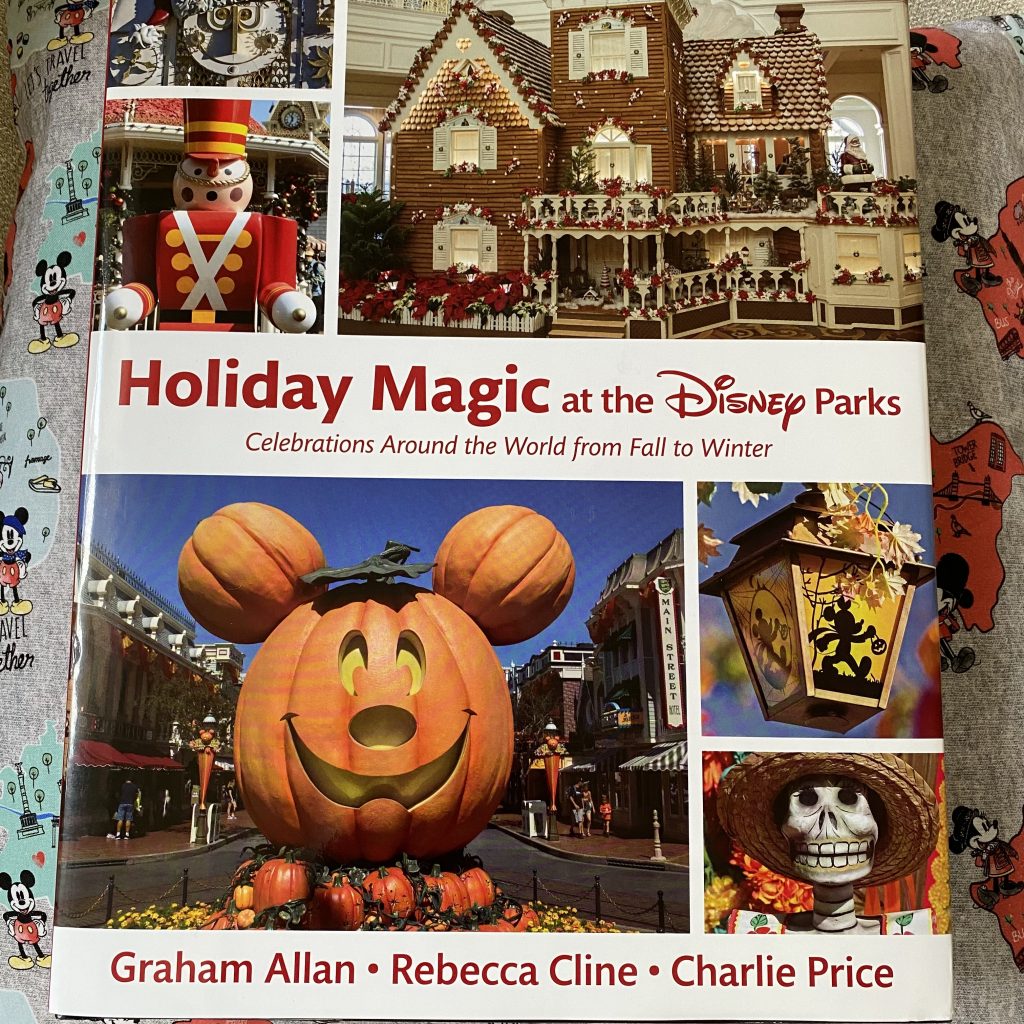 KIM: Disney's coffee table book, Holiday Magic at the Disney Parks: Celebrations Around the World from Fall to Winter by Graham Allan, Rebecca Cline, and Charlie Price, was set for its October debut long before COVID hit. But for those who are missing being able to see the parks decorated for the holidays, the timing couldn't have been better.
Holiday Magic is 384 pages dedicated to Disney all things holidays — pumpkins, overlays, flowers, Imagineering feats, fireworks, parades, food, Christmas trees, Christmas lights, Candlelight Processionals, gingerbread houses, and historical photos. There are even photographs on the index pages. In total, there are almost 1,900 photographs in the book and the authors say two-thirds were taken especially for it, so you can trust that you are getting a book with mostly new content to enjoy.
Holiday Magic is priced at $54 at Amazon and Walmart. Target's price is $54.99. Barnes and Noble and Shop Disney* sell it for $60.
Nov. 6: Stocking Stuffers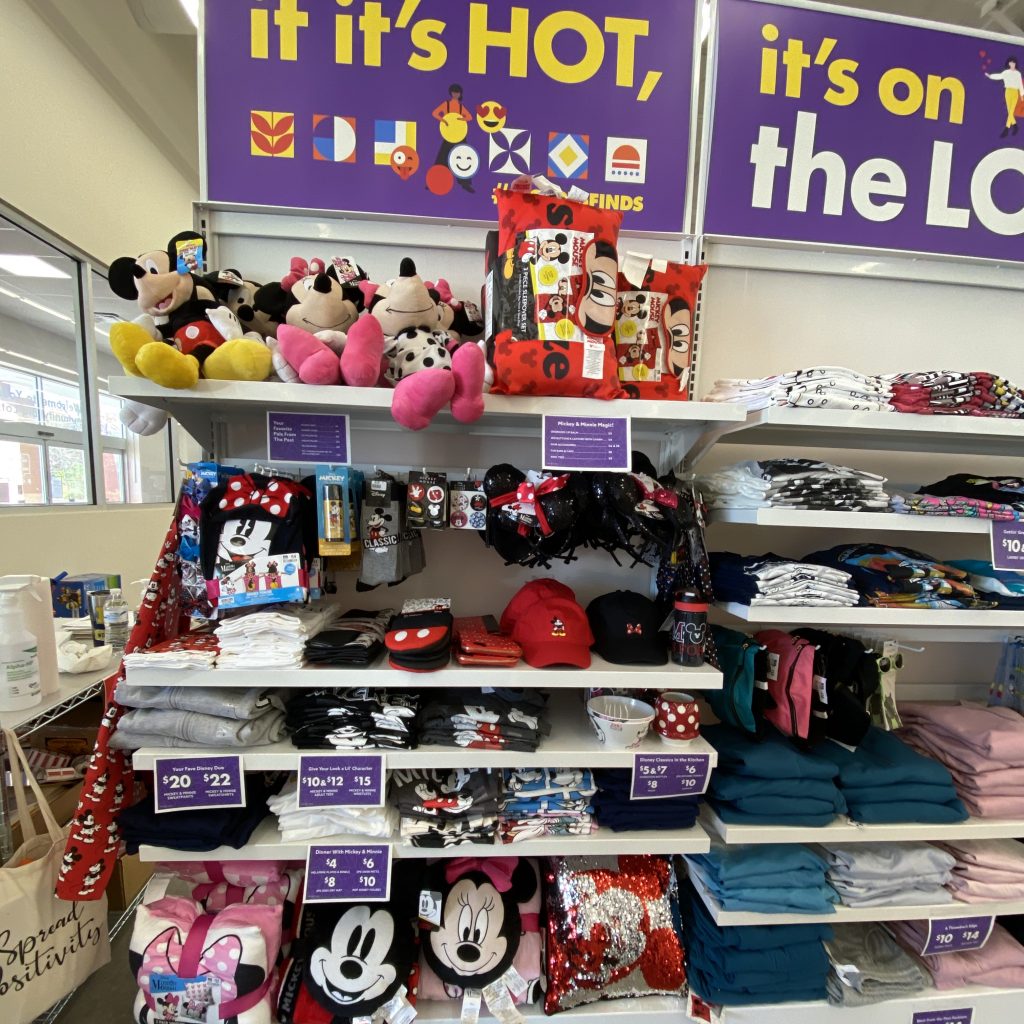 CAT: As I mentioned yesterday, Big Lots retail stores are currently carrying Disney merchandise, and a lot of it is great for stocking stuffers. What did we find?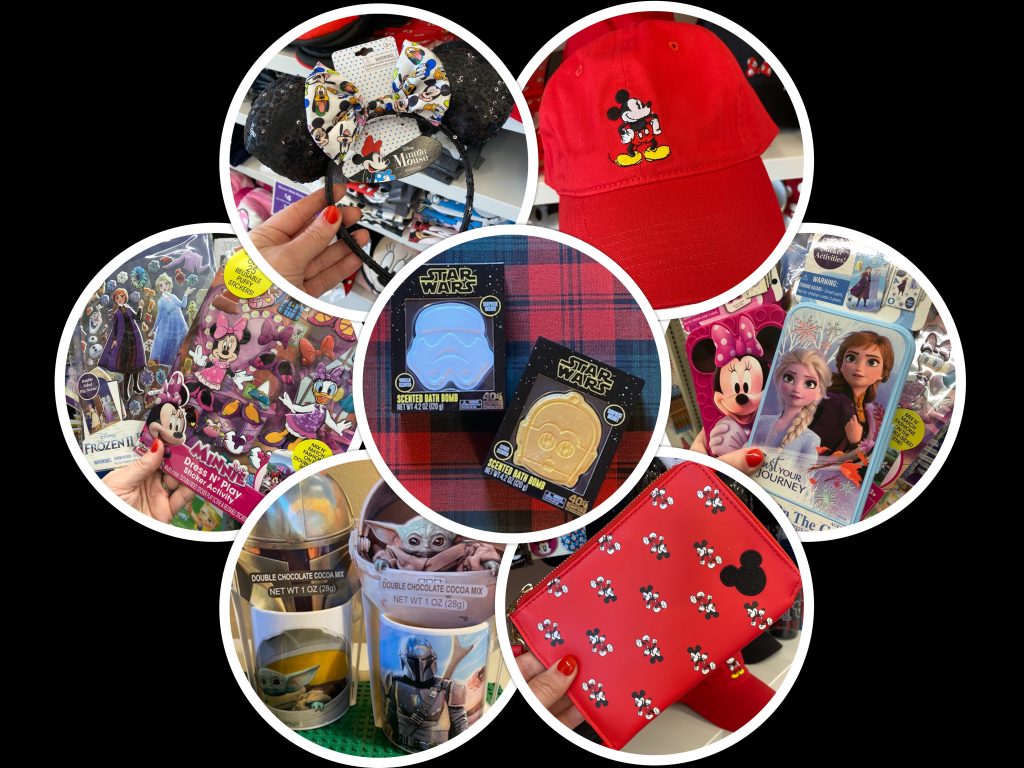 A perfect Mickey-red ball cap for $8. At the parks, baseball hats are great for keeping the sun off of your face.
Minnie Ears for $8. There were three styles to choose from, and at $8, you can buy all three and still spend less than what one pair costs at the parks.
C-3PO and Stormtrooper bath bombs ($3 each) and Mandalorian Mugs with hot chocolate ($5 each) for the Star Wars fan on your list.
A wristlet ($15) if you are a person who likes to head to the parks with just a phone, an I.D., and a credit card.
In the toy section of Big Lots, we found Minnie or Frozen II reusable stickers and activity boxes ($3.50 each). I love to collect small Disney gifts for travel. They are great distractions for toddlers while flying or driving (click here to read more) and by purchasing small "souvenirs" before leaving home, I have a stash of surprises to give the kids all vacation. (click here to read more).
Nov. 5: Lanyards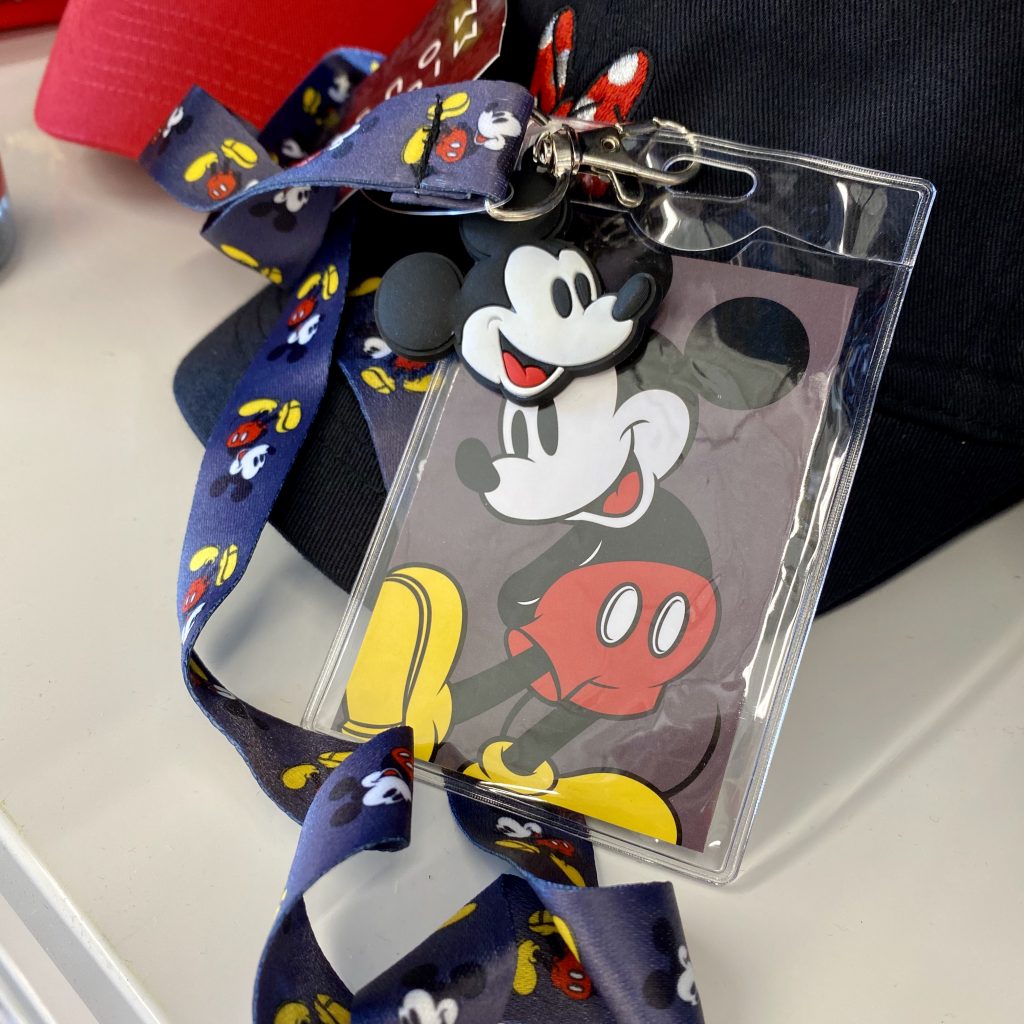 CAT: On a tip, we headed to Big Lots to get some Disney stocking stuffers. The prices were amazing and we found some great stuff, which I'll share tomorrow. Today, I want to talk about lanyards and why you really should have one at Disney. The lanyard I found at Big Lots was a great deal – just $4, (buy a lanyard at the park or on a cruise ship and you'll pay anywhere from $13 to $18.)
Here are three reasons lanyards are one of my must-have items when I cruise or visit a Disney park. #1 We are a military family, so we use a hard ticket instead of a magic band. We need to show our i.d. a lot to get into the Shades of Green Resort, use resort transportation, to enter the parks, and to activate our FastPasses. Keeping our ticket in a lanyard, rather than keeping it in our pockets, saves us a ton of time. #2 When we cruise, it's the same deal. The ship i.d. is a card, so lanyards come in super handy. #3 A new use I have just discovered for my lanyard is as a mask holder. It's easy to clip the mask on for the times that I need to remove it, like inside at a restaurant.
Nov. 4: Mickey Plush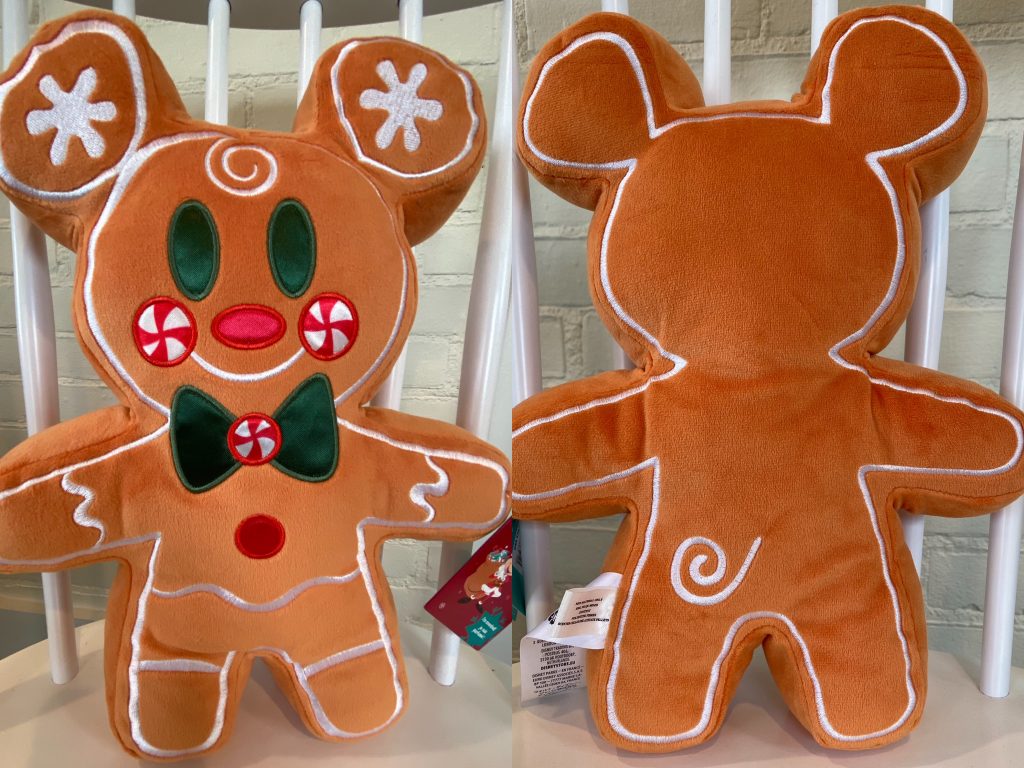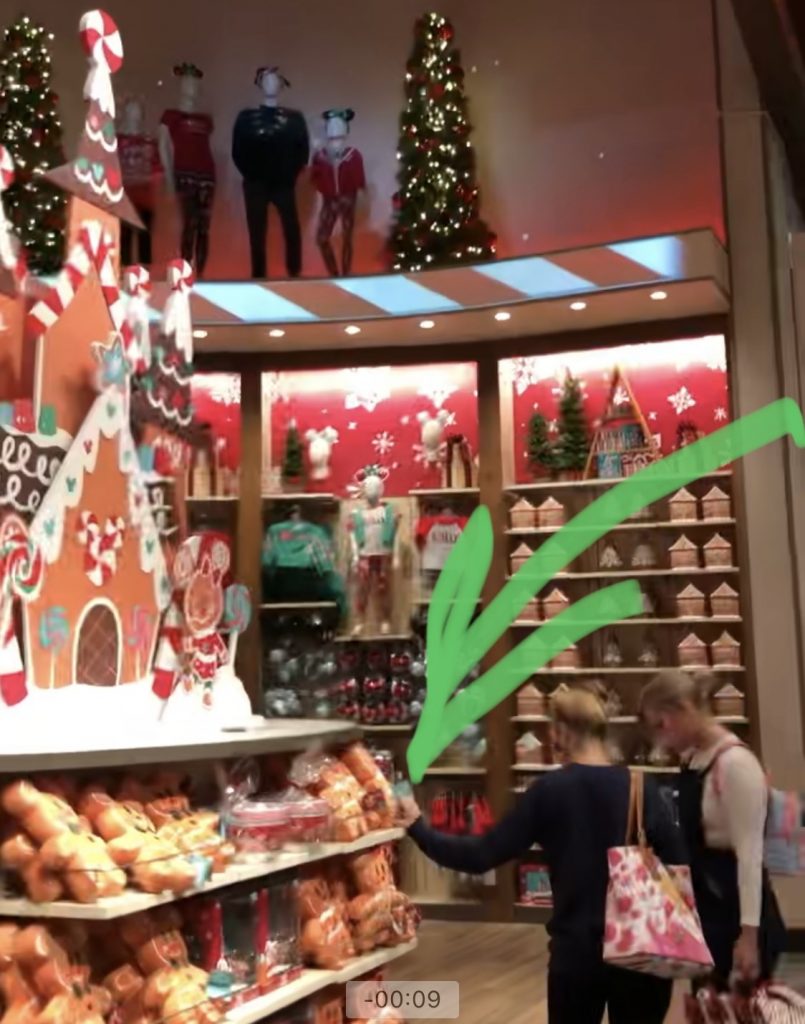 KIM: If I can't get my hands on some Grand Floridian gingerbread cookies, the next best thing is a gingerbread-scented Mickey Mouse Christmas plush. The last time I checked, the Mickey Mouse and Minnie Gingerbread Scented Plush Dolls were no longer available online at Shop Disney, but a team member did spot them this week at World of Disney in Disney Springs. The 12" dolls are sold separately. Each retail for $22.99*. They can also be found on eBay and other resale sites, but beware, prices are highly marked-up.
If this post is setting off cravings for gingerbread, CLICK HERE for Disney's official Mickey Mouse Gingerbread Cookie Recipe.
Nov. 3: Mickey & Minnie LEGOS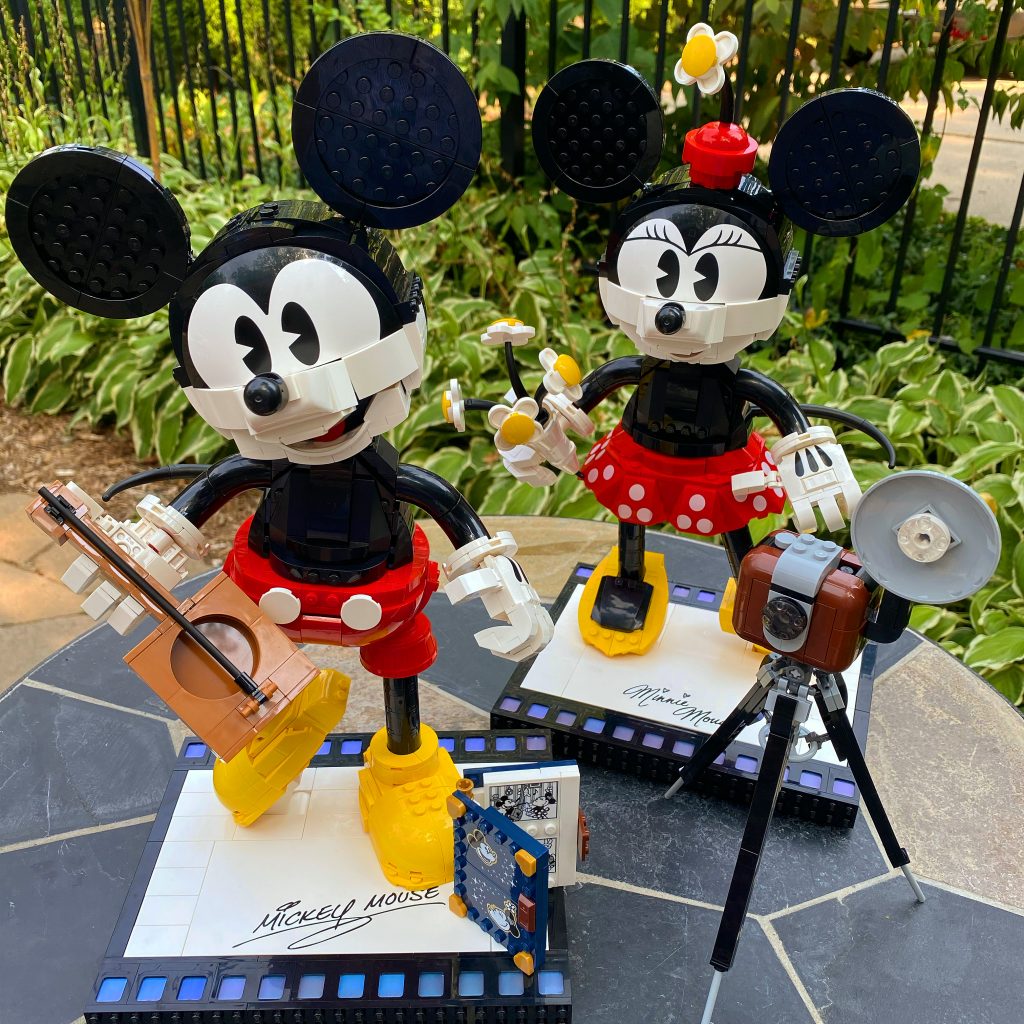 KIM: My kids gave me this Mickey and Minnie 1,739-piece LEGO set for my birthday, so technically, I did buy it (I just didn't know it). Putting it together was a perfect quarantine activity. As a puzzle lover, I find that I get the same Zen feeling from LEGO building as I do from a challenging puzzle.
At 14 inches high, the characters are quite a centerpiece. I love how they look in the background of all my Zoom calls. Oh, and kids will like them, too.
The Mickey Mouse & Minnie Mouse Buildable Characters set is $179.99 and available at LEGO stores and at LEGO.com.
Nov. 2: Maleficent Ring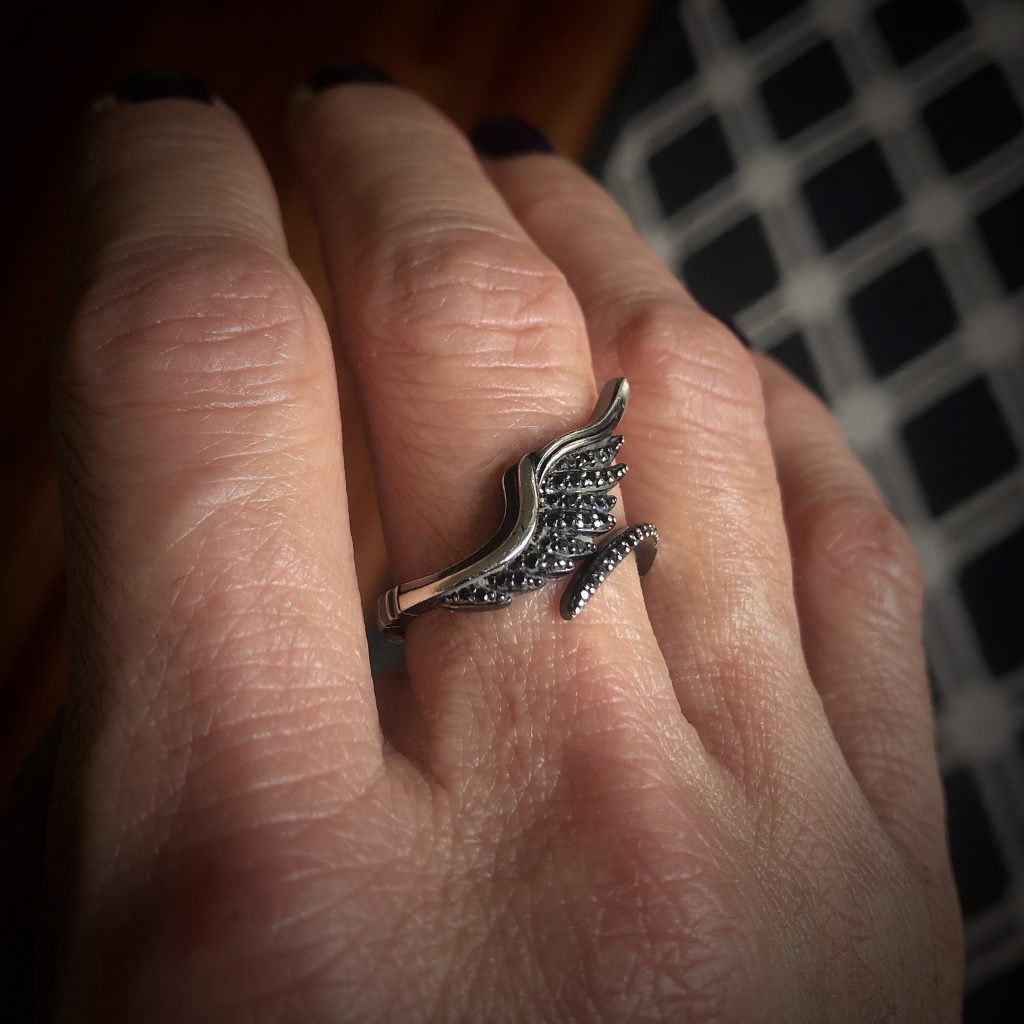 CAT: The scene where Maleficent's kiss awakes Aurora is my favorite. I showed it to my daughter and to hear a 9-year-old realize and verbalize that a mother's love was true love was just too much! She and I both loved that scene. Then on Mother's Day weekend we happened to go into a jewelry shop and she saw the ring with Maleficent's wings, and we just HAD to buy it.
The Maleficent ring is available at Zales for $179.99. It is part of the company's Enchanted Disney Fine Jewelry Collection and is made of sterling silver with black rhodium and enhanced black diamonds.
Nov. 1: Clockface Earrings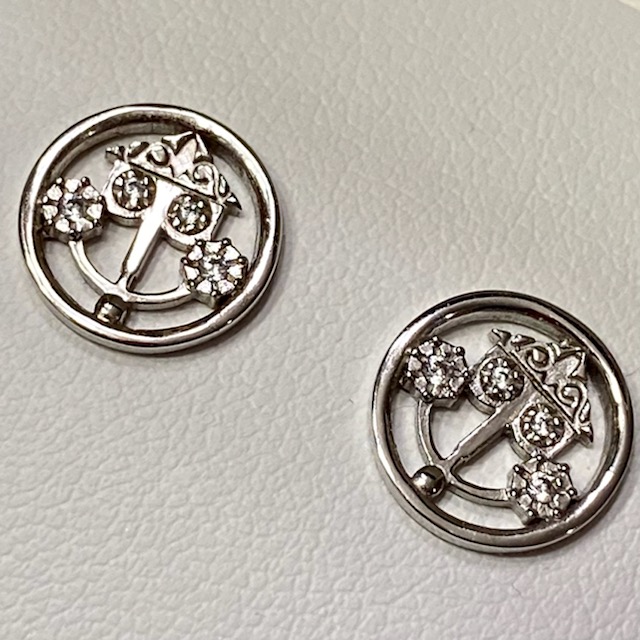 KIM: Small World merchandise is a favorite of mine because it celebrates the artwork of Mary Blair. Blair was a major player at Disney and early on when women rarely held such positions. She had a hand in the creation of Alice in Wonderland, Peter Pan, and Cinderella, and she is responsible for the entire look and feel of the "it's a small world" attraction. I could not pass up the chance to have these earrings of Small World's clockface. It's the attraction's very own icon, and here's a tip. When you're at the Magic Kingdom, make sure you catch the clock in action. It goes off every 15 minutes!
Disney's "it's a small world" Clockface Earrings are .925 sterling silver, with cubic zirconia, and a platinum finish. They are currently available for $65 at shopdisney.com*
*Don't forget, that Disney Passholders, Disney Vacation Club members, and Disney Visa Cardholders may qualify for a discount at Shop Disney.