Attraction: Avatar Flight of Passage
Theme Park: Animal Kingdom
Location: Pandora – The World of Avatar
Year Opened: 2017
Movie Inspiration: "Avatar" (2009), an original screenplay by James Cameron
The most anticipated attraction built to date does not disappoint. More than eight months after opening, Flight of Passage still commands a standby wait in the two-to-three-hour range. With just one visit, we can see why.
Without spoiling the experience, Flight of Passage is like wrapping Soarin', Star Tours, and a rollercoaster all into one, and then kicking it up a notch.
Ever wonder what it feels like to fly? Not in a plane, but actually fly like a bird? This feels like the closest one can come without taking up hang-gliding.
(Full disclosure: We did not wait in the 175-minute line during our visit. We scheduled a FastPass 60 days in advance. However, we can't find fault with those adults willing to wait out the massive line. The ride is simply that awesome. Just come well-prepared with snacks and a good podcast, playlist, or friends with excellent conversation skills.)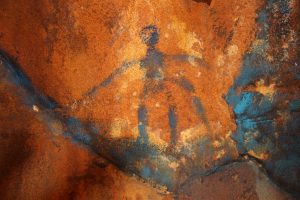 Once we made it through the queue that led us from forest, to cave, to high-tech laboratory, it took several minutes to get through the pre-ride spiel. The storyline is that you are about to ride through the world of Pandora on the back of a mountain banshee (Na'vi name: ikran). The complication is that banshees don't view humans as companions. They view them as snacks. Na'vi hunters, however, can ride these creatures. So, in order to fly, you must link with an Na'vi Avatar to be accepted as a passenger.
Once linked to an Avatar, you are ushered into a rectangular room with cubbies to store your gear. Your "vehicle" is right there with you, and feels much like sitting on a Suzuki motorcycle without wheels. You are required to wear large 3D goggles. As you lean forward to hang on, a safety bar rises up to your lower back and to the back of your calves. Then the 4-minute flight, which we will let you discover on your own, begins.
For kiddos, it does have a 44" height requirement. Our smallest team member measures in at 48" and was perfectly comfortable. The ride vehicles are close enough to each other that a grownup is able to reach out and hold a child's hand, if necessary. There is a scary encounter with a great leonopteryx (Na'vi name: toruk) during the flight. It doesn't last very long. Our little guy just closed his eyes for that part.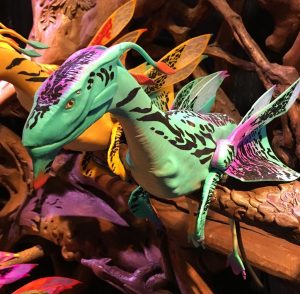 Those of us on the team who get motion sickness on Star Tours didn't experience it here. There are several "drops" in the ride, similar in feeling to the drop one might experience on Expedition Everest.
What's amazing about Flight of Passage is how real Imagineers made it seem. Even though you are sitting on a piece of cushion and metal, the vehicle is warm and expands and contracts, giving you the sensation that you are sitting on a living, breathing animal. All this is accompanied by a musical score by the London Symphony Orchestra.
For your next trip to Animal Kingdom, we highly recommend Avatar Flight of Passage. It's a shame the wait time for standby is so long, because we believe this is an attraction with so many nuances that it needs to be ridden again and again to catch it all.
Thanks for Popping In!