If you are a doughnut lover and have never tried a beignet, then you may want to consider making a special trip to Disney's Port Orleans Resort – French Quarter for this delicious French-inspired, southern treat.
Traditional beignets are a simple sweet dough, cut in a square, fried in oil, and covered in a thick layer of powdered sugar. The frying process puffs the dough into an airy, pillow shape. But Disney, of course, takes it up a notch and cuts its beignet dough into Mickey Shapes. The new shape doesn't affect the taste, but it sure makes for a great photo-op.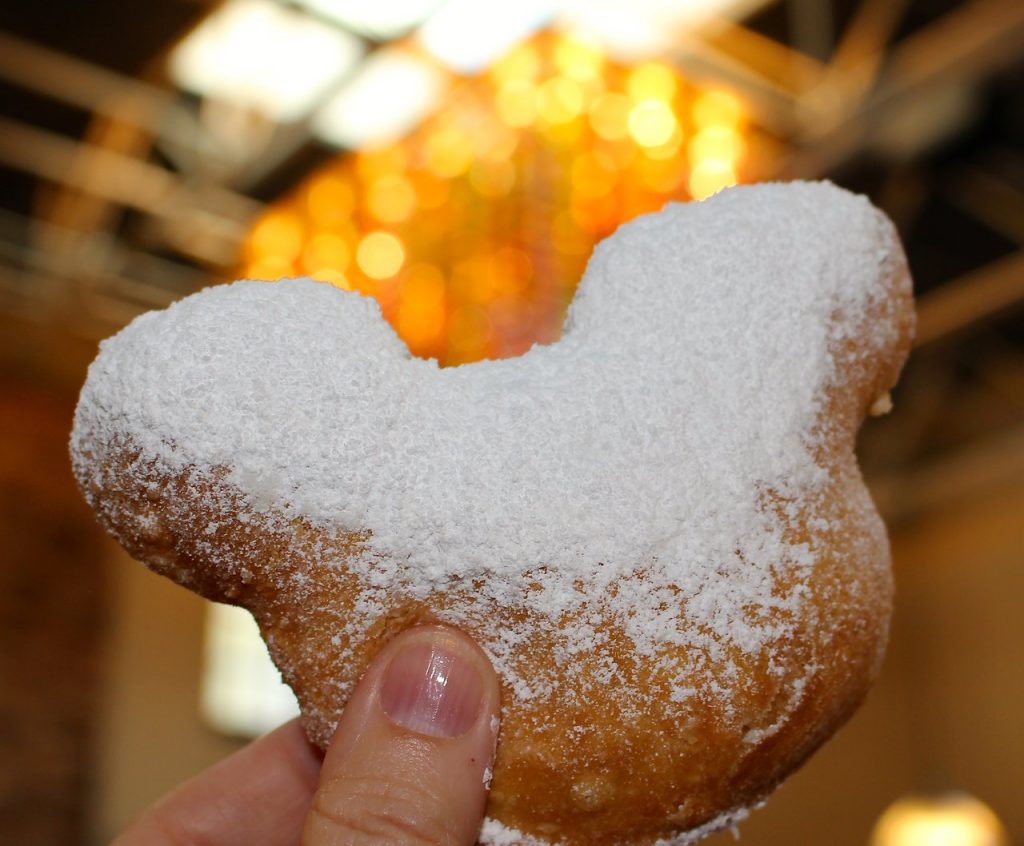 Getting your hands on a Disney beignet couldn't be easier. They are served at the French Quarter's quick-service restaurant, Sassagoula Floatworks and Food Factory. No reservation is required at Sassagoula, and the beignets are available all day long. Cast members are literally frying up the dough breakfast, lunch, and dinnerbecause the only way to eat a beignet is when it is warm and fresh.
Disney follows the custom of always serving beignets in threes. The cost for three is $4.49 (only $1.50 per pastry, can you believe it?). Buy six and you'll be charged $6.99 (a mere $1.17 per pastry). And, the beignets are not small. Each one is about the size of your fist. I think they may be the biggest food bargain on Disney property. (Although, if you order the caramel, raspberry or ganache dipping sauce, the price goes up by $1.99.)
But wait, it gets better. If you are in the mood for late night beignet with a kick, head to the Scat Cat Club (next door to Sassagoula) and try the Baton Rouge Beignets. For $8, Disney "jazzes up" each the trio of fritters with a shot of Baileys, Kahlua, or RumChata.
Now that's Disney magic.
facebook
Facebook: facebook.com/mainstreetpopin
instagram
Instagram: @main.street.pop.in
twitter
Twitter: @mainstreetpopin