There are some foods we go out of our way for and one of them is the Indian-Style Bread Service at Sanaa, located in Walt Disney World's Animal Kingdom Lodge Resort (Kidani Village).
Whether your group has two diners or 10, don't eat at Sanaa without ordering this appetizer. For $16, you get five bread choices and nine dipping sauces. (A $13 option exists but you only get to try three sauces. Trust us, spend the extra $3 and get ALL the sauces. It's worth the adventure.)
All the breads served are traditional Indian flat breads, and each is delicious in its own right. Three are Naan Breads—one traditional, one garlic-ginger, and one spiced. Sanaa truly makes the best naan bread we have ever tasted—warm, buttery, and with a melt-in-your-mouth softness that is absolutely addictive.
But just because the naan is good, don't let that stop you from trying the other bread choices, the Onion Kulcha (a flat-bread with onion baked into the dough) and Paneer Paratha (a bread with the cottage cheese-like paneer baked into the dough).
Now that we've told you about the bread, we'll move on to the stars of the show—the accompaniments.
Along with your bread plate comes a wooden tray with nine metal cups containing nine colorful dipping sauces. Each cup has its own small serving spoon. The sauces are lined up according to spiciness.
The first, Cucumber Raita, is a traditional yogurt and cucumber sauce. It is cool and refreshing, and pairs well with the spiced naan bread.
The Mango Chutney is next. This was one of our favorites. It was loaded with mango and was probably the sweetest of the nine options.
The Tamarind Chutney and Tomato-Date Jam reminded us of a BBQ sauce and a ketchup, but in a good way—like a really fancy, secret-family-recipe version of BBQ and ketchup.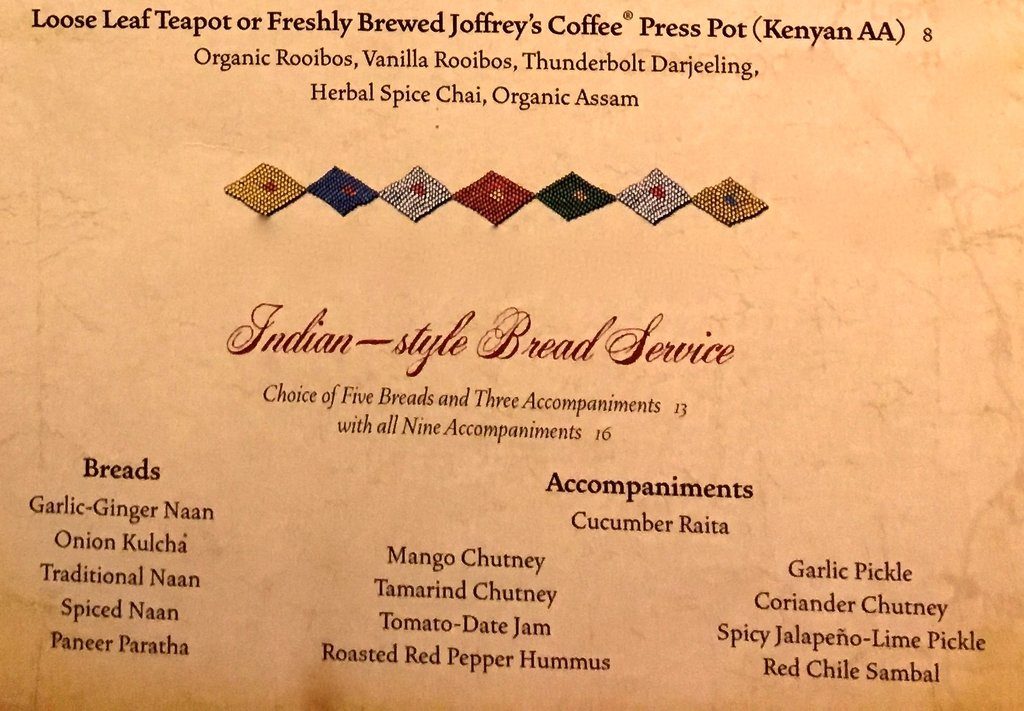 The Roasted Red Pepper Hummus pulled no surprises. It's a good starter for a kid or bread service first-timer, simply because its' flavor is the most familiar.
The Garlic Pickle tastes just like the name suggests. The Coriander Chutney came next in our lineup, but we honestly can't remember this one. (We'll pay better attention next time.)
The last two dips have the most heat—a Spicy Jalapeno-Lime Pickle and a Red Chile Sambal. The first was our favorite of the two, but we did mix the Red Chile Sambal with some of the other sauces to spice them up a bit.
So, there you have it. A must-try dish at Sanaa at the Animal Kingdom Lodge.
Consider taking a little road trip out to the Lodge during your vacation. There is so much to see and eat at this resort, you'll be glad you made the effort.
Thanks For Popping In!
Follow MAIN STREET POP IN on
facebook
instagram
twitter