Want a classic end to your Walt Disney World day?
Take part in the fantastical nighttime battle between good and evil that is all wrapped up into the aptly named, FANTASMIC!
Now, I am ashamed to admit that before now, Fantasmic! was never part of my must-do list. I had seen it, but never felt really "wowed" by it. However, so many Disney fans that I love and admire count Fantasmic! as a favorite. I knew I had to give it another try.
Thanks to COVID, giving Fantasmic! another try took over two years as the show has been one of the last things to reopen since the pandemic hit. It seems hard to believe, but Fantasmic! was shuttered from March of 2020 to November of 2022. Given that, perhaps you can understand why seeing it again made super-fans shed tears of happiness and lackadaisical fans, like me, finally sit up and take notice.
Fantastic! is a classic Disney experience complete with a charming story, the best of the Disney music catalog, and Mickey Mouse in his most iconic role as the sorcerer's apprentice. The show also has some romance, a few stunts, and I definitely appreciated having a bleacher seat to sit down and enjoy it all.
So, without a lot of spoilers, here are the basics on Fantasmic!
Fantasmic! opened in Hollywood Studios (then called MGM Studios) on October 15, 1998. Beloved but not an original, Fantasmic! got its start in Disneyland, where it was so popular that guests would arrive hours before the show to stake out a place to see it. To avoid crowd issues in Florida, Disney built the Hollywood Hills Amphitheater, which has 6,900 seats and standing room for 3,000.
As for the show, Fantasmic! is a nighttime performance with characters, pyrotechnics, animation, water, and music. Mickey Mouse takes guests into his dream adventure. The musical journey includes animated film clips shown on streams of water and live performances from various films such as Aladdin, Beauty and the Beast, Frozen 2, The Lion King, The Little Mermaid, Moana, Mulan, and Pocahontas.
But Fantasmic! isn't all pixie dust and rainbows. Eventually, the villains arrive to give Mickey a hard time. (Sidenote: While most kiddos did fine with the chaos, I should mention that I noticed three or four grownups ushering a younger kid out of the amphitheater when the scarier characters — such as the 40-foot dragon version of Maleficent — appeared.)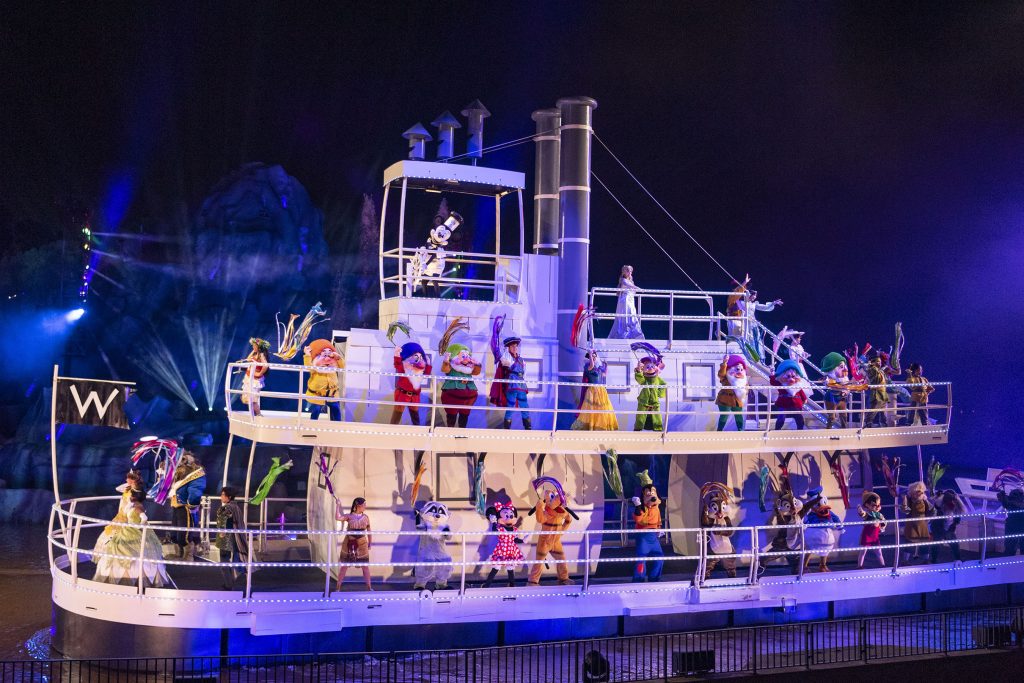 Does Fantasmic! have a happy ending? Well, that is for you to find out.
Fantasmic! runs nightly at Hollywood Studios (sometimes twice) and lasts about a half hour. Disney posts showtimes well in advance, so check the website or the My Disney Experience app for up-to-the-minute details.
On the night of the show, if you want to score a great seat, then line up early. Beware if you choose a seat in the front row. You may get a wet.
If you have the big bucks, you can book a Fantasmic! Dining Package to guarantee yourself a primo spot and zero wait. Prices for the dining package range from $49 to $73 per guest and include a meal at one of five Hollywood Studios sit-down restaurants and a ticket for VIP Fantasmic! seating. It's a splurge, but perhaps worth it if you are short on time and planned to dine at one of the sit-down restaurants anyway.
Is there any downside to Fantasmic!? Well, Disneyland fans tell me the west coast version of the show is a little bit better, and I personally wish Fantasmic! had MORE FIREWORKS. So, let's give the show a rating of "Practically Perfect".
For those who like to hear about "magical moments", I thought you might enjoy a little something that happened at the start of the Sunday, January 29, 2023 performance of Fantasmic!
The show was only about 20 seconds in, when suddenly, everything went dark. An announcer came on and talked of technical difficulties and the possibility of the show being canceled. Thankfully, fans didn't freak out. The lights came on and audience members sitting on stage right began The Wave. Everyone joined it. The kids were loving it. Then some cell phone flashlights could be seen waving in time to the music. Seconds later, thousands of lights from every corner were dancing too. It was a magical moment, quite literally. All the lights and smiles fixed whatever technical problem had occurred.
And yes, the show did go on.
Thanks for Popping In!
Click Here to Subscribe to our FREE Main Street Pop In Newsletter. Every month, we "POP IN" and take a Quick Trip to Disney!
Have a question or a suggestion for a future post? Email us at info@mainstreetpopin.com
Follow MAIN STREET POP IN on
facebook
instagram