Hollywood Studios
Enter into a place where the golden age of Hollywood meets a galaxy far, far away. Visit lands where you can feel like one of Andy's toys or take a spin on Disney's first Mickey Mouse ride. Welcome to Hollywood Studios!
Disney's Hollywood Studios opened on May 1, 1989 as the Disney-MGM Studios. Since then, Walt Disney World's third theme park has transformed tremendously. Its name has changed more than once, a few new lands have been added (it currently measures 135 acres), and it has become one of the most popular places on the planet.
So without further delay, let's POP IN for a quick trip to Hollywood Studios!
Hollywood Boulevard
Pass through the retro park-entrance gates and enter into a mythical version of Hollywood. Stroll past the vintage gas station and step onto Hollywood Boulevard, a street full of shops that are copies of actual Hollywood locations.
Travel to the end of Hollywood Boulevard and there you will find the park's icon — The Chinese Theatre!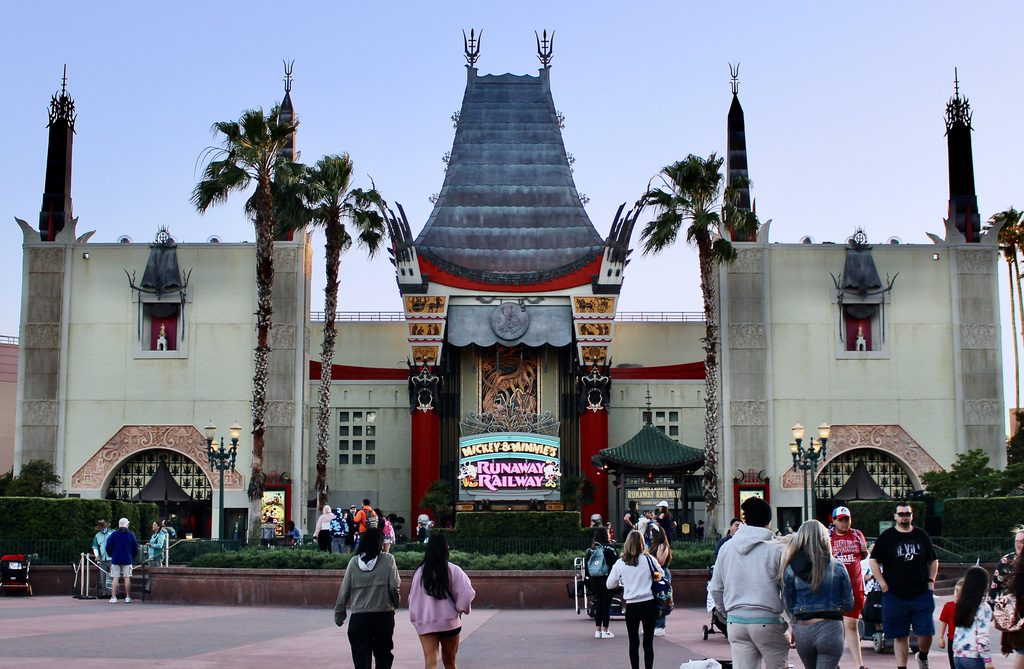 The Hollywood Boulevard Attraction
Mickey & Minnie's Runaway Railway
Did you know that until this ride opened on Mar. 4, 2020, the Disney Company did NOT have a ride attraction featuring Mickey and Minnie Mouse?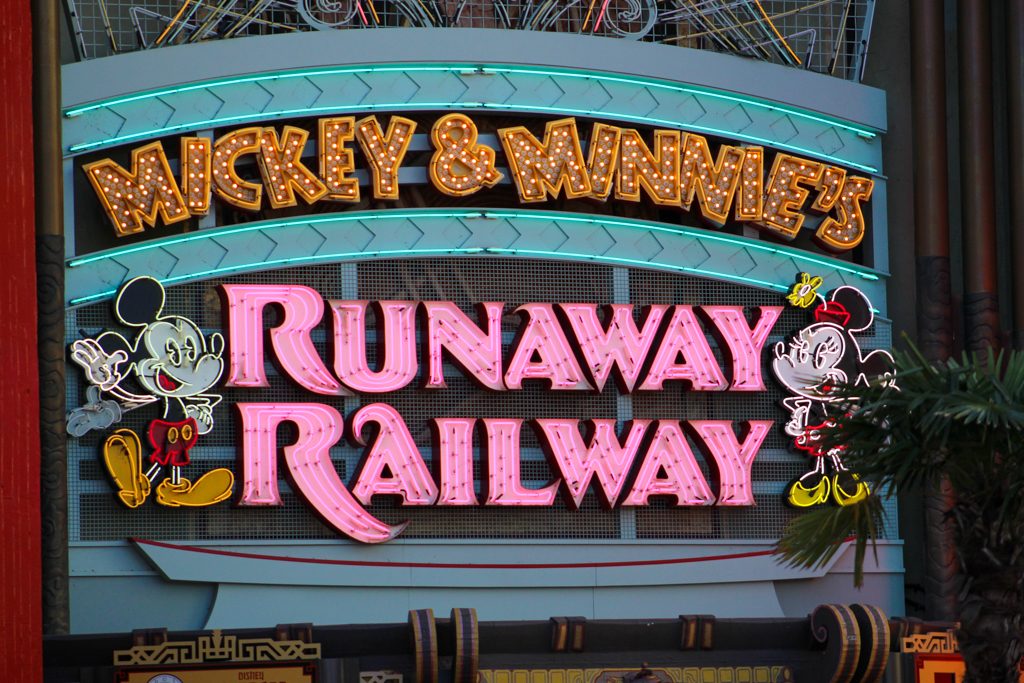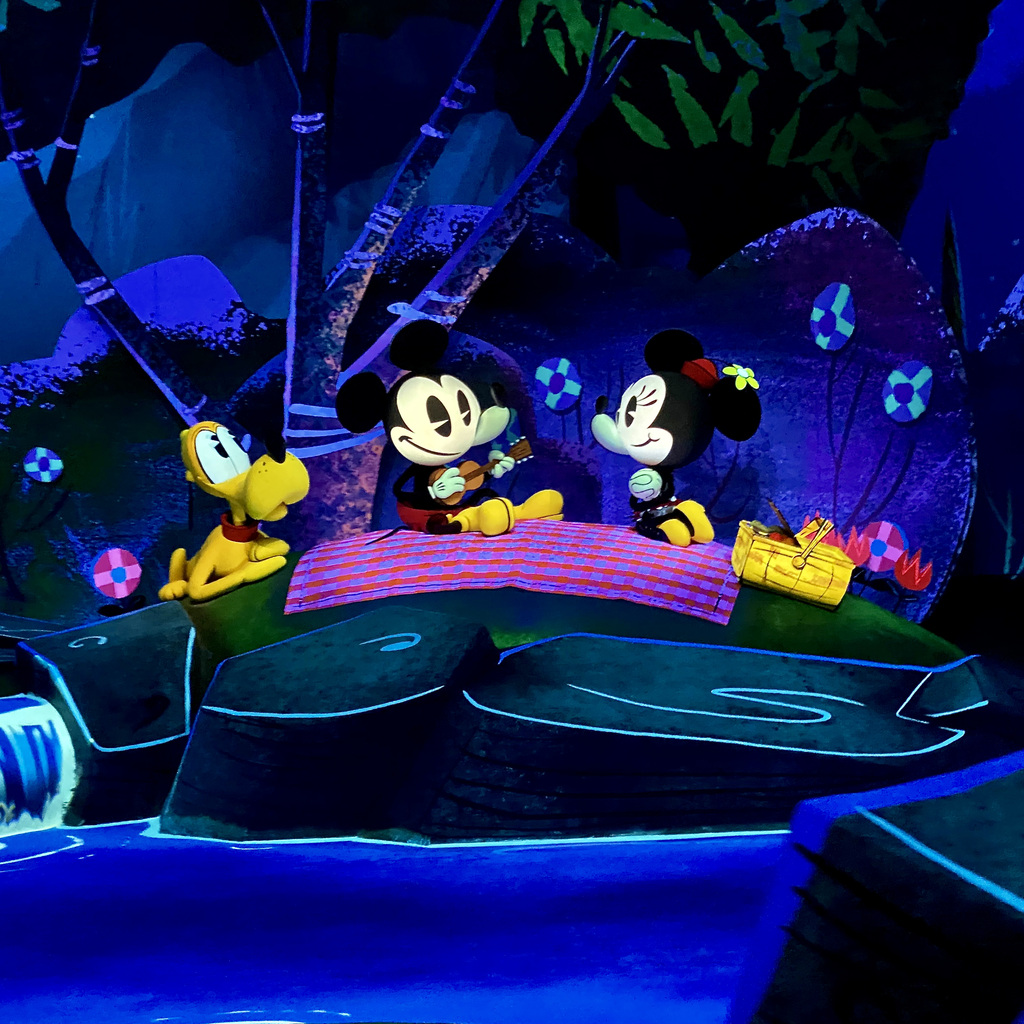 Where to Eat on Hollywood Boulevard
The Hollywood Brown Derby
An elegant, sit-down restaurant serving entrees worthy of a star. The Brown Derby's staff is dressed to the nines and the setting is teak and mahogany. The most famous dish here is the Cobb Salad (invented in California and named after the man who started the Brown Derby chain, Robert H. Cobb). Disney's Hollywood Brown Derby opened on May 1, 1989.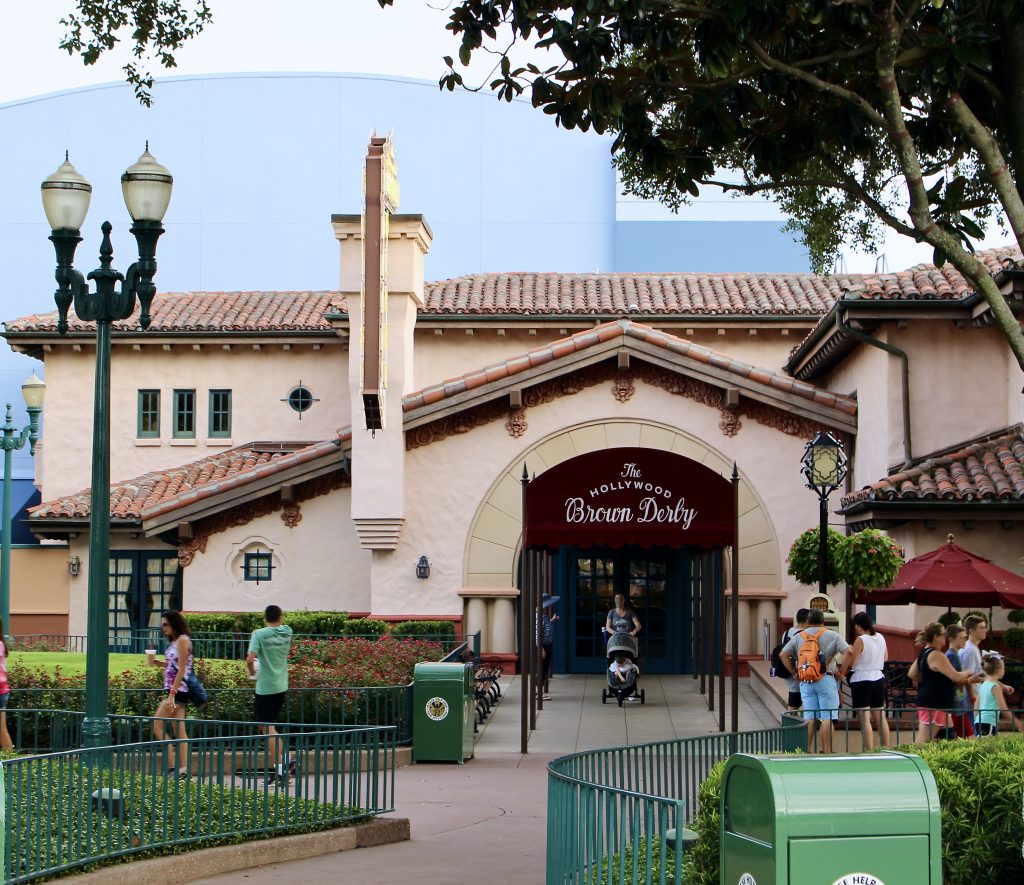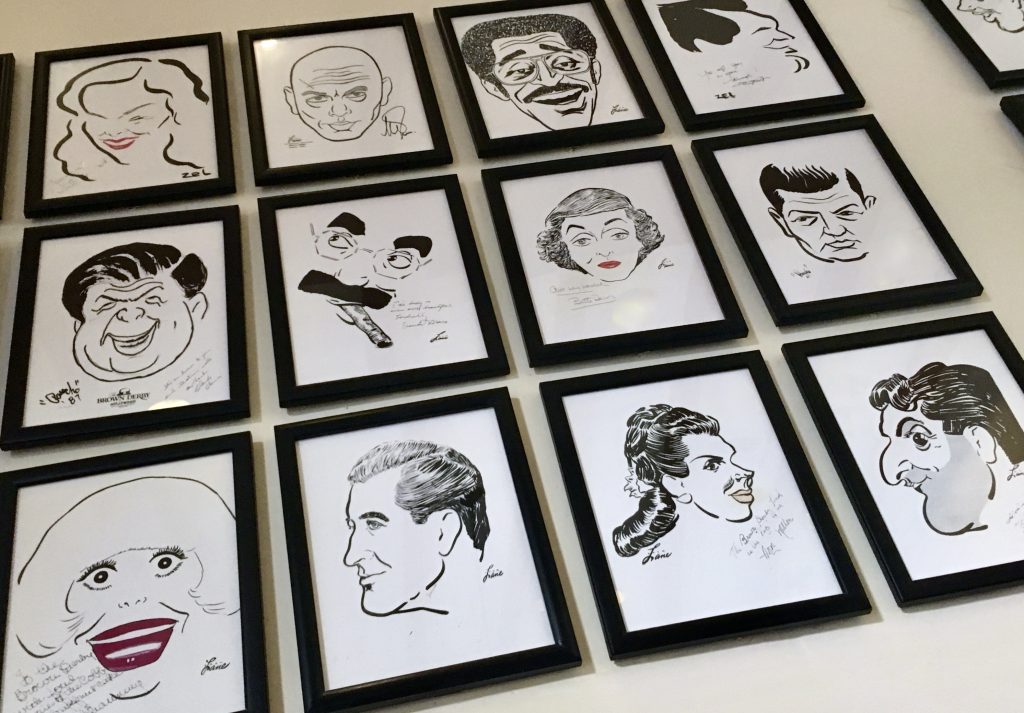 The Hollywood Brown Derby Lounge
The Lounge is an outdoor, sit-down location connected to the main restaurant. This gem doesn't take reservations, so if you see an open table, walk in like a diva and snag it.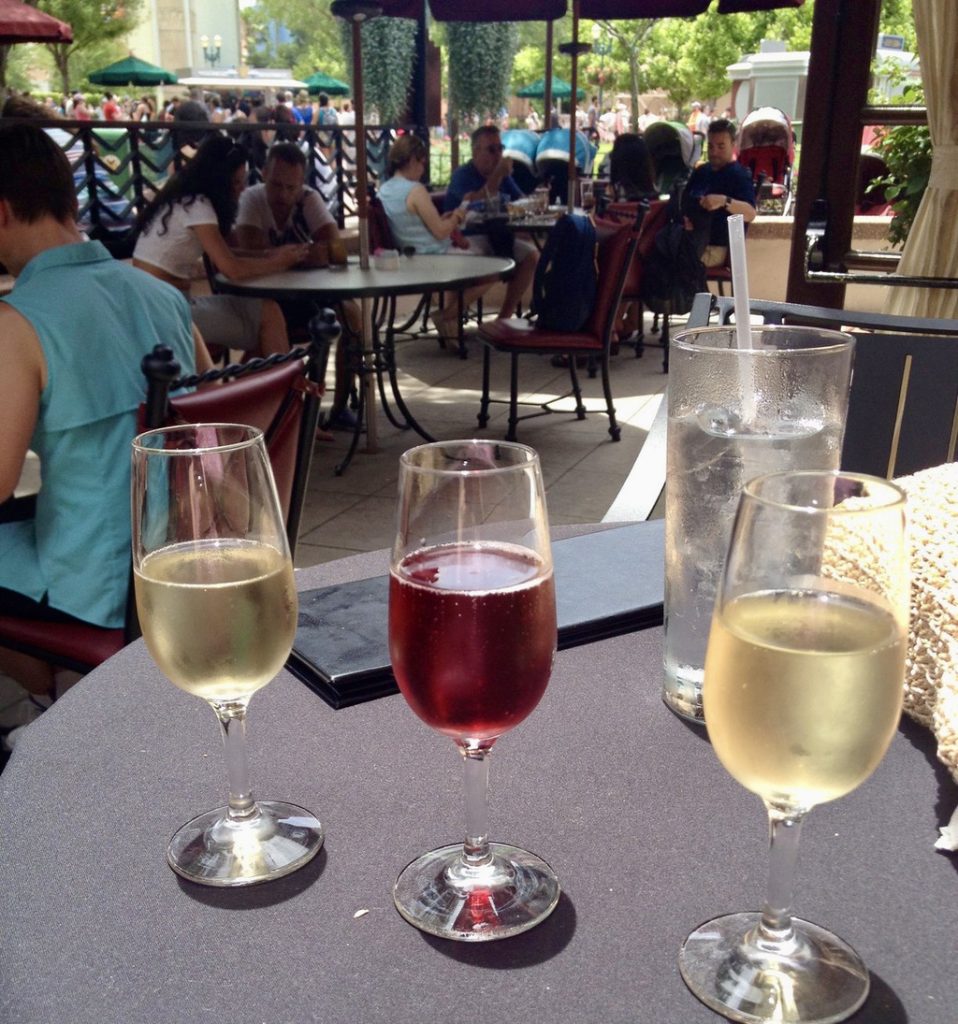 The Trolley Car Cafe
The quick-service Trolley Car Cafe is the park's Starbucks location. It stocks one of the most popular treats in all of Walt Disney World, the Carrot Cake Cookie (a.k.a the Carrot Cake Whoopie Pie). The cafe opened on Feb. 6, 2015.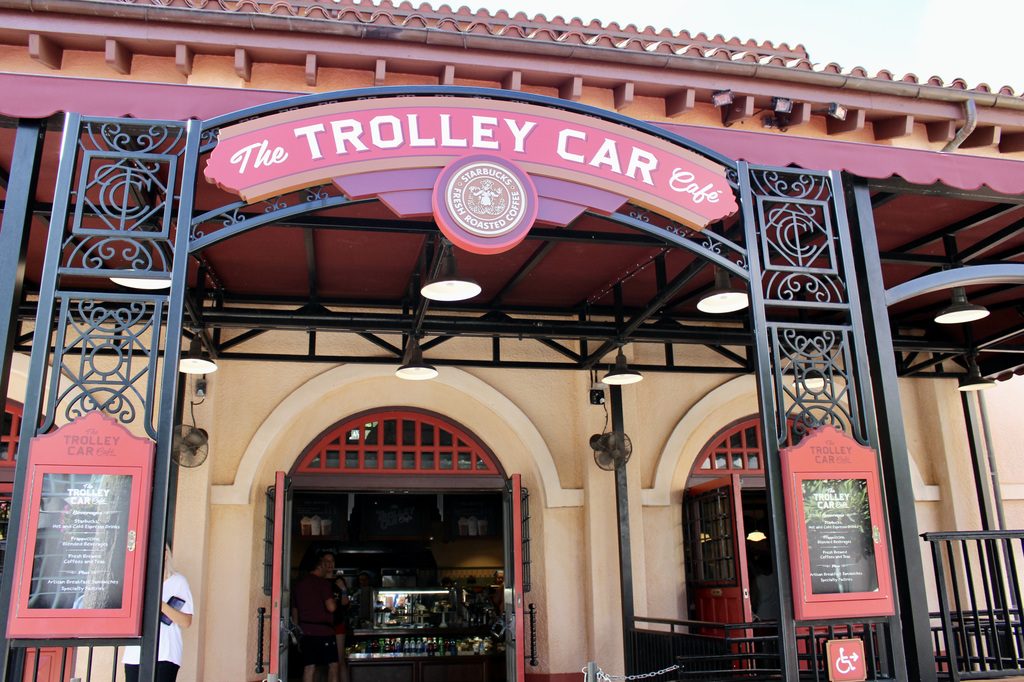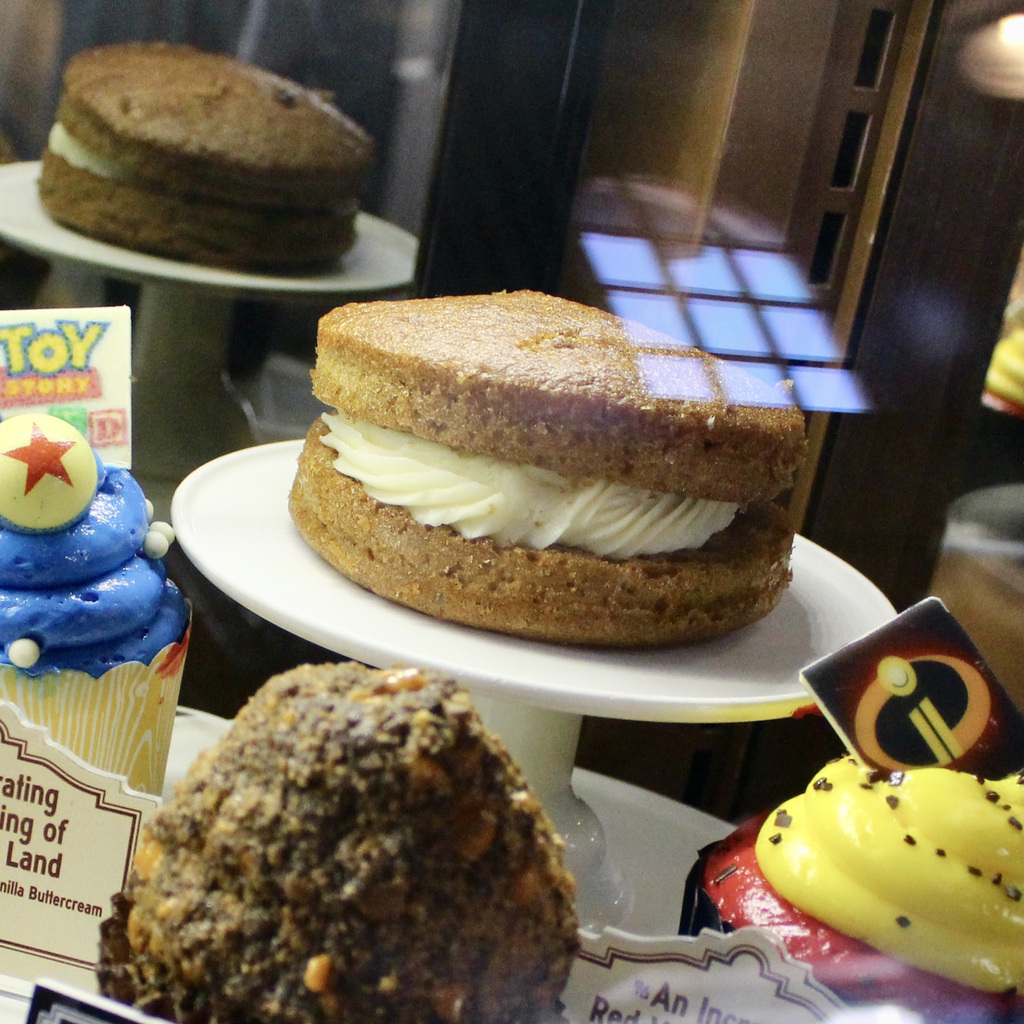 Where to Shop on Hollywood Boulevard
Celebrity 5 & 10
Celebrity 5 & 10 offers kitchen and other home accessories. It connects to The Darkroom, a shop offering pin, magic band, and phone case selections.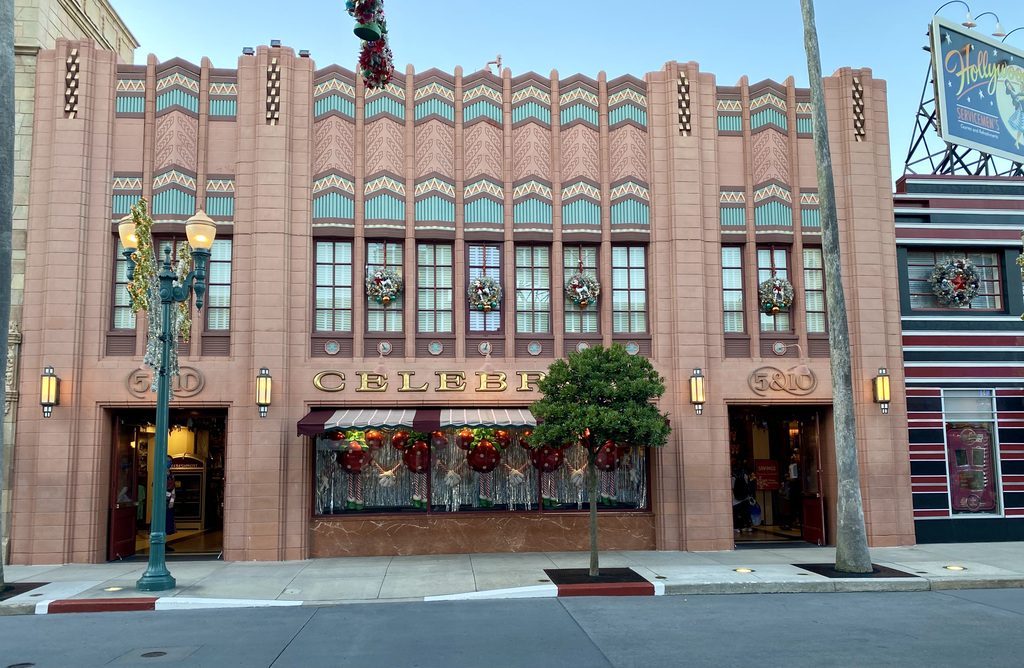 Mickey's of Hollywood
Mickey's of Hollywood's goods are pretty traditional. At the end of the day, this place is packed with guests picking out the perfect memento to remember the day.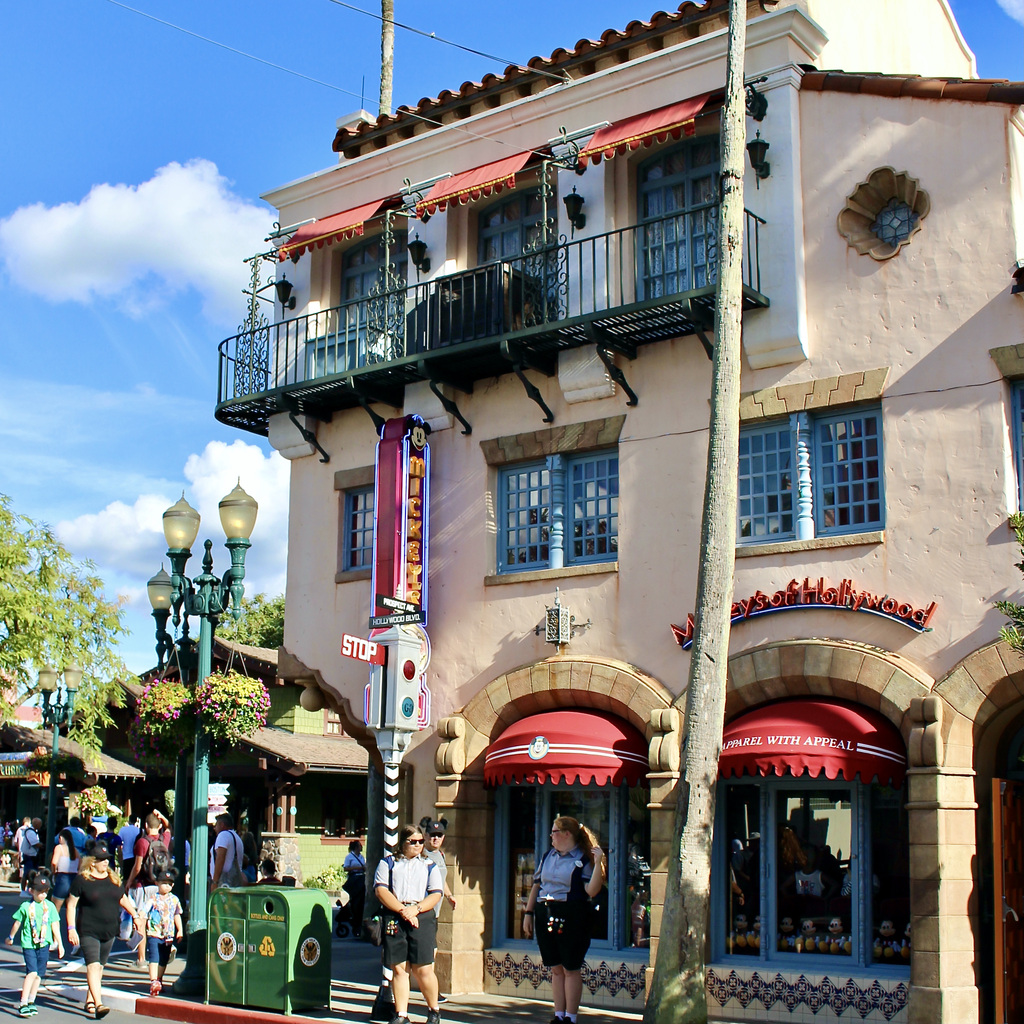 Keystone Clothiers
Keystone Clothiers specializes in Disney apparel and accessories, whatever the latest offering of the time may be.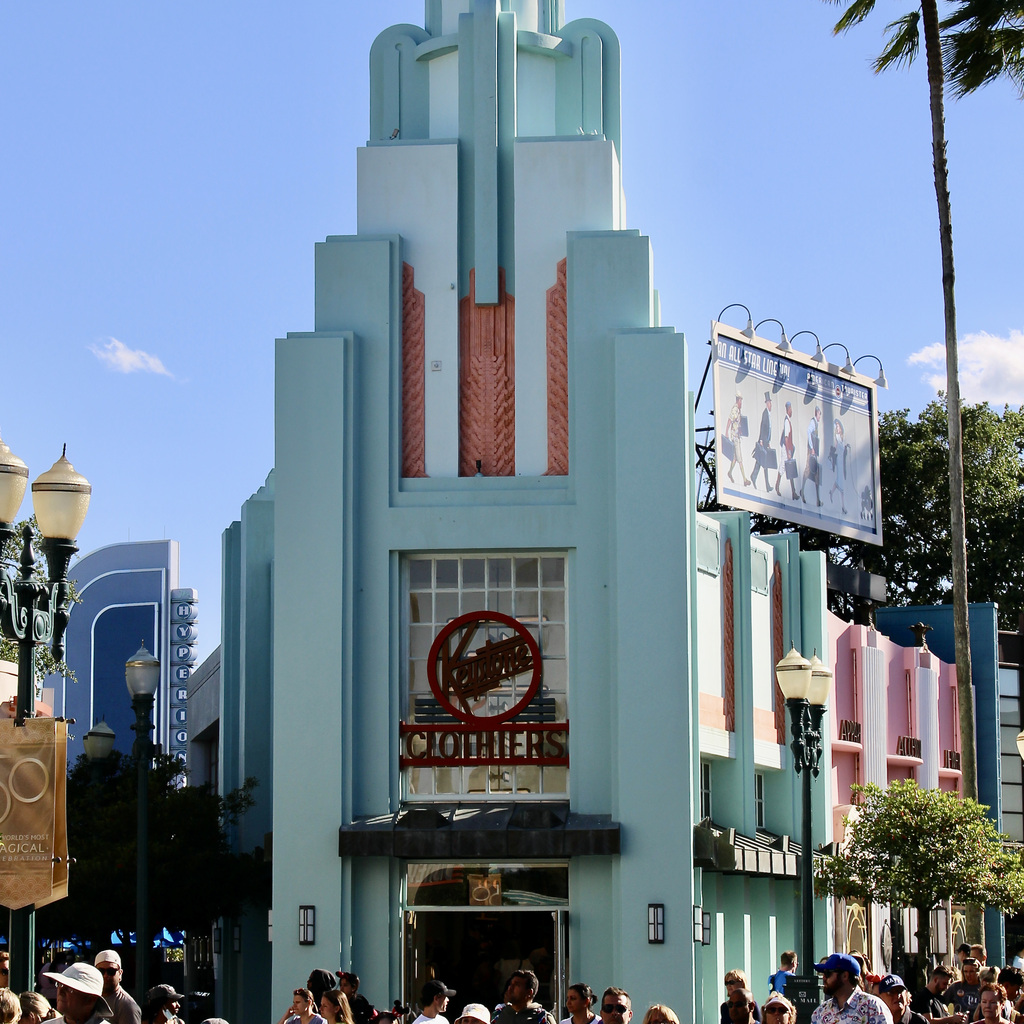 Oscar's Super Service
Oscar's Super Service serves as Hollywood Studios' stroller, wheelchair and scooter rental location. It is themed as a 1940s gas station and sells sundries.
Sid Cahuenga's One-of-a-Kind
If you'd like to see or purchase copies of any photos taken of your group by Disney's PhotoPass photographers, this is the spot. Sid Cahuenga's also sells art, collectibles, and camera/media supplies.
Magical Extras on Hollywood Boulevard
Wonderful World of Animation
See 90-years of Disney, Star Wars, Marvel, and Pixar movie history projected larger-than-life onto the facade of the Chinese Theater. Combined with lasers, lights, and fireworks, this nightly show tugs at the heartstrings.
Characters
Don't be surprised to see Minnie in a convertible or the Green Army Drum Corps coming down the boulevard. While Hollywood Studios doesn't have an official parade, pop-up cavalcades do occur.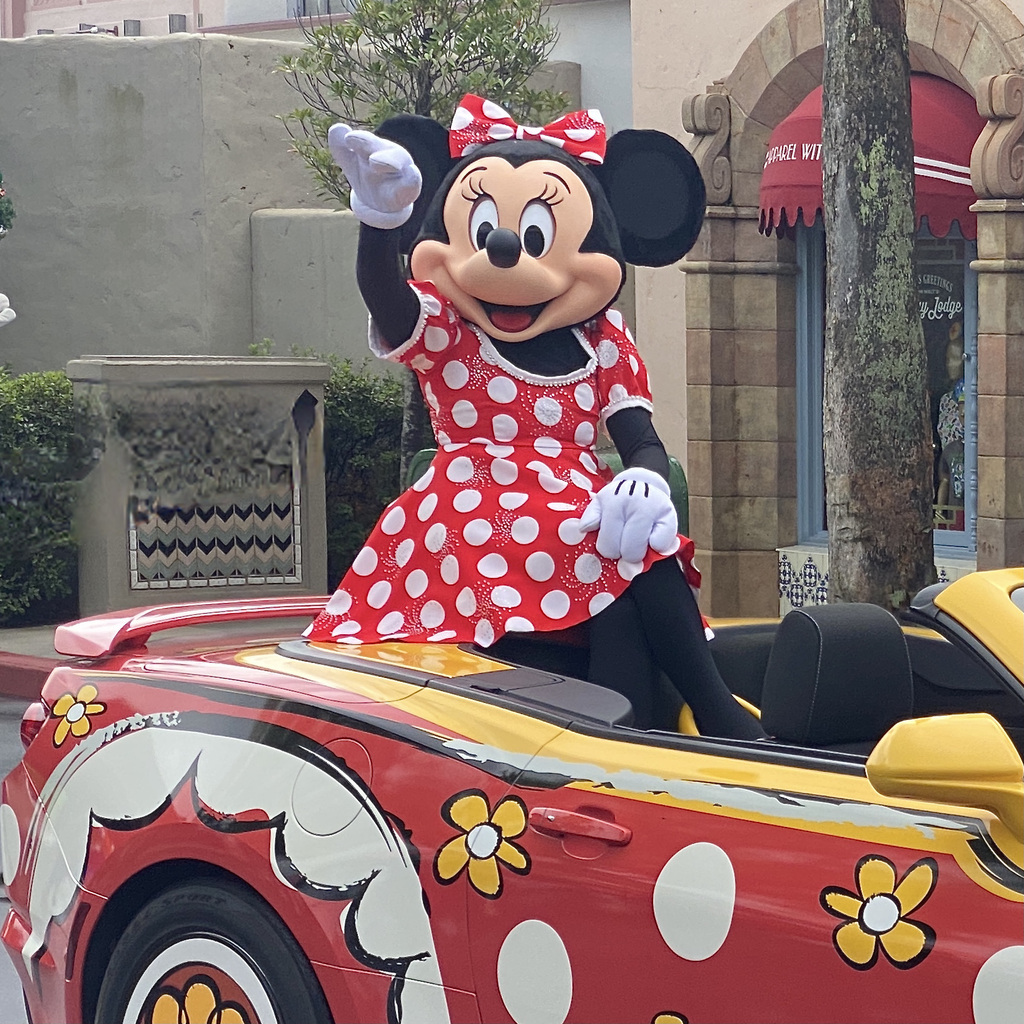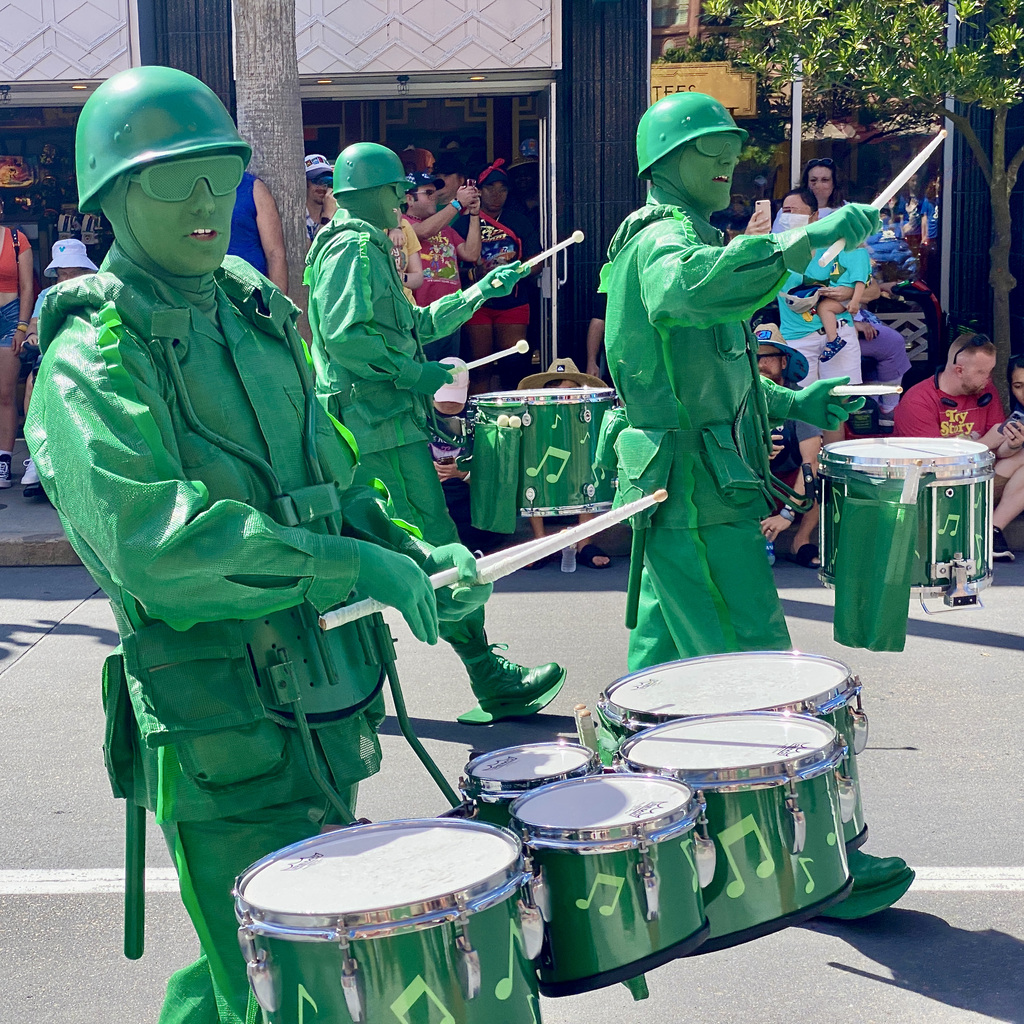 Echo Lake
Once you reach Keystone Clothiers, take a left and you'll find yourself in the Echo Lake area of Hollywood Studios. Disney historians believe Echo Lake is named after an artificial lake in downtown L.A. often used for filming. (Hmm… Keystone Studios filmed its silent comedies over 100 years ago in Echo Park Lake in L.A. and Disney's Keystone Clothiers leads to Echo Lake in Hollywood Studios. Connection or coincidence?)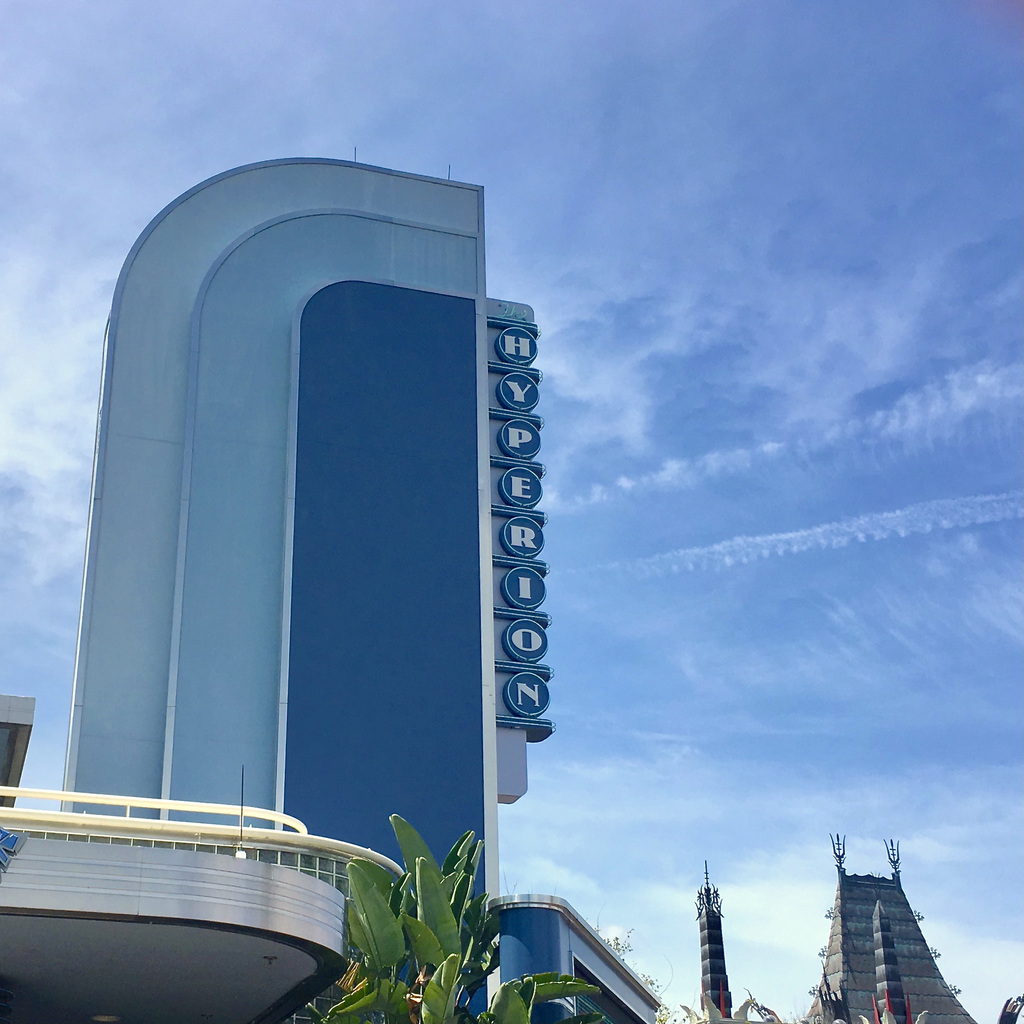 Echo Lake Attractions
For the First Time in Forever: "Frozen" Sing-Along Celebration
Two royal historians retell the original Frozen story with a comedic twist – and the help of Anna, Elsa, and Kristoff. Even if you are not a huge Frozen fan, you may enjoy Frozen Sing-Along Celebration. (It's that good.) Appropriate for all ages. Singing along is optional.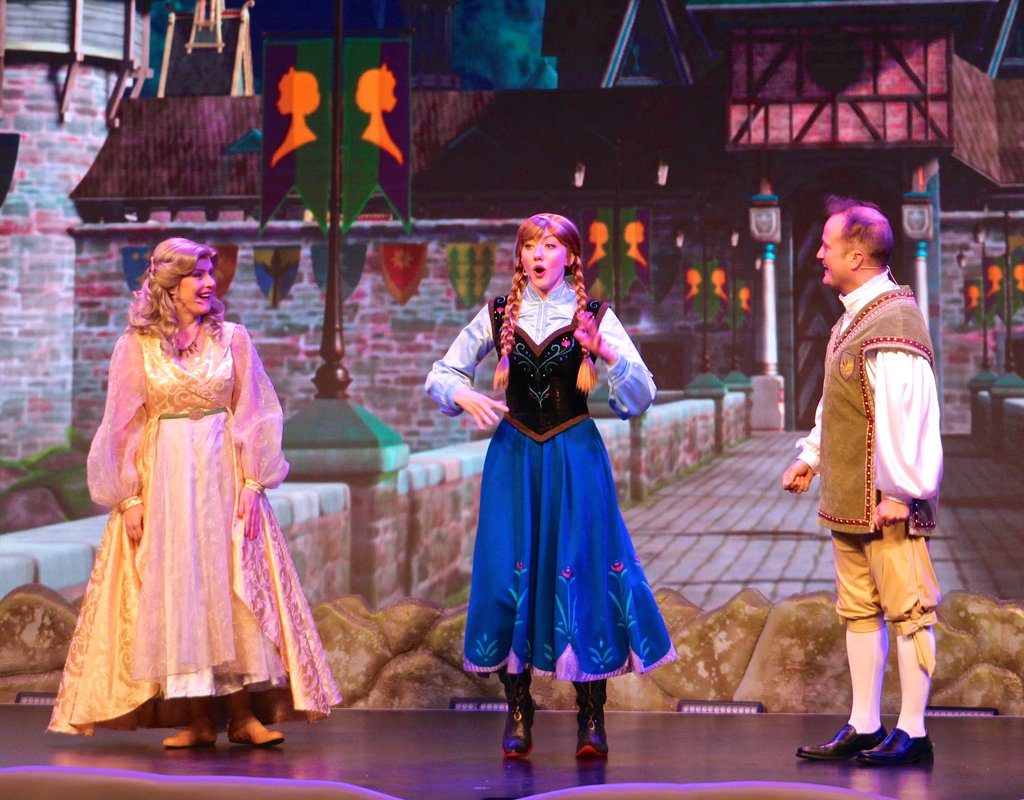 Indiana Jones Epic Stunt Spectacular
A behind-the-scenes look at the stunt work contained in Raiders of the Lost Ark. Performances are held in a huge, covered, outdoor arena. A few volunteers from the audience are invited to take part. The show runs about 30 minutes and includes some loud noises and stunt "violence", like fake punches, but there is no age or height requirement to enter.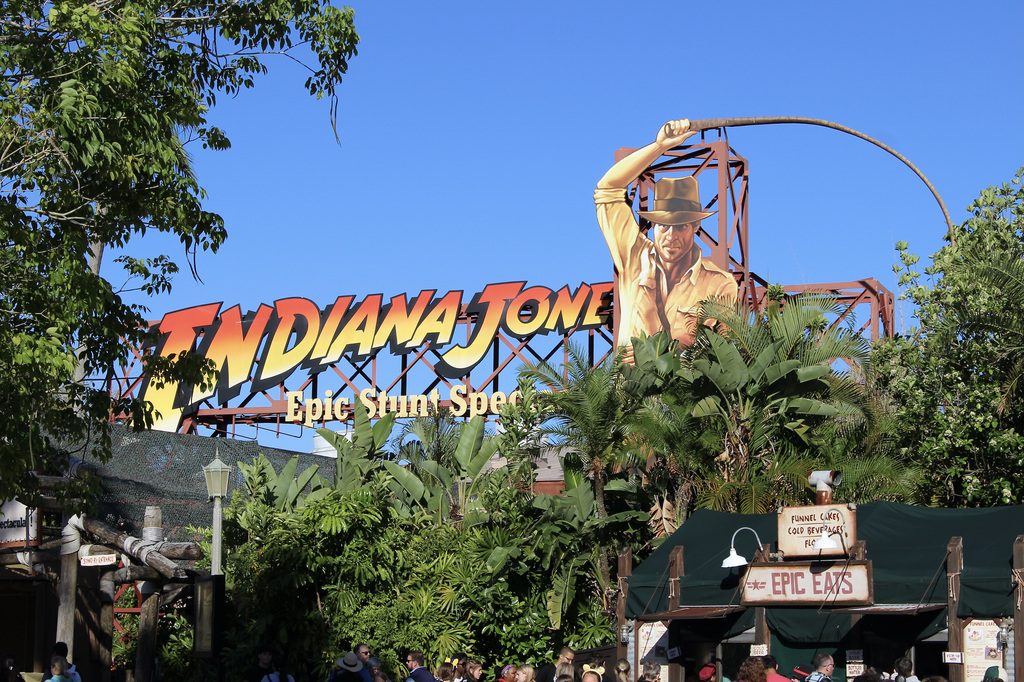 Star Tours – The Adventure Continues
The OG Star Wars thrill ride. Open since 1989, Star Tours uses a flight simulator and 3D movie technology to take guests on a space tram ride through the galaxy. The ride has multiple storylines, which are implemented at random, so guests can hopefully enjoy a different adventure with each new ride. (Disney says more storylines will be added in 2024.) Guests must be 40 inches or taller to ride. If you get motion-sick easily, you might have a problem on Star Tours.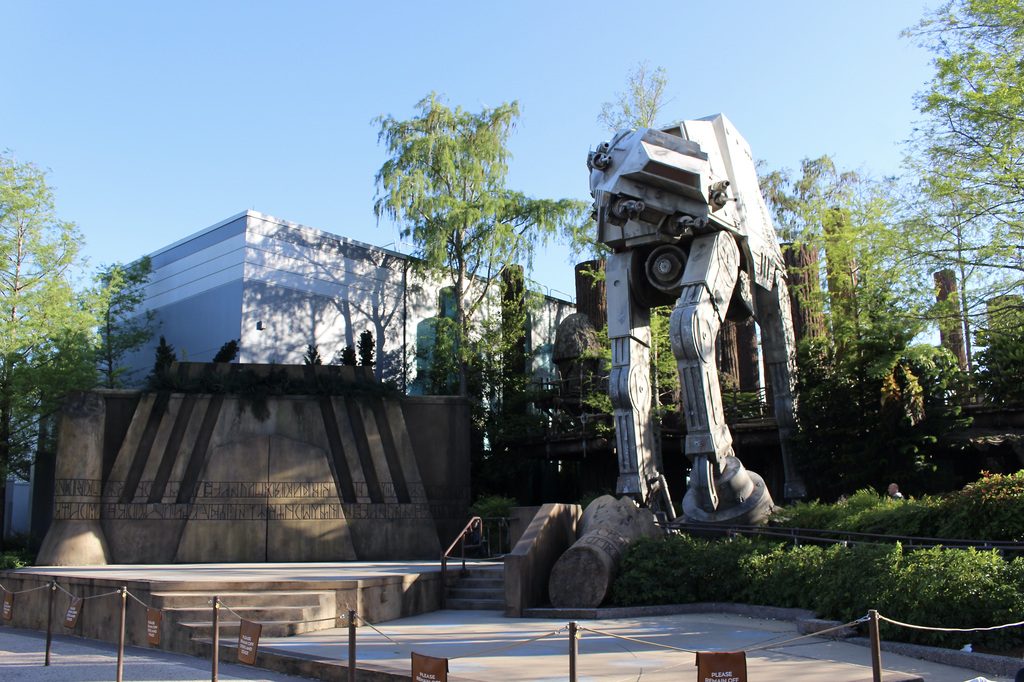 Vacation Fun
On the way to Star Tours, stop by the Mickey Shorts Theater to see an original Mickey and Minnie animated short. This theater is extremely charming, especially the Mickey-inspired seats.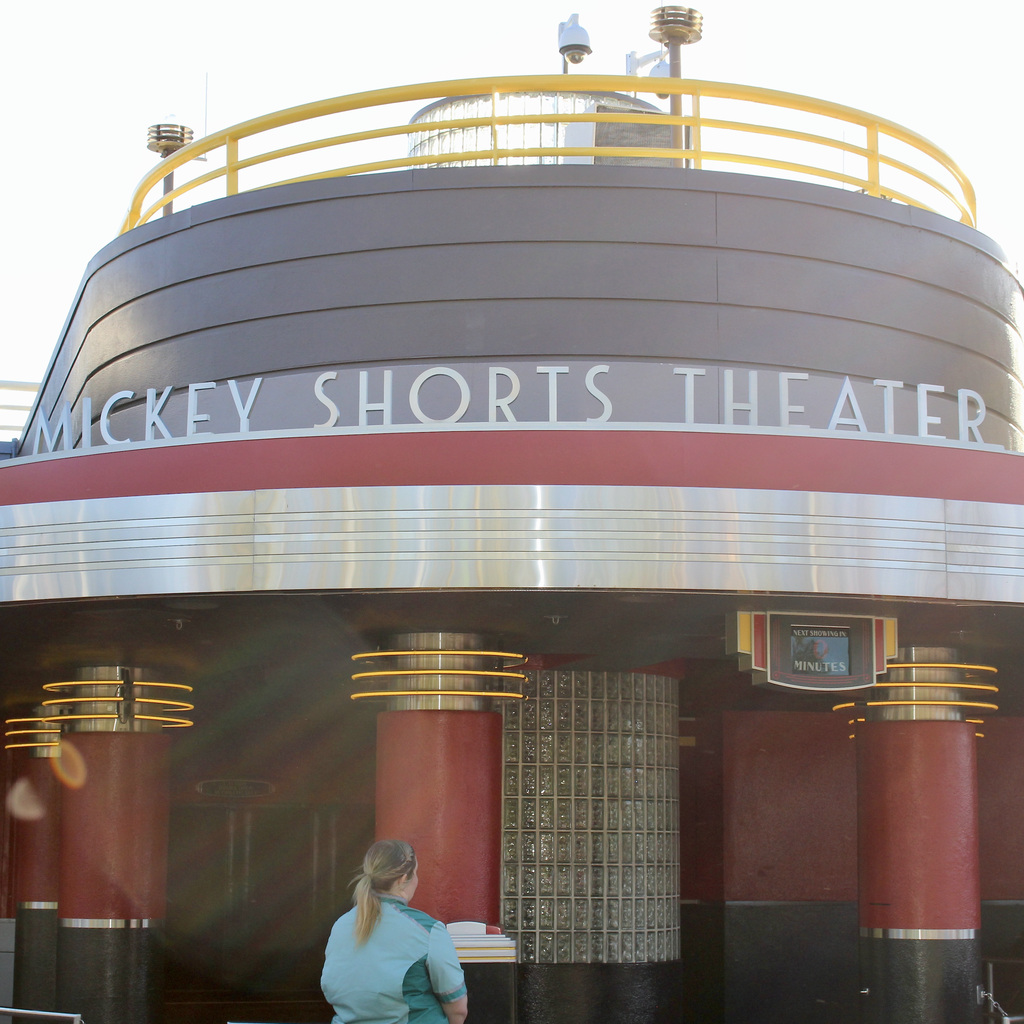 Celebrity Spotlight
Celebrity Spotlight gives guests the change to meet and take photos with popular Disney characters. Currently, Olaf is the "character in residence" at Celebrity Spotlight. He greets guests on a summer backdrop (but Disney asks that you not tell Olaf what happens to solid water in summer).
Where to Eat in Echo Lake
Hollywood & Vine
Hollywood & Vine is a sit-down restaurant that serves American fare, buffet-style. Disney Jr. characters make appearances throughout breakfast. Minnie and friends appear during lunch and dinner.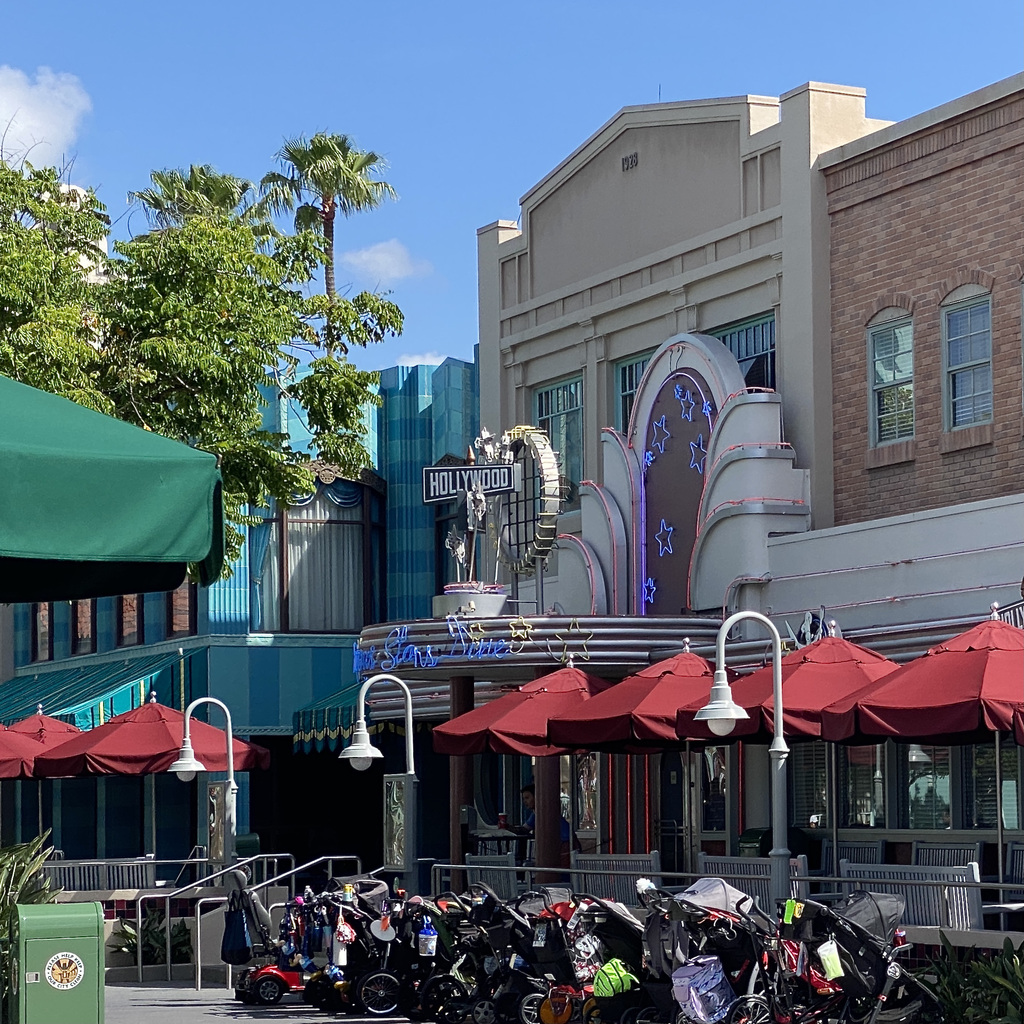 50's Prime Time Cafe
Eat your favorite comforts foods and be treated just like you would at home (with sarcasm and guilt). This is a sit-down restaurant themed to the 1950s – formica tables and all. Fried chicken, pot roast, and meatloaf are all popular menu items.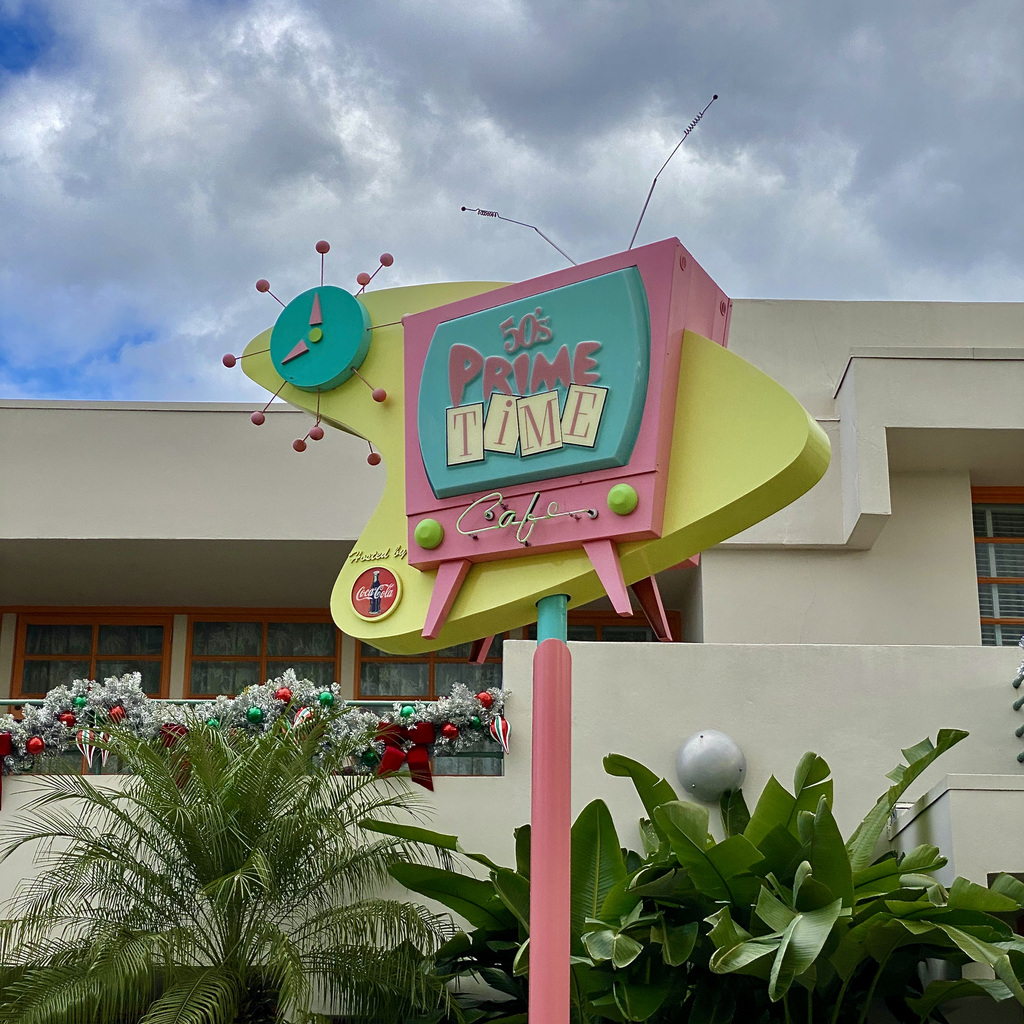 Tune-In Lounge
Inside the waiting area for the 50's Prime Time Cafe, is the Tune-In Lounge. The lounge has a full bar, plus wine, beer, and specialty cocktails.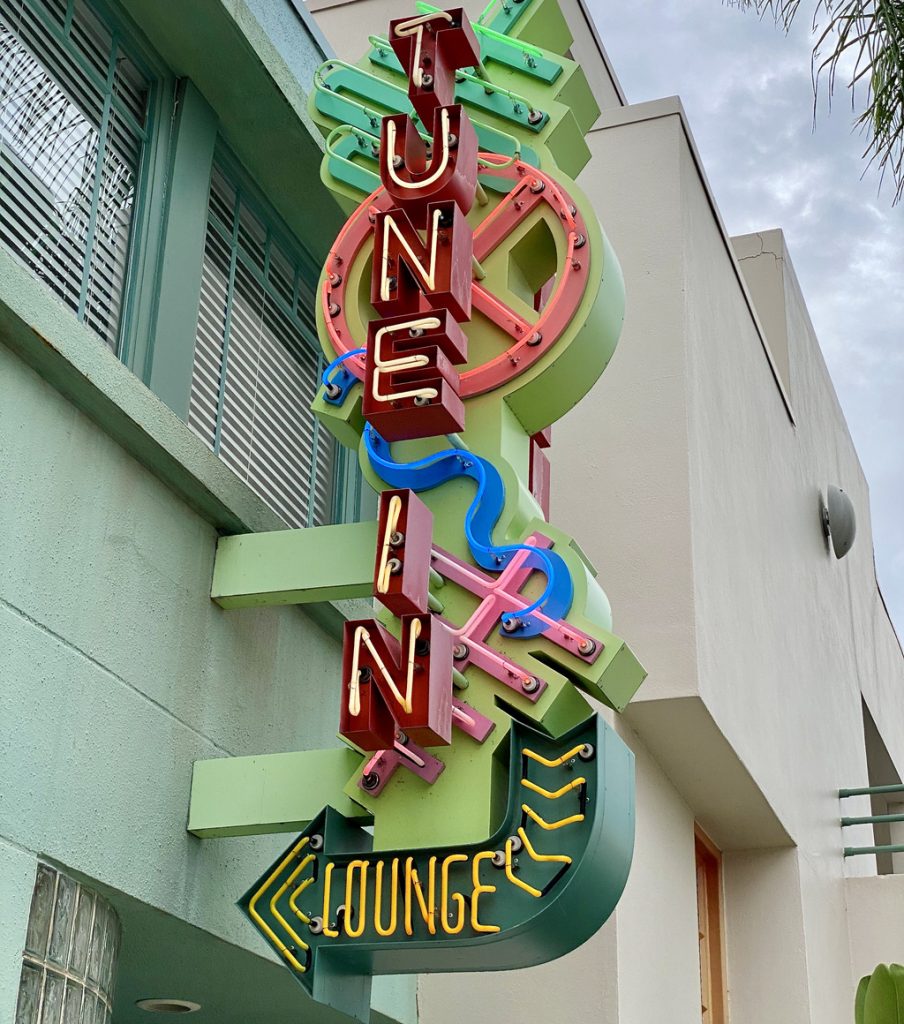 Dockside Diner
This quick-service dining location pays homage to California-Crazy architecture. On the menu you'll fine a number of innovative hot dog concoctions as well as shakes and adult beverages.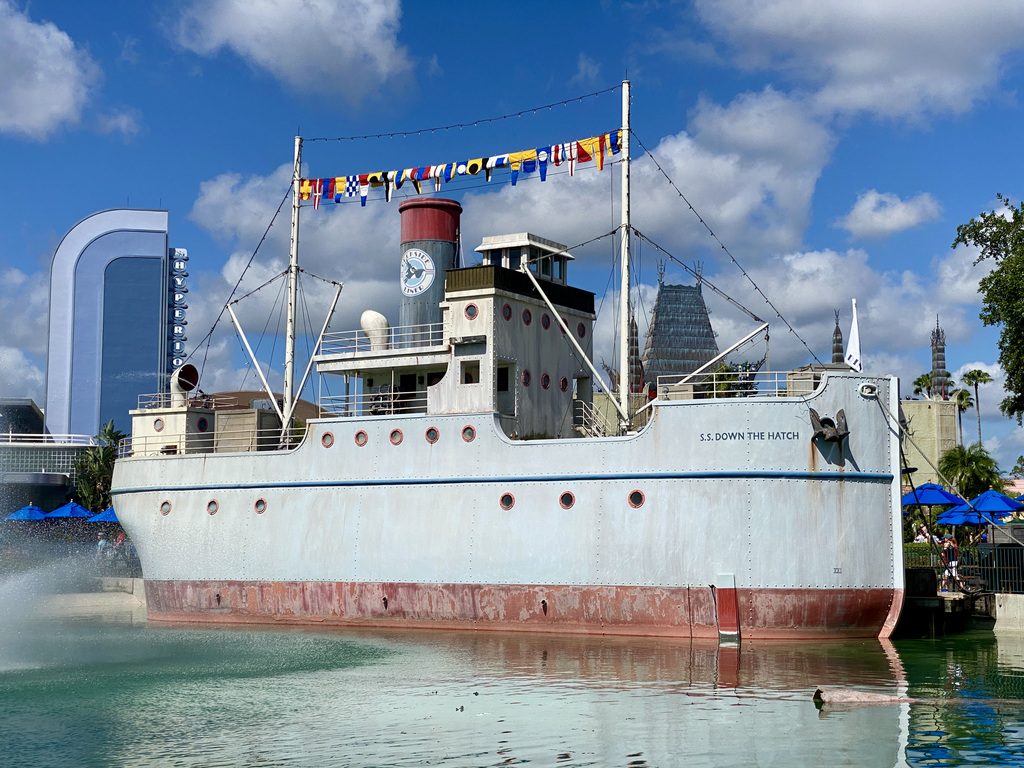 Dinosaur Gertie's Ice Cream of Extinction
This ice cream location is another example of California-Crazy architecture. A fun place to find a Mickey Bar!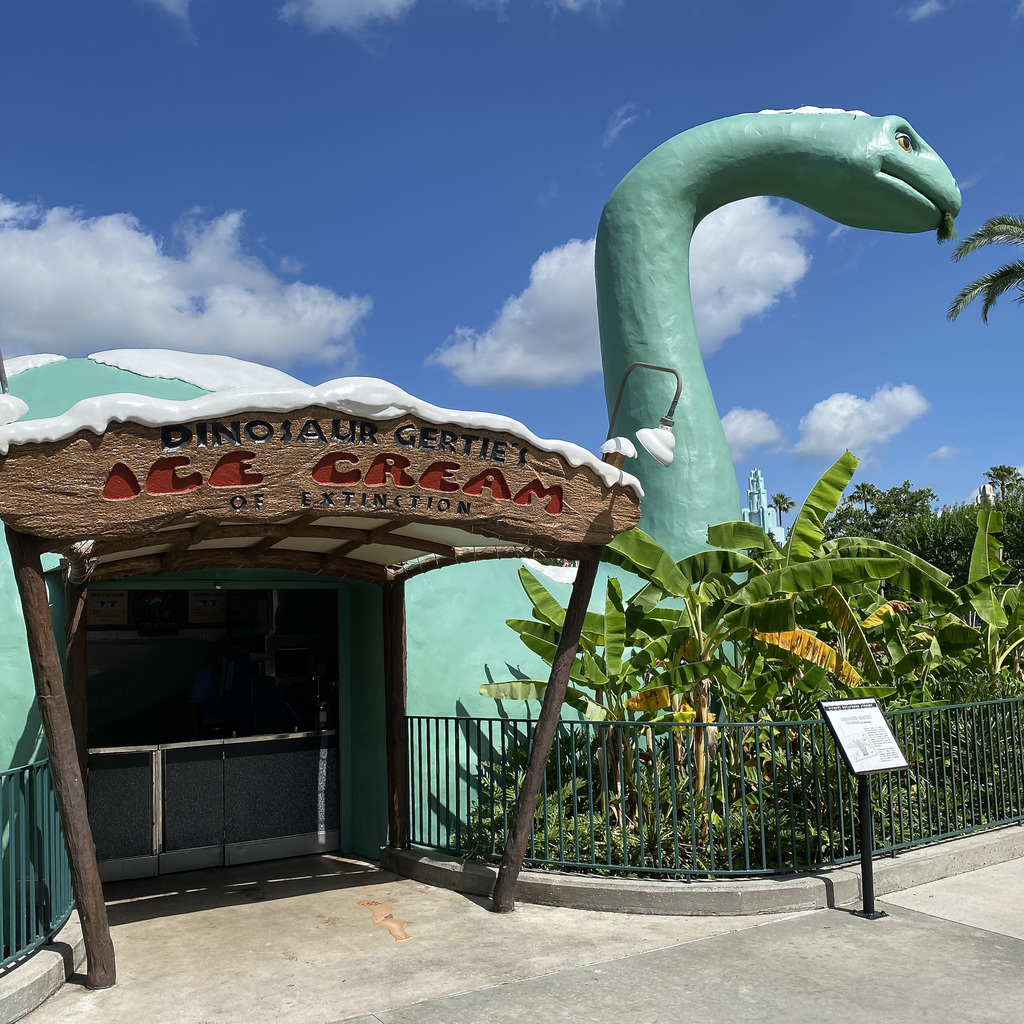 Epic Eats
Parked right outside of the Indiana Jones Epic Stunt Spectacular, Epic Eats is a kiosk that serves funnel cakes with creative toppings.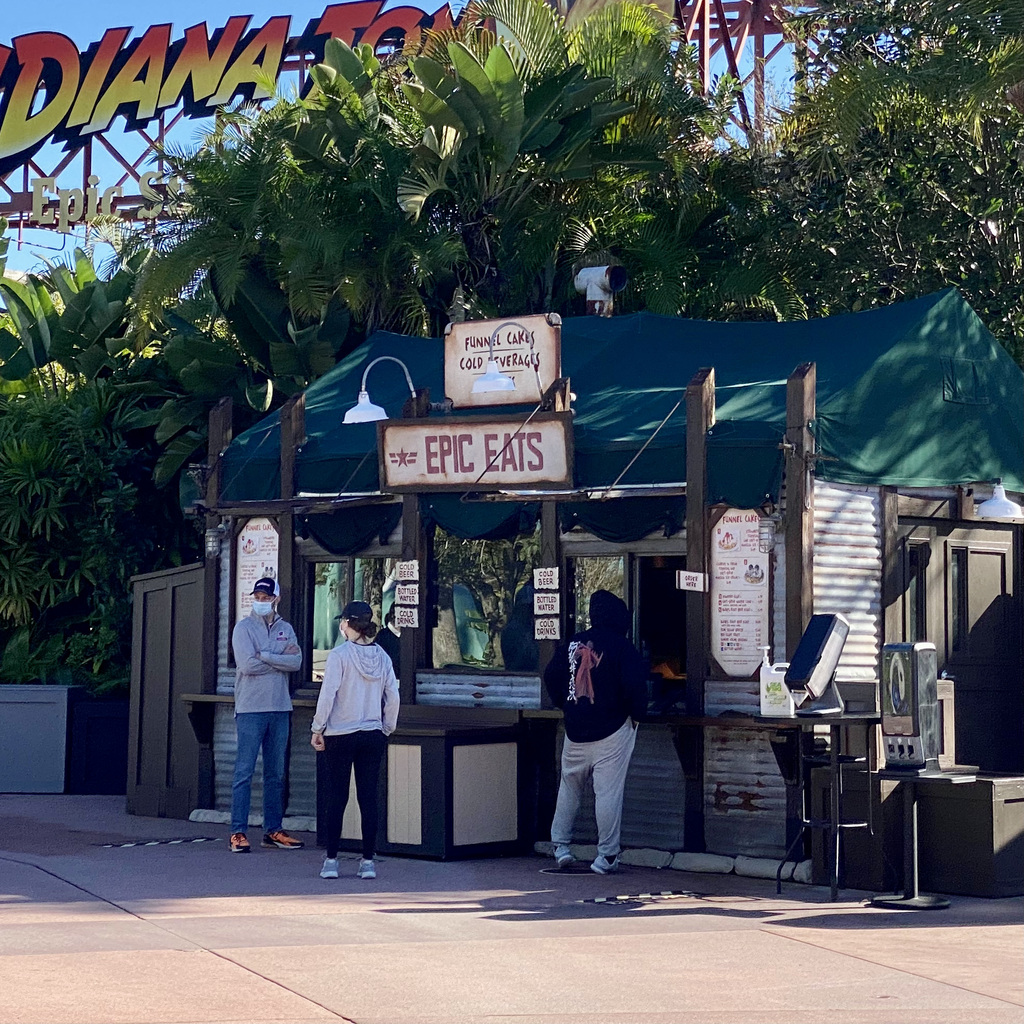 Oasis Canteen
Oasis Canteen is a walk-up, drink location. It serves assorted mixed drinks, but it is basically a full bar. There is no dedicated seating, but bench seating is nearby.
Backlot Express
Backlot Express has been around since the beginning of Hollywood Studios. This is a go-to place for everyone's favorite theme park junk foods, like chicken fingers and burgers, but there are salads and sometimes creative options as well.
More important, Backlot Express home to the Wookie Cookie, an amazing cookie, cream, and chocolate dessert that we hope never goes away.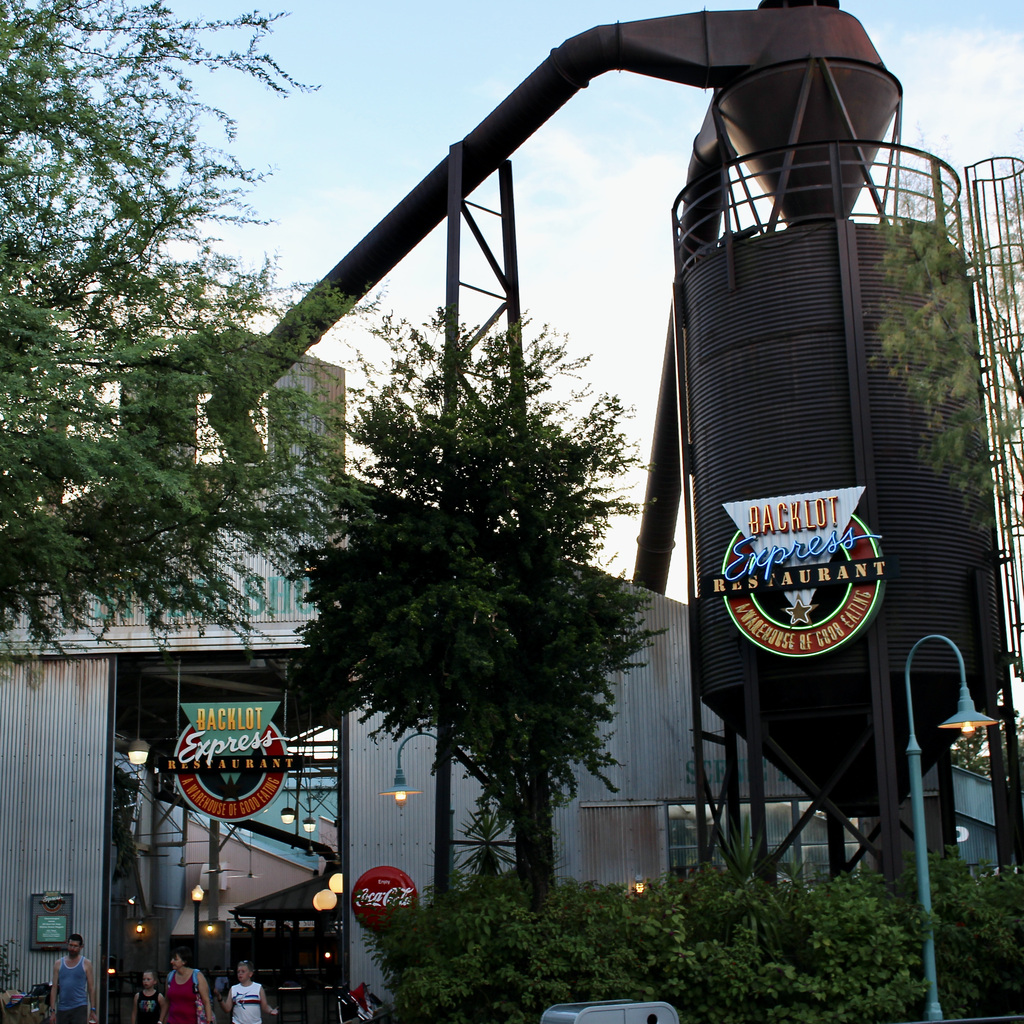 Where to Shop in Echo Lake
Frozen Fractal Gifts
Frozen-themed merchandise located right next to the sing-along attraction. It also carries sundries, so if you've forgotten sunglasses or sunscreen, you should be able to find what you need here.
Tatooine Traders
Tatooine Traders may be a stereotypical Disney gift shop strategically located at the end of a ride (in this case Star Tours), but DON'T let that jade you. Tatooine Traders carries good stuff, and sometimes they let you play with it.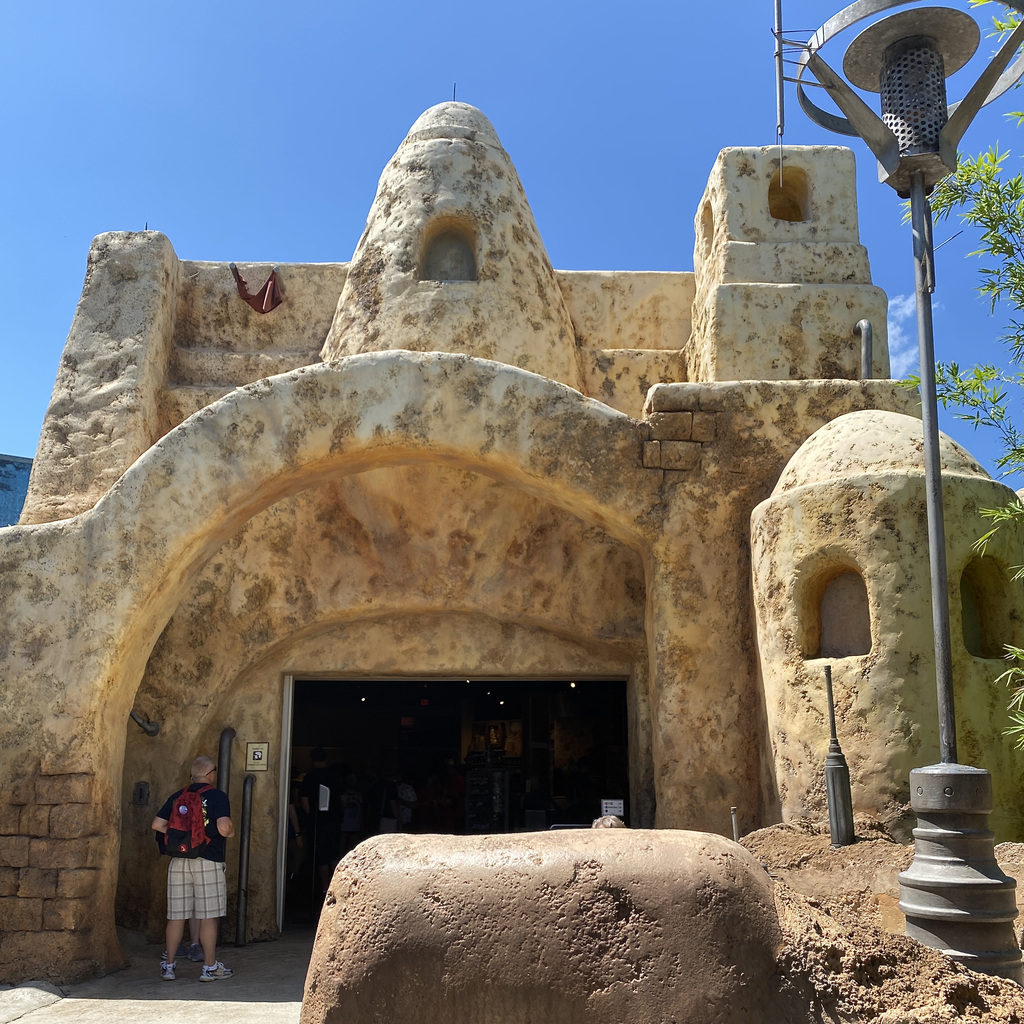 Magical Extras at Echo Lake
Gertie
Standing on the edge of Echo Lake's "lake" is Gertie, one of the first animated characters popular in Hollywood. Gertie starred in a 12-minute short created in 1913 by Windsor McCay called Gertie the Dinosaur.Legend has it that Walt Disney watched the Gertie short when he was 12-years-old.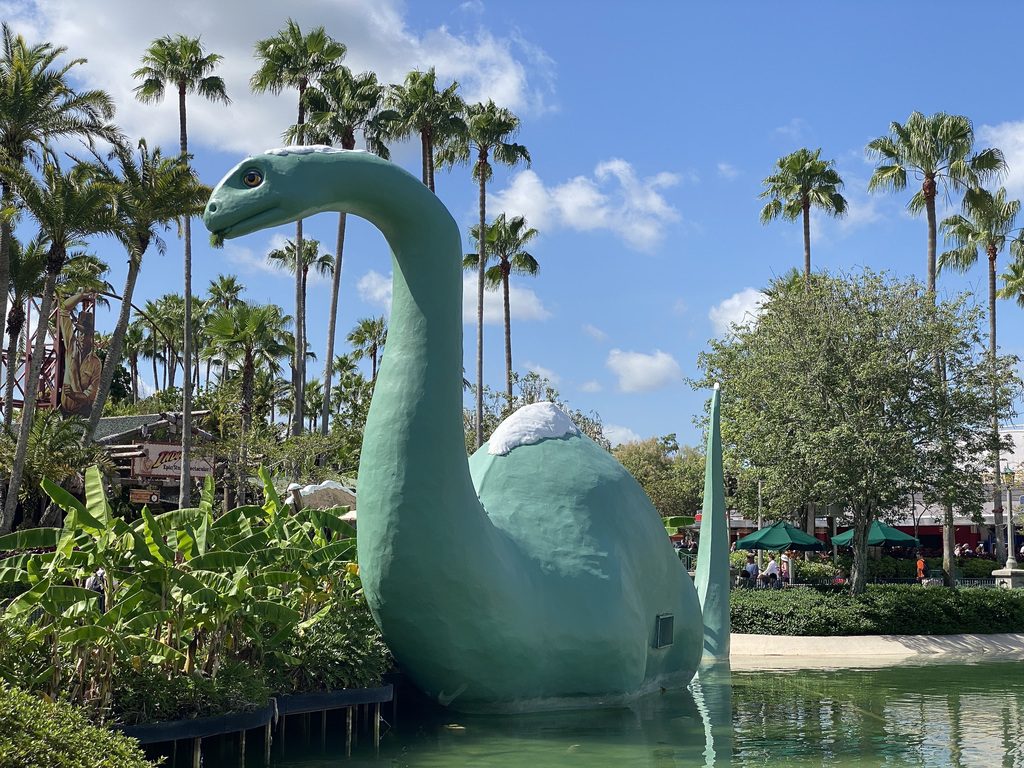 Commissary Lane
Commissary Lane is a pipsqueak of a land located behind the Hyperion Theater but if meeting Mickey and Minnie is a goal, Commissary Lane is the place to be.
The Commissary Lane Attraction
Meet Mickey and Minnie at Red Carpet Dreams
Photos with Mickey and Minnie are at the top of many Disney fans' agendas. At Red Carpet Dreams, Mickey greets guests in his infamous Sorcerer's Apprentice Costume, while Minnie dresses in a red-carpet gown. The visit takes about 10 minutes. Not only do guests get the chance to take photos at Red Carpet Dreams, hugs and autographs are also allowed.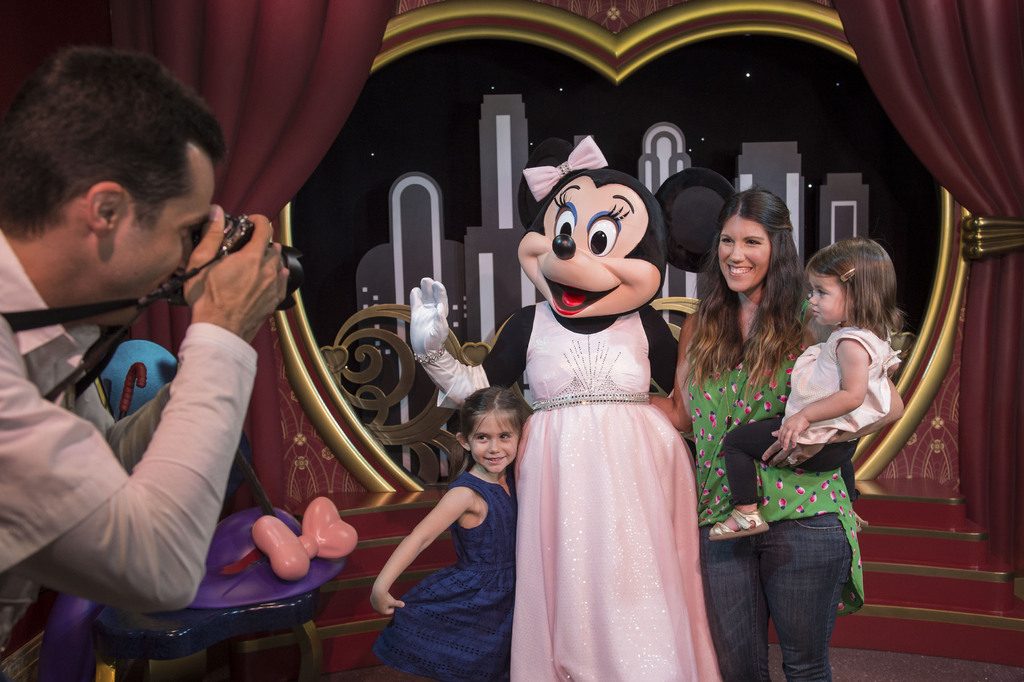 Where to Eat on Commissary Lane
Sci-Fi Dine-In Theater Restaurant
Check in at the Sci-Fi and and you'll most likely be given a seat in an "automo-booth" at the drive-in. A loop of kitschy 1950s horror films (think aliens, mummies, and robots) plays on the big screen throughout the meal. The food is straight out of Happy Days – burgers, onion rings, and milkshakes.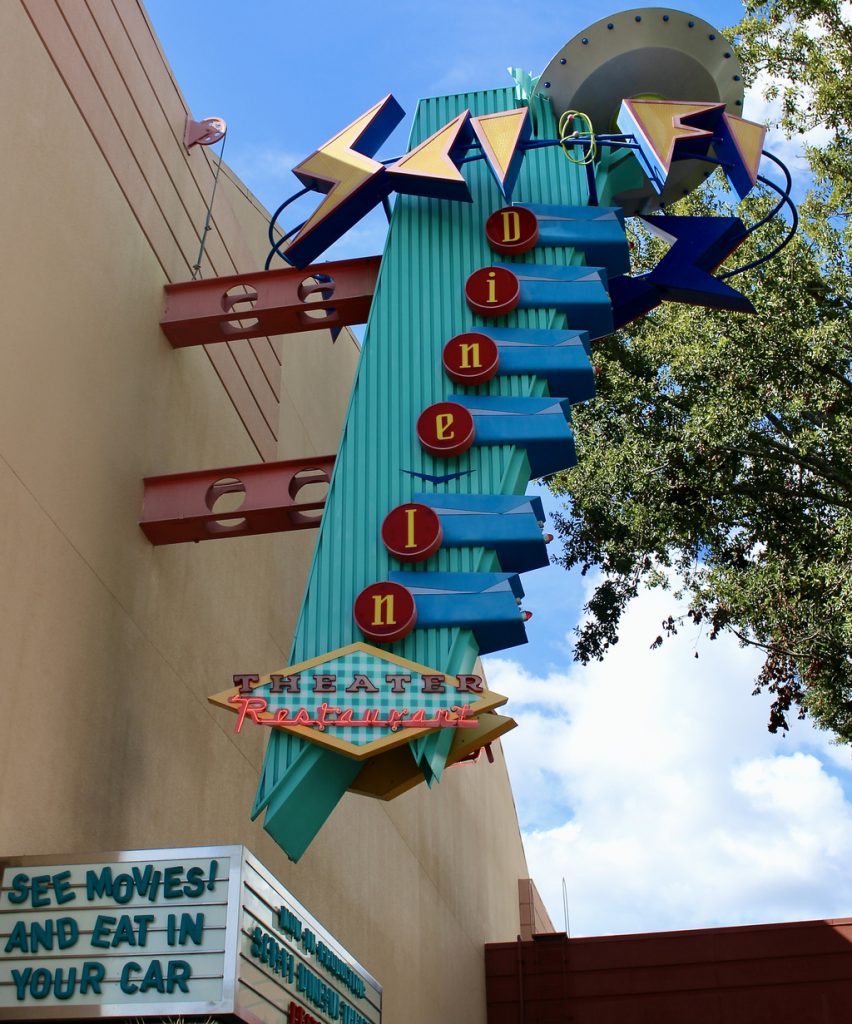 ABC Commissary
Decked out to resemble where studio employees eat, the ABC Commissary puts a little reality into Hollywood Studios. The restaurant is a quick service location with seating both inside and out. It serves American-style foods.
The Commissary opened on Dec. 16, 1990 and was re-themed to the ABC Commissary on July 1, 1997.
Grand Avenue
Grand Avenue is THE PLACE to find Muppets. (Sadly, it still has spaces that haven't reopened since the pandemic, so we are hoping to update this part of our page soon!)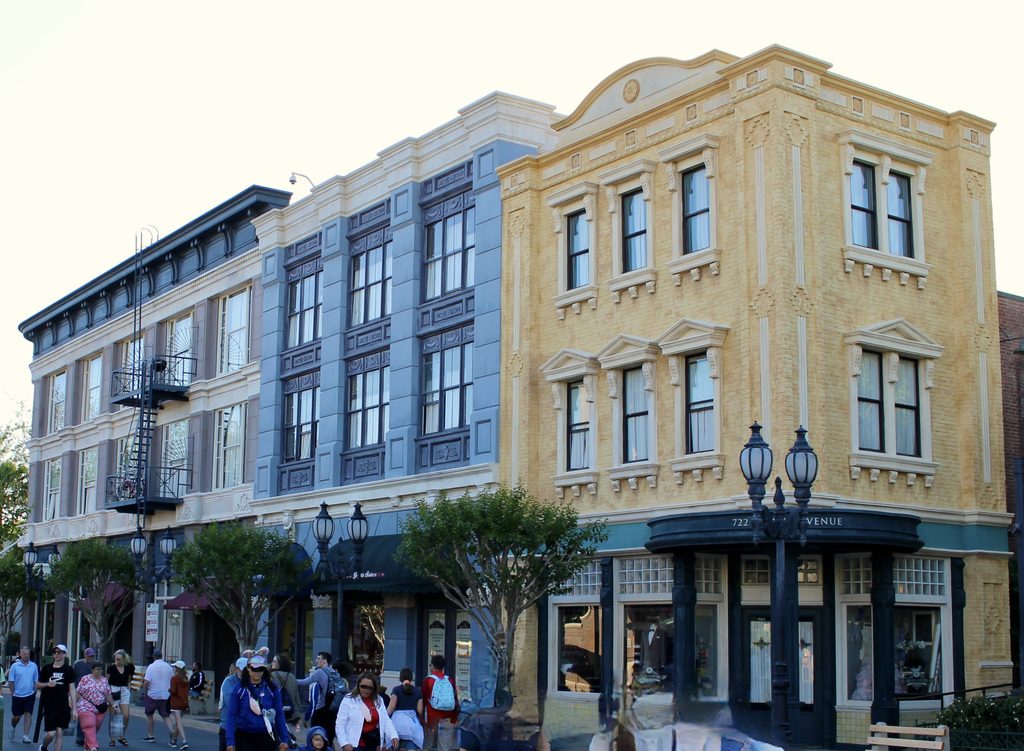 The Grand Avenue Attraction
Muppet-Vision 3D
Fans of The Muppet Show will love Muppet-Vision 3D. This attraction offers so much. Practically every corner has a gag. Fans will also love the memorabilia on display in the waiting area and the delightful pre-show. The main event includes live Muppets, a 3D film, and special effects. Muppet-Vision 3D is an attraction for all ages.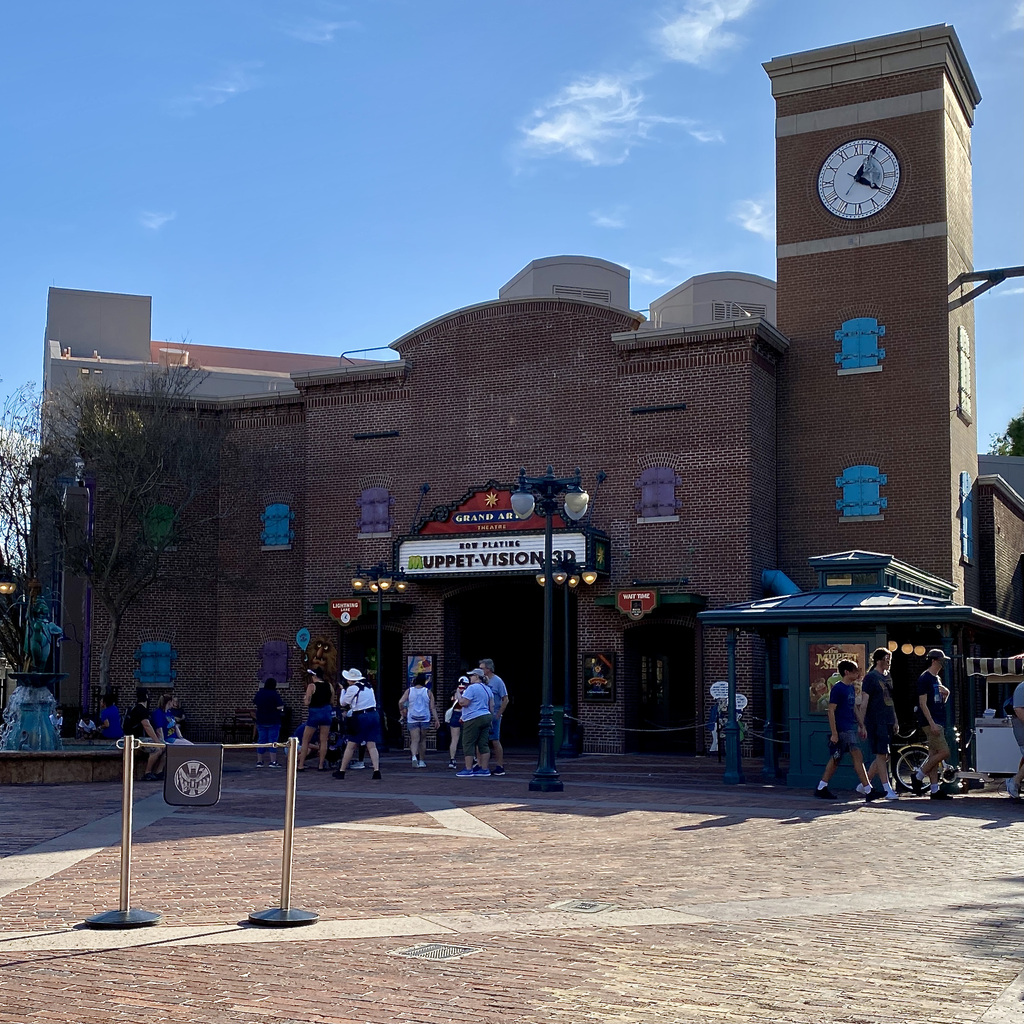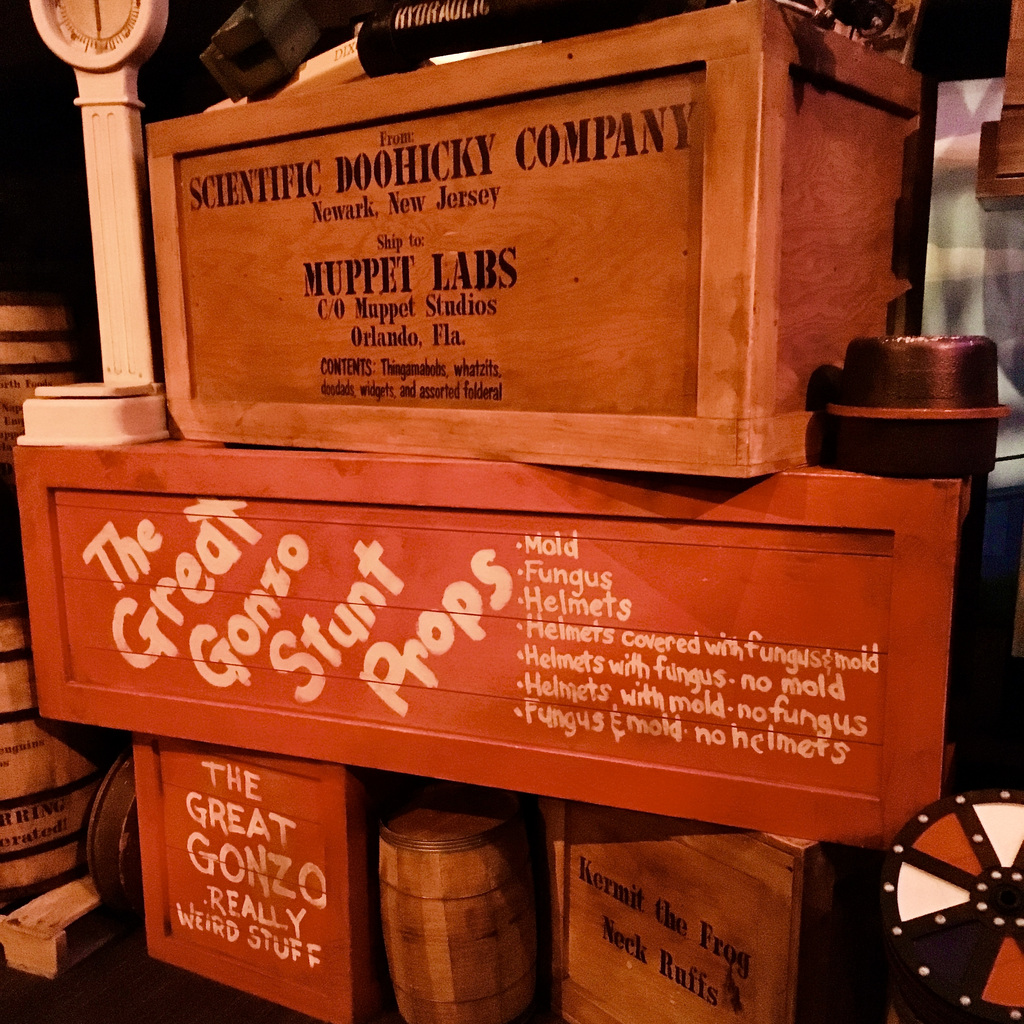 Where to Eat on Grand Avenue
PizzeRizzo
A quick-service location for pizza, subs, and antipasto salad. PizzeRizzo has ample amounts of outdoor seating as well as balcony seating. If you need some shade, this place provides.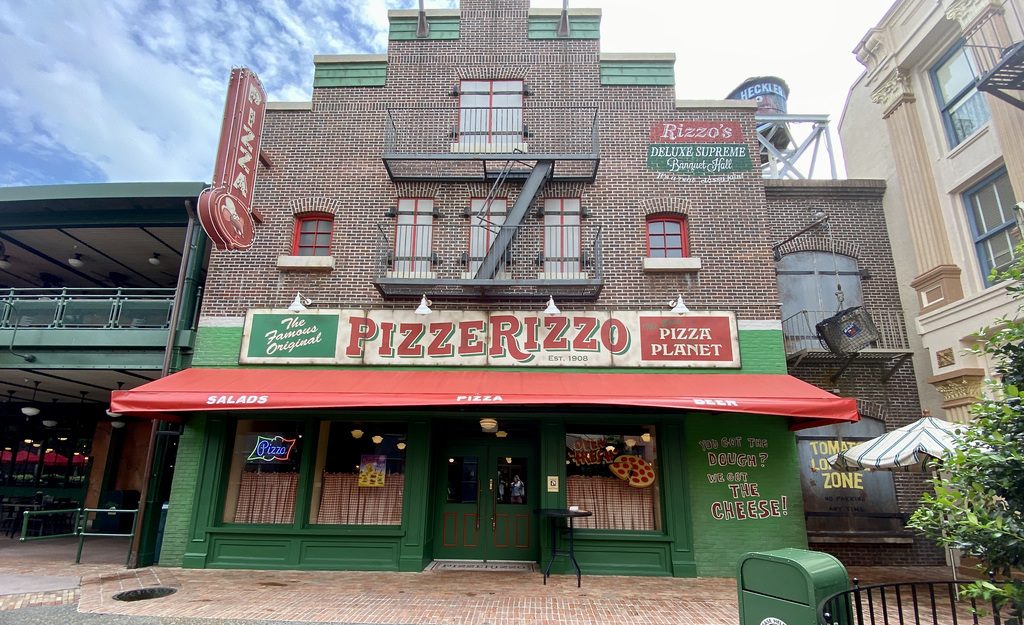 Mama Melrose's Ristorante Italiano
If you have more time to dine and are craving pasta, Mama Melrose's does the job. This sit-down restaurant looks exactly how you would imagine, with checked curtains, romantic lighting, and strings of garlic. Celebrity photos hang above the hostess stand. Mama Melrose's has a large wine menu and an open kitchen. We'd consider it a hidden gem because the food is really good and reservations are easy to get.
Mama Melrose's Ristorante Italiano opened on Sept. 26, 1991.
Baseline Tap House
While kids can get some lemonade and share a giant pretzel, grownups can sit back, relax, and imbibe. The bartenders love to talk about what California beers are on tap and the flights are fun to mix and match.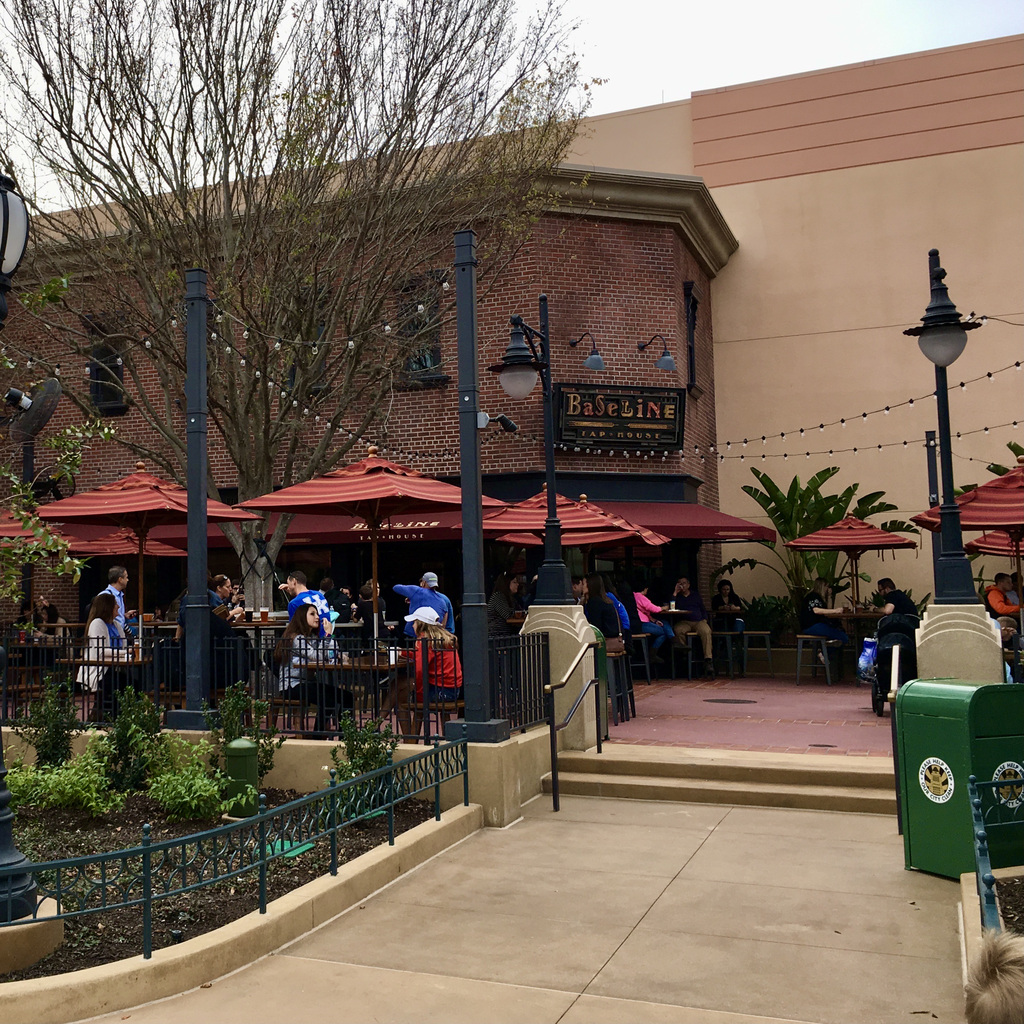 Where to Shop on Grand Avenue
Stage 1 Company Store
This Muppets-themed shop will be open on May 4th for the purpose of selling the limited edition Cal Kestis Legacy Lightsaber.
Magical Extras on Grand Avenue
Piggy Fountain
Reminiscent of the great fountains of Versailles (not really), this fount pays tribute to the most famous pig in the world.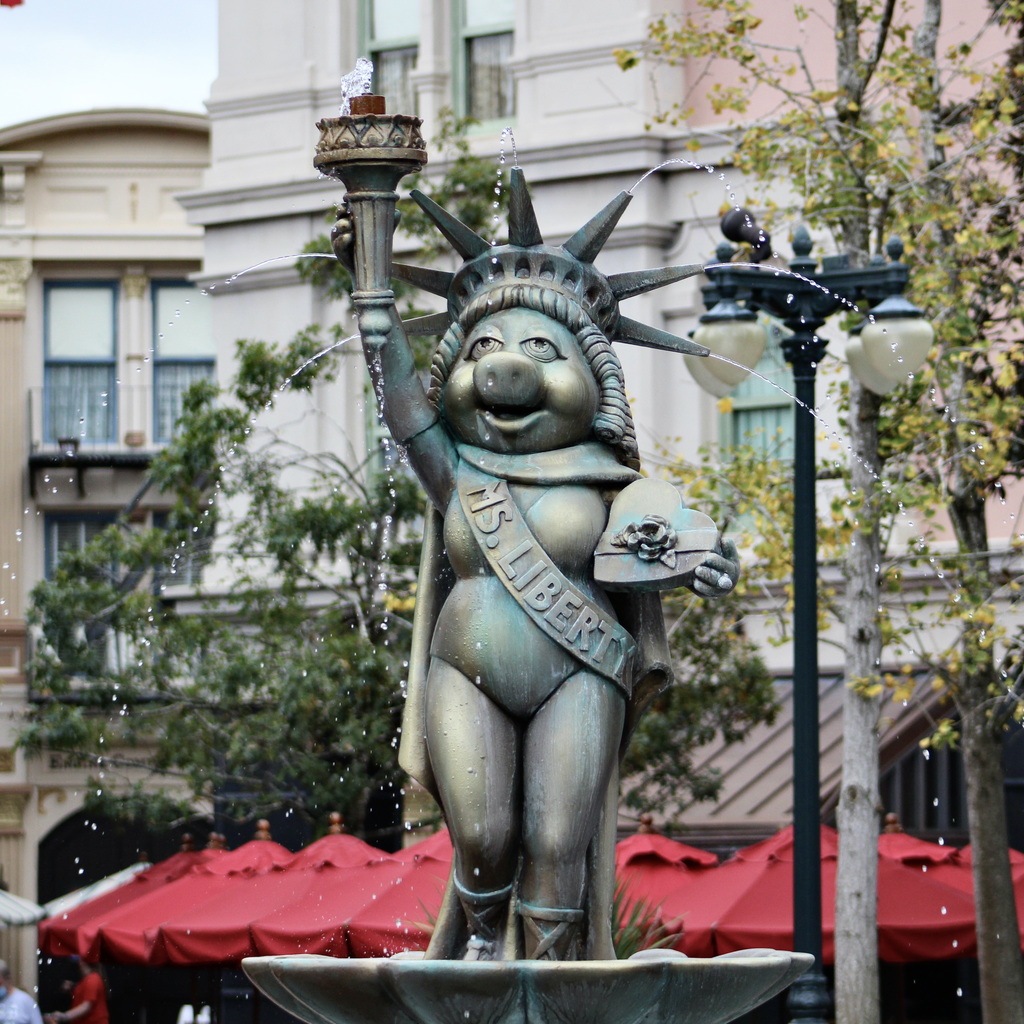 Star Wars: Galaxy's Edge
Galaxy's Edge greeted guests with its first "bright suns" in 2019 and WDW has never been the same.
Walk through the tunnel on the edge of Grand Avenue and in 30 seconds you will arrive at the edge of the Black Spire Outpost on the planet of Batuu. For Star Wars fans, Galaxy's Edge brings the resistance to life. See Chewbacca walking the streets, be interrogated by Stormtroopers, fly the Millennium Falcon, and drink blue milk. What else can a young padawan ask for?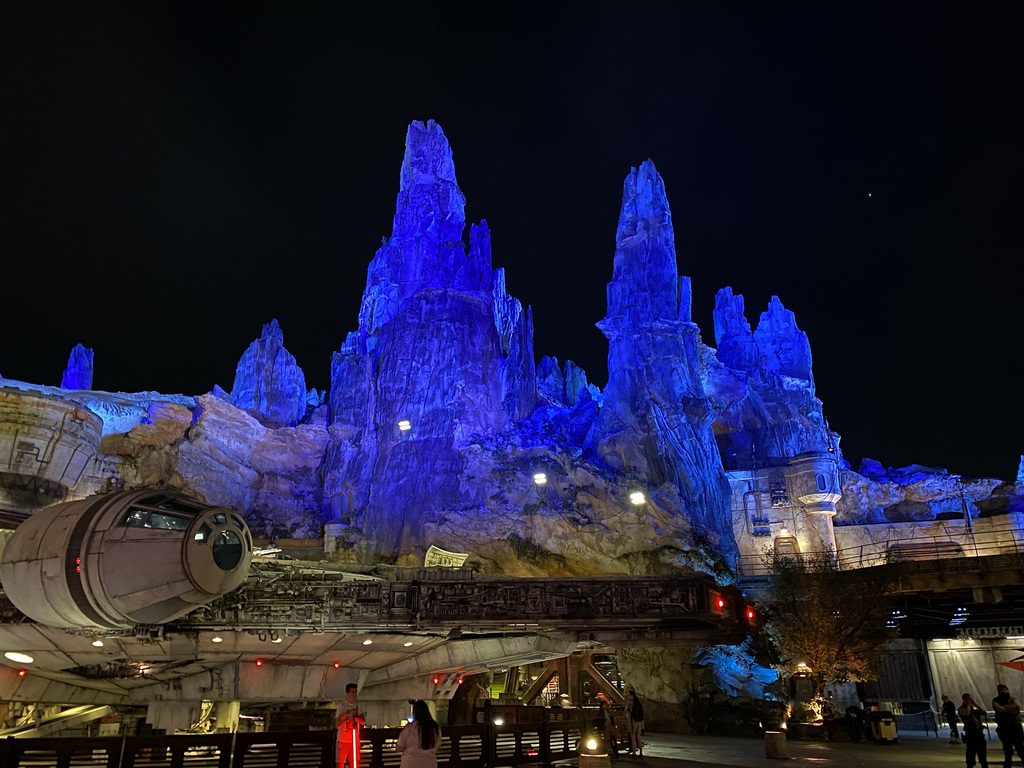 Galaxy's Edge Attractions
Star Wars Rise of the Resistance
Rise of the Resistance places all the best of Disney's ride technology — Audio-Animatronics, projection video, flight simulation, trackless vehicles, and live action performers — all into one place. You will want to ride Rise again and again because there is just so much to see. Be awed by the army of stormtroopers, amazed at the realism of the AT-ATs, and afraid of Kylo Ren's lightsaber. Guests must be 40 inches or taller to ride.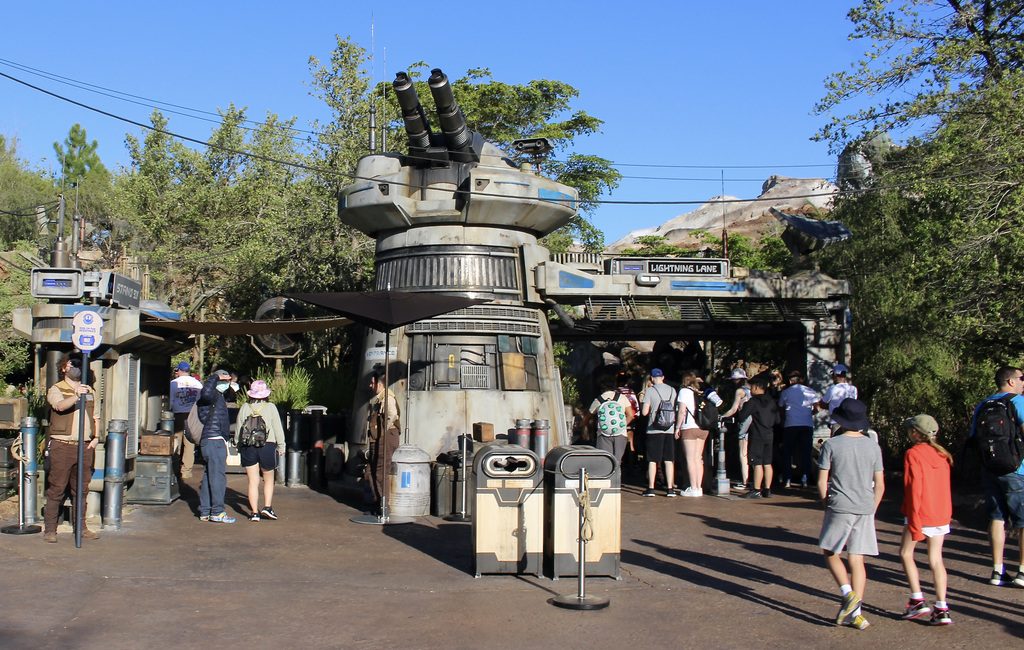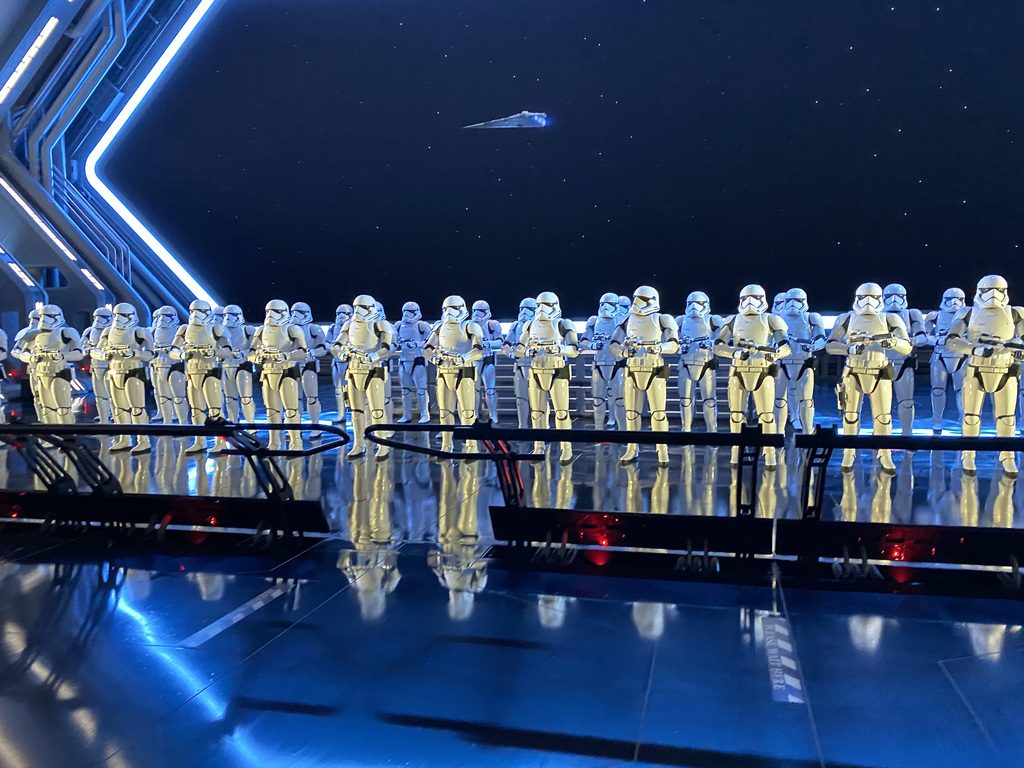 Millennium Falcon: Smuggler's Run
Help fly the Millennium Falcon on a dangerous smuggling run. You'll be chosen to serve as either a pilot, a gunner, or an engineer. Whether you succeed or fail depends upon how well you can follow directions. Smuggler's Run has a height requirement of 38 inches and some people do experience motion sickness on this one, so be prepared.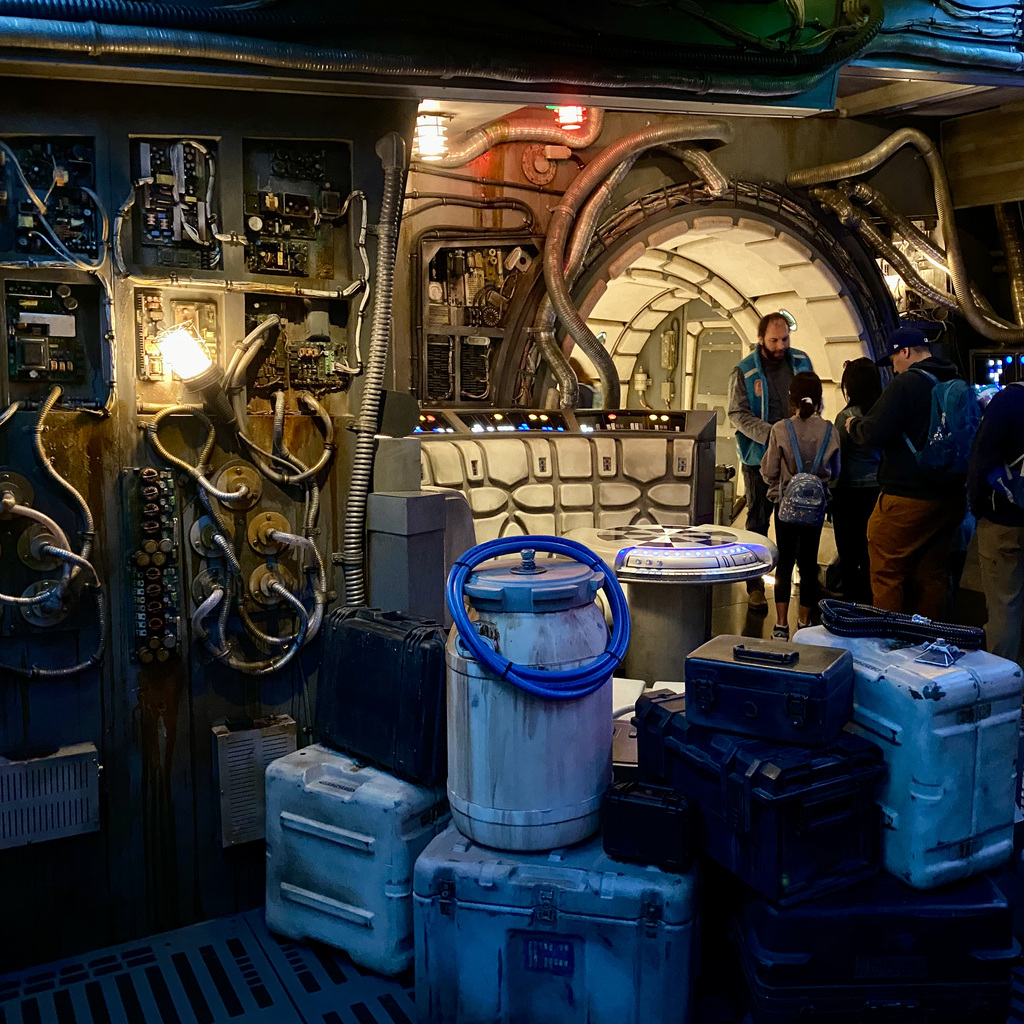 Where to Eat in Galaxy's Edge
Oga's Cantina
Oga's patrons come to drink more than eat, but that's okay. There are wild-colored, bubbling, popping, and misting drinks available for all ages. The few snacks Oga's does have include a charcuterie board, freeze-dried bits, and a jello dessert served in a petri dish (the non-alcohol version is a total hit with candy-loving kids).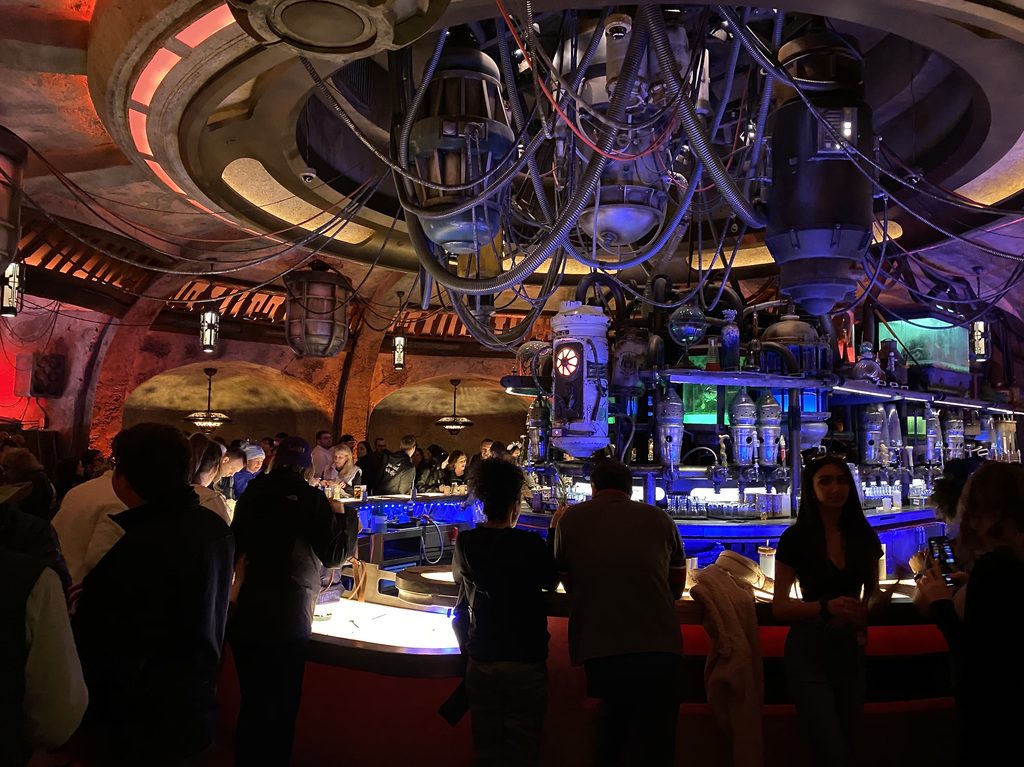 Docking Bay 7 Food and Cargo
Docking Bay 7 is a quick service location in a working hangar bay located in the center of Galaxy's Edge. Inside, guests can dine inside of cargo pods, at industrial looking tables, or on the outside patio.
Docking Bay 7's menu is adventurous and tasty. Keep your mind open when dining here, the strangest looking things (like the cube-shaped Tip Yip) are reportedly some of the tastiest.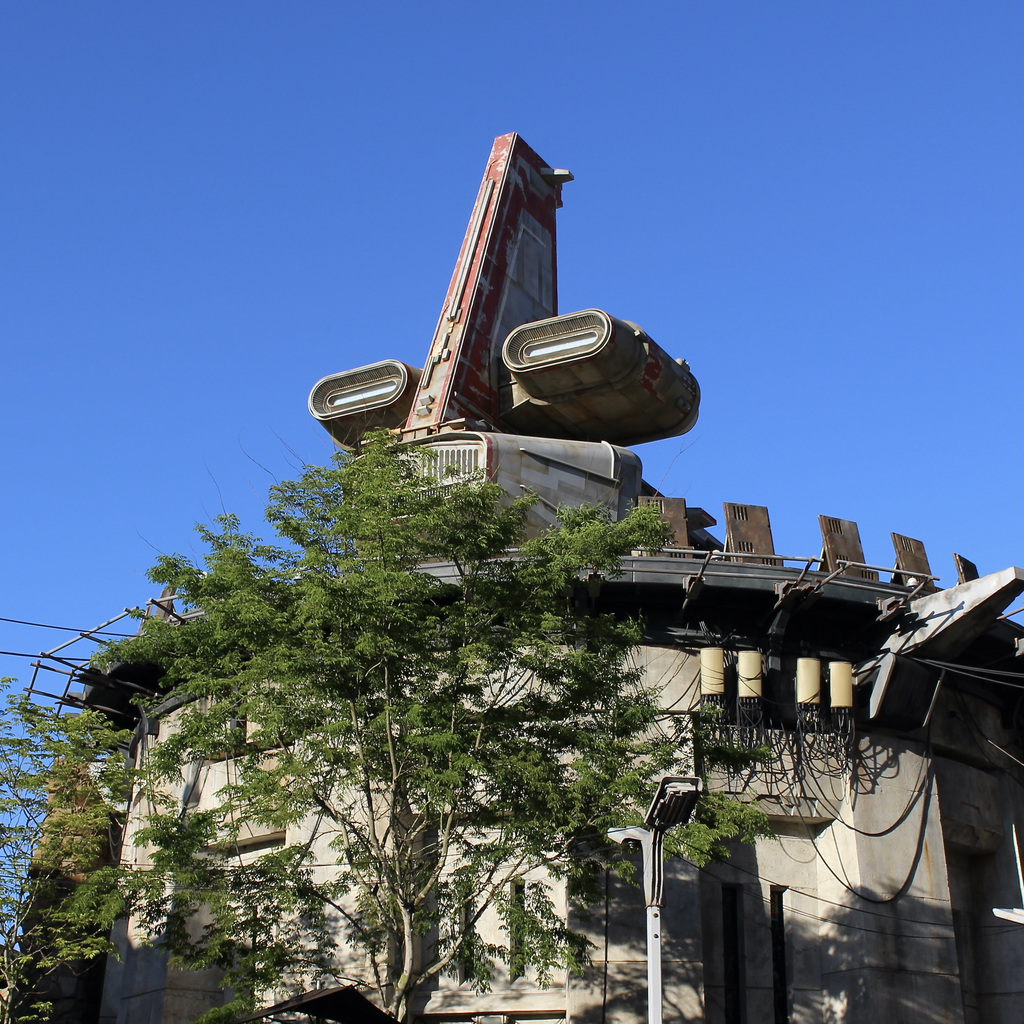 Ronto Roasters
If you want a quick meal or snack, Ronto Roasters has what you're looking for. The visual highlight of this dining spot is the droid turning the spit of meat being roasted by a space engine. The tasting highlight is the Ronto Wrap.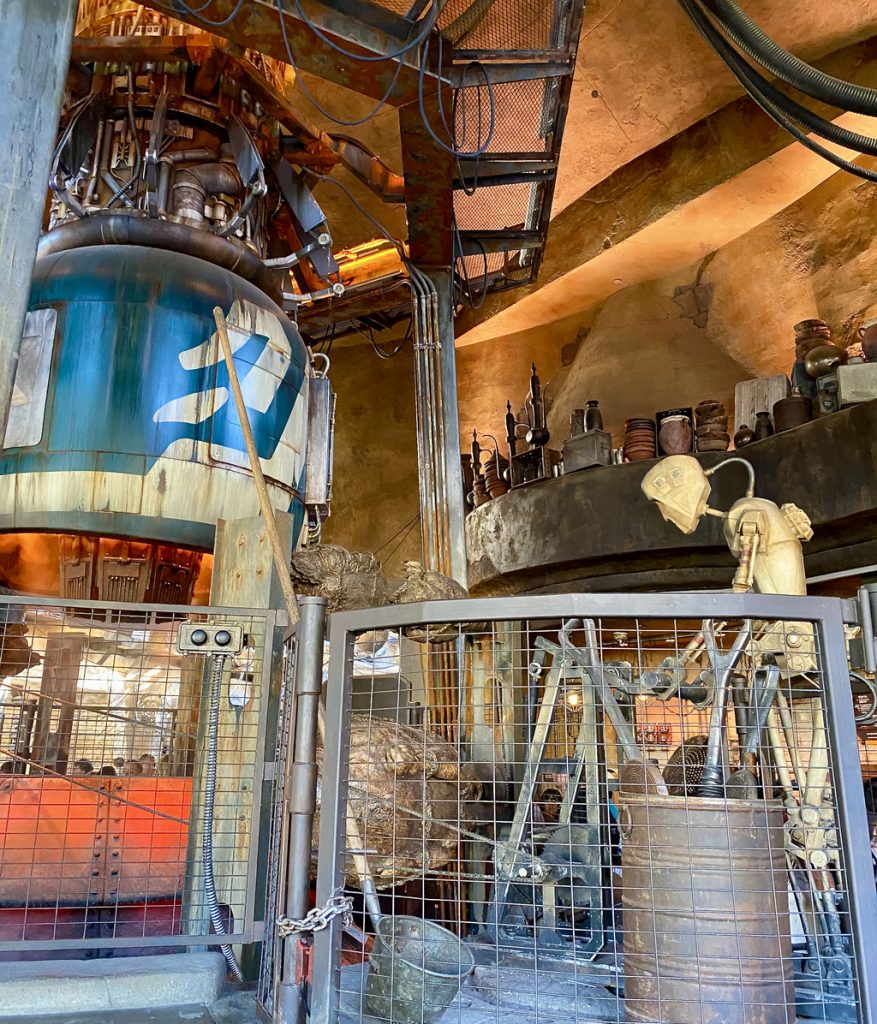 Kat Saka's Kettle
Kat Saka's Kettle could be the most unique popcorn stand in Walt Disney World. We tried the sweet, spicy, and colorful Outpost Mix (right) and the more traditional Buttered Blue Grains (left).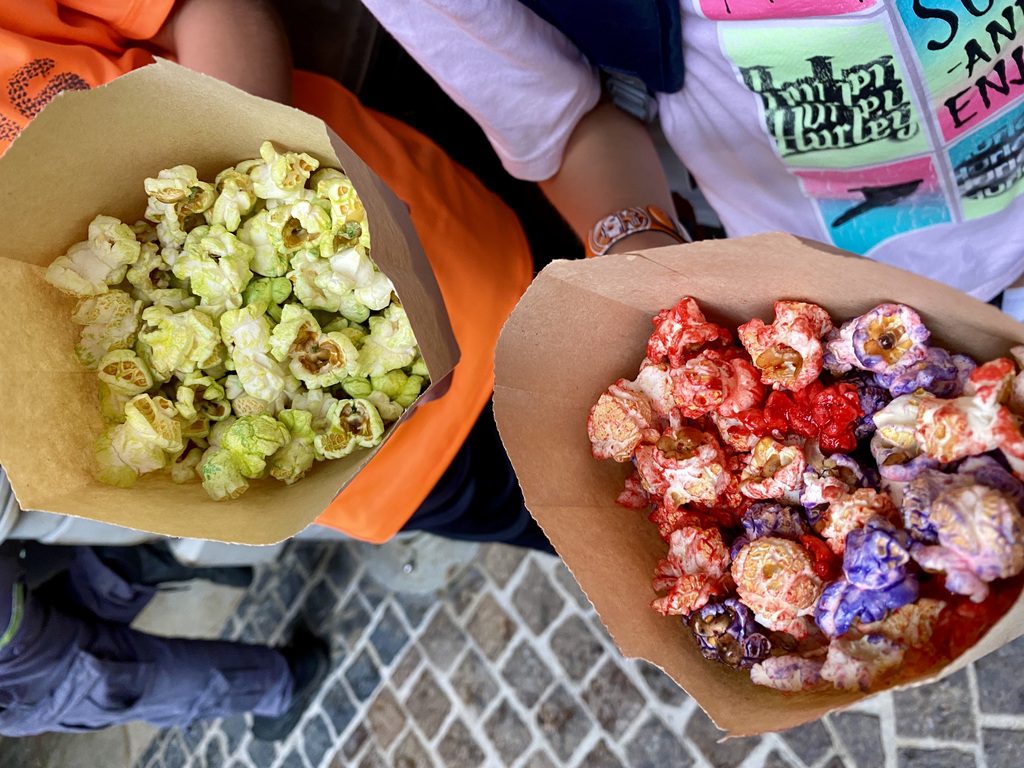 Milk Stand
Remember in Episode III, when Luke pours himself a glass of blue milk? If you ever wanted to know what it tasted like, the Milk Stand is the place.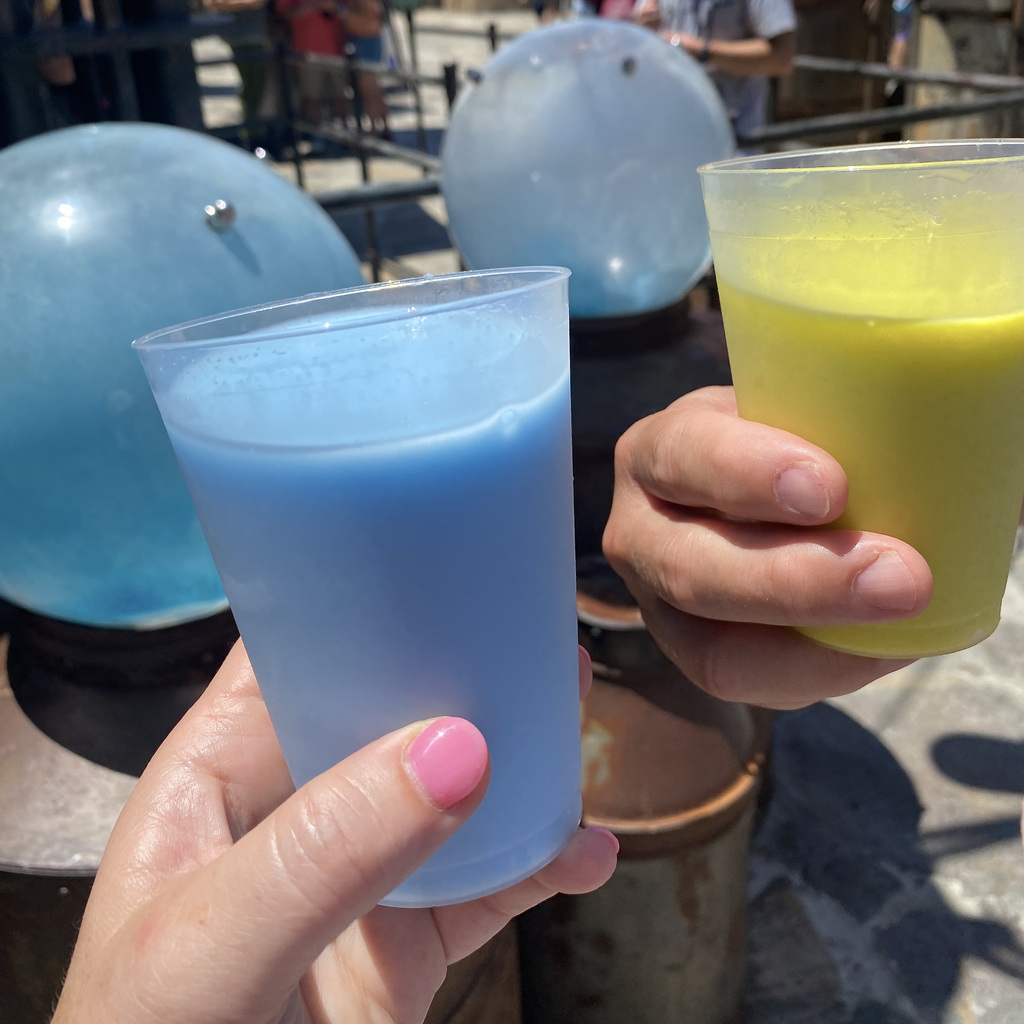 Where to Shop in Galaxy's Edge
The Market Merchants
The market has a lot! The Creature Stall sells intergalactic pets; Toydarian Toymaker specializes in galactic toys; Black Spire Outfitters stocks the latest in Batuu fashions; and Jewels of Bith is a small souvenir post.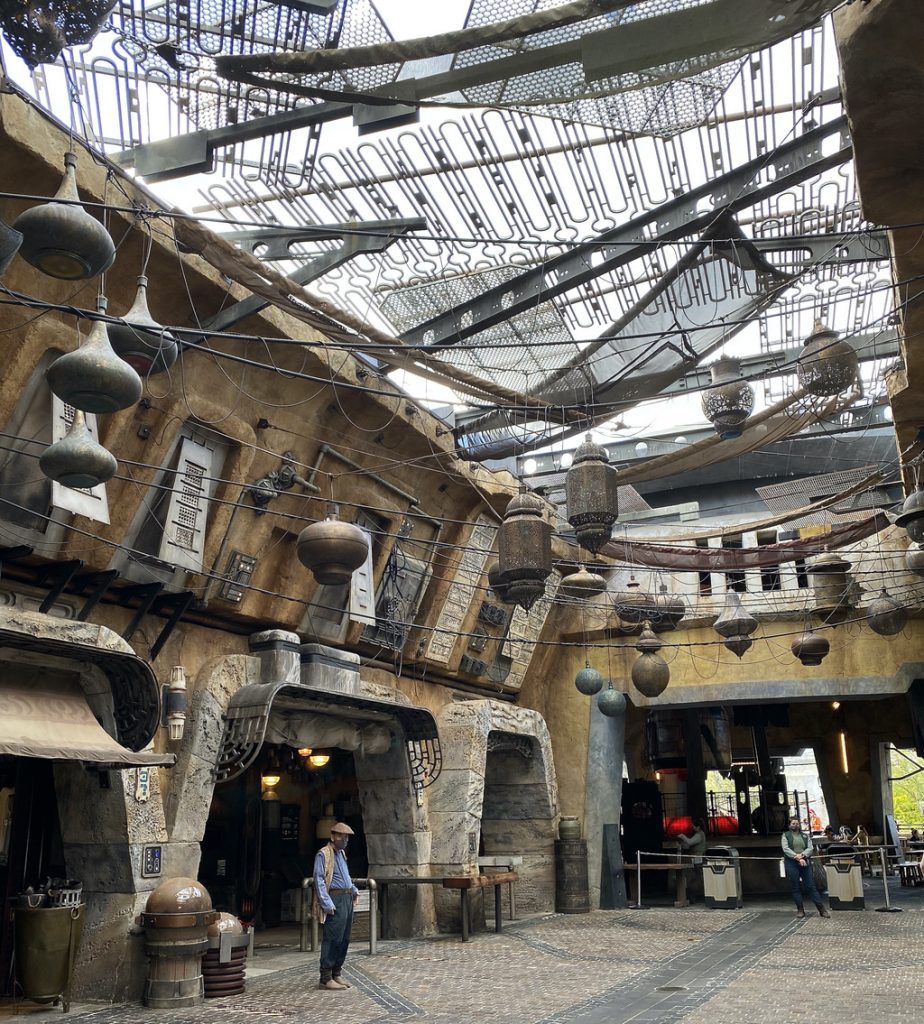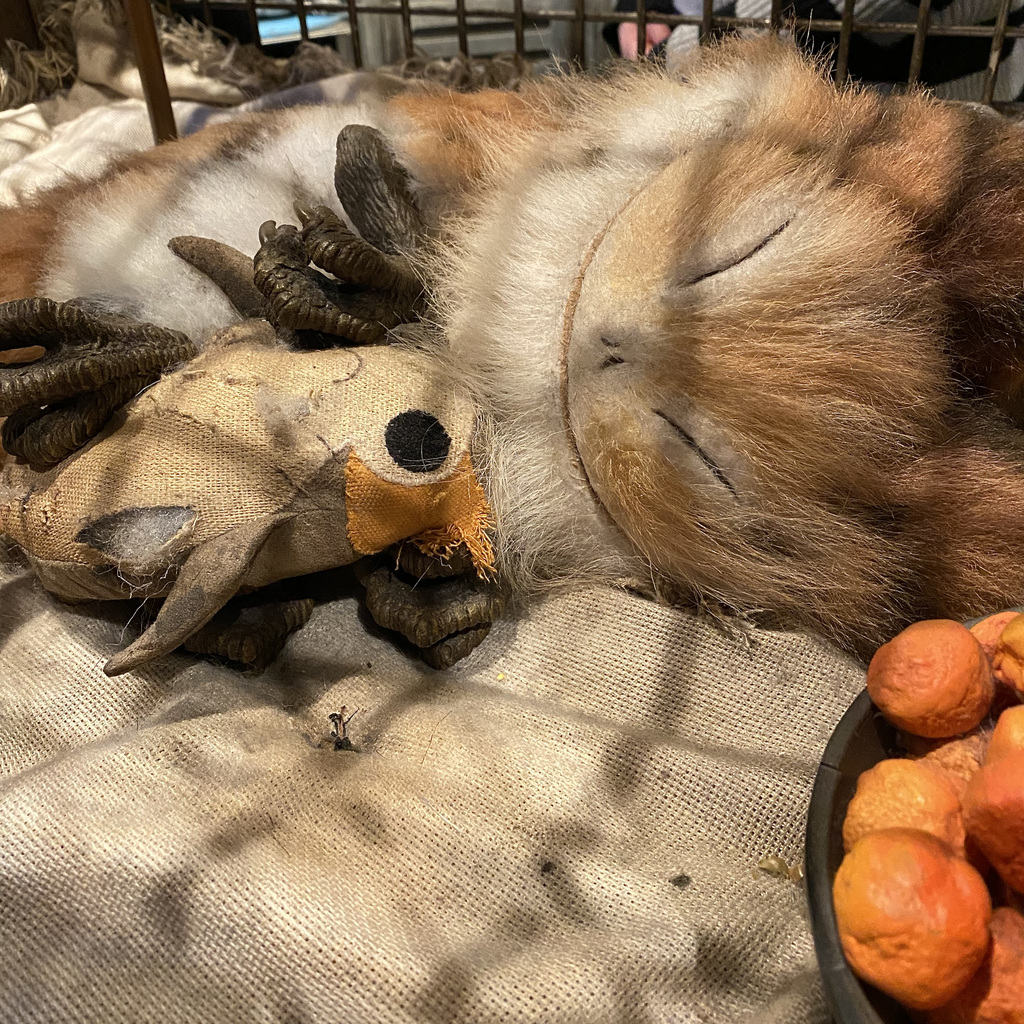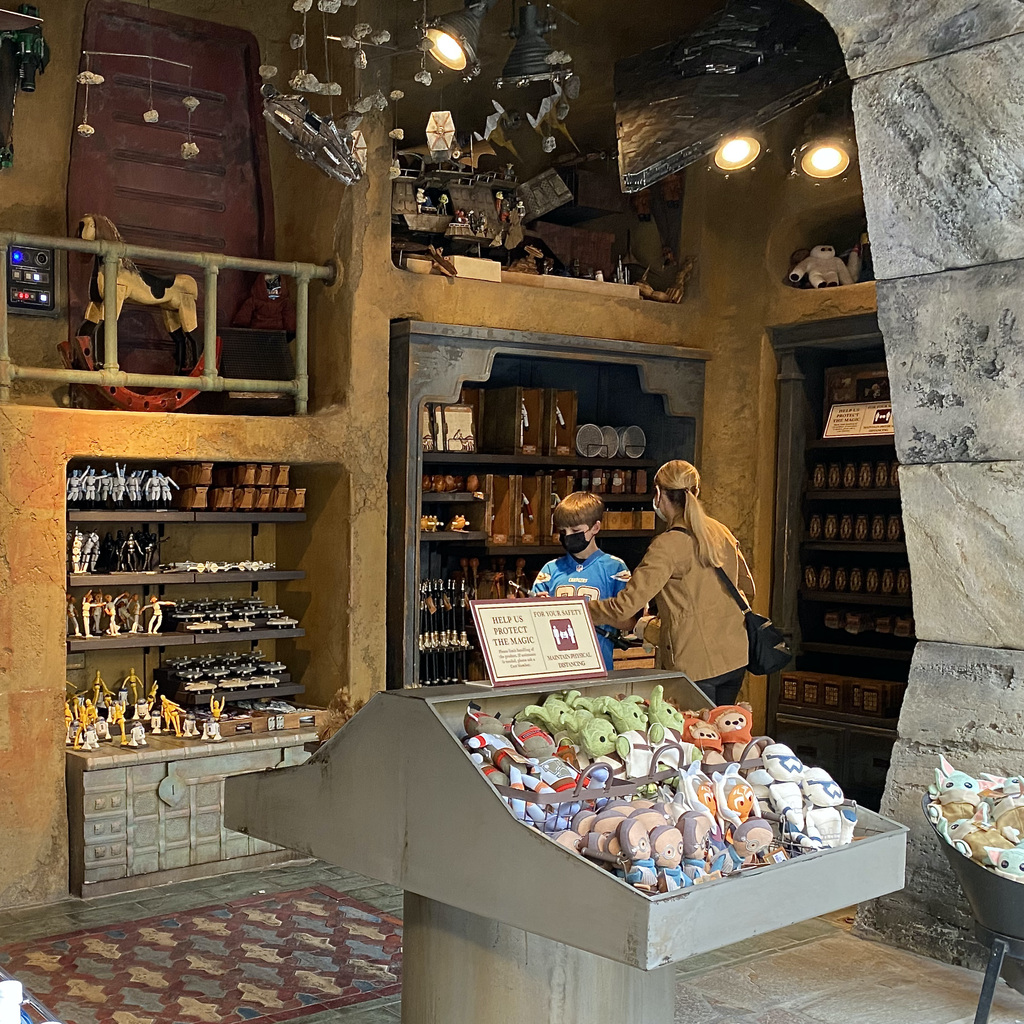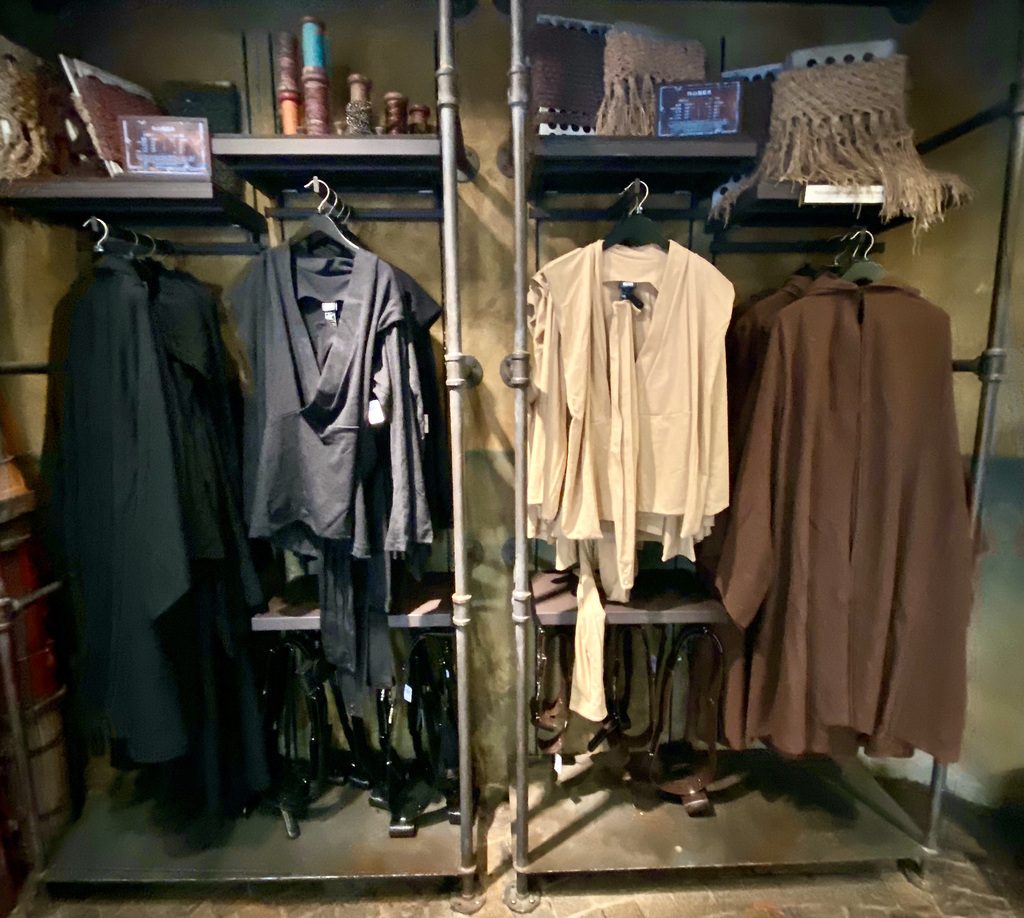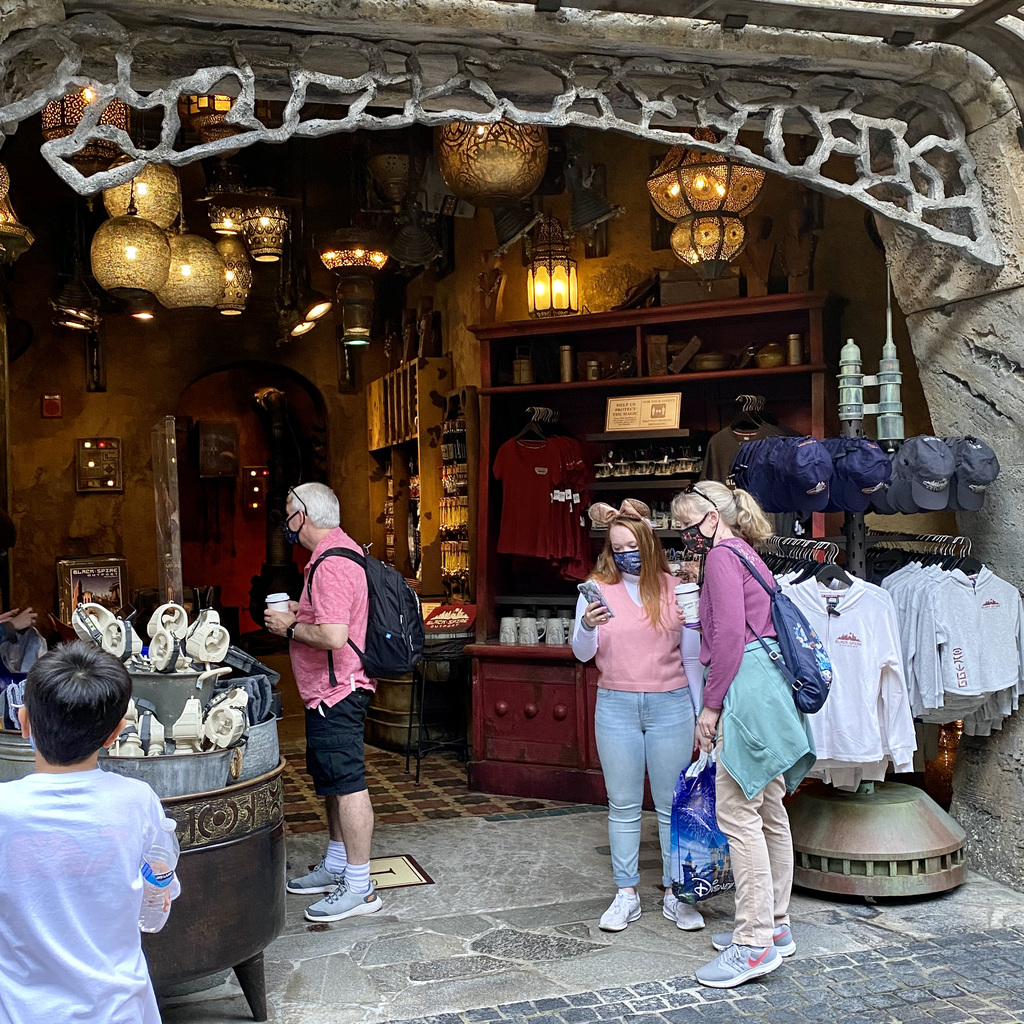 Resistance Supply
Only those with allegiance to the resistance are welcome here! The Resistance Supply kiosk stocks helmets and uniforms for rebels young and old. (For those who align with the First Order, your interests will be better met at First Order Cargo.)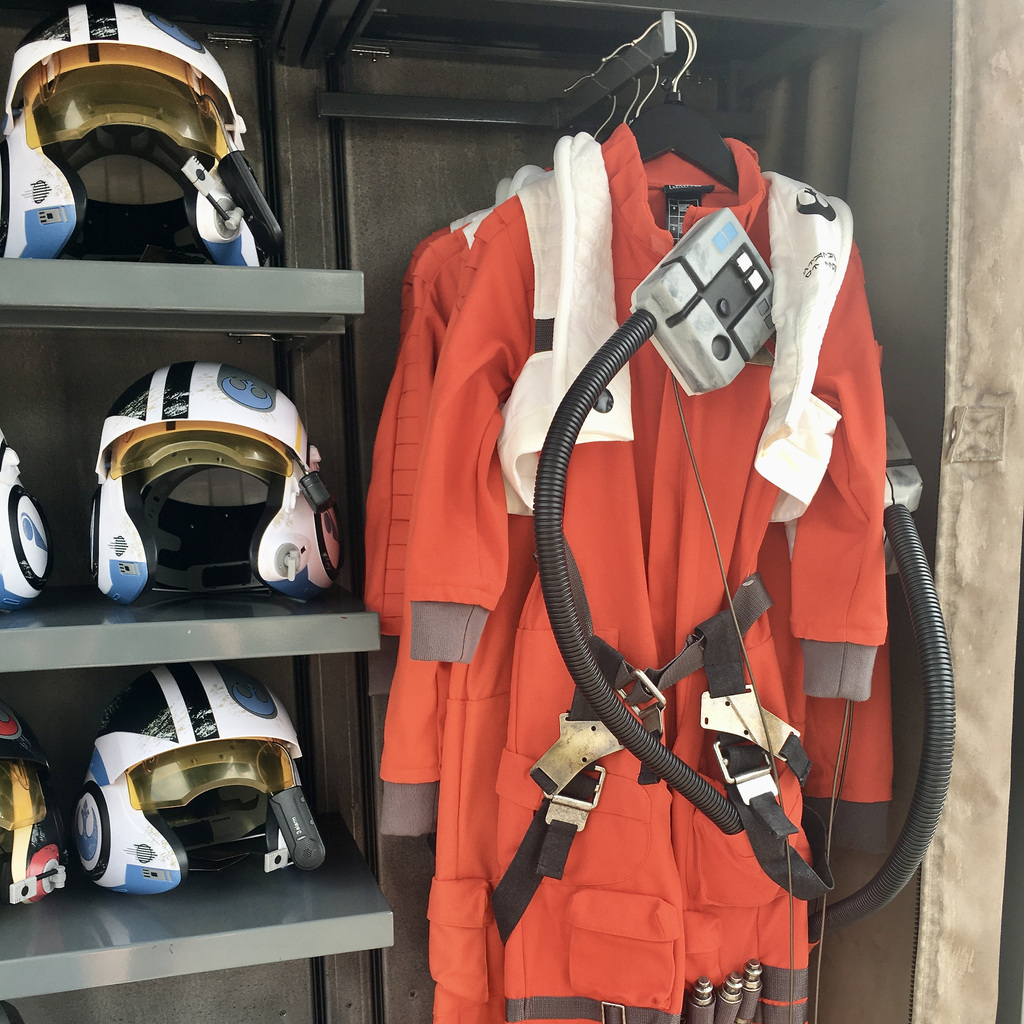 Dok-Ondar's Den of Antiquities
Part museum, part gift shop, Dok-Ondar's will awaken the force within any Star Wars fan. Dok-Ondar (an Ithorian) collects, buys, sells, and trades antiques and black market necessities. His massive collection contains everything from weapons to ancient relics. He even keeps a young sarlacc in the shop.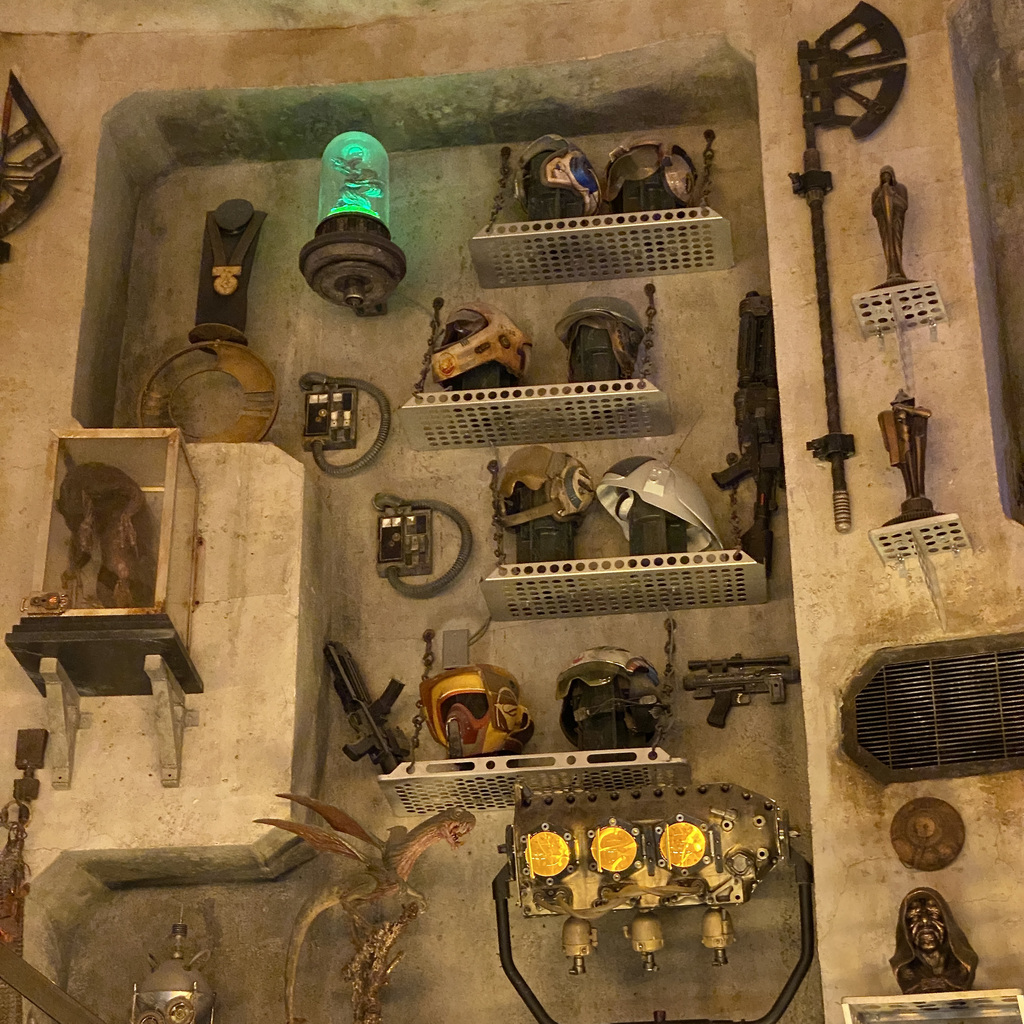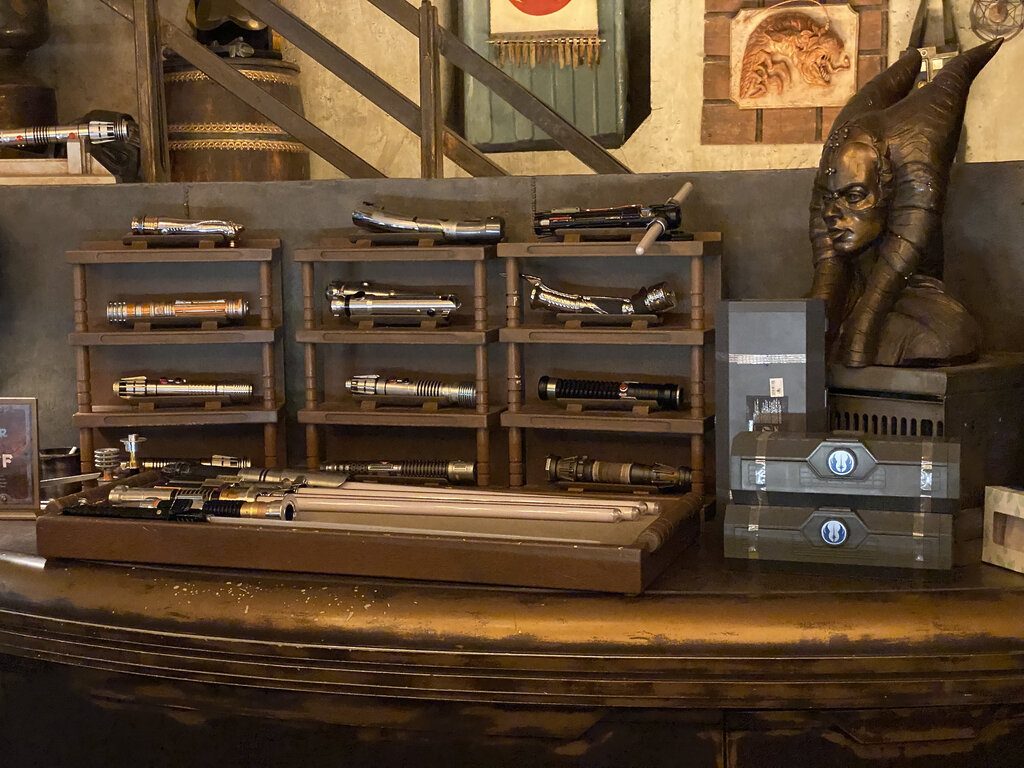 Savi's Workshop
Want to build your own custom lightsaber? Savi's secret workshop inside of Galaxy's Edge is for doing just that. Although expensive, the lightsaber -building experience is a dream come true for many Star Wars fans. Creators pick the hilt and the kyber crystal required to bring the lightsaber to life. April 2023 pricing for this experience is listed at $250, plus tax.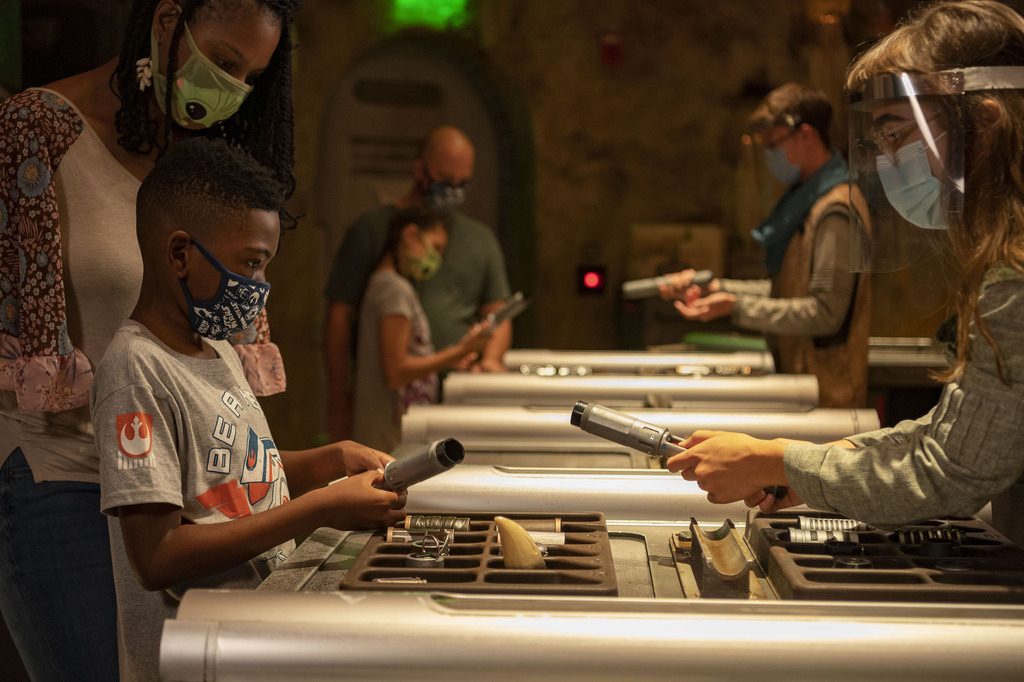 Unfortunately, Savi's is not a place guests can just wander into and observe. You must be brought in by a "Gatherer" who guides builders through the process. Reservations to enter Savi's are highly recommended and can easily be made in advance through the Disney World website. There are also a limited number of same-day reservations available each day. Inquire about walk-up availability at the entrance to Savi's.
Droid Depot
Lightsabers are not the only thing guests can build inside of Galaxy's Edge. Droid building is also an option. The Droid Depot has parts to make either a R-Series or BB-Series droid. April 2023 pricing for this experience is listed at $120, plus tax.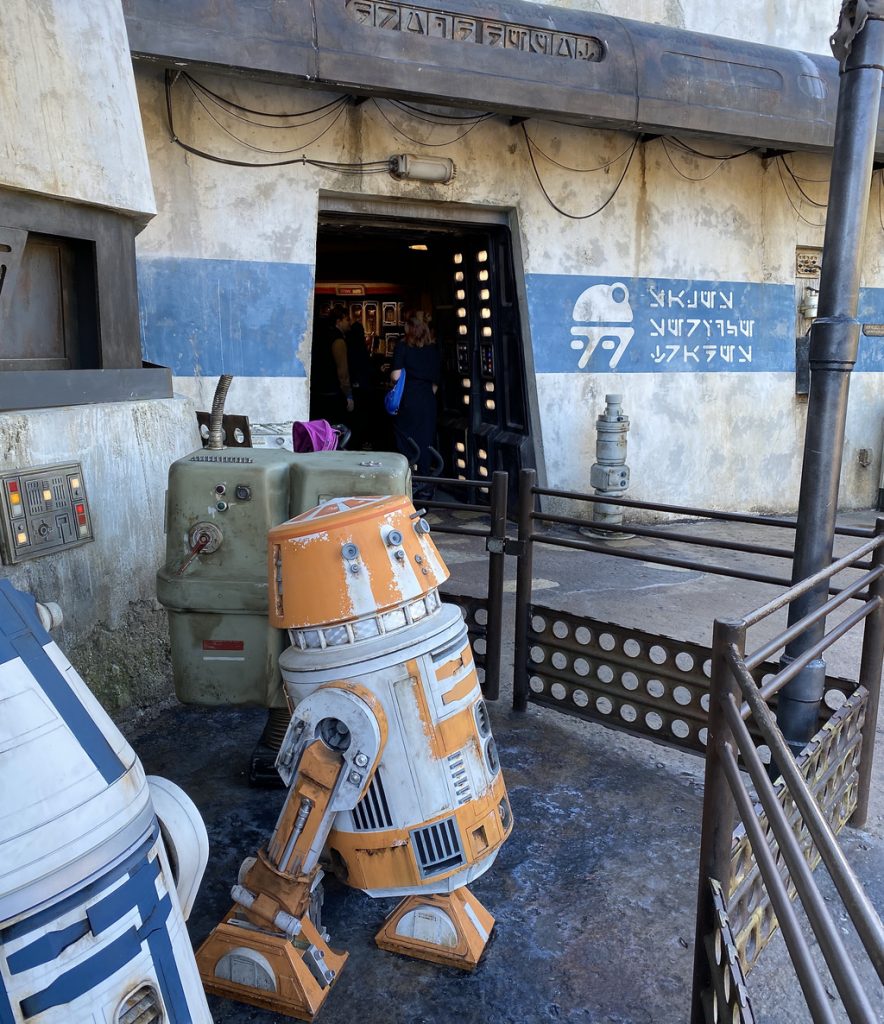 First Order Cargo
Is stormtrooper and guard attire more your style? Then First Order Cargo is the place for you to shop. (Those with an allegiance to the resistance, will be better served at Resistance Supply.)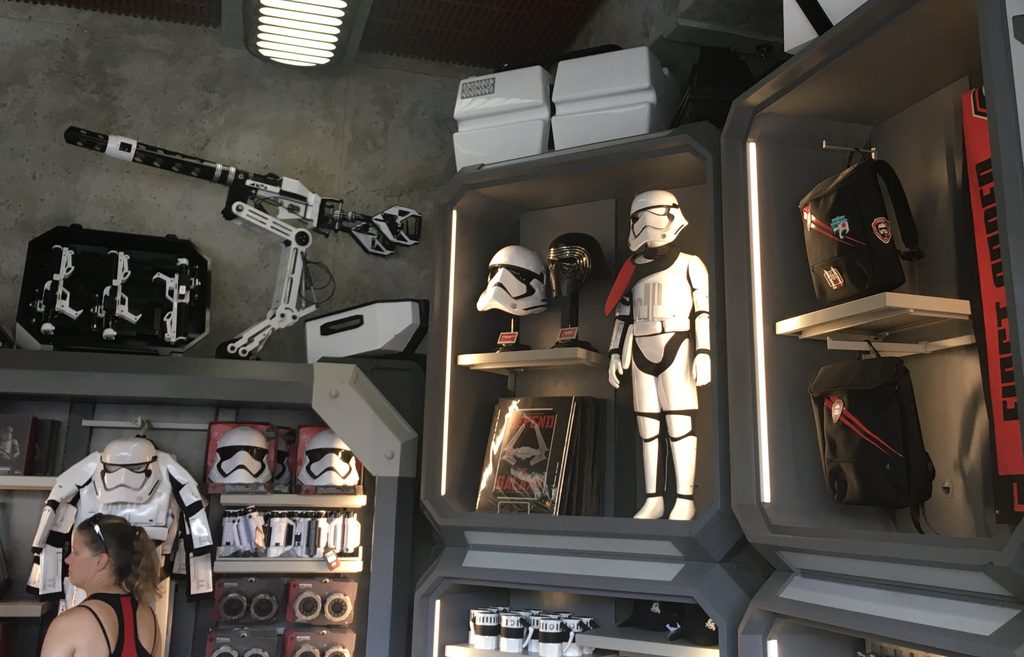 Magical Extras in Galaxy's Edge
Characters
You will definitely see stormtroopers walking about, but you may encounter other characters such as The Mandalorian and Grogu, Rey, or Chewbacca.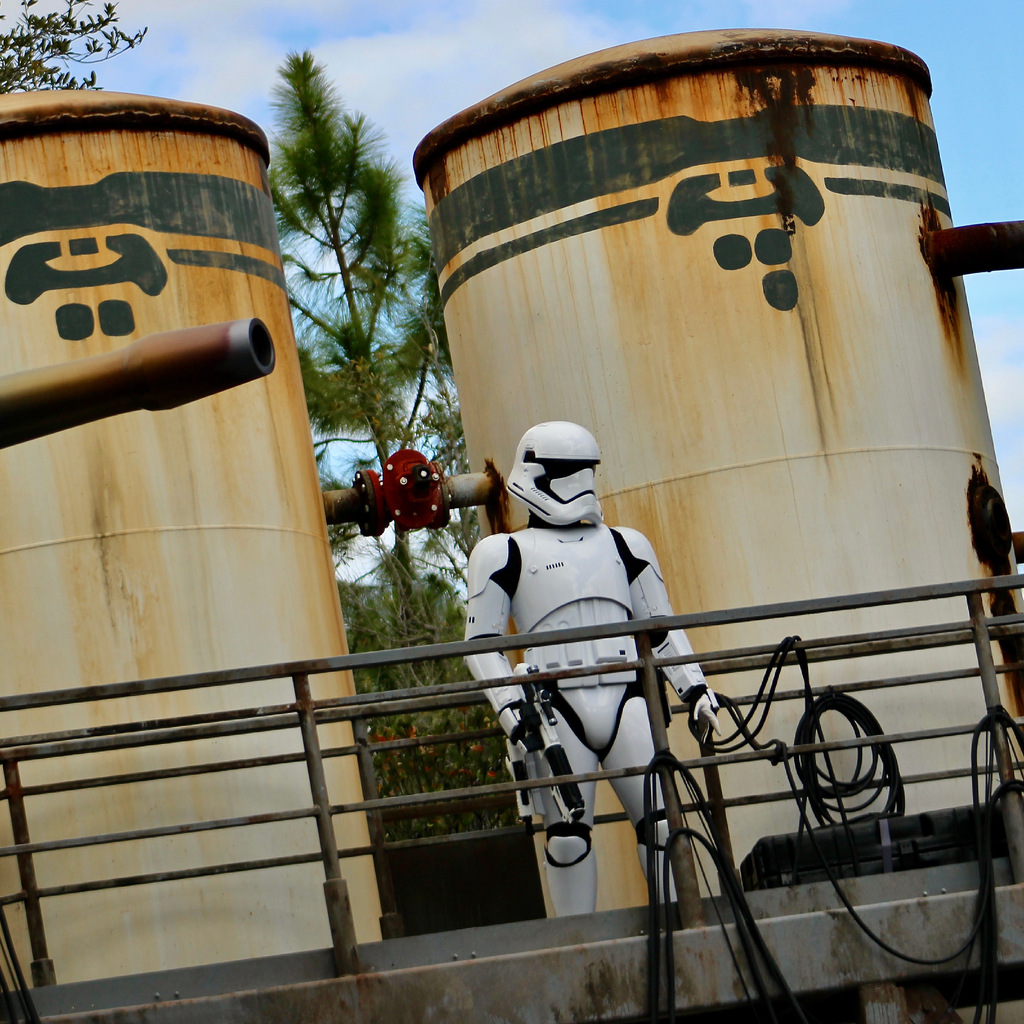 Aurebesh
Galaxy's Edge posts signs in both English and Aurebesh. If you are not well-versed in this galactic alphabet, there's an app for that! Use the Play Disney Parks app to scan and translate to your heart's content.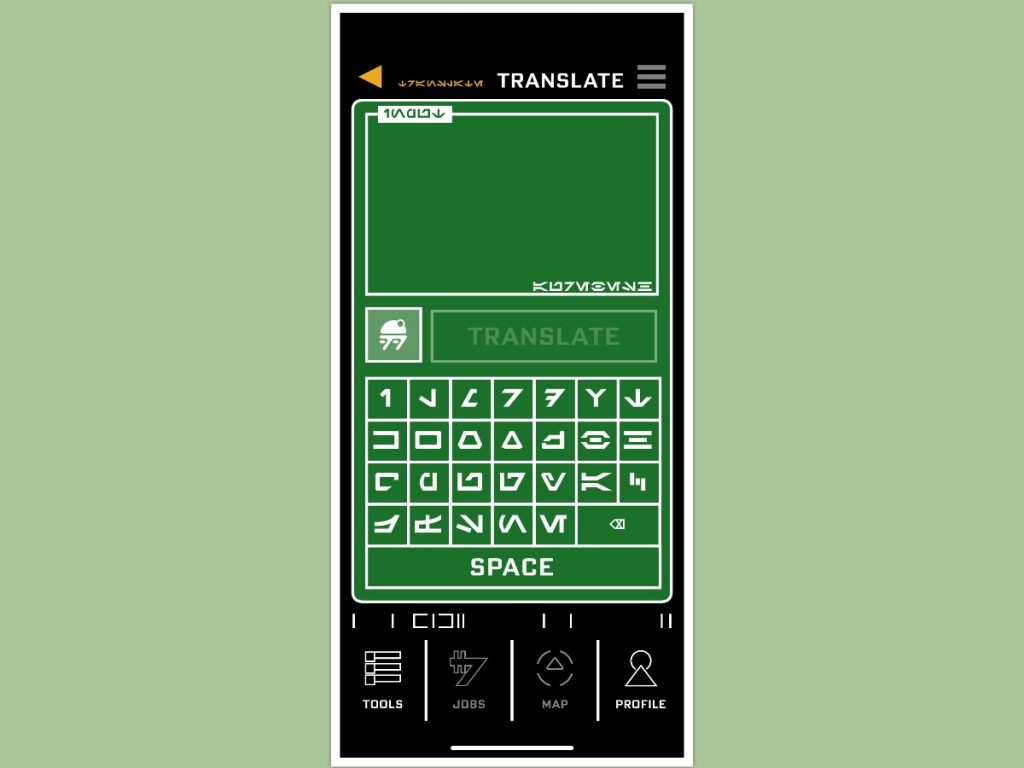 Toy Story Land
Walk into Toy Story Land and feel yourself transformed into one of Andy's toys! Join Woody, Buzz, Jess, T-Rex and all the rest in the most magical backyard in Florida. Here, Slinky Dog takes you on a rollercoaster adventure and the Aliens spin you into space. Eat BBQ inside of a rodeo arena or breakfast on a bench made out of popsicle sticks. Toy Story Land is for the kid in everyone.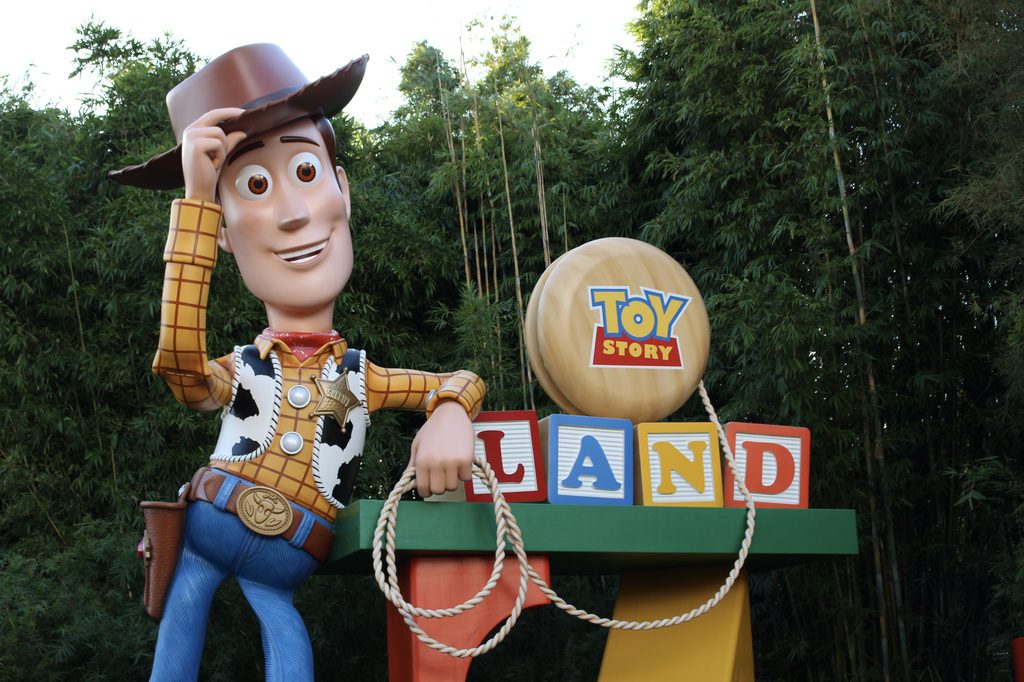 Toy Story Land Attractions
Slinky Dog Dash
When Andy assembled his Mega Coaster Play Kit in the backyard, he never imagined that he was creating one of the most popular ride attractions at Hollywood Studios. The Slinky Dog Dash rollercoaster twists, drops, dips, stops, and launches guests on a wild ride. The height requirement is 38 inches.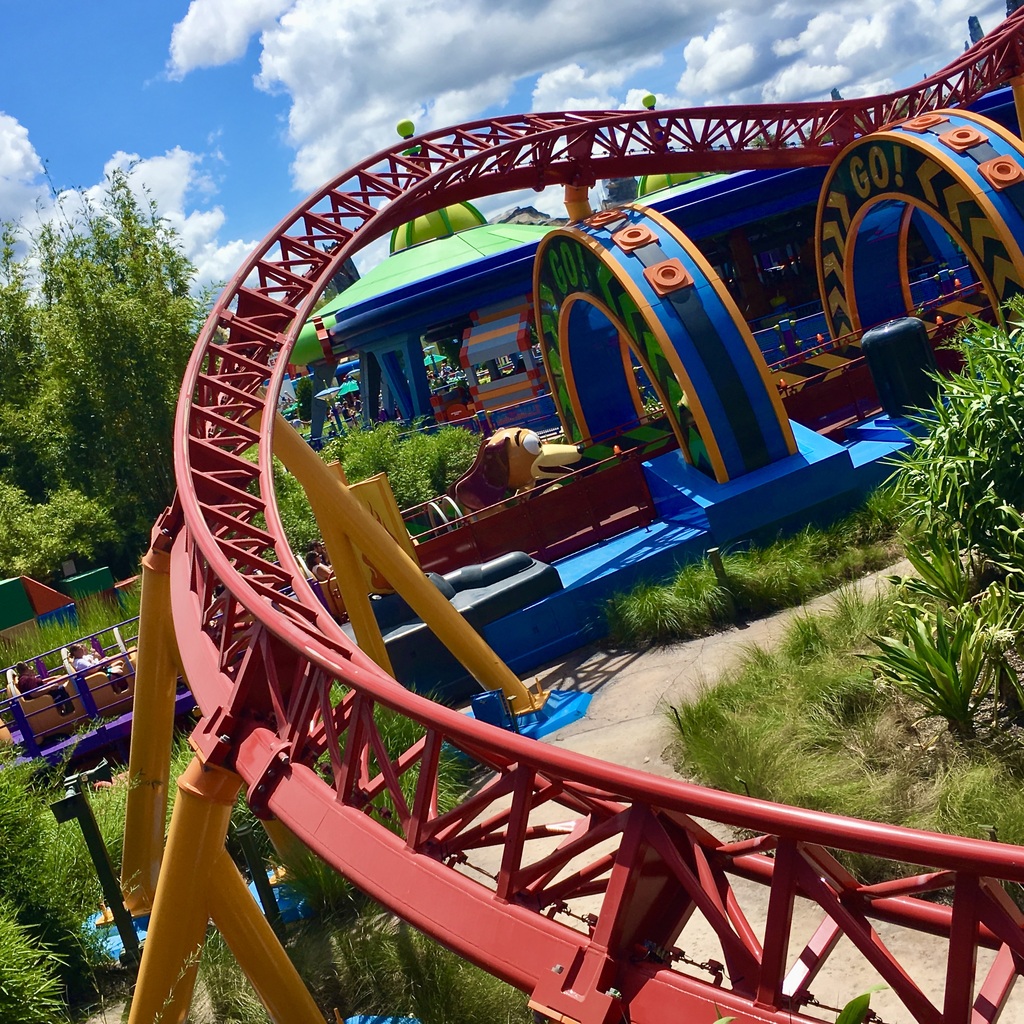 Toy Story Mania!
Toy Story Mania! combines the fun of a trackless ride with virtual technology. Guests wearing 3D glasses settle into a tram equipped with a pull-string blaster. From there, the vehicle launches onto a carnival midway to play five fast-paced games. At the end, high score gets bragging rights. Toy Story Mania! opened on May 31, 2008 and it has no height requirement.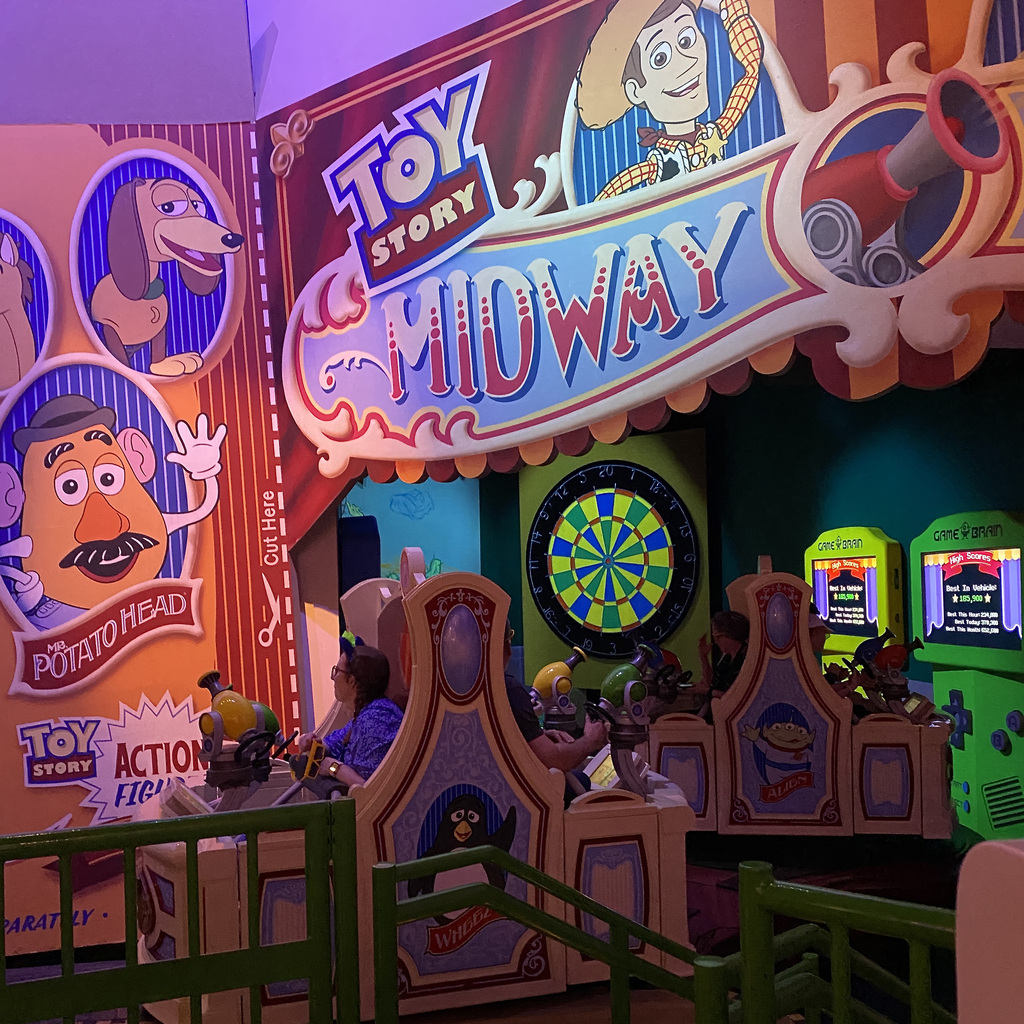 Alien Swirling Saucers
Walk onto the turntable and take a seat inside of a flyer saucer. Once you are safely inside, get ready to swirl to electronic space music.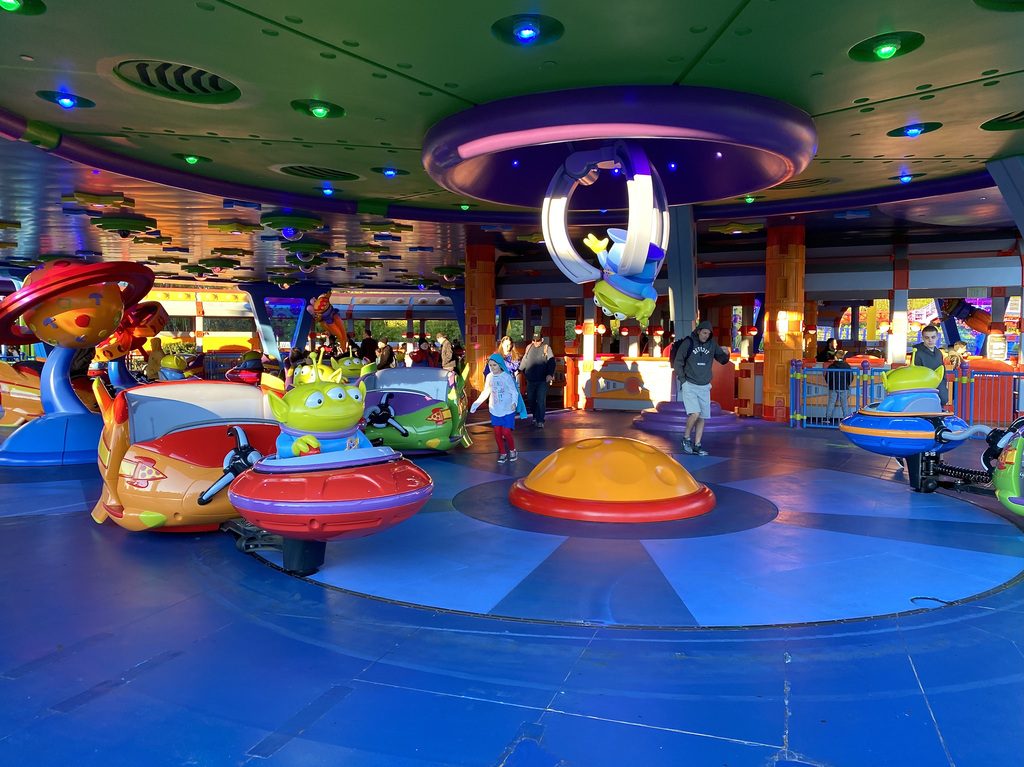 Where to Eat in Toy Story Land
Woody's Lunch Box
It's hard to recall a restaurant opening more anticipated than Woody's Lunch Box. The quick-service location in the center of Toy Story Land serves classic comfort foods, like grilled cheese sandwiches and Lunch Box Tarts.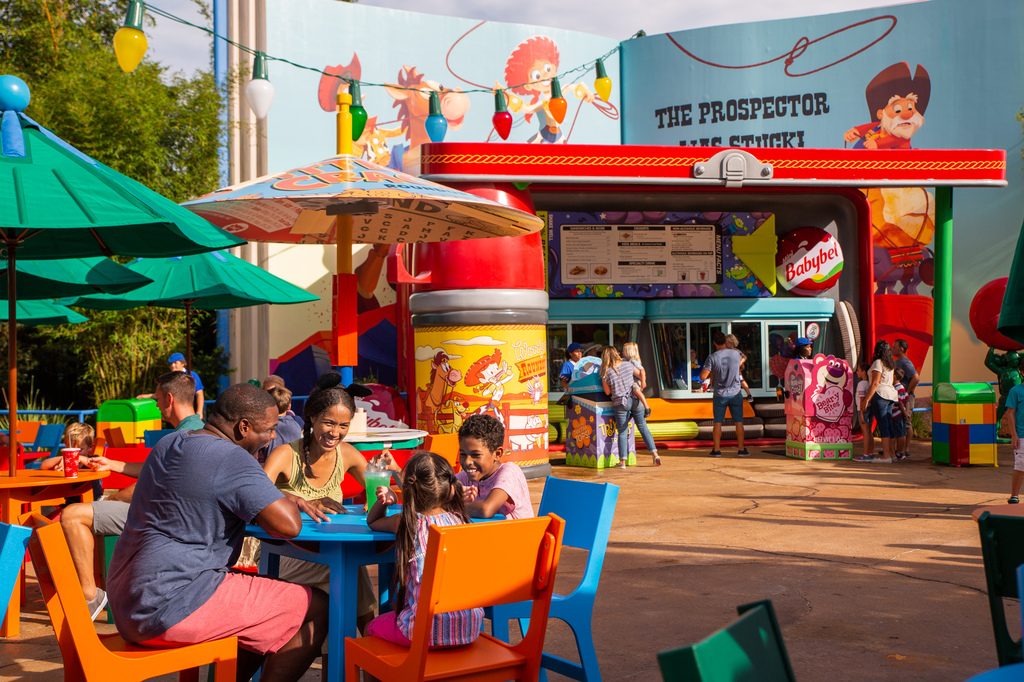 Roundup Rodeo BBQ
The first sit-down restaurant in Toy Story Land, Roundup Rodeo BBQ opened on March 23, 2023. Roundup serves BBQ classics and ordering is easy because this family style joints practically brings it all to you – bread service, a trio of salads, an entree sampler and four sides. The only time they make you choose one item is at dessert time. Darn!
Guests at the restaurant are one of Andy's honorary toys. So, whenever you hear, "Andy's Coming", you must freeze!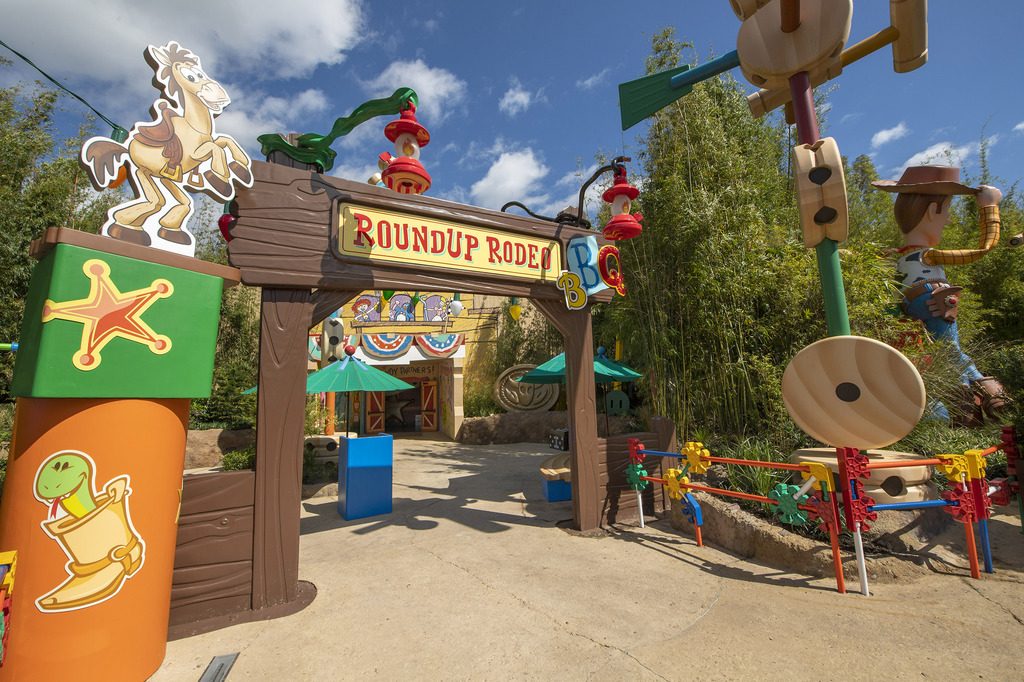 Where to Shop in Toy Story Land
Jessie's Trading Post
Finally, Toy Story Mania! has a gift shop worthy of the attraction it is attached to. Jessie's Trading Post (which opened in July of 2022) sells toys and other Toy Story-themed merchandise.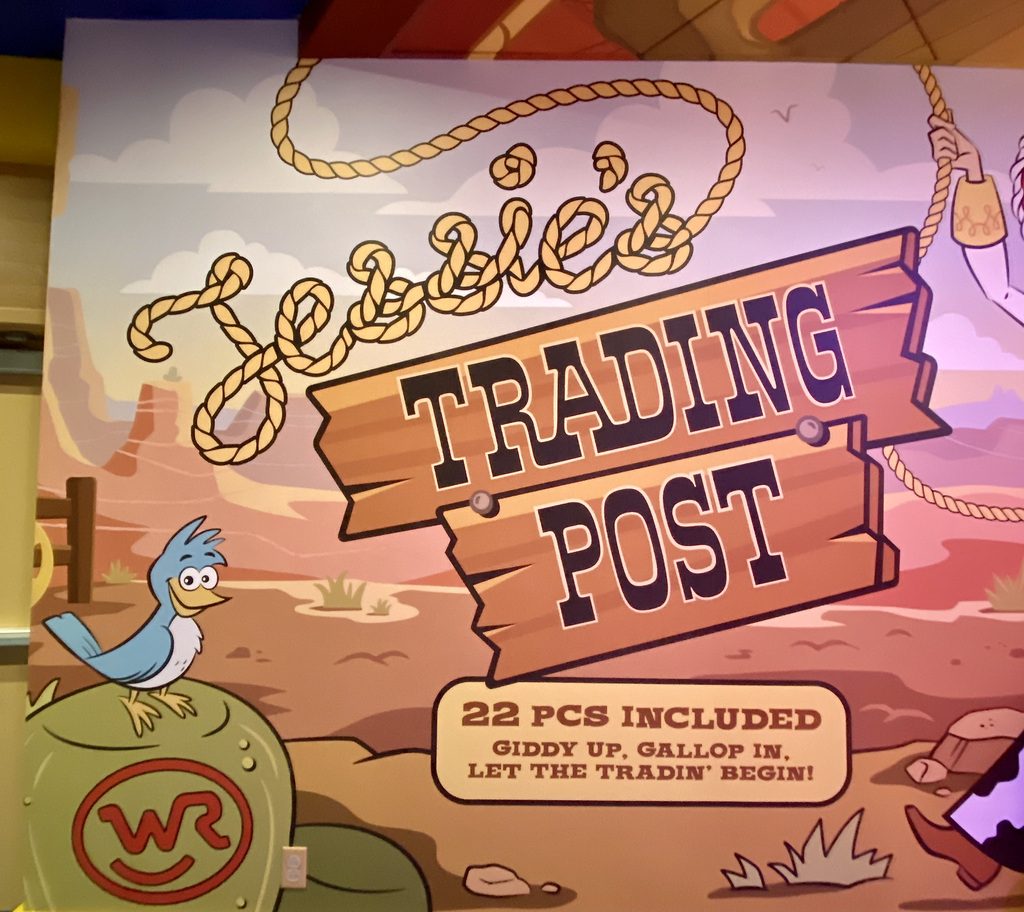 Magical Extras at Toy Story Land
The Pixar Ball
The famous yellow ball with the red star makes its way into most Pixar films and now it can serve as the backdrop for your next family photo. Fun Fact: The Pixar Ball is also called the Luxo Ball.
Animation Courtyard
A traditional Studio Arch marks the entrance to Animation Courtyard, which is home to the official Walt Disney museum, the Disney Junior characters, and more Star Wars stuff.
Animation Courtyard Attractions
Walt Disney Presents
*For a limited time, Ariel and props from the live-action version of The Little Mermaid, will be at Walt Disney Presents.
Walt Disney Presents is a small museum dedicated to Walt and Roy Disney, founders of the Walt Disney Company. Here you can see photos, artifacts, and sneak peeks of big projects.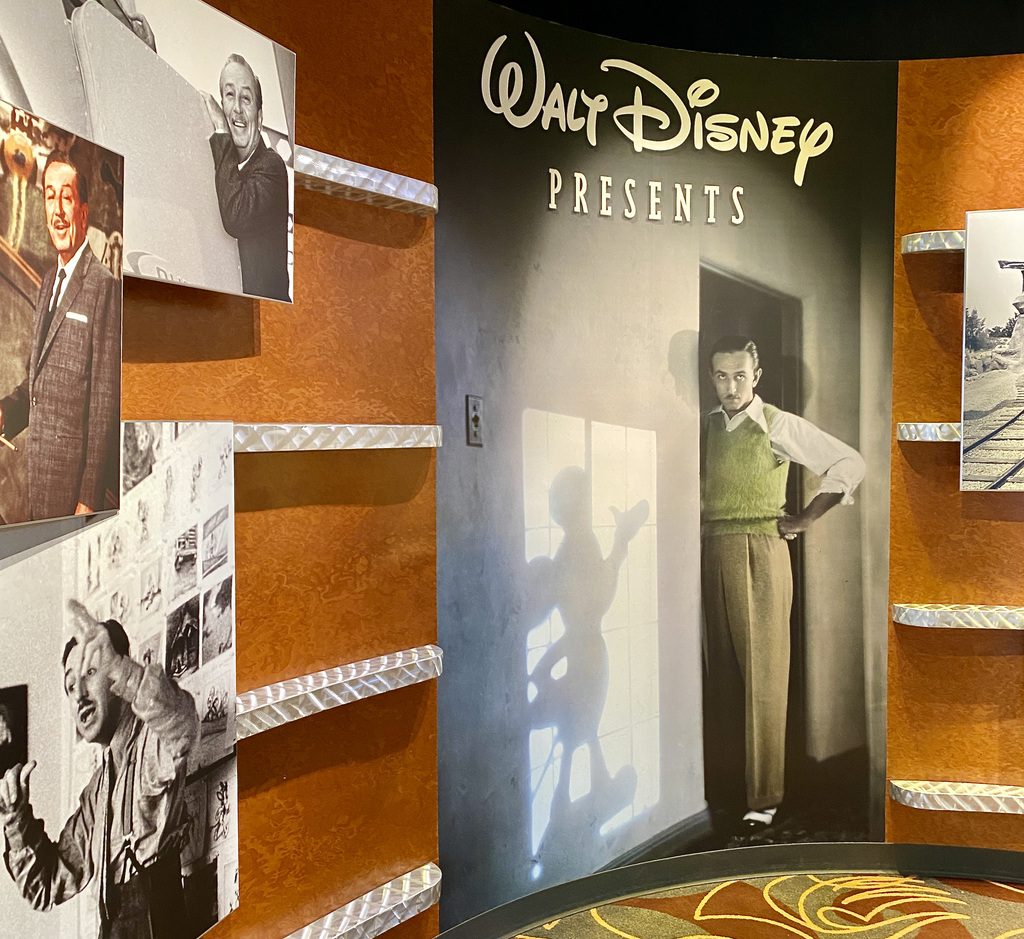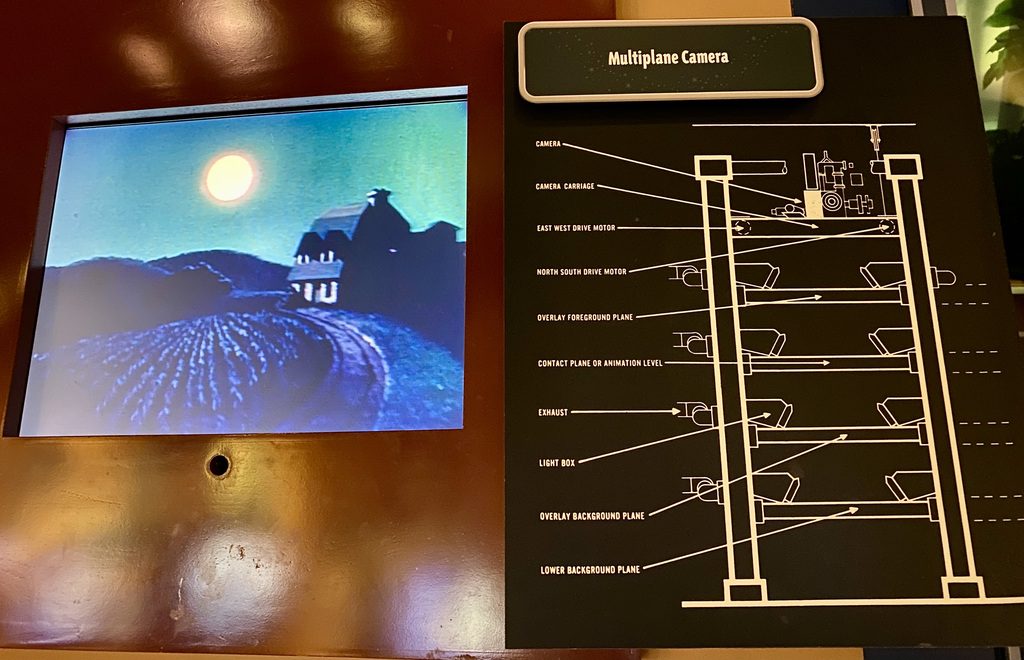 Star Wars Launch Bay
If you didn't get a full Star Wars fix at Galaxy's Edge, pop in to the Star Wars Launch Bay. Launch Bay has movie props, concept art, a documentary, and merchandise.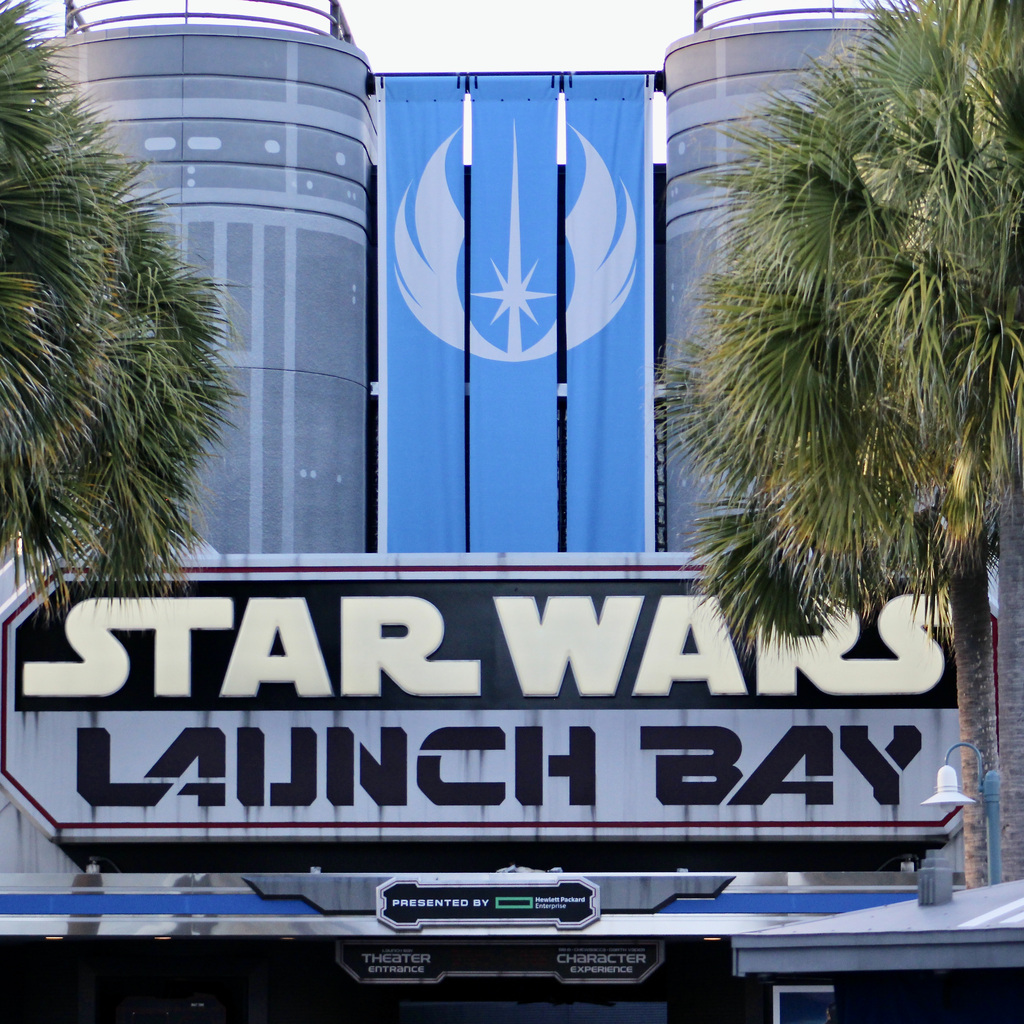 Disney Junior Play & Dance
Have little ones who have spent too much time in a stroller and need to get the wiggles out? Disney Junior Play & Dance is an air-conditioned spot to get that done as you join Mickey and friends for a dance party.
Just outside of the Play & Dance venue are spots to meet Vampirina, Doc McStuffins, Fancy Nancy, and Pluto. Characters pose for photos, sign autographs, and give the warmest hugs!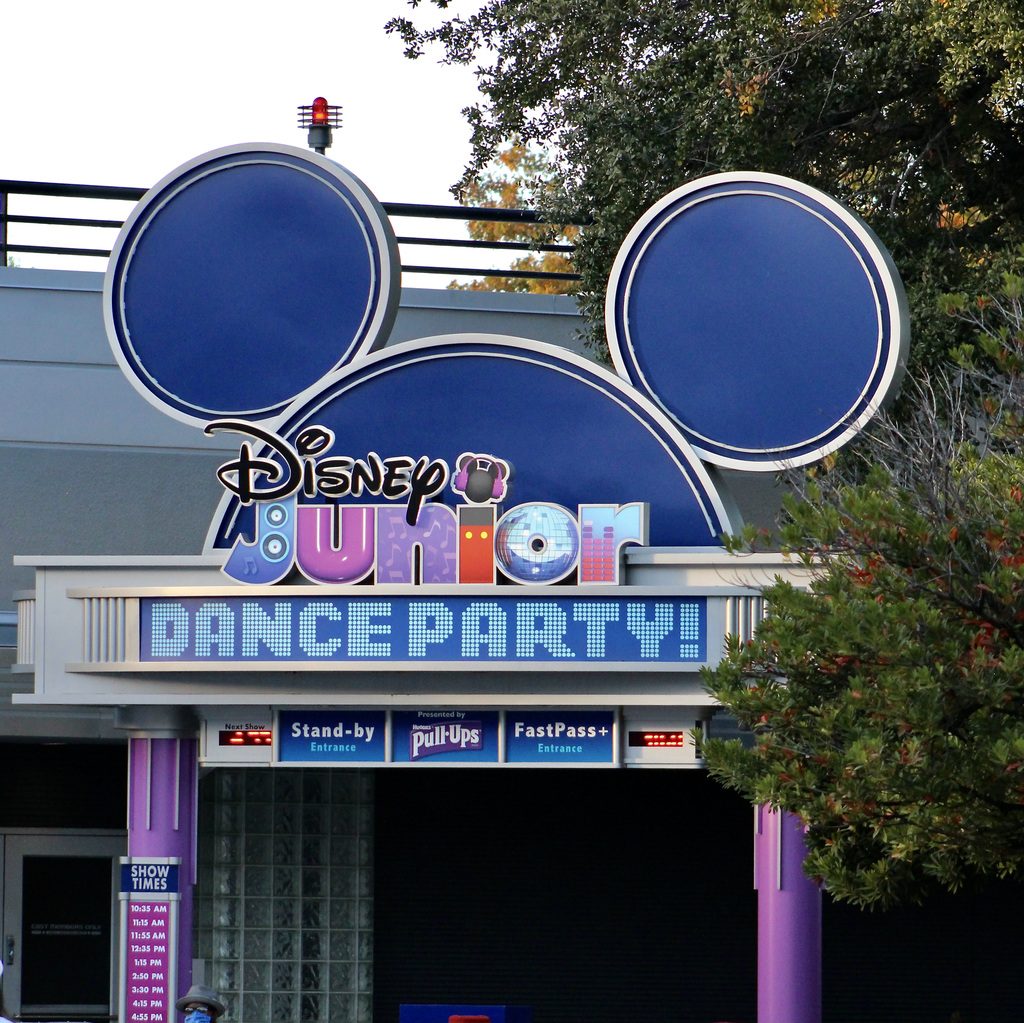 Where to Eat in Animation Courtyard
Market and Joffrey's
There isn't a lot to nosh on in Animation Courtyard, but it offers some fan-favorites. The Market is a quick-service snack shop with the beloved Jack-Jack's Num Num Cookie. Joffrey's provides the awesome Donut King sprinkle donuts.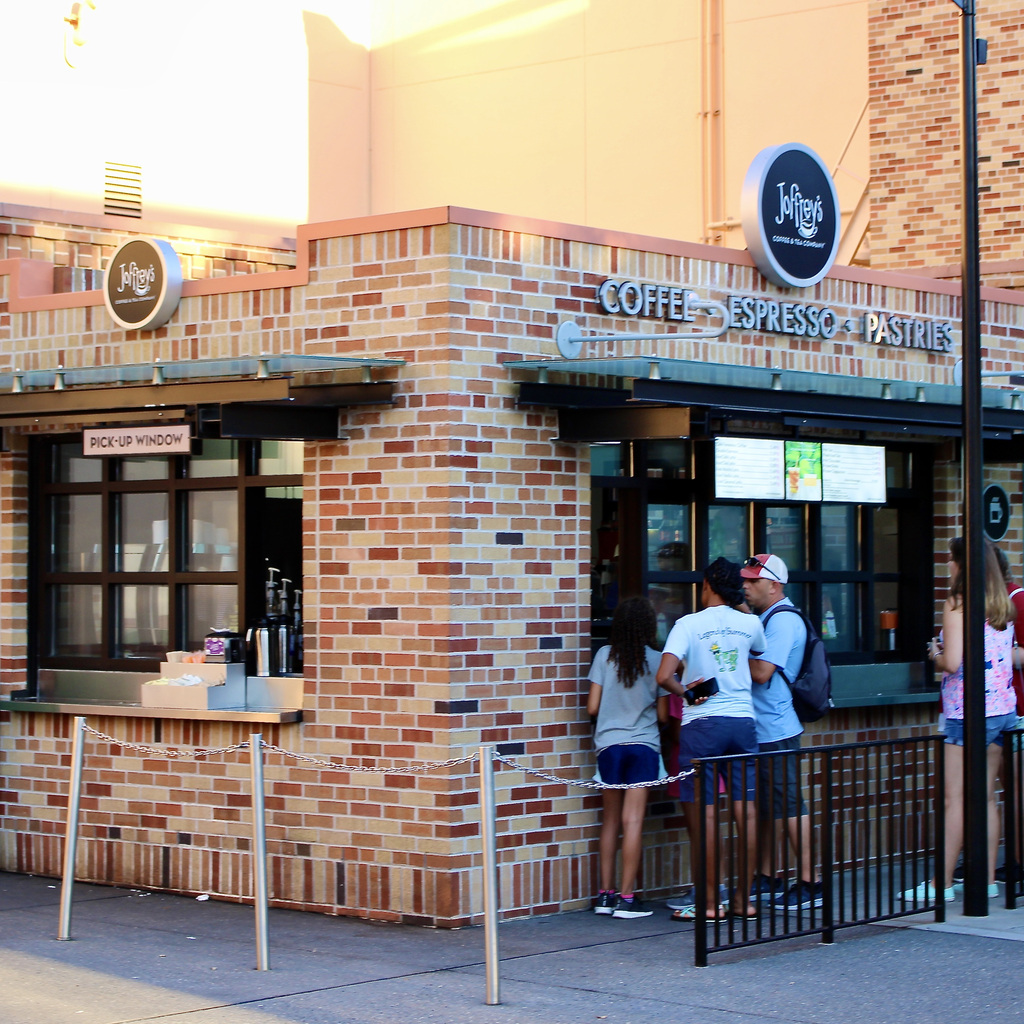 Magical Extras in Animation Courtyard
Pixar Place
Pixar Place opens occasionally, and when it does, you can usually find a rare character making a special appearance. This month, Edna Mode, the definitive designer from The Incredibles meets and greets guests starting May, 14, 2023. The Edna Mode Experience is part of Disney's reimagined Pixar Place, where guests can also encounter other Pixar stars like Mr.& Mrs. Incredible, Frozone, and Sulley.
Sunset Boulevard
Sunset Boulevard mixes pure Hollywood with thrills and entertainment. Here, guests rock-out to Aerosmith, take in a live performance of Beauty and the Beast, and get the Mickey Bar scared out of them at the Hollywood Hotel. At the end of the day, Sunset Boulevard is the place to be for nighttime entertainment. For movie fans and thrill seekers, all that they love appears on Sunset Boulevard!
Sunset Boulevard Attractions
Rock 'n' Roller Coaster Starring Aerosmith
Not for the faint-hearted, Rock 'n' Roller Coaster thrills from the start as it launches riders to 60 mph in less than three seconds. Aerosmith's classic soundtrack makes the coaster even more heart-pumping. Lots of people sit this one out, even if they are over the 48 inches required to ride. It is one of the most intense rides at Walt Disney World.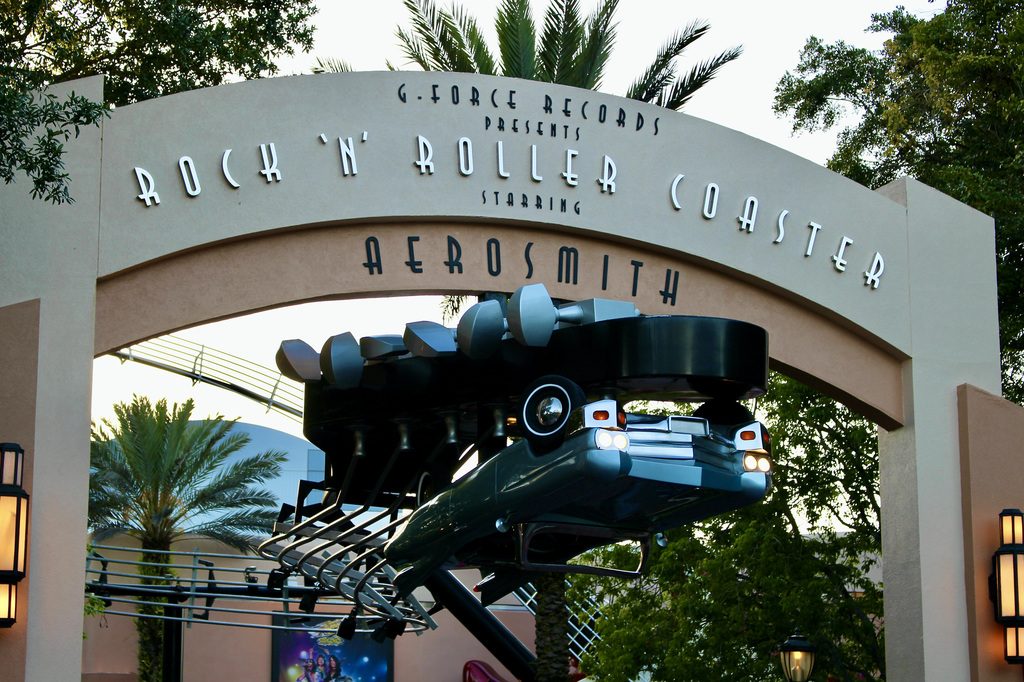 Twilight Zone Tower of Terror
Don't mistake this ride for another Haunted Mansion. Yes, Tower of Terror's highly themed infrastructure makes it intriguing to look at, but if you don't enjoy the sensation of falling, do your exploring and ask to use the chicken exit at the end of the queue. Definitely not for all ages and guests must be 40 inches to ride.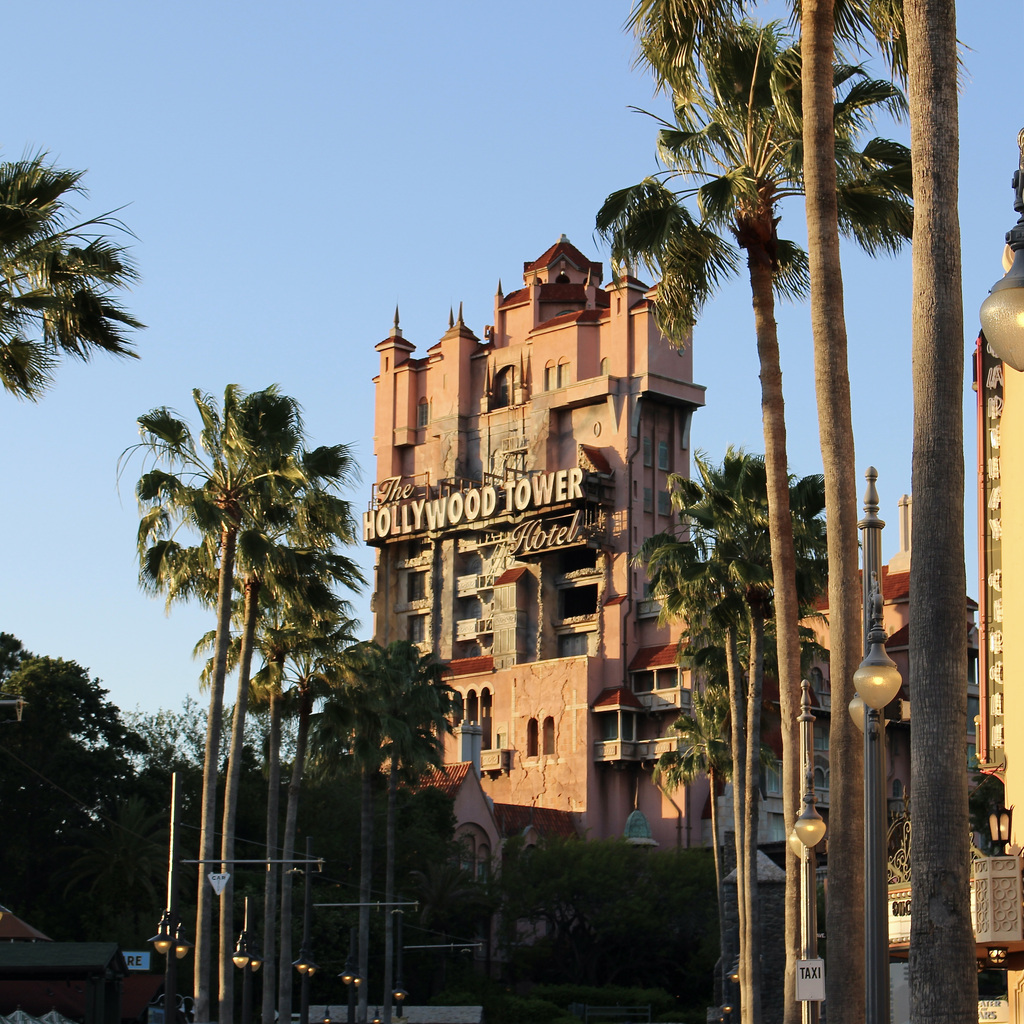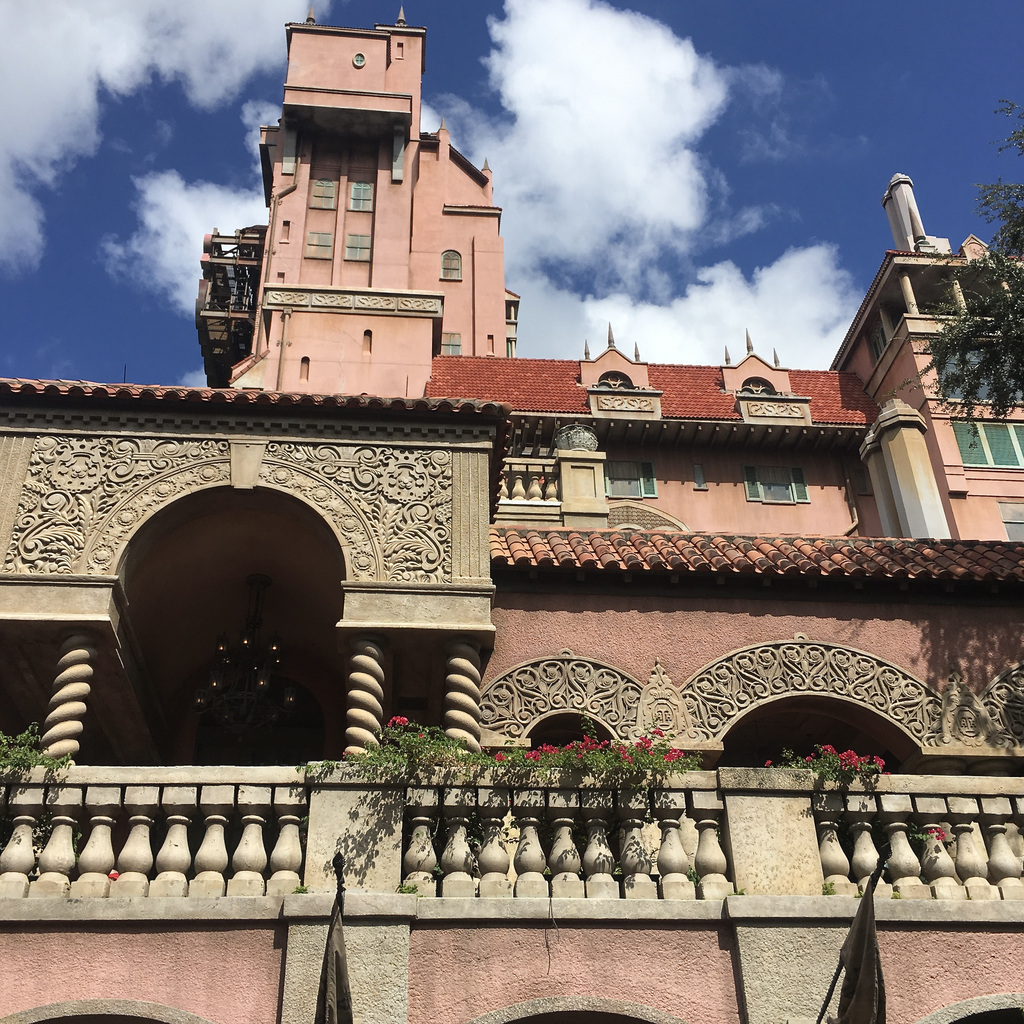 Lightening McQueen's Racing Academy
Don't discount this one. Is it the best attraction at Hollywood Studios? No. But for little ones who like the Cars movies (or just vehicles in general) this one elicits smiles and laughs. Outside, guests can pose with life-size versions of the Cars characters, and inside there's room for everyone to take a seat and enjoy a 10-minute break in an air-conditioned location. The action is loud, so be cautious if you have anyone in your group sensitive to loud noises and flashing lights.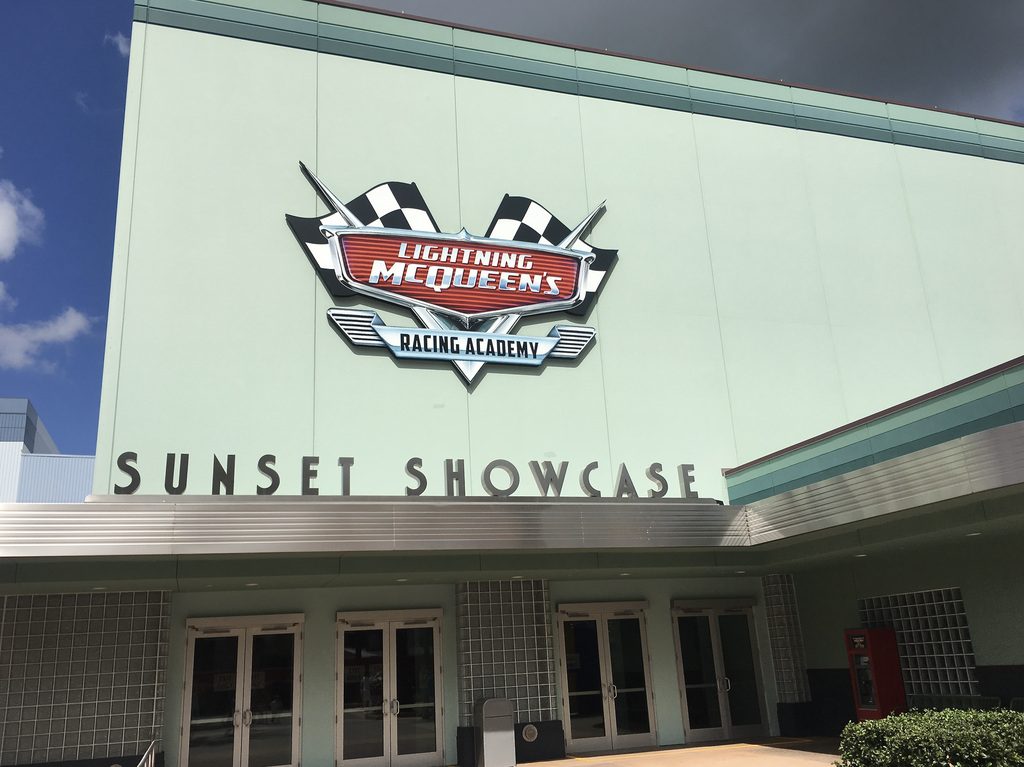 Beauty and the Beast – Live on Stage
The music of Beauty and the Beast takes center stage for this abbreviated version (25 minutes) of the classic fairy tale. There are several shows throughout the day, so find a time that's right for you to sit (the outdoor theater has stadium seating), take a break, and enjoy a Broadway-worthy performance.
Fantasmic!
There simply isn't a better way to end a day at Hollywood Studios than by taking in Fantasmic! Disney's nighttime show uses a combination of animation, water screen projections, live-action stunts, and storytelling to bring all your favorite films to life. The best part is that the show takes place in a huge arena with stadium seating – so, no sitting on the ground and jostling for a position once the show starts. Fantasmic! is Magic!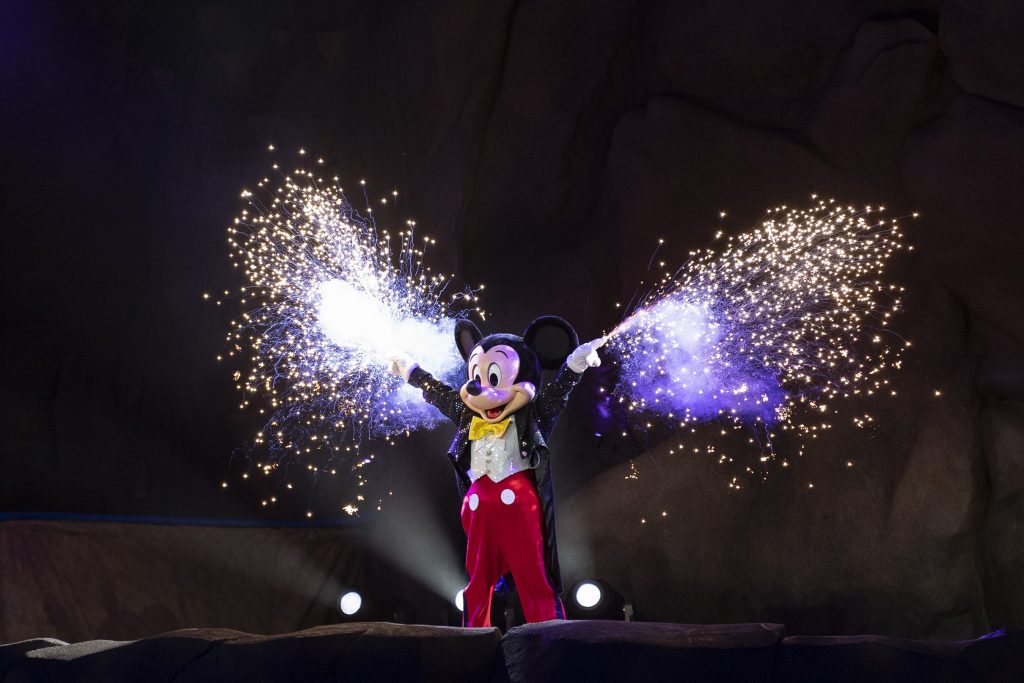 Where to Eat on Sunset Boulevard
Sunset Ranch Market
The Market is five quick service locations in one. It includes Anaheim Produce (snacks and drinks), Rosie's All-American Cafe (hot dogs, burgers, and nuggets), Catalina Eddie's (pizza and Caesar salad), Fairfax Fare (beef, chicken, pork, and noodle bowls), and Hollywood Scoops (ice cream).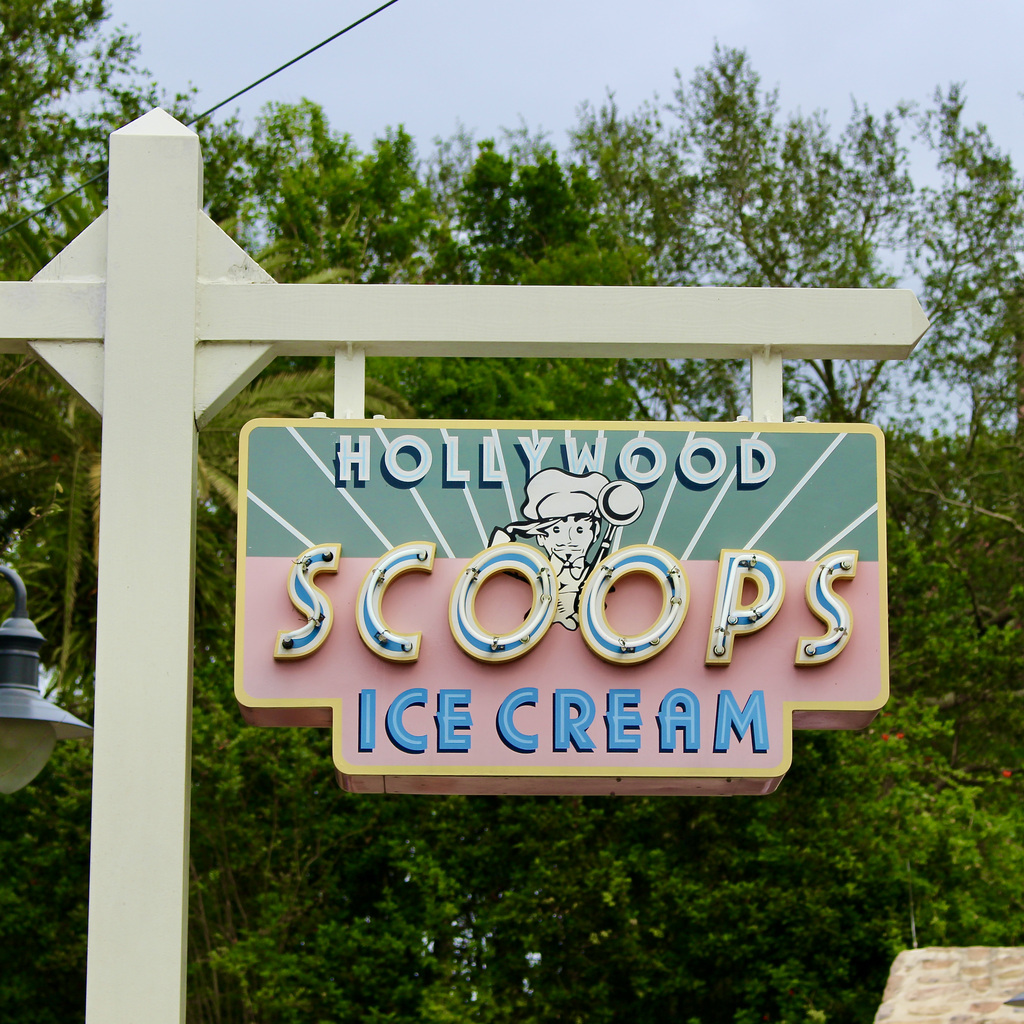 KRNR The Rock Station
Find KRNR outside of the exit to Rock 'n' Roller Coaster. It is located in a tricked-out trailer and serves drinks, chips, and chocolate chip cookies.
Joffrey's Coffee and Tea Company
Tucked back in the corner (just a few yards past the entrance to Tower of Terror), this Joffrey's Coffee stand doesn't get crowded like the Trolley Car Cafe Starbucks location on Hollywood Boulevard.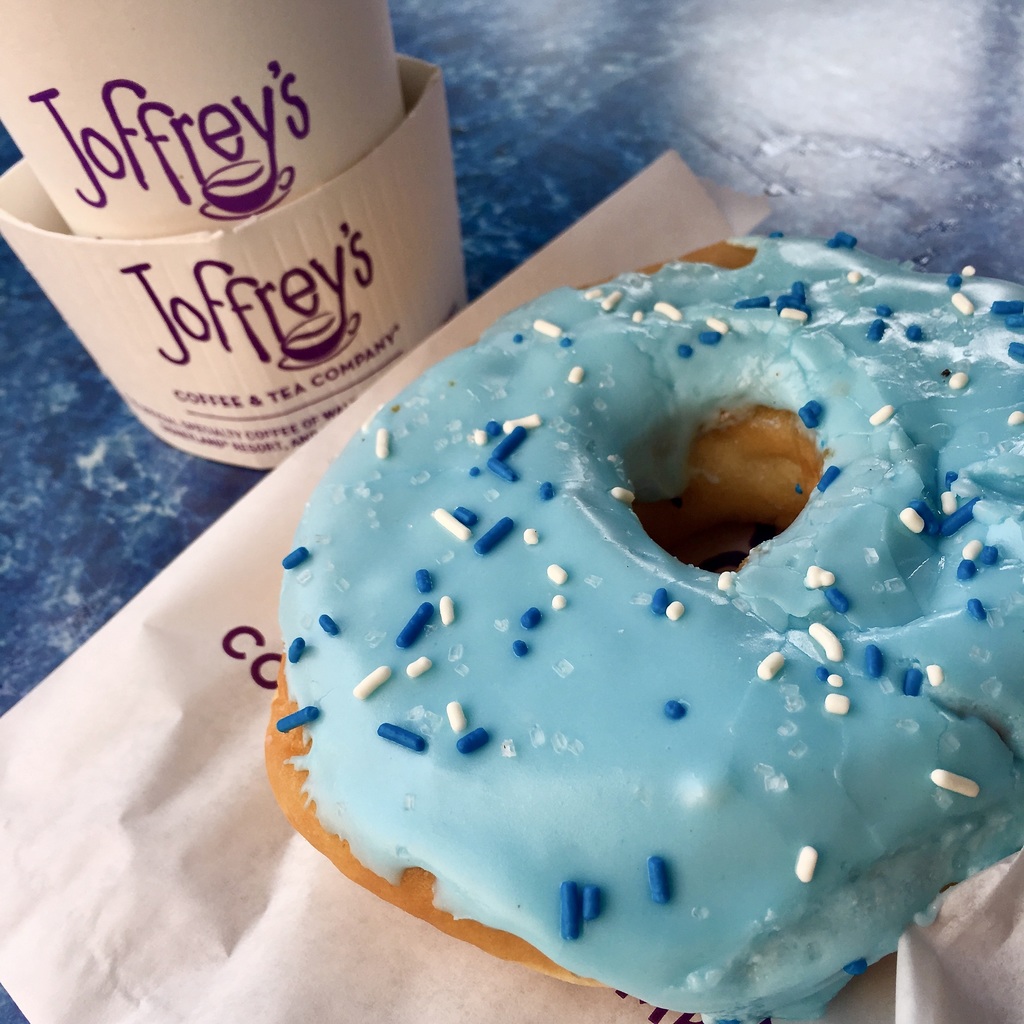 Sunshine Day Bar
For those on Sunset Boulevard during happy hour, gather your liquid courage at the Sunshine Day Bar. It serves specialty cocktails, beer, and has a fully stocked bar.
Where to Shop on Sunset Boulevard
Once Upon a Time
Once Upon a Time gift shop is housed in the beautiful Carthay Circle building, a nod to to the famed Hollywood theater where Snow White and Seven Dwarfs premiered on Dec. 21, 1937.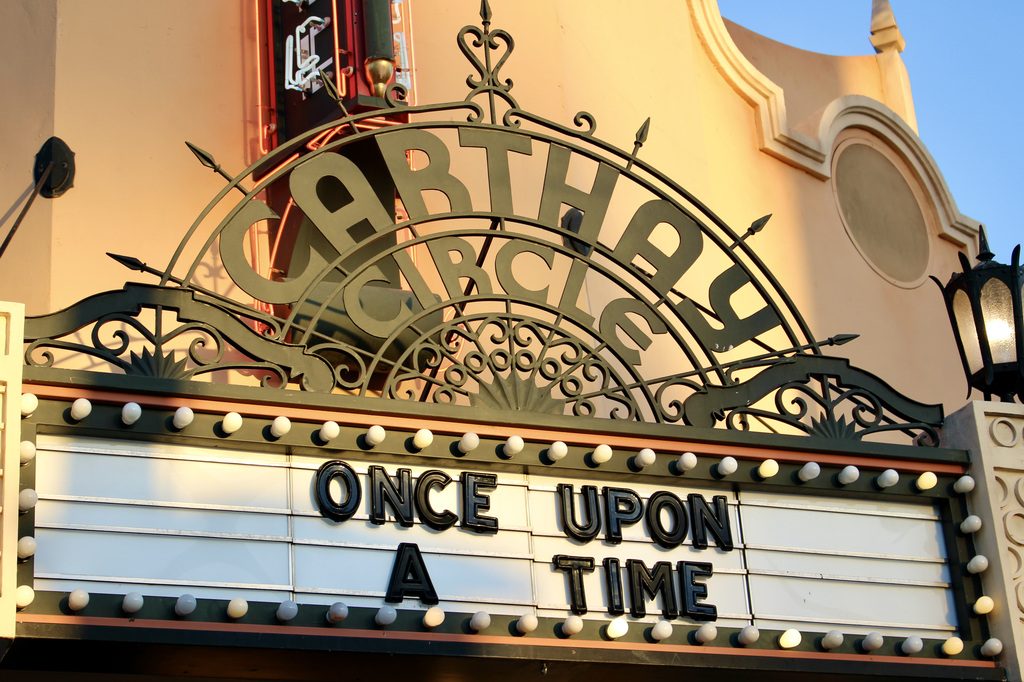 Sunset Club Couture
According to Disney A to Z, the Sunset Club Couture shop's architecture is inspired by the Oakland Floral Depot, constructed in California in 1931.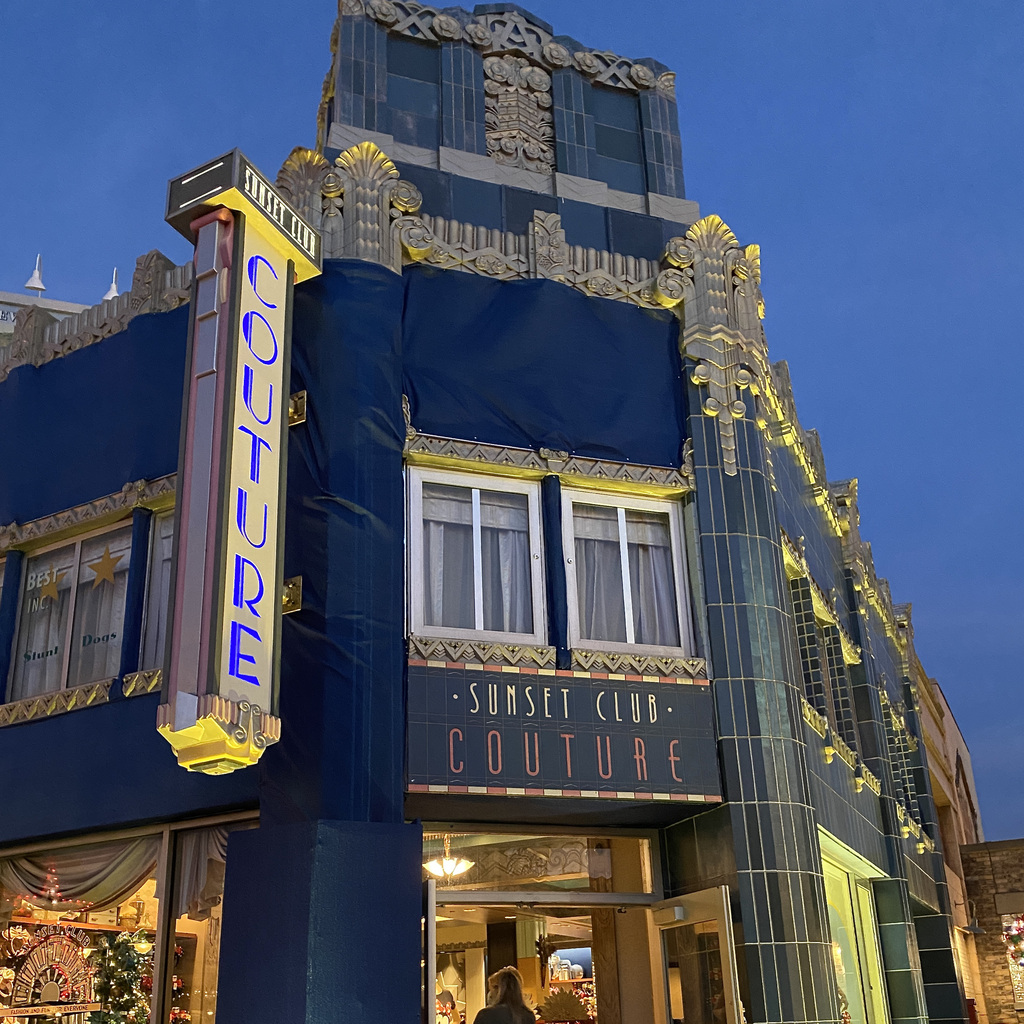 Legends of Hollywood
Get your Mickey Ears, toys and plushes at Legends of Hollywood which opened on the strip on June 12, 1994.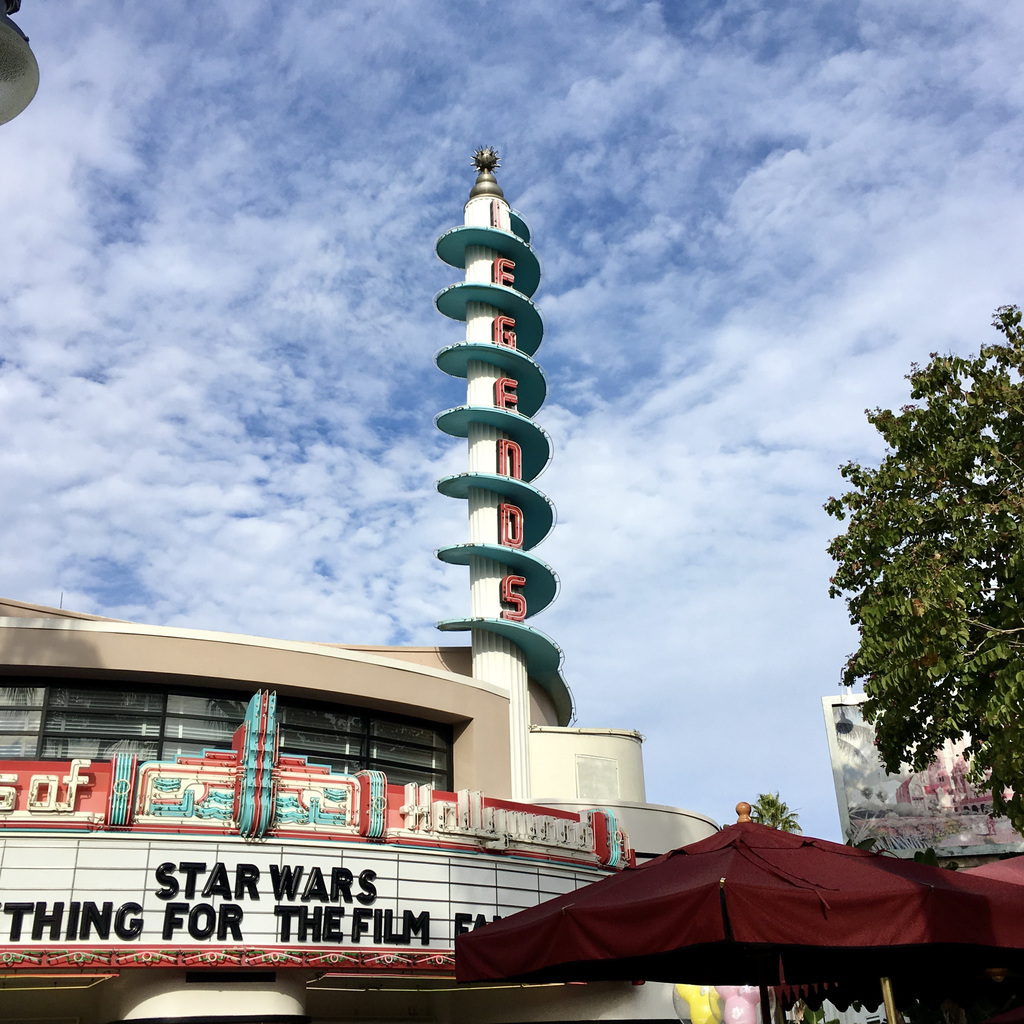 The Majestic
Hollywood theater on the outside, glitz and glamour on the inside. Sorry, there are no Mickey shorts being shown at the Majestic, but you can get higher-end Disney merchandise, like dresses and Loungefly bags.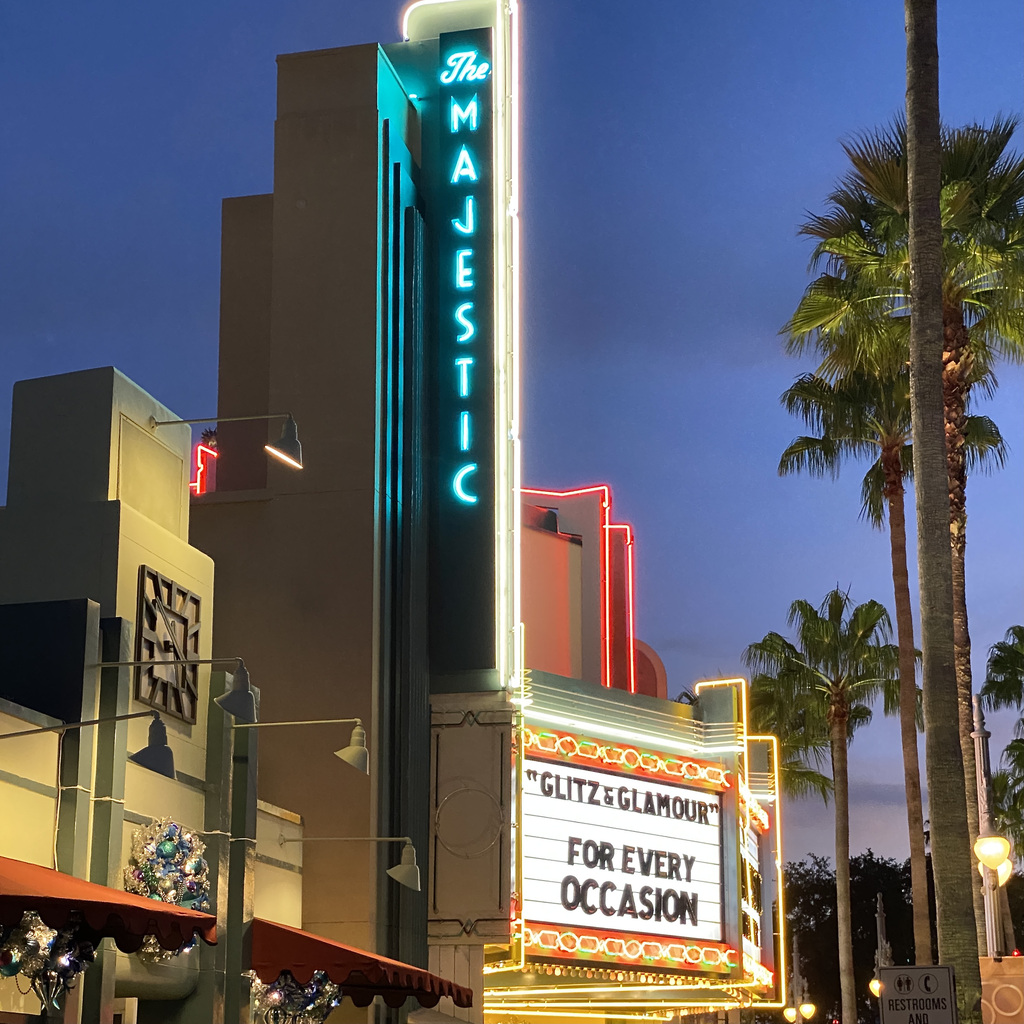 Rock Around the Shop
After riding on Aerosmith's Rock 'n' Roller Coaster, you may want to reward yourself with an awesome concert tee, drumsticks, or a guitar pick. This well-themed gift shop is a prime place to calm down after Aerosmith's wild limo ride.
Tower Hotel Gifts
The Hollywood Hotel wouldn't be complete without a resort gift shop, right? Tower Hotel Gifts has lots of themed-merchandise for sale, from hotel robes to front-desk call bells.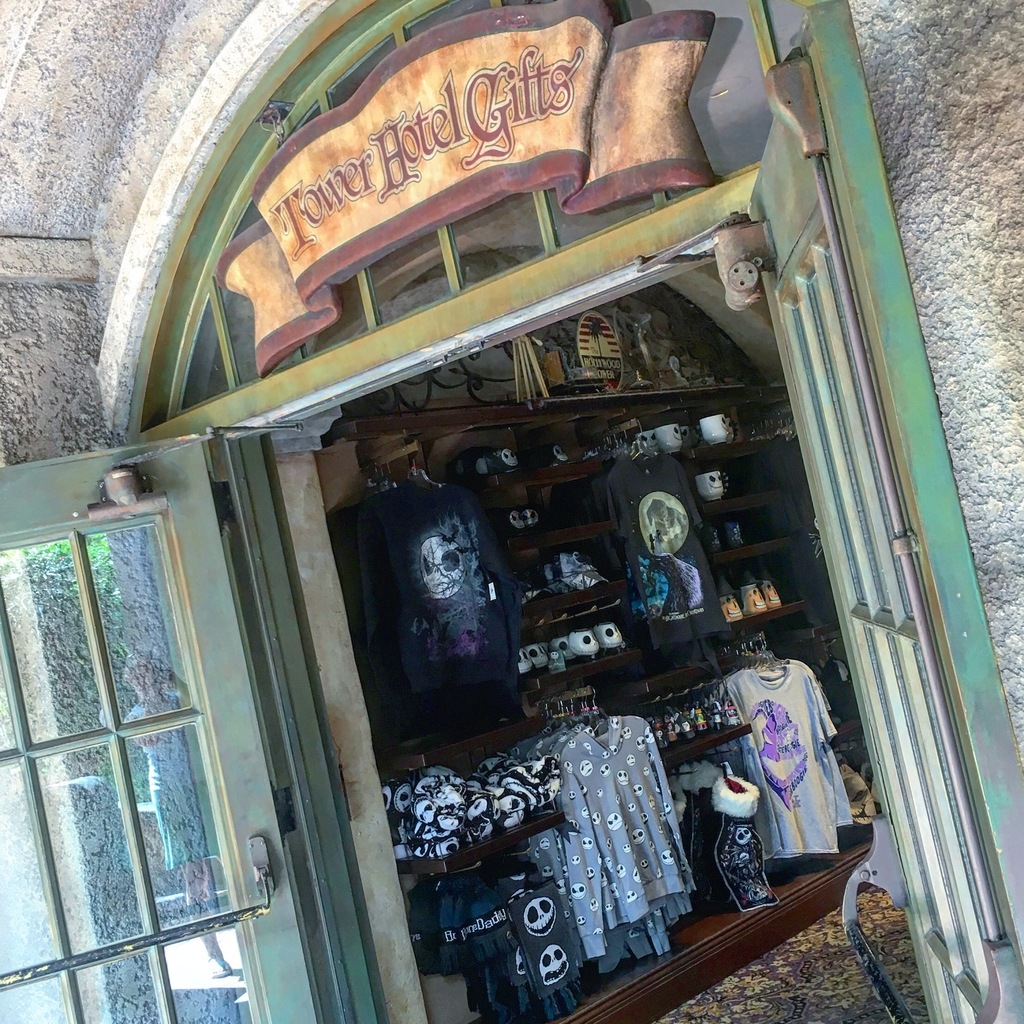 Sunset Ranch Pins and Souvenirs
Located next to the food market, Sunset Ranch sells pins, houseware items, and camera and media supplies.
And, That's A Wrap
Hollywood Studios epitomizes all the best Disney has to offer. If visiting attractions with rides is your main focus, early birds who appear at rope drop can get in a few poplar turns before the crowds set in. A Genie+ purchase can also be of benefit at this park if you have a desire to try it all in one day!
For those who like to park-hop and explore, Hollywood Studios' strength is its central location. From the main entrance, guests can easily take the skyway, a Friendship Boat, or walk to EPCOT and the BoardWalk.
Thank you for joining us on this quick trip to Hollywood Studios. As the park keeps changing, we will keep updating. So, keep coming back!
One Last Gift Shop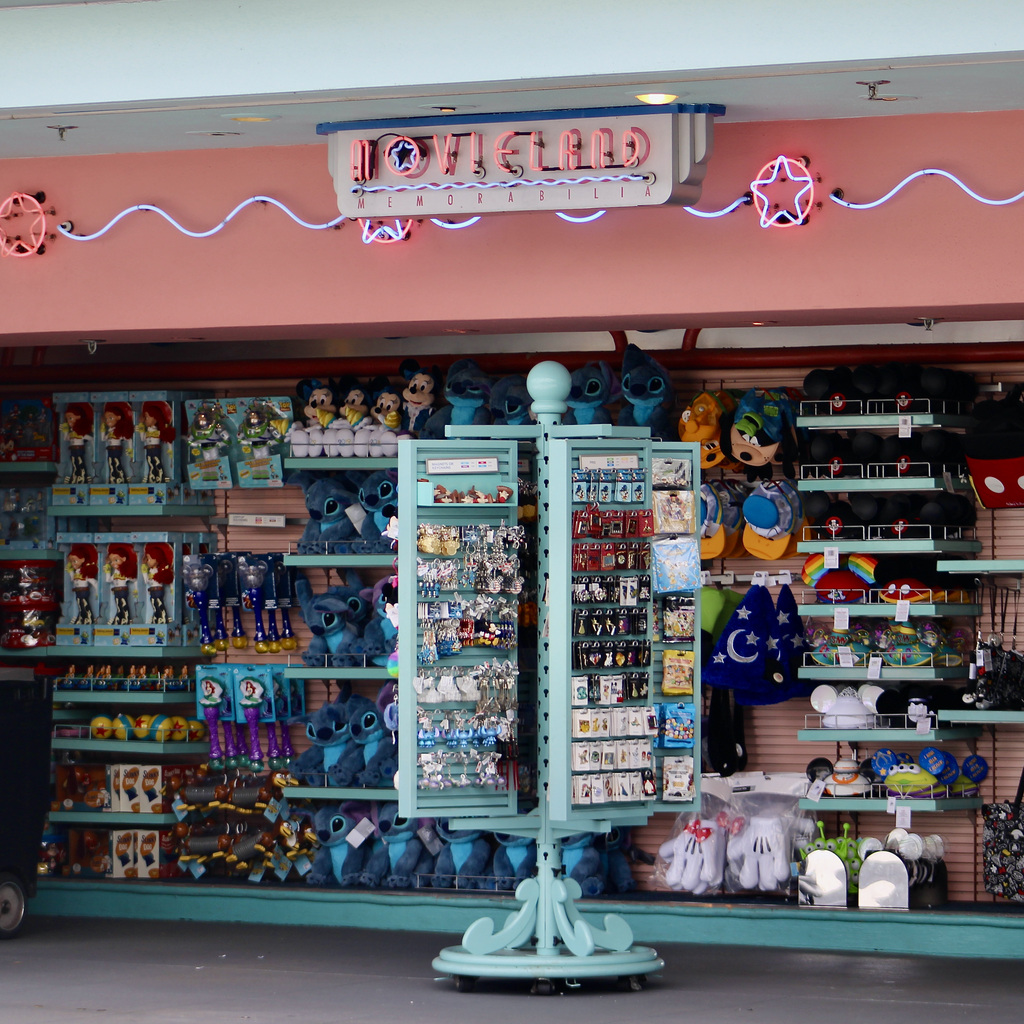 Thanks for Popping In!
Click Here to Subscribe to our FREE Main Street Pop In Newsletter. Every month, we "POP IN" and take a Quick Trip to Disney!
Have a question or a suggestion for a future post? Email us at info@mainstreetpopin.com
Follow MAIN STREET POP IN on
facebook
instagram