Have a vice for caramel, chocolate, and candy? Read on.
Disney Caramel Apples are both great snacks and works of art. The apple base is a tart, green Granny Smith dipped in gooey caramel. While this mom thinks that's perfection, the kiddos love the ones piled with candy.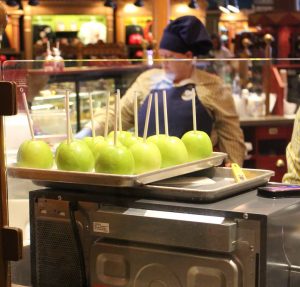 On our last vacation, the team splurged for a loaded Mickey Mouse apple. The inner layer was caramel, the middle layer was chocolate, and the third layer was mini M&Ms. Mickey's ears were made out of chocolate dipped marshmallows. It took three of us to eat it.
But don't despair, Disney offers many, many apple combinations. The Minnie Mouse and Sorcerer Mickey caramel apples both have chocolate, sanding sugar, chocolate-dipped marshmallows, and white chocolate accessories. Minnie also has a few white M&M polka dots.
Disney changes up its specialty apples throughout the year. There is always something new to try. On our visit, the specialties were an Apple Pie Apple, made up of white chocolate and graham cracker crumbs, and a Salted Caramel Apple. The apples you can find year-round include: caramel only, red candy apples, chocolate-dipped, chocolate with nuts, and the Mickey and Minnie apples.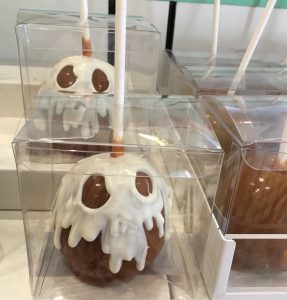 Be aware that Disney apples are pricey (some are as much as $10.99) but it really does take at least two people to eat one. Don't forget to ask a castmember to slice the apple up for you. (They'll let you take a stellar photo first, of course). It's really hard to eat these thickly coated treats with the assistance of only a plastic knife.
While the terms caramel and candy apple are used interchangeably in the U.S., the two versions taste quite different. Caramel apples are obviously dipped or wrapped in brown caramel. Candy apples are covered in a hard sugar coating, often dyed red with a cinnamon flavor.
And here's a fun fact, candy apples and Walt Disney were born in the same decade. The first candy apple was created in 1908 in Newark, N.J. Disney was born in 1901. The first caramel apple wasn't invented until the 1950s by a sales rep for Kraft foods.
So, the next time you are in Walt Disney World, be sure to check out the tempting caramel apple creations. Head to the one of the following locations to get your fix:
Magic Kingdom: Main Street Confectionery or Big Top Treats
Epcot: Karamell-Kuche
Animal Kingdom: Zuri's Sweets Shop
Disney Springs: Goofy's Candy Co.
Thanks for Popping In!
Join our newsletter mailing list for exclusive content. Click Here