Have you ever shopped for a souvenir at Magic Kingdom's Emporium just before park closing? It's a little crowded.
What's the opposite experience? Stopping by one of the Silhouette carts (either on Main Street, U.S.A. or in Liberty Square) and having a Disney artist create a one-of-a-kind keepsake for your family.
The old-fashioned art of silhouette portraiture has been offered at Walt Disney World for as long as we can remember. Although the name sounds fancy, in the mid-1700s, calling something a silhouette was an insult. France's finance minister, Etienne de Silhouette, made such financial demands on the wealthy during his tenure that his countrymen and women started calling anything done or made cheaply "a Silhouette."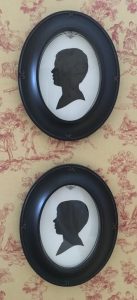 Silhouette art is inexpensive. An artist cuts the profile image of a person out of lightweight black cardboard, which is then mounted on a white background. The process takes minutes, but it's usually done freehand, which takes a ton of talent.
Disney artists haven't changed the methodology a bit. It takes about four minutes of sitting still to get the job done. In exchange, you'll receive two copies of your silhouette for about $10. You can also purchase a frame for $10 more. The frame is a good idea. It protects your artwork and saves you the trouble of having to find (and buy) an oval frame back home.
In addition to the Magic Kingdom locations, silhouettes are also available at the France Pavilion in Epcot, Disney Springs next to the Ghiradelli Ice Cream and Chocolate Shop, and in the lobby of the Grand Floridian Resort. (The Grand Floridian charges more for the work. We don't know why.)
The best part about owning this souvenir is that it is unique to you and it doesn't scream, "I went to Disney." It's something beautiful to add to your wall or shelf, and only your family knows the memory it contains. It's one of the ways we keep the parks in our hearts between visits.
Thanks for Popping In!
facebook
Facebook: facebook.com/mainstreetpopin
instagram
Instagram: @main.street.pop.in
twitter
Twitter: @mainstreetpopin