Due to COVID-19, an opening date for the water parks is still to be determined, but that doesn't mean you can't POP IN and take a virtual dip right now, Read On…
Typhoon Lagoon vs. Blizzard Beach
If summer is the best time for your family to travel to Walt Disney World, then consider adding a water park visit to your plans. Disney has two great options.
First, let me tell you about each water park, and then I'll share with you the pros and cons of each so you can decide which one you'd like to try first. Because let's face it, you're going to want to visit both!
Let's start with Typhoon Lagoon. It's a 61-acre water park that opened in June of 1989. Typhoon Lagoon's backstory is pretty simple. A giant typhoon hits a fictional town leaving it in ruins. A shrimp boat named Miss Tilly (stranded atop Mt. Mayday) serves as the water park's icon.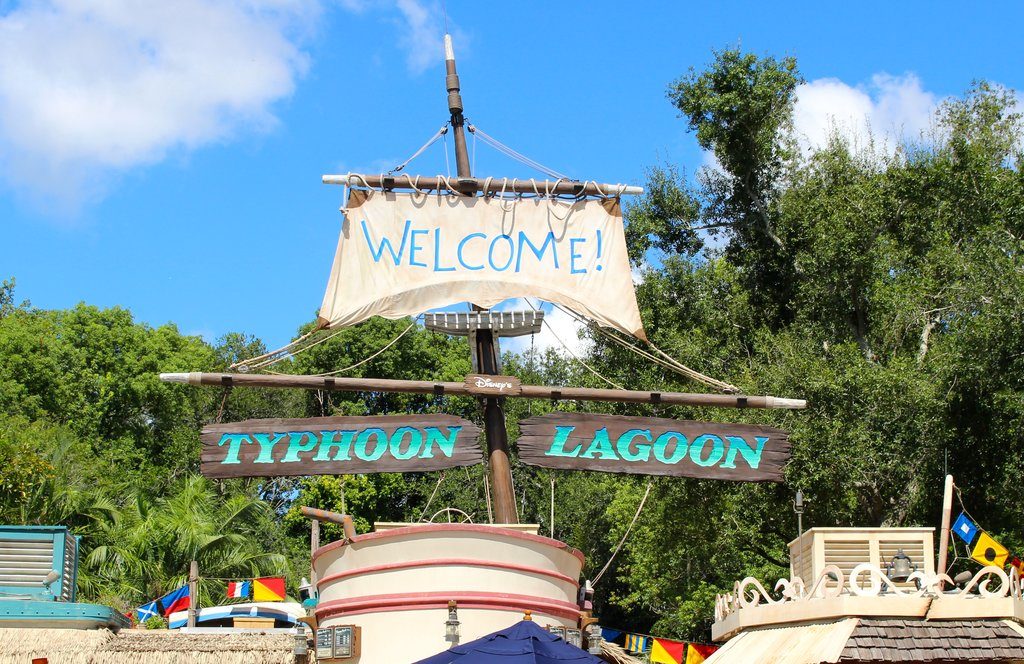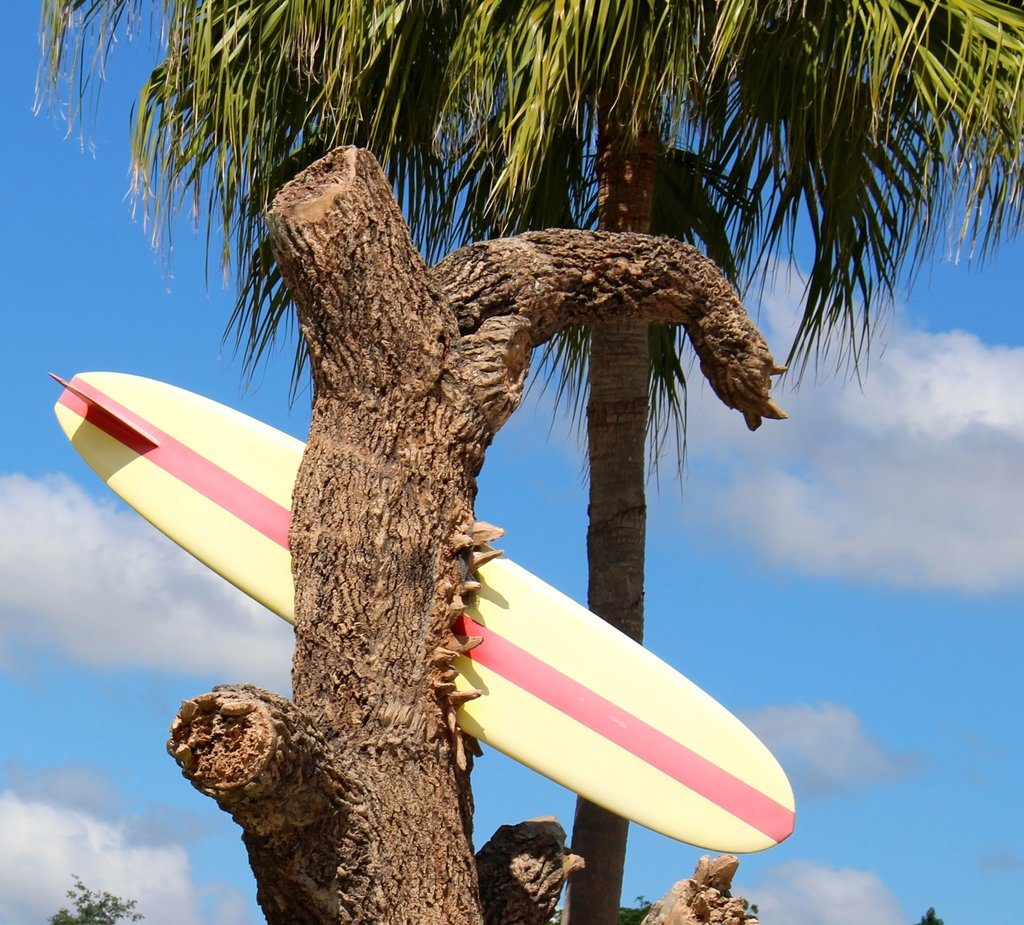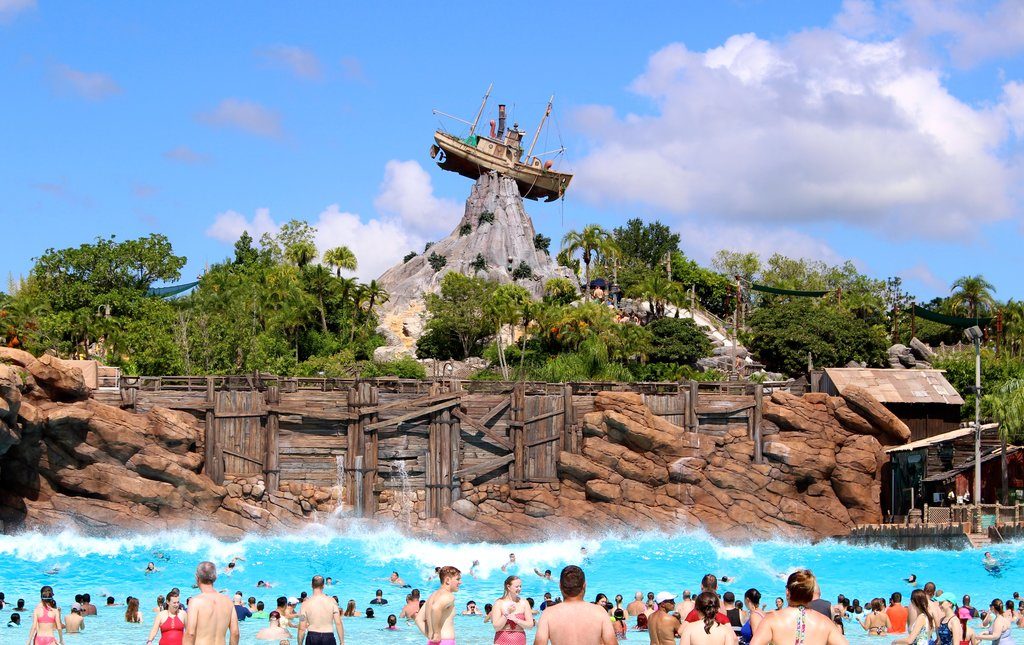 Typhoon Lagoon has 12 attractions. The Surf Pool is the dominant feature. It's North America's largest wave pool and when you're in it, three different things can happen. Sometimes it's calm, sometimes it's a constant bobbing of waves, and sometimes a giant 6-foot wave comes crashing down on you. There is nothing more heart-stopping than the distinct "whoosh" you hear before the big wave emerges.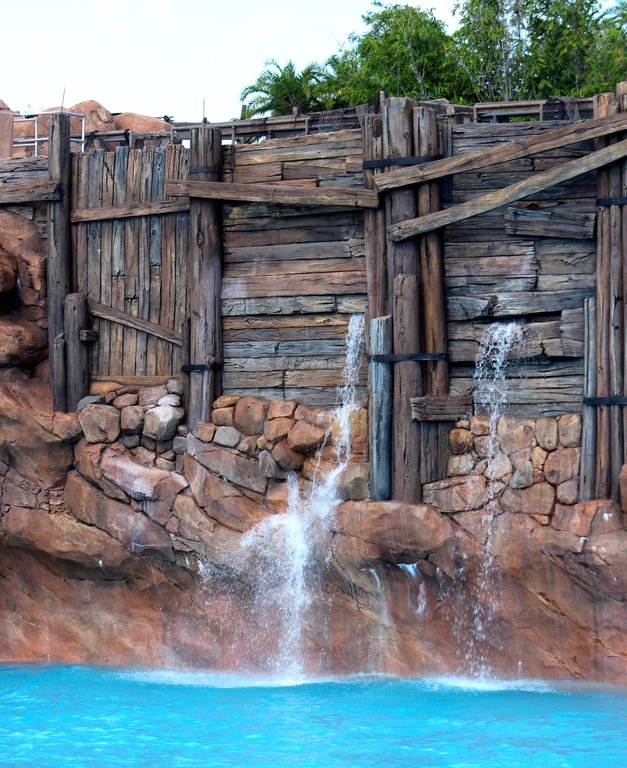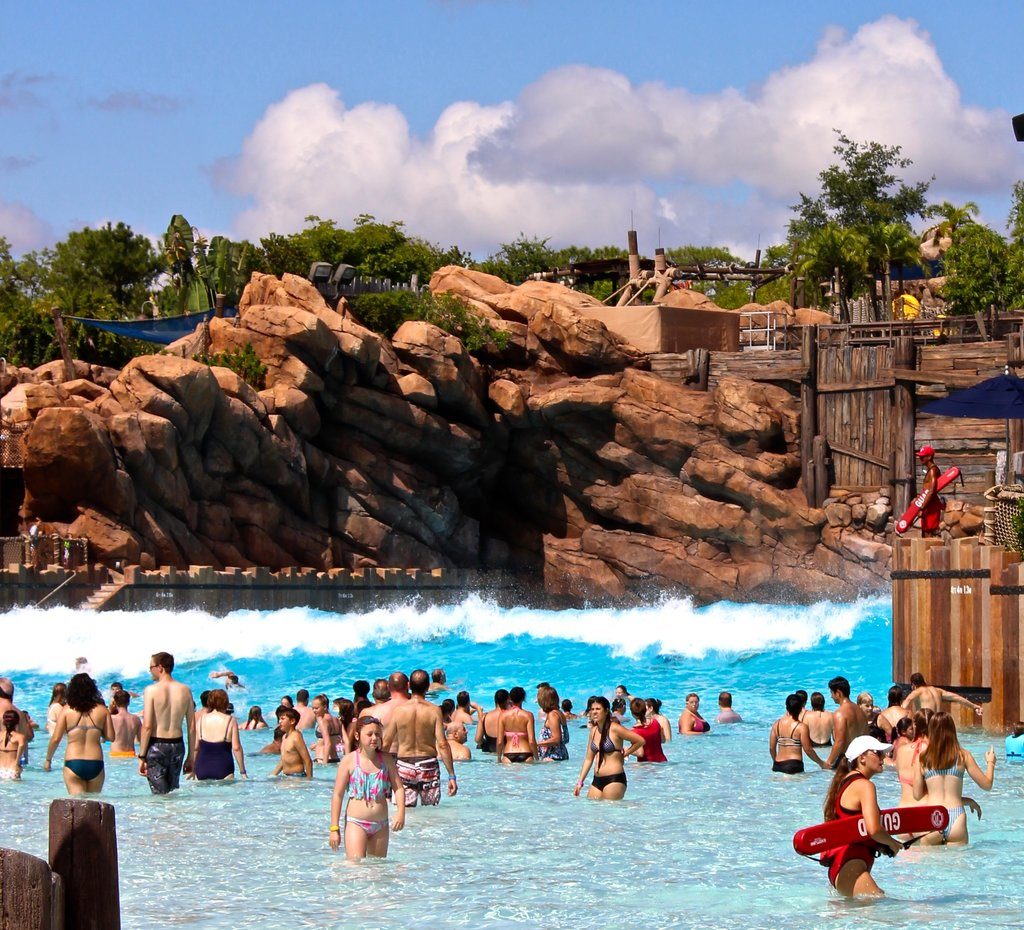 Castaway Creek is the park's relaxing lazy river. Guests can float the entire circumference of the park in a float built for one or two.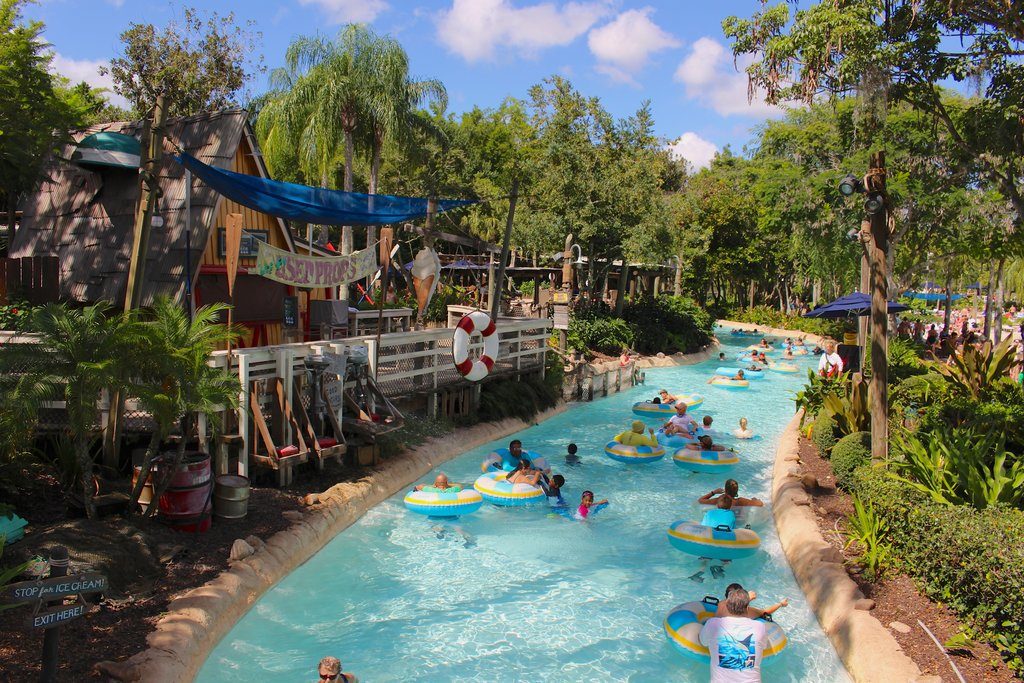 There are also many water slides: Keelhaul Falls (a single-rider tube slide), Mayday Falls (a single-rider tube slide), Gangplank Falls (a four-person tube ride), Humunga Kowabunga (a five-story body slide), the Storm Slides (a trio of body slides), Miss Adventure Falls (a family raft ride), and the three Crush 'n' Gusher slides (multi-passenger raft rides).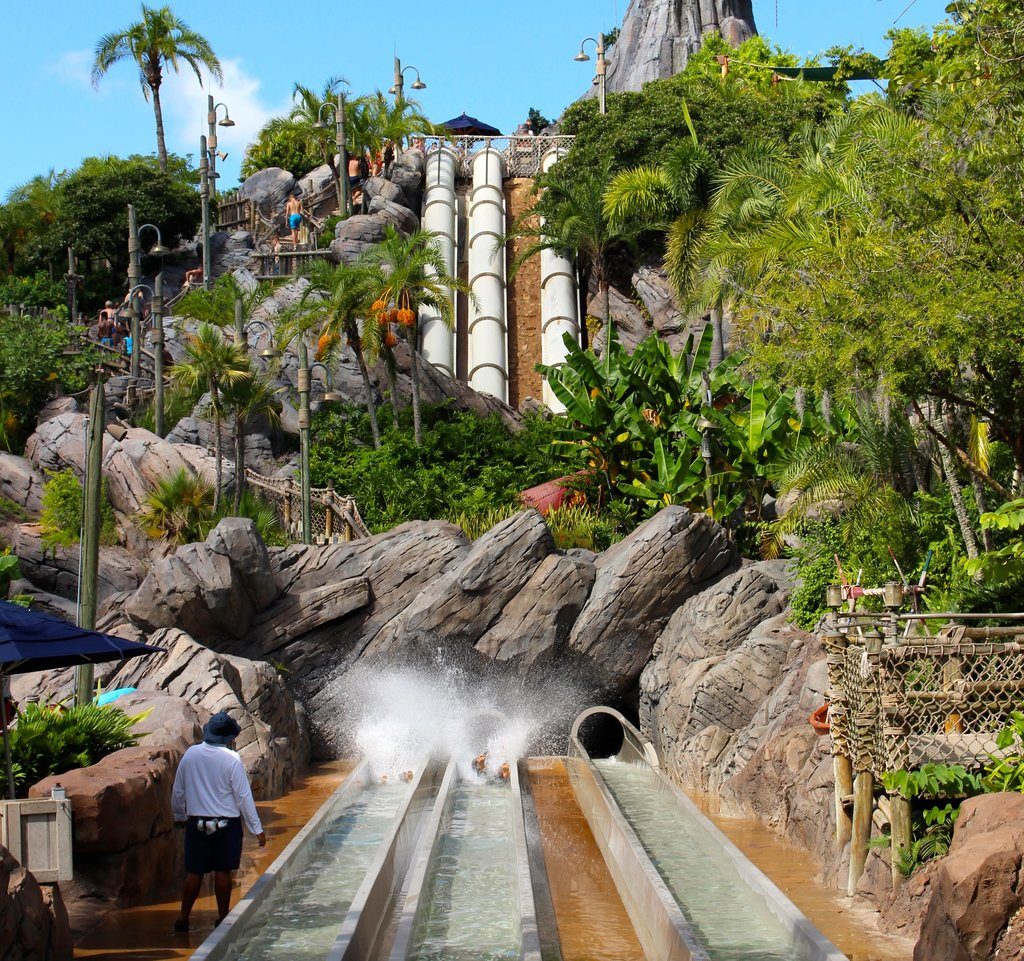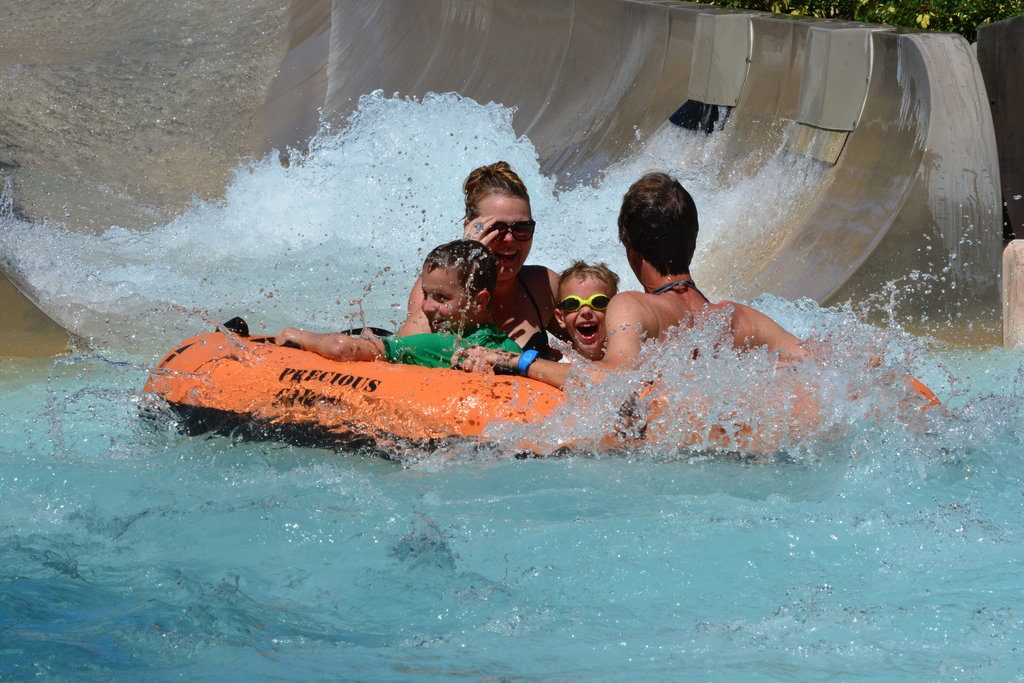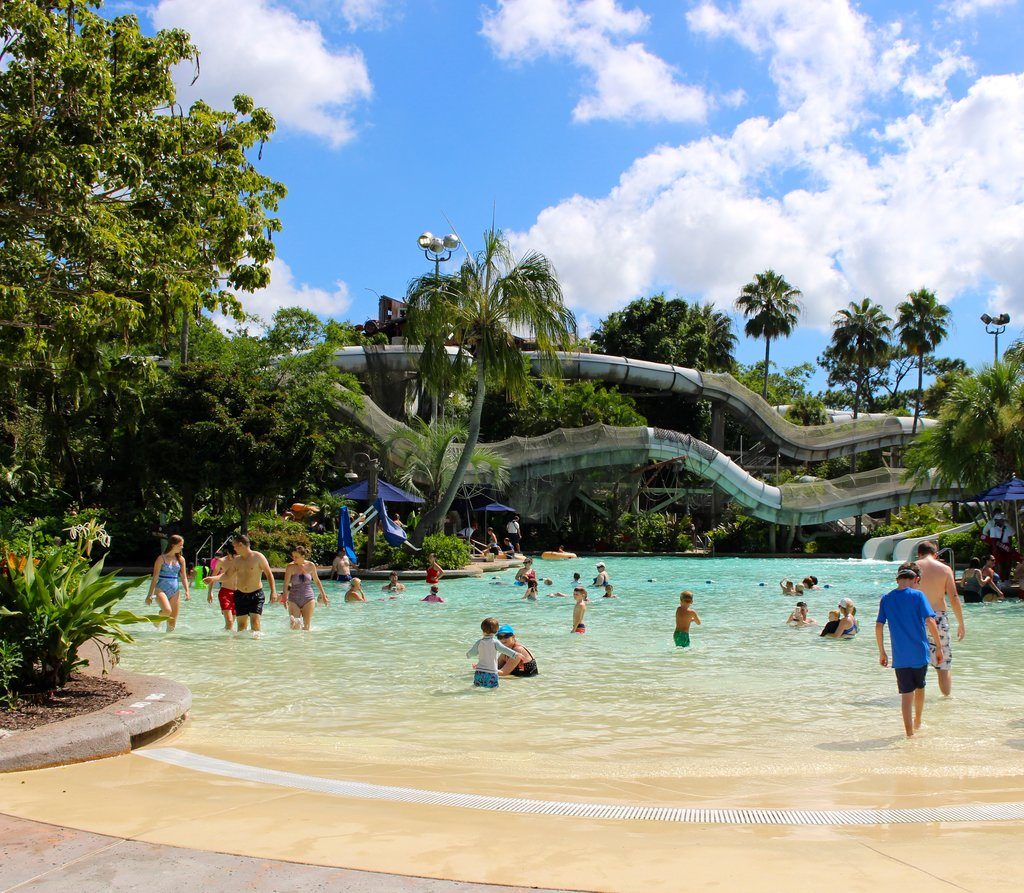 The park has a kiddie area for those 48 inches and UNDER called Ketchakiddee Creek. It has smaller slides, raft rides, and jets for kids to play in. The Bay Slides are a children's version of the Storm Slides.
The 12th attraction is the Mountain Trail, which is more of a walking path around the park than an attraction.
For food, there are several options—all quick service. The Leaning Palms serves American fare; Happy Landings offers ice cream; Lowtide Lou's has cold sandwiches and a bar; Hammer Head Fred's Dive is a seasonally open bar; Typhoon Tilly's offers shrimp, chicken, and pork and the Snack Shack right next to it has some good sandwich options; Let's Go Slurpin' and High 'N' Dry are two more bars; Surf Doggies serves hot dogs and snacks; and Tropical Amity Outpost doles out beer, hot dogs and nachos. There is also an unnamed leaning shack that serves warm mini-donuts, a super popular treat.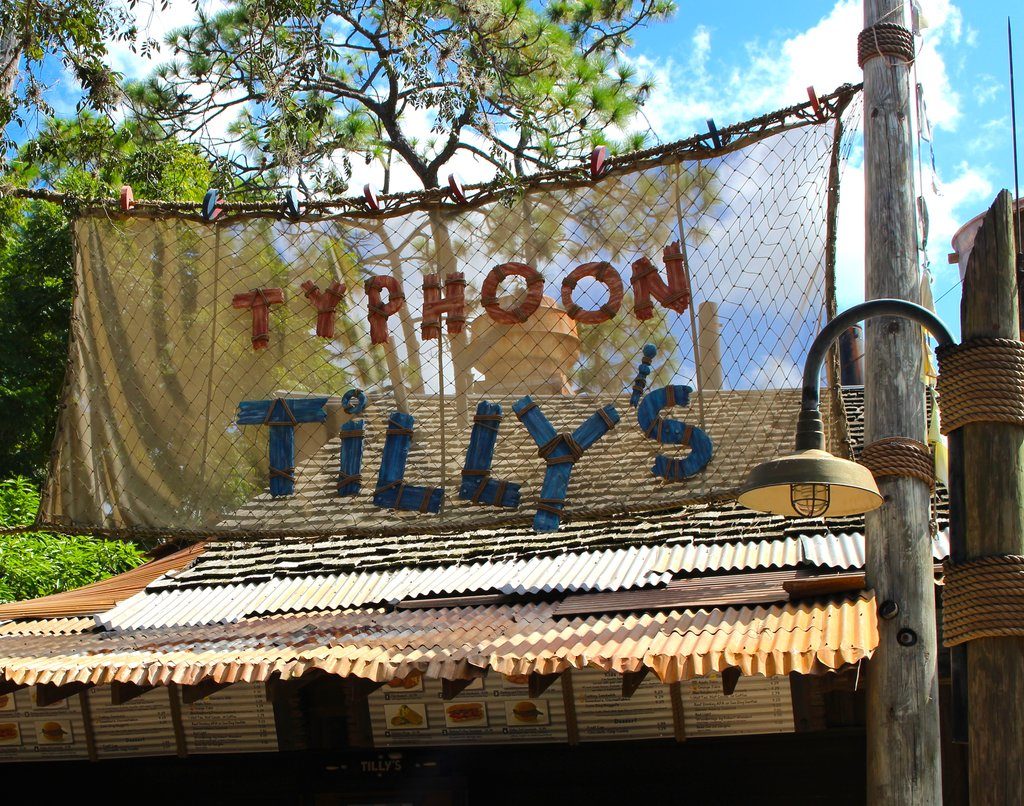 Disney's other water park is Blizzard Beach. Blizzard Beach opened in April of 1995 and is 66 acres. This water park's theme is that of a ski resort in the process of a major melt. The décor is a scattering of skis and snowmen left at the foot of a melting Mount Gushmore. If you listen, you can hear a combination of beach and Christmas music playing in the background.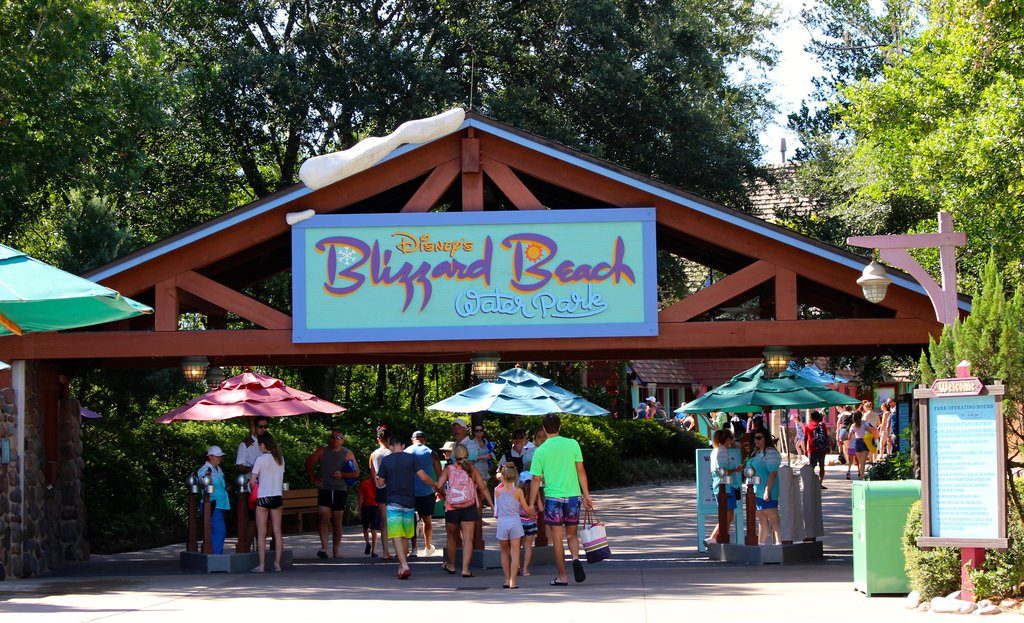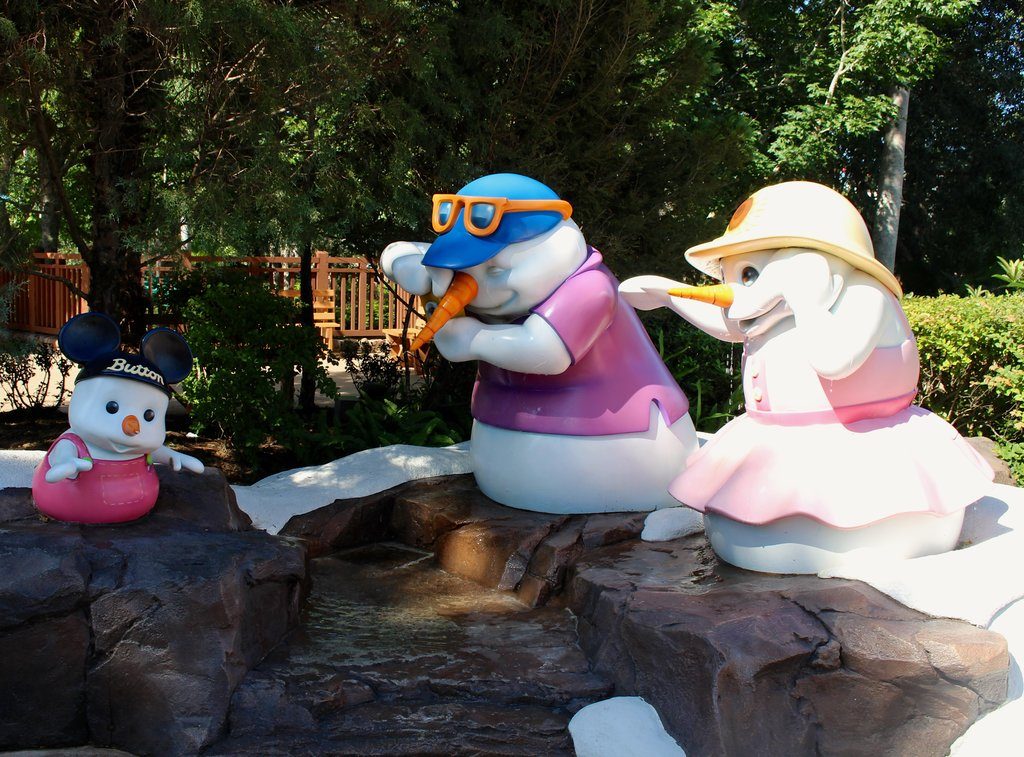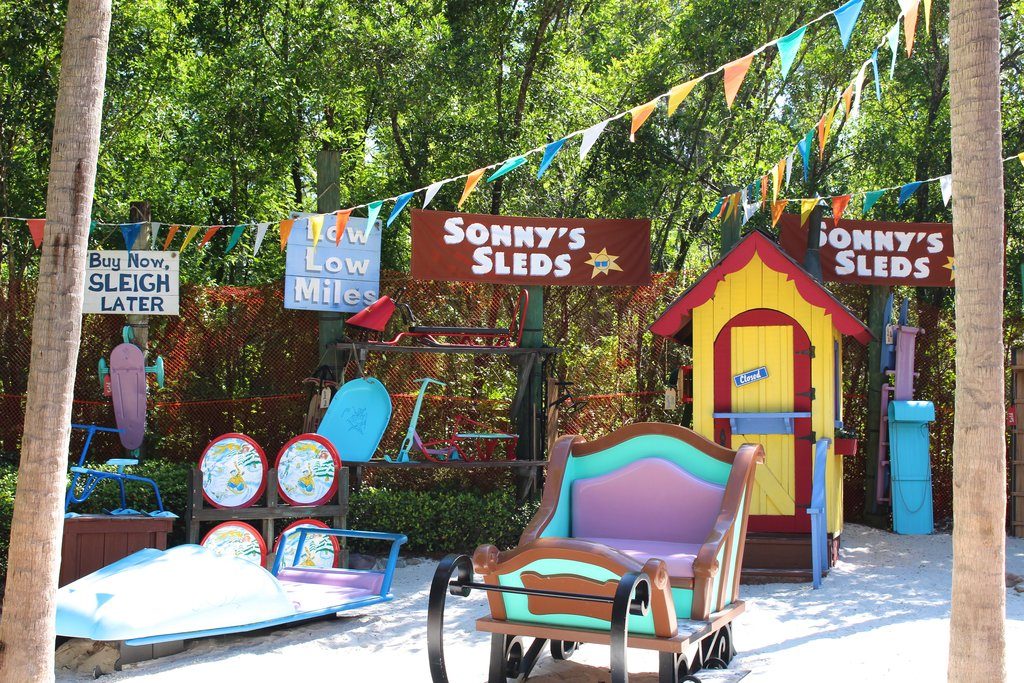 Blizzard Beach also has 12 attractions. Melt-Away Bay is the wave pool. It is much smaller than Typhoon Lagoon's and only features constant wave action, not a big wave.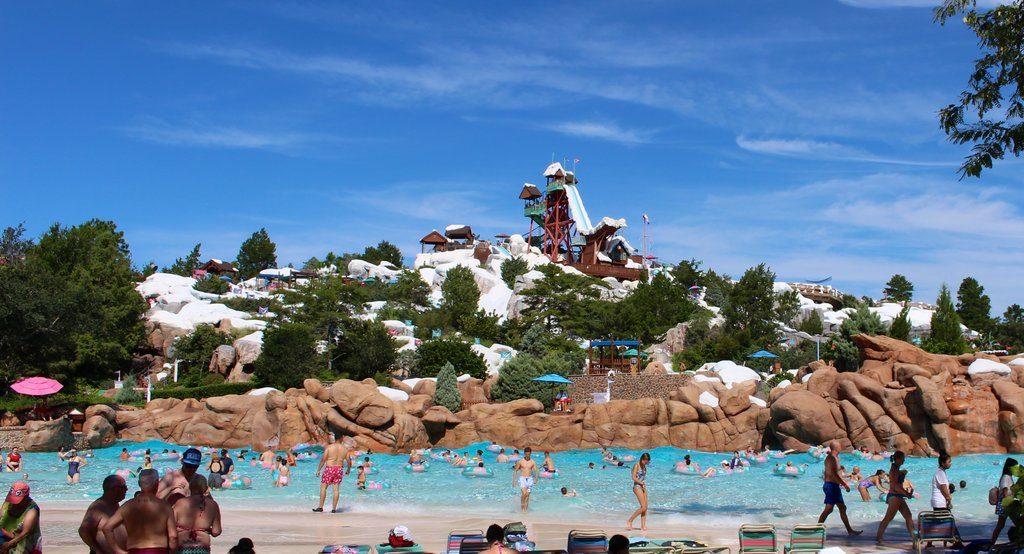 Cross Country Creek is the relaxing lazy river tube ride. My favorite part of this lazy river is passing through the mountain cave as icy water drips from the ceiling.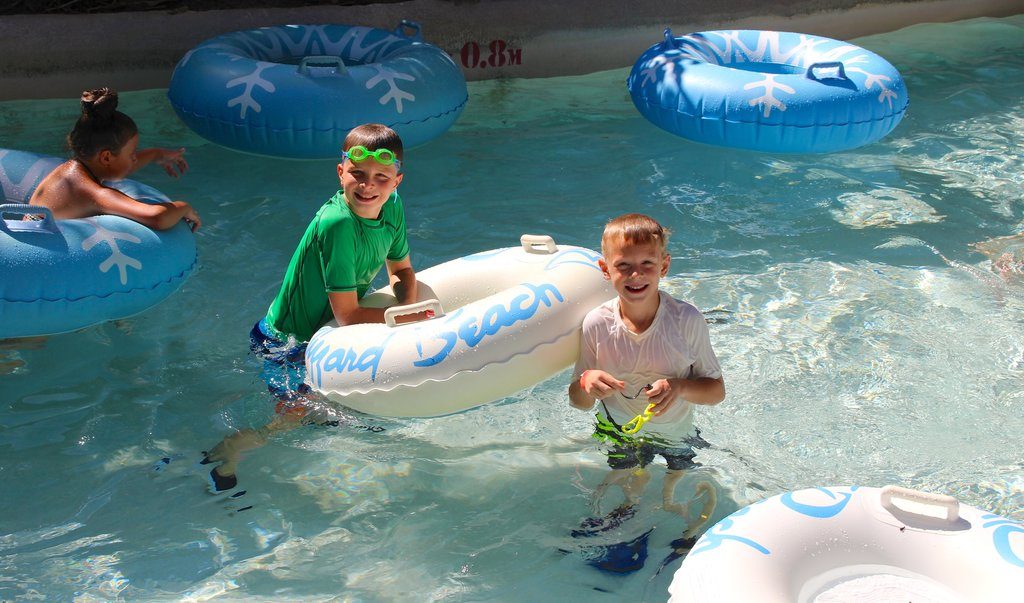 Slides are divided into the Green Slopes, the Purple Slopes, and the Red Slopes.
The Green Slopes are great because you can reach them all by an enchanting pastel chairlift (although stair access is available, too). Once up top, you have three choices to get down. Summit Plummet and Slush Gusher are two thrill slides that require riders to be at least 48-inches tall (and willing to endure a bathing suit wedgie). The third choice is Teamboat Springs, a family raft ride that fits up to six people. If this is your first visit to a water park and you're not sure if your kid will like water slides, this is a good first option to try. It's a pretty mild ride and they can snuggle up to you the whole way down.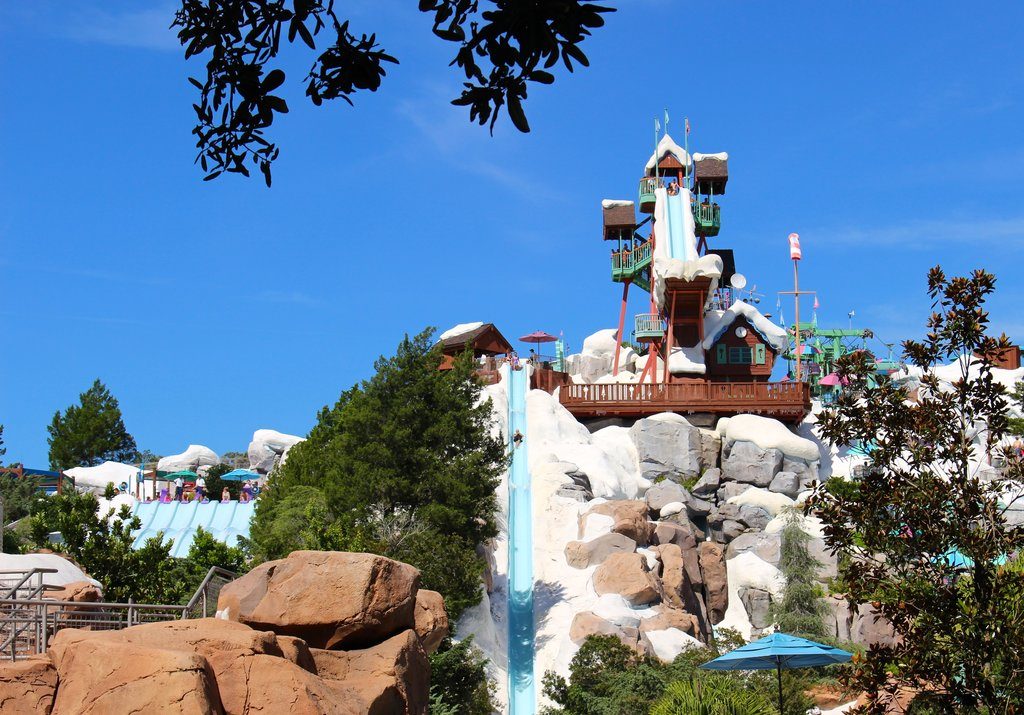 The Purple Slopes feature the Toboggan Racers (a single-rider mat slide), the Snow Stormers (a single rider mat slide) and the Downhill Double Dipper (a tube slide).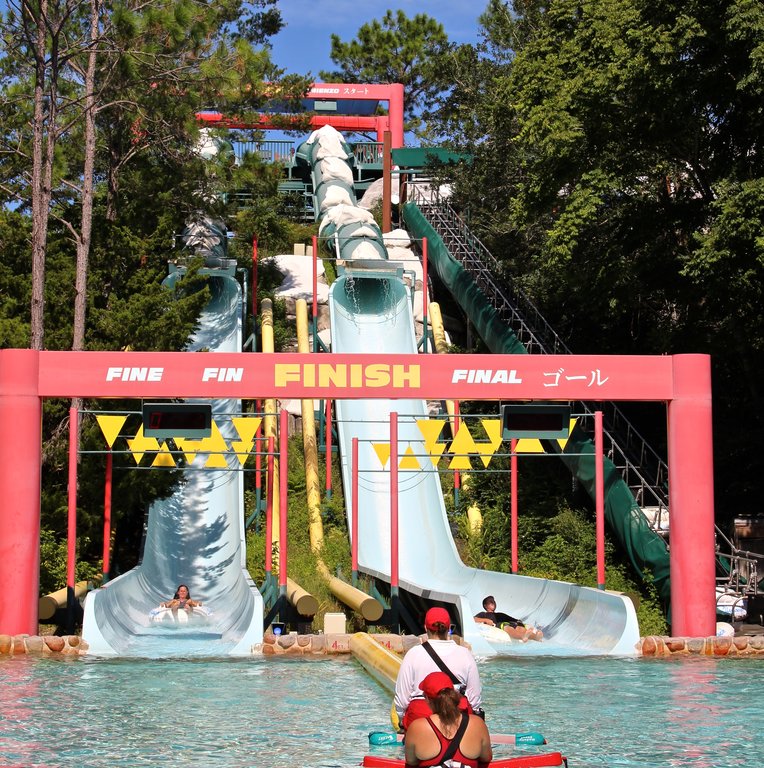 The Red Slopes feature Runoff Rapids, an inner tube run where guests can choose to careen down one of three different flumes (one in the dark).
The children areas are Tike's Peak and the Ski Patrol Training Camp. The Training Camp is a major fun spot with a zip line, icebergs, and slides. "The area is challenging, not babyish," says Kirk, our veteran team member.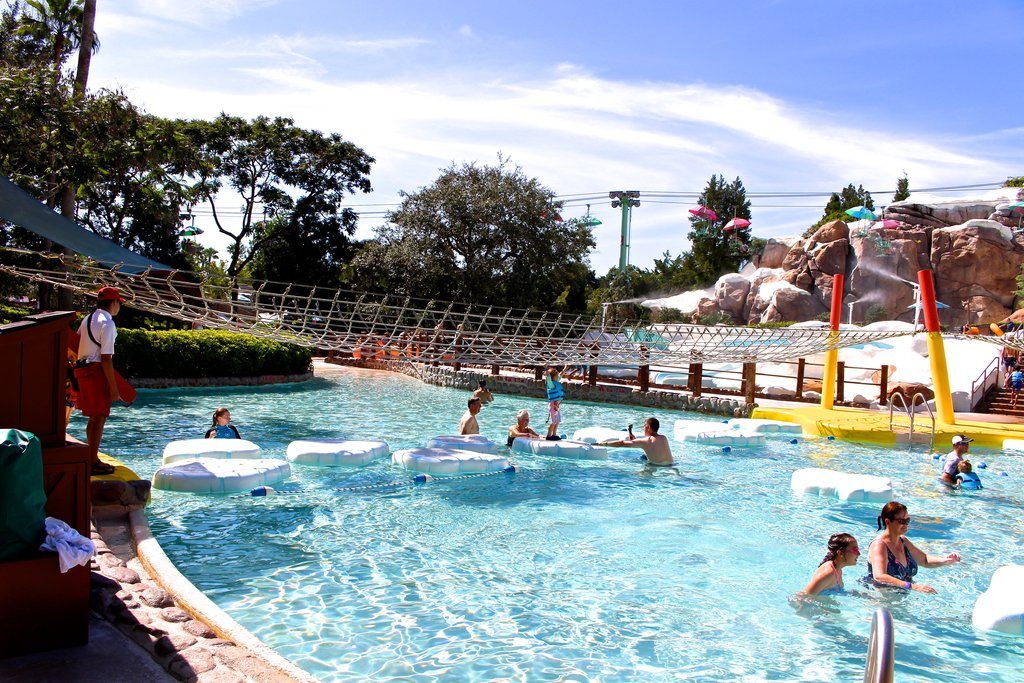 Hungry? Lottawatta Lodge is the main dining location and features American fare, flatbreads, and rice bowls. The Cooling Hut is a quick spot for sandwiches and snacks; Frostbite Freddy's has ice cream, turkey legs, and frozen and adult beverages; Arctic Expeditions and Polar Pub are both bars; Avalunch (my favorite name) offers hot dogs and salads; I.C. Expeditions serves ice cream treats; and the Warming Hut has soup, salads, and sandwiches. There's a mini donut shop, too.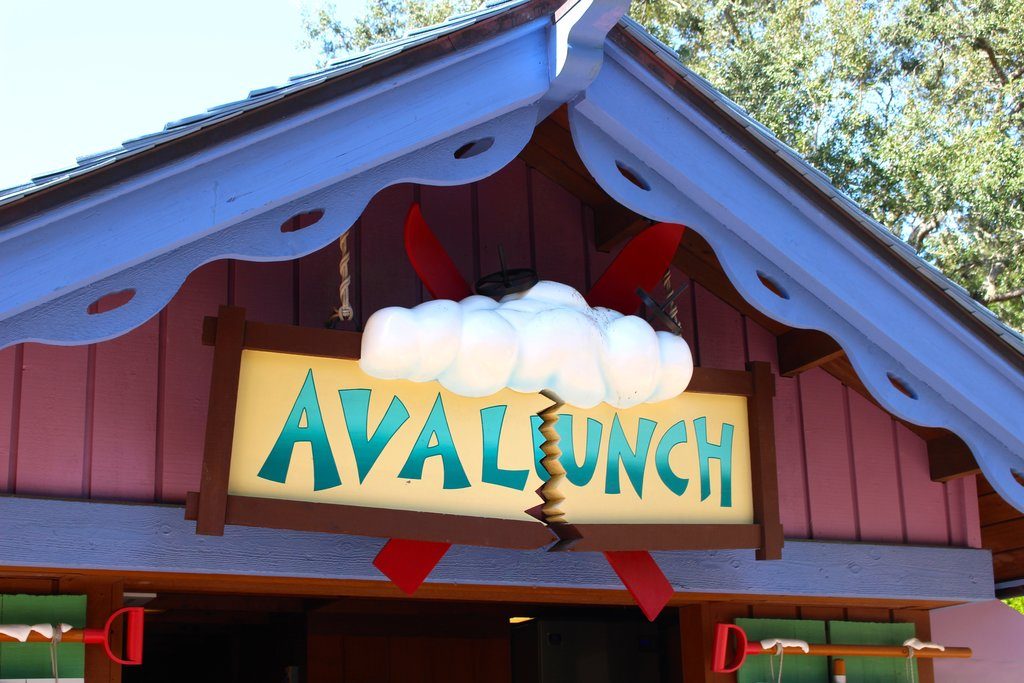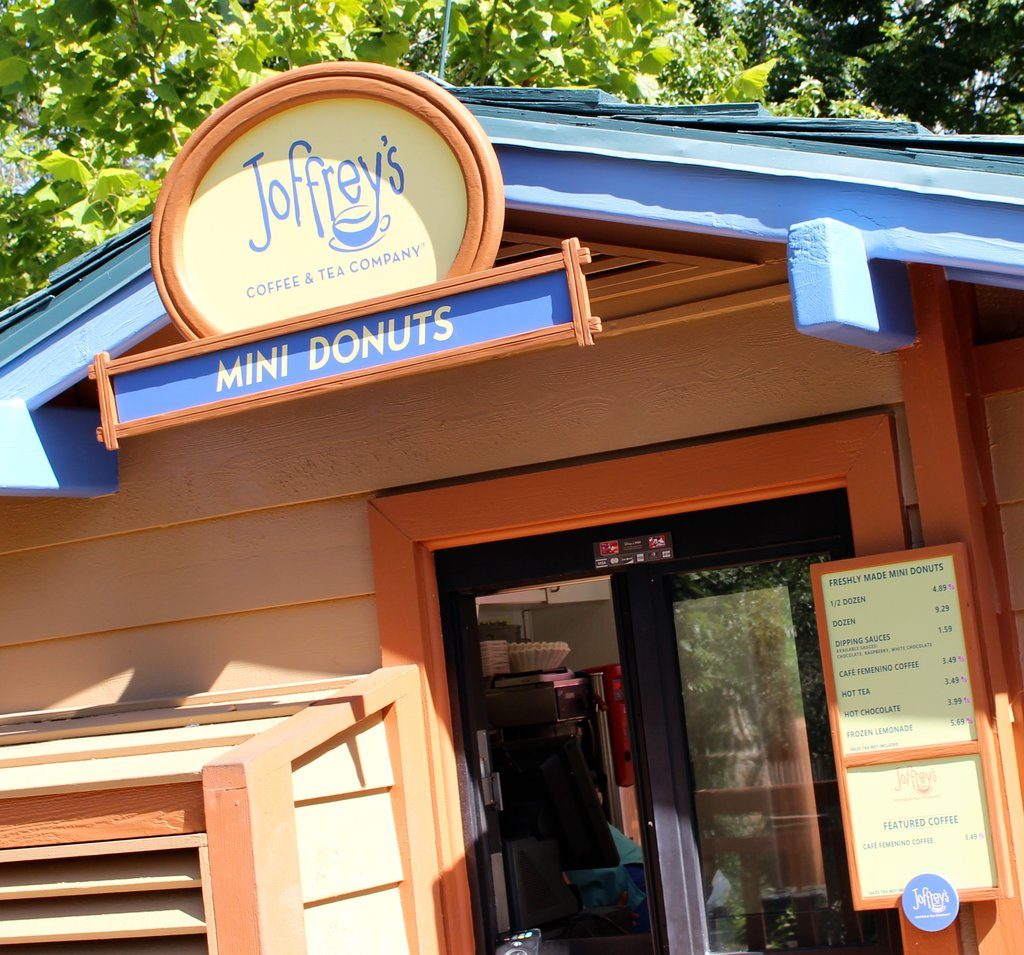 Now to the pros and cons:
Typhoon Lagoon Pros:
Bigger and More Exciting Wave Pool
Better Slides
More Sandy Beach Areas
More Food Options
Best "Beach" Theme and Feel
Typhoon Lagoon Cons:
Shady Areas Are Occupied Quickly
More Stairs To Climb
Wave Pool Can Knock Young Kids Over And Injure Them (The bottom of the pool is very rough and children can get some nasty scrapes.)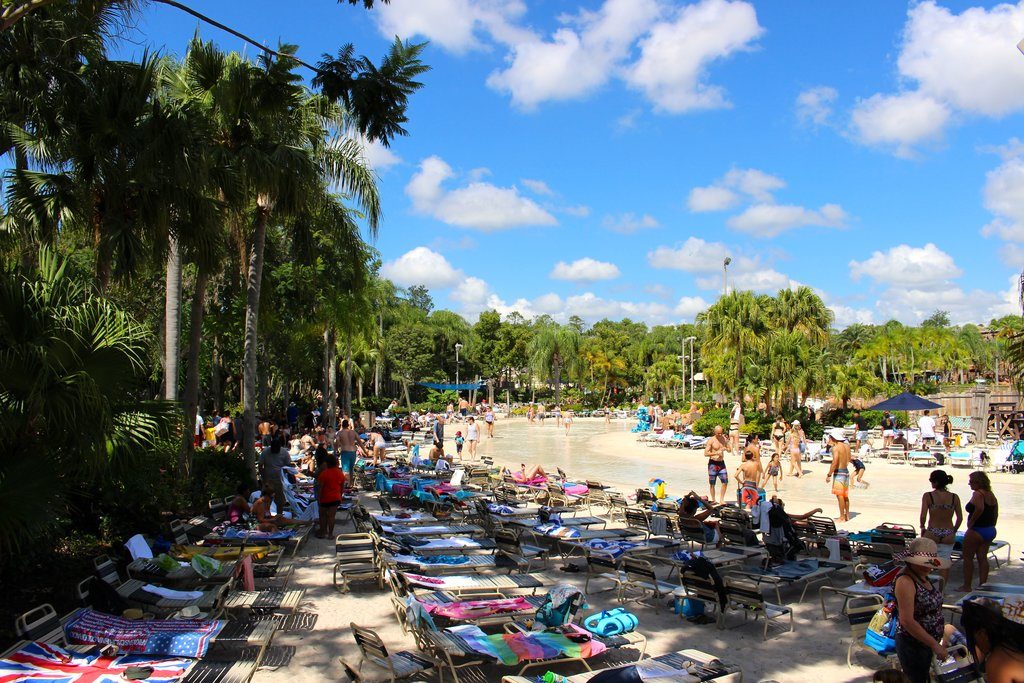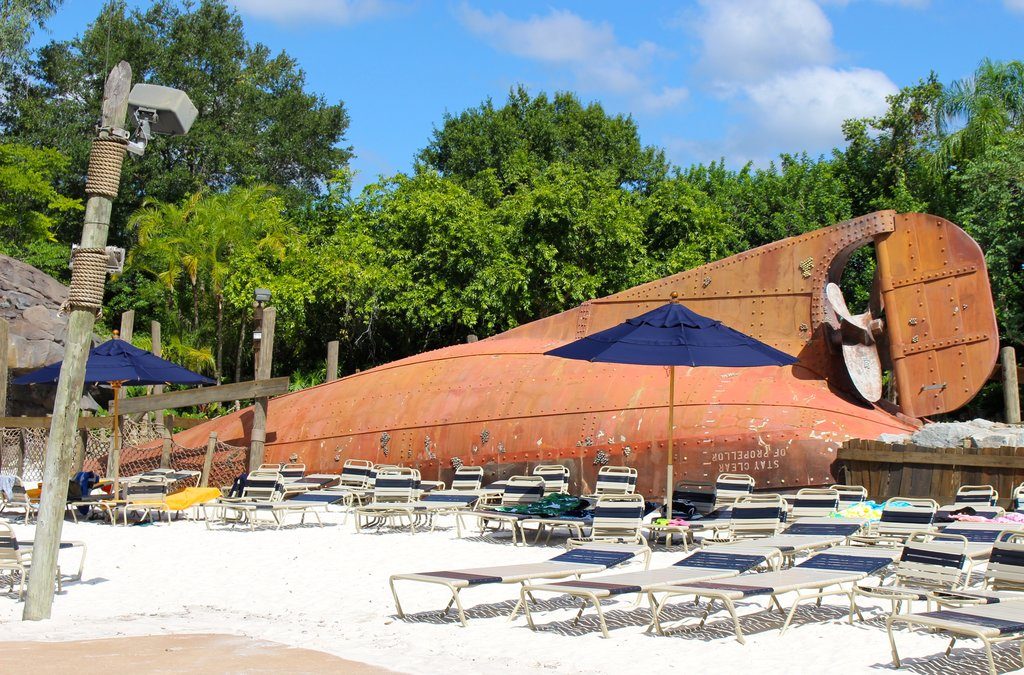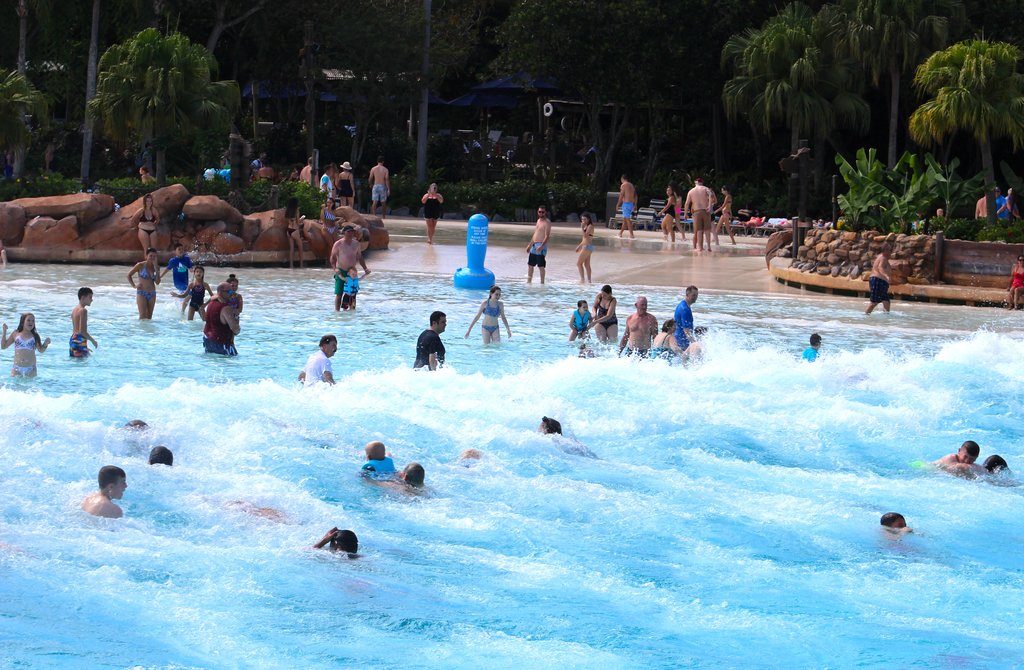 Blizzard Beach Pros:
Unique Theme
Chair Lift
Lots More Shaded Areas
Better Lazy River
Better Kids Area
For Young Kids, The Smaller Wave Pool Feel's Safer
Blizzard Beach Cons:
Wave Pool is more crowded
Less Sun
Not A Lot Of Great Food (Consider Packing Your Own Picnic)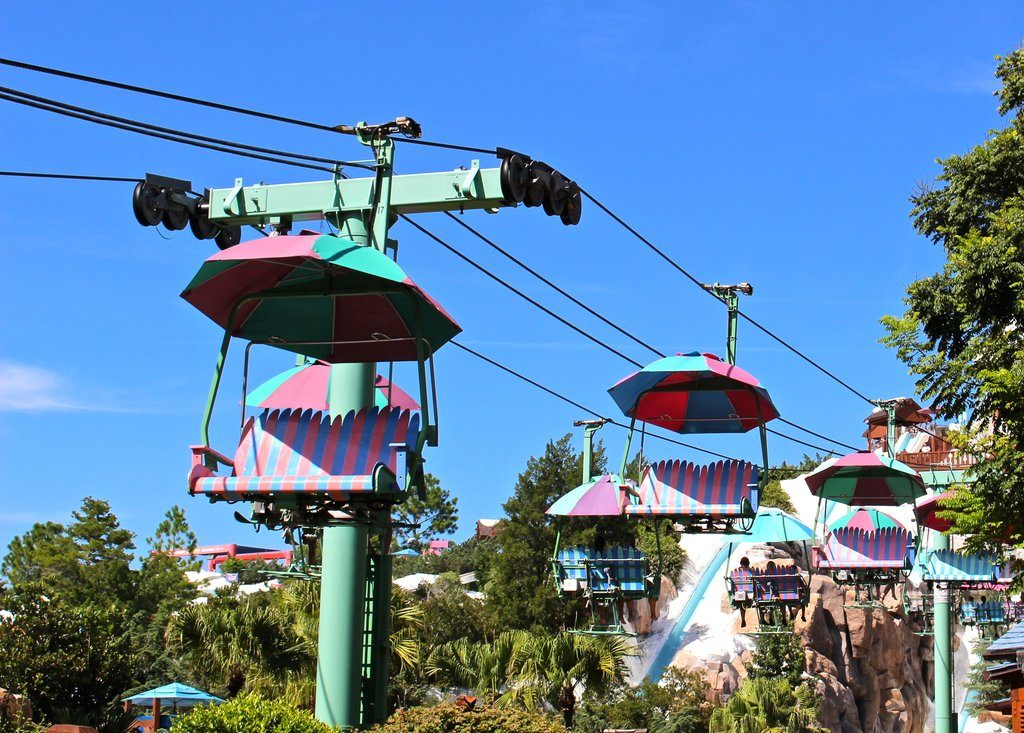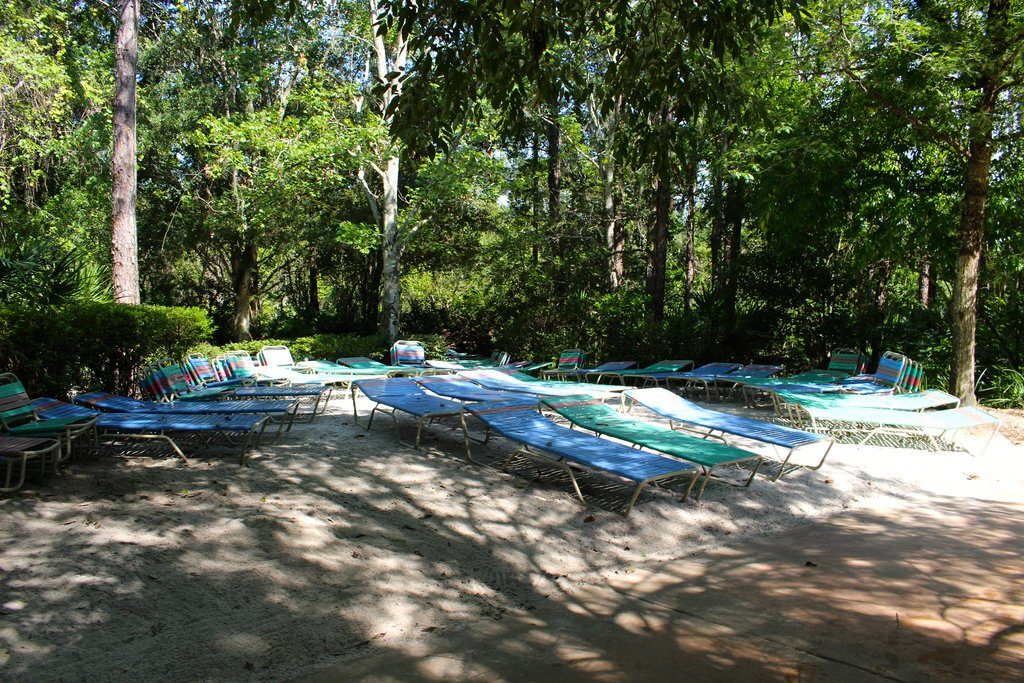 Team Tips
-Although most guests walk around barefoot, I was really happy I brought water shoes. The concrete paths are hot, especially at Typhoon Lagoon. (Some of the bigger thrill rides don't allow water shoes or flip-flops, however, so check before getting into line.)
-If you have room in your suitcase, bring a a couple of colorful beach towels from home to mark your spot. White towels are free for resort guests with a magic band but it's so much easier to find your location when you have your own towel to look for. Non-resort guests must bring their own towels or rent them for $2 each.
-Visit on a weekday if you can. It's easier to find lounge chairs, and the wait times are much shorter.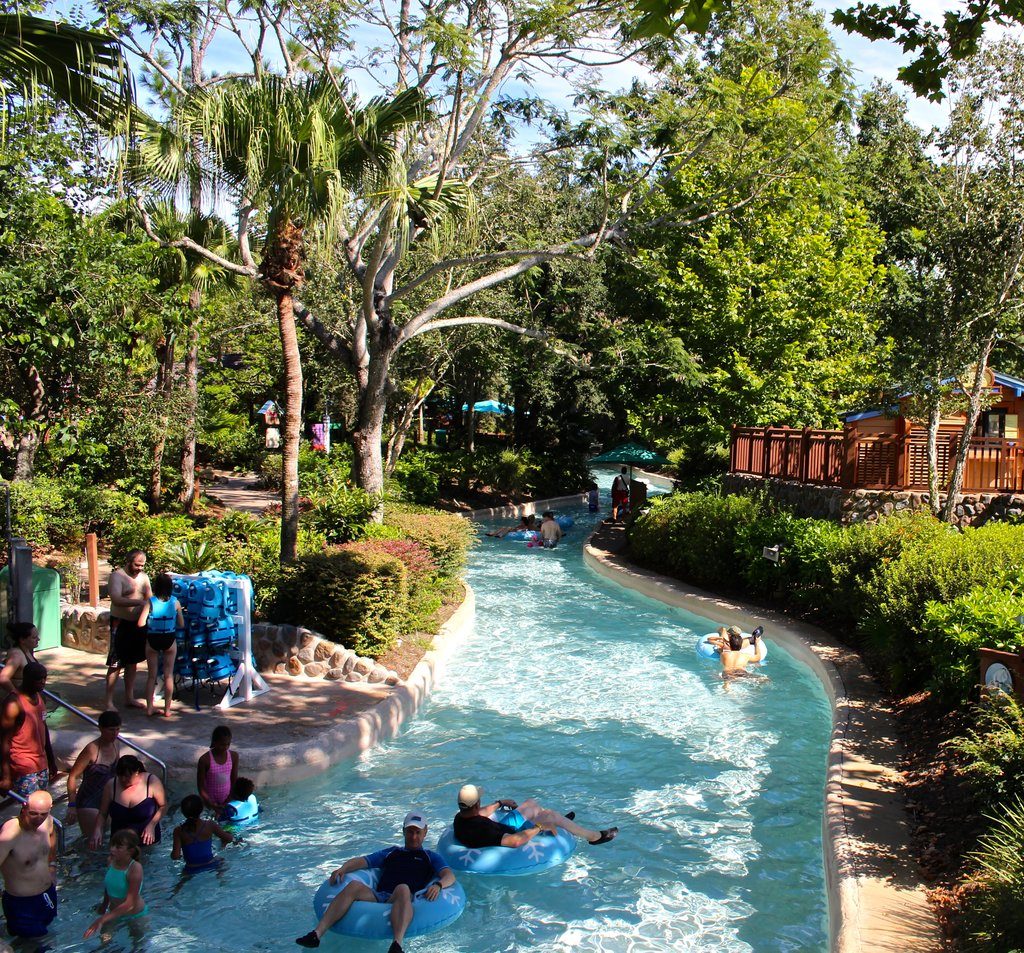 -Bring $10 or $15 in cash or a credit card if you want to quickly rent a locker. You can charge your locker to a Magic Band or gift card, but you'll have to wait in line to get a code.
-At Typhoon Lagoon, you don't need a watch or phone. There's a giant clock to help you keep the time.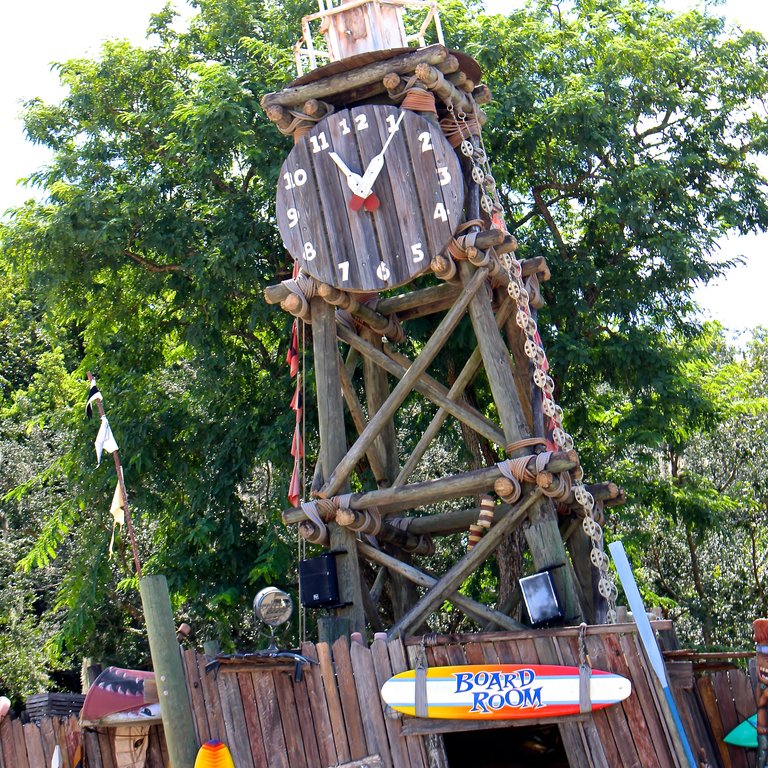 -Consider renting an umbrella and chairs (especially if you are visiting on a weekend). For about $60, you get two big lounge chairs, two small chairs, a side table and an umbrella in a designated area. If you plan to stay all day, you'll want a place with shade and a little quiet in case you want to read or take a nap.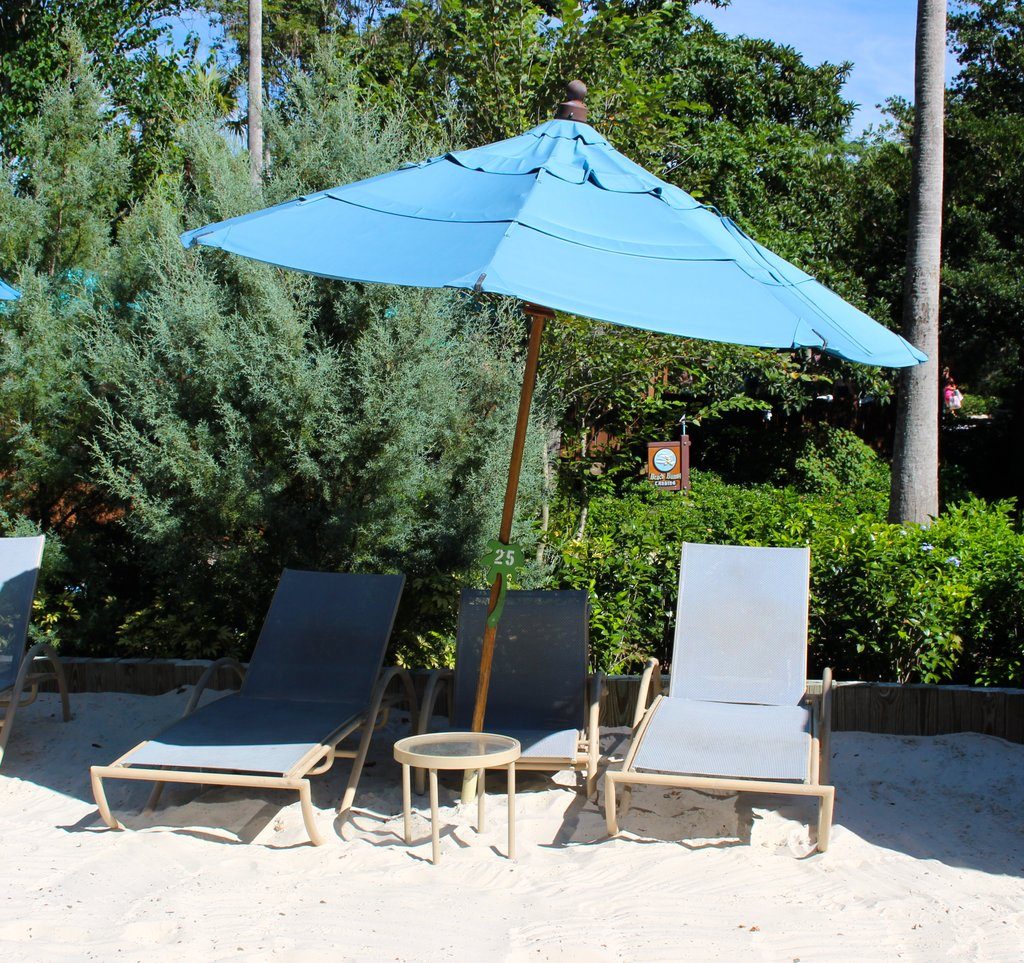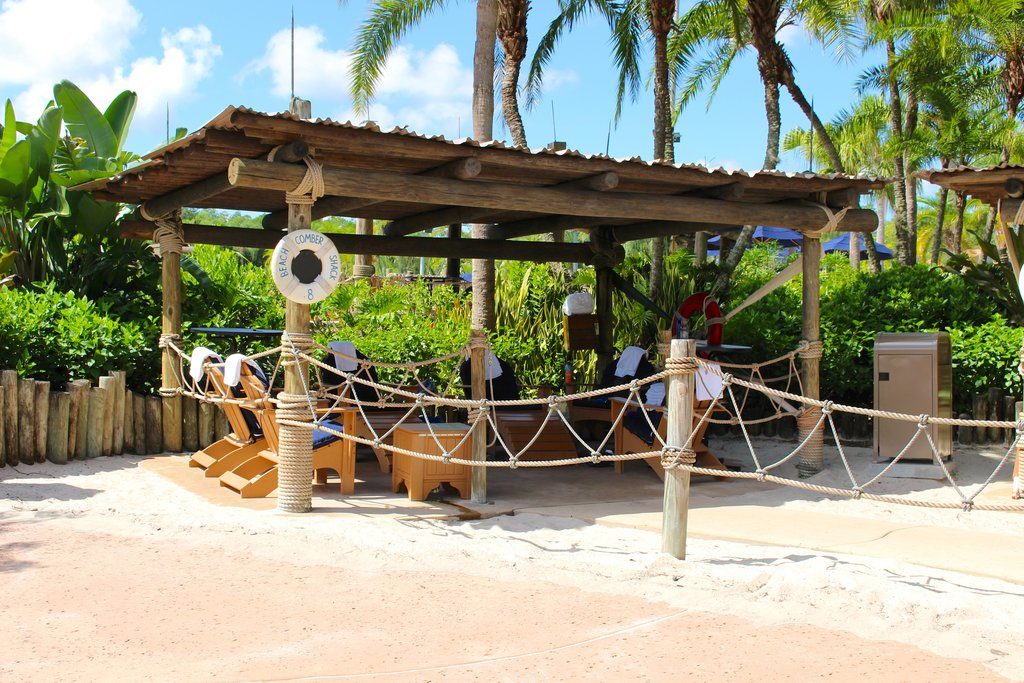 -Using Disney bus transportation to reach the waterparks can be a hassle. If you have a rental car, use it instead.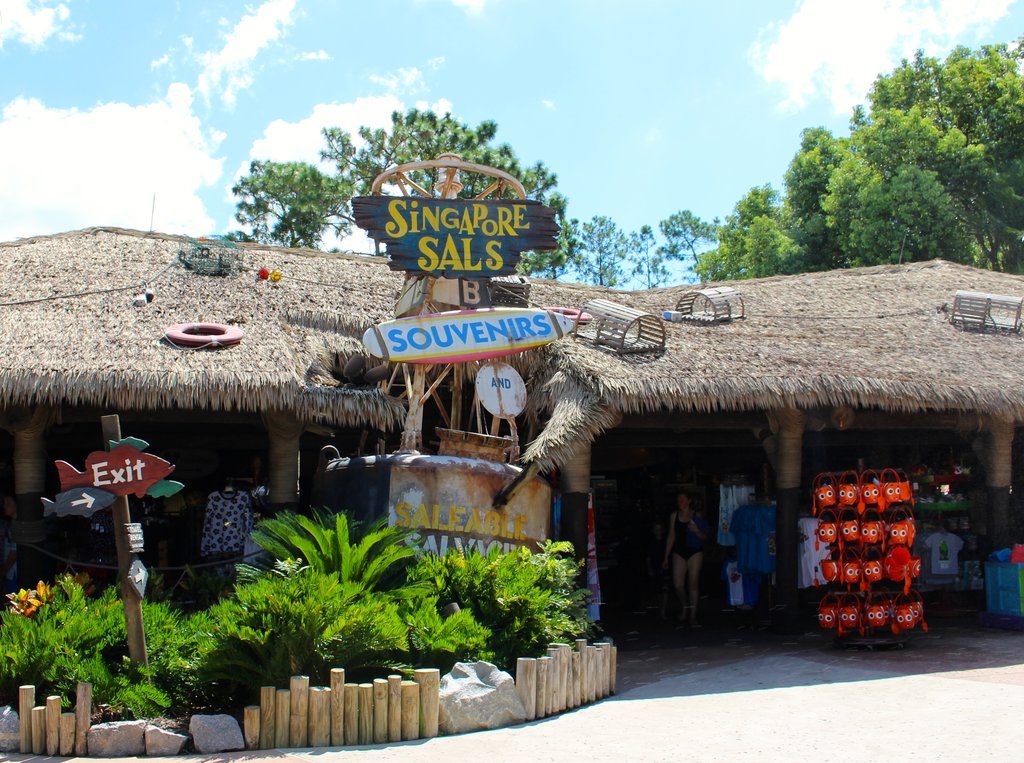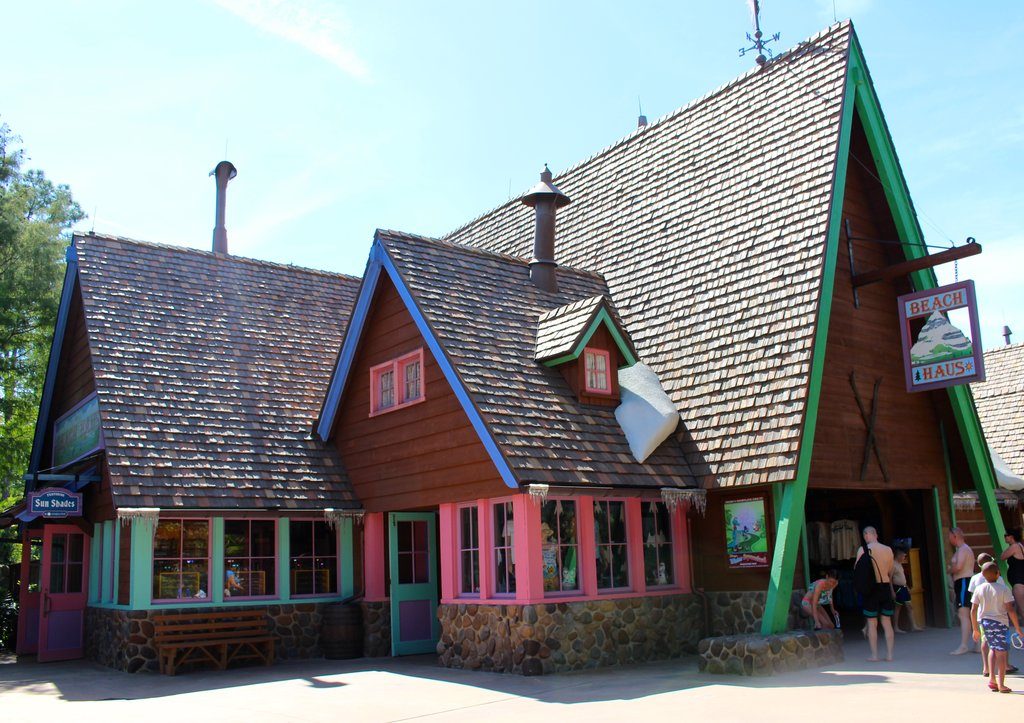 Water park tickets cost $70 for those 10 and up, and $63 for those 3-9. An annual pass for the water parks is $139. Parking is included and free busing for Disney resort guests is available.
So which park do you like more?
MAIN STREET POP IN is just a fun hobby for our team. We have nothing to sell and no website advertisements. Basically, we're here because we need a little Disney every day and like to connect with others who feel the same.
If you're someone who needs a Disney fix on a regular basis, then let us tell you about our FREE NEWSLETTER. Every Monday afternoon, the MAIN STREET POP IN Newsletter contains a "photo of the week", an inspiring quote about something Disney related, and links to our latest blog and website updates. It literally takes about a minute to read. If you'd like to sign up, we'd love to have you as a subscriber.
Sign up and take a quick trip to Disney with us every Monday.