Never missing an opportunity to get a Muppets or a Christmas fix, the team felt the D23 panel celebrating the 30th Anniversary of The Muppet Christmas Carol was a must-do.
The classic story of redemption made great by the narration of Gonzo and Rizzo the Rat, is considered by many (especially those in England) to be the best film version of Dickens' short novel, A Christmas Carol.
Dave Goelz (the puppeteer behind Gonzo) said it best, "It's a movie about the way we want the world to be."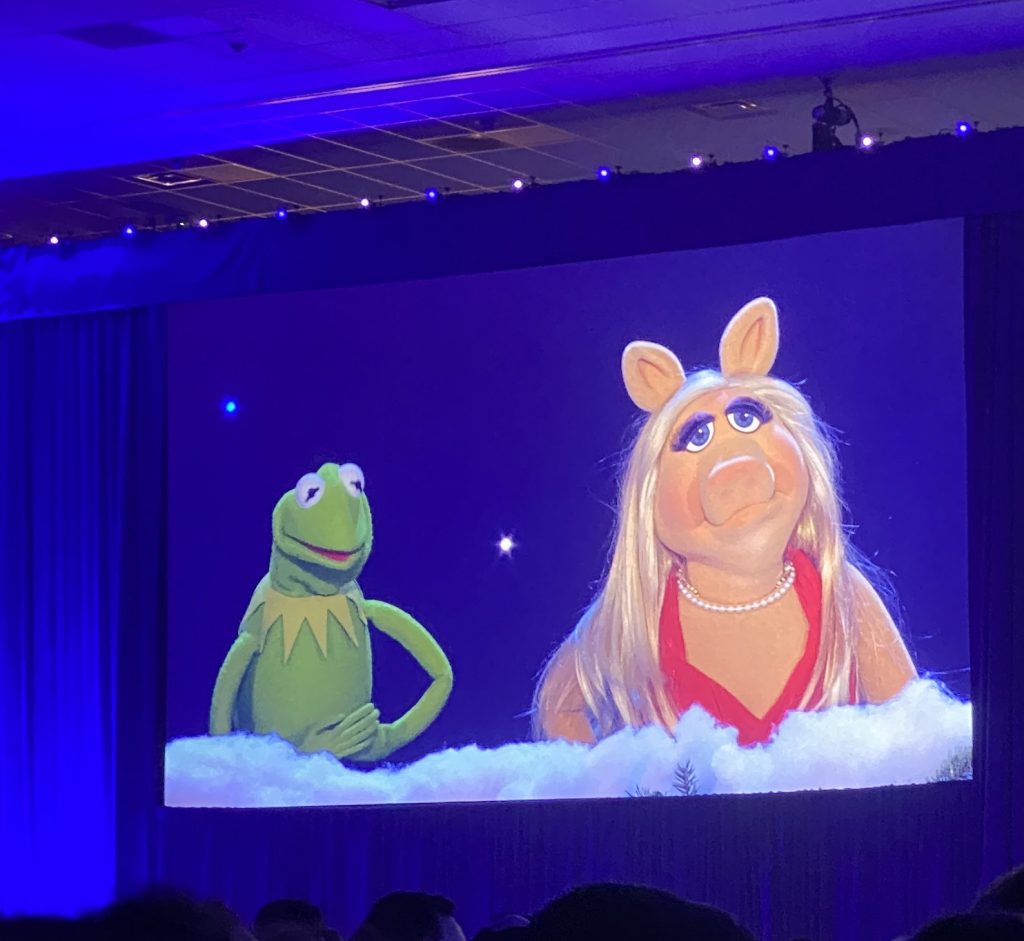 D23's Magic in the Air: 30 Years of The Muppet Christmas Carol (Sept. 9, 2022) treated fans to over an hour of Muppet magic. It included bloopers, a deep dive into the making of the film, a live performance of the song, When Love is Gone, by Disney Legend Jodi Benson (the voice of the Little Mermaid), and appearances by the stars of the movie – Kermit, Piggy, Gonzo, Fozzie, Robin, the penguins, and the vegetables.
On the panel were: Goelz; Brian Henson, director of the movie and chairman of The Jim Henson Company; Paul Williams, writer and producer of the film's soundtrack (and famously known for writing the song Rainbow Connection); and Polly Smith, the film's costume designer. The moderator was entertainer Nina West, who wowed everyone but Miss Piggy with her Kermit gown.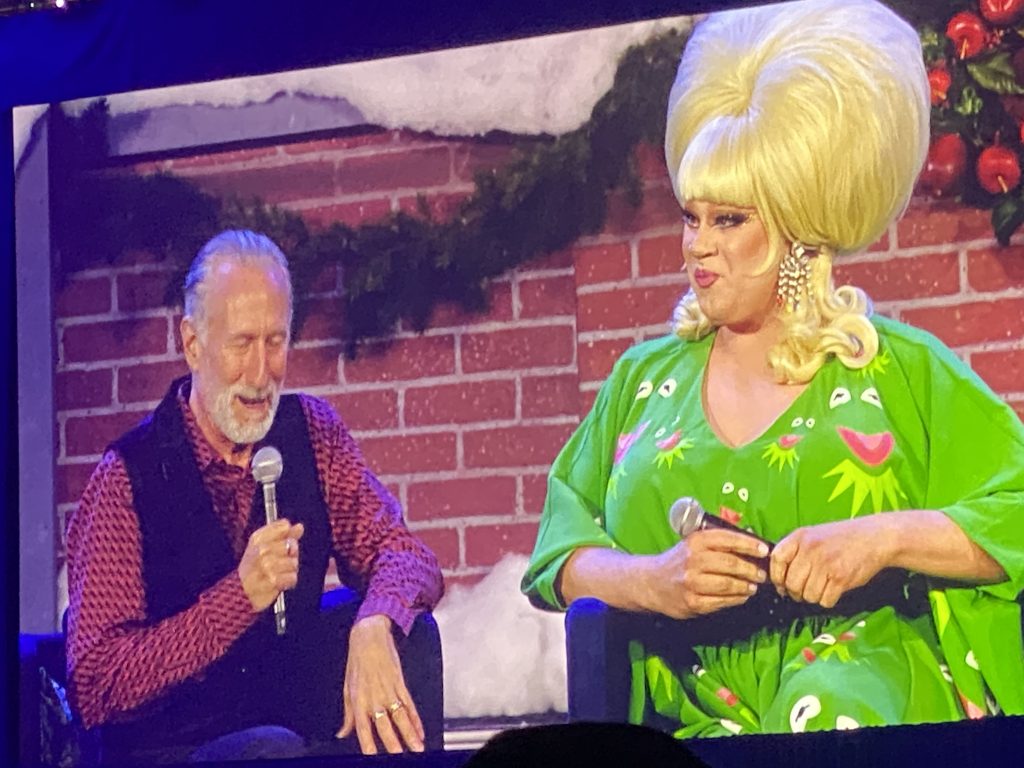 The event was amazing to sit in on. Here are a few fun facts the team learned:
The Muppet Christmas Carol is one of the more faithful interpretations of A Christmas Carol.
Paul Williams said the songs came to him after a period of silent contemplation and the asking of God for help.
Before The Muppets Christmas Carol, the Muppets had never really been dressed in costume. Polly Smith said she was "flying by the seat of her pants" but all the clothing had the functionality of human clothing, such as working pockets and jackets linings.
The musical number When Love is Gone was cut from the theatrical release by Jeffrey Katzenberg (although it was re-added for home release). Mysteriously, the original piece of film containing the song is still lost, but a high-end copy has been found. When the new release of The Muppet Christmas Carol comes out on Dec. 11, it will contain When Love is Gone.
The entire movie was filmed in a studio using forced perspective (the same visual effect that makes Cinderella Castle look taller than it really is.)
After Jim Henson's death, Brian Henson wasn't sure the company could successfully make a Muppet movie without his father.
Seeing the D23 Muppets presentation convinced us more than ever that the Disney parks need MORE MUPPETS (Hey, there's a post about that?).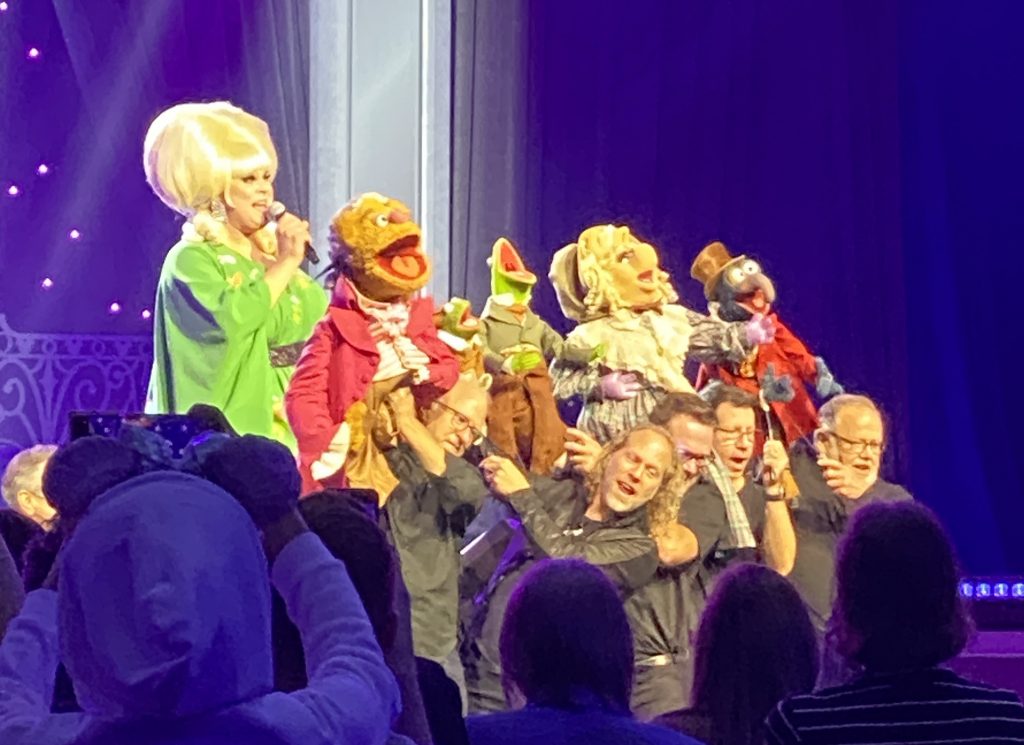 Thanks for Popping In!
Click Here to Subscribe to our FREE Main Street Pop In Newsletter. Every month, we "POP IN" and take a Quick Trip to Disney!
Have a question or a suggestion for a future post? Email us at info@mainstreetpopin.com
Follow MAIN STREET POP IN on
facebook
instagram