Attraction: Kilimanjaro Safaris
Park: Animal Kingdom
Location: Africa, Harambe
Year Opened: April 22, 1998
Imagineer: Joe Rhode
Inspiration: Kenya and Tanzania
Has anyone visited Animal Kingdom and NOT done the safari? We're sure there are a few souls out there, but surely not many.
In honor of Animal Kingdom's 20th birthday (on Earth Day, April 22), we've decided to highlight for you the park's most quintessential attraction—officially titled the Kilimanjaro Safaris. It too, celebrates 20 years on the planet, and we can't imagine Animal Kingdom without it.
Located at the back of the Animal Kingdom in the land of Africa, Kilimanjaro Safaris is truly an attraction for all ages. There's absolutely no height requirement and those in wheelchairs can be wheeled directly onto a vehicle (guests in electric convenience vehicles must be able to transfer from scooter to wheelchair). It is a little bumpy and you will be warned that if you drop your cell phone while taking photos, you need to wave bye-bye because there's no stopping.
Your adventure begins in the Disney-created town of Harambe (which means "come together" in Swahili). The queue is mildly themed with an educational video playing on monitors above. The queue can be short right after rope drop but get a FASTPASS if you plan to ride any other time of day.
Billed as an "authentic African safari" guests travel on a 22-minute journey around the Harambe Wildlife Reserve. The ride vehicle—named the Simba One—is an open-sided truck driven by a knowledgeable castmember/guide. He or she will be able to tell you all about the animals you are about to see and may make some jokes along the way. The safaris run all day and now into the night, where special lighting makes it possible for guests to view animals' nocturnal activities.
The safari explores 110 acres of savanna, forest, rivers and rocky hills. (The savannah is actually about 3 acres larger than all of Magic Kingdom.) While it may seem that the grounds are barrier-free, the area is filled with hidden berms, ditches, moats, fences and turnbacks to keep the animals safe from guests. The barriers also prevent the lions from mingling with the giraffe, zebra and antelope—saving you from having that "circle-of-life" conversation with your kiddos.
However, some animals can walk right up to the vehicles and if an ostrich or rhino decides to take a break in the roadway, you may have to sit in "safari traffic" for a minute or two while your driver waits for the animal to move on.
In total, there are 34 different species roaming the land including: crocodile, hippopotamus, lions, zebra, warthogs and elephant. Disney Imagineers also created a concrete replica of the fascinating baobab tree, known for its large trunk, upside down shape and extreme longevity (1,000 years).
But enough talking about Kilimanjaro Safari. Let's look at some photos. We can't spoil the ride for you because every safari is different.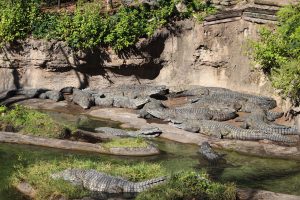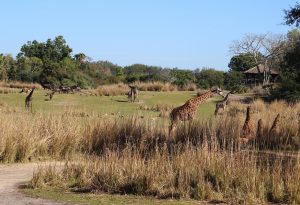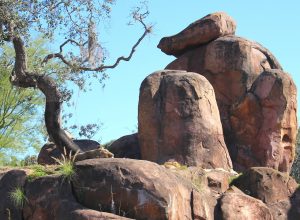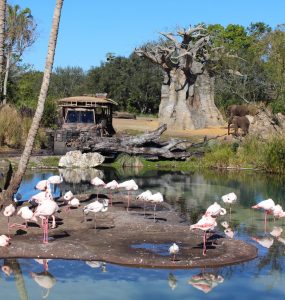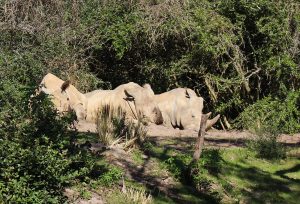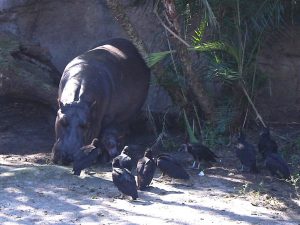 Thanks for Popping In!
And if you happen to be at Animal Kingdom for its Party for the Planet celebration (April 22 to May 5), send us a photo on social media. We'd love to Pop In with you!
facebook
Facebook: facebook.com/mainstreetpopin
instagram
Instagram: main.street.pop.in
twitter
Twitter: @mainstreetpopin