For anyone who loves a traditional Thanksgiving dinner, have we got the Primo Eats recommendation for you — the Earl of Sandwich Holiday Turkey sandwich.
Earl of Sandwich is the team's go-to place for hearty and reasonably-priced food (you'll find it in the Marketplace area of Disney Springs). Even when I am not hungry, I will often grab a sandwich to eat later. It is a great late-night snack and an easy-to-transport lunch for the plane ride home.
While Earl of Sandwich has lots of menu items to love (sandwiches, soups, salads, and mac and cheese), my favorite by far, is the Holiday Turkey sandwich. It's hot turkey, cornbread stuffing, and gravy served on a toasted roll with a spread of mayo and a layer of tart cranberry sauce.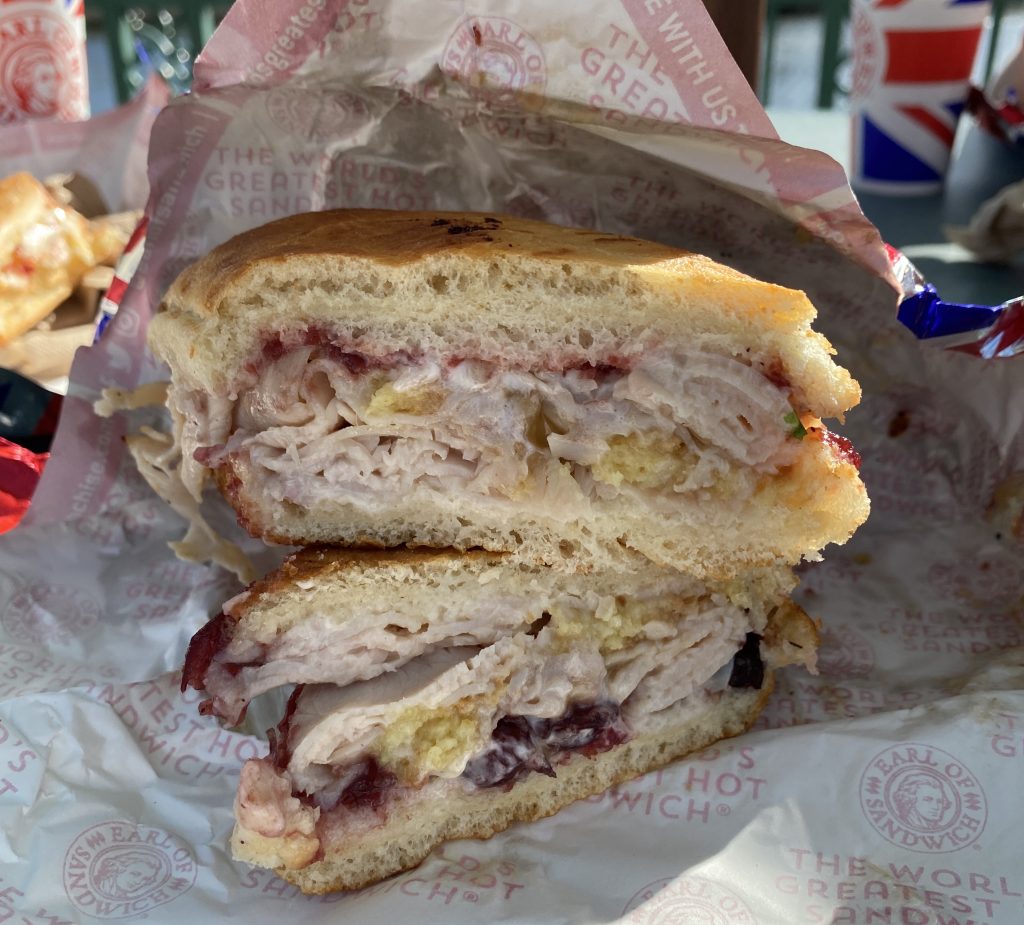 I'm positive some parent invented this sandwich 70+ years ago when they were too burned out to cook the day after Thanksgiving, but I have to say that the Earl of Sandwich has perfected the ratio of ingredients.
Even better is that you don't have to be in Disney during November to eat this fabulous sandwich. It has been on the menu year-round for years.
The Earl's Holiday Turkey is such a success that Disney will offer its own competing sandwiches over the Thanksgiving holiday. A Holiday Turkey Sandwich will be available at Gasparilla Island Grill (located at the Grand Floridian Resort & Spa) from Nov. 24-27 and a Gobbler Sandwich will be offered at P&J's Southern Takeout (located at Disney's Fort Wilderness Resort & Campground) from Nov. 24-27. Imitation is the sincerest form of flattery.
Earl of Sandwich isn't unique to Disney. It is a chain restaurant with 48 locations in the U.S., Canada, Philippines, South Korea, and France. However, Earl is a Disney fan favorite. (Cries of peaceful protest rang out in California's Downtown Disney when its Earl of Sandwich location closed a few years ago and fans rejoiced when a pop-up location started serving sandwiches again in April of 2022.)
If you're looking for a quick, clean, affordable place to eat at Disney Springs, Earl of Sandwich is a smart place to try. And for those who want a savory taste of Thanksgiving any time of year, PLEASE give the Holiday Turkey sandwich a try.
Thanks for Popping In!
Click Here to Subscribe to our FREE Main Street Pop In Newsletter. Every month, we "POP IN" and take a Quick Trip to Disney!
Have a question or a suggestion for a future post? Email us at info@mainstreetpopin.com
Follow MAIN STREET POP IN on
facebook
instagram