What does Disney do with all the coins guests throw into the various fountains and water attractions?
Often the money is donated to children's charities in the community. The last collection of coins— $18,000 total— went to Community Based Care of Central Florida, a nonprofit that helps children in foster care.
If you are tempted to toss spare change into a body of water when you visit Walt Disney World, choose where you throw your coins wisely. Some areas are specifically set up for collection and others are not.
For example, Cinderella's Wishing Well (located to the right of the castle on the pathway that leads to Tomorrowland) is the best place to make a donation. Disney retrieves the coins from the well at regular intervals, so they do not sit too long in water and corrode.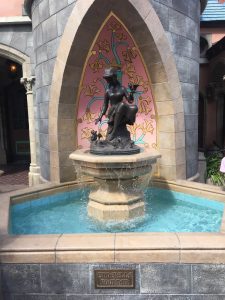 The various water fountains located throughout all the parks are the second-best place to donate loose change. They are shallow and are usually cleaned of coins on a schedule that ensures the money is still in good condition.
Attractions, like "it's a small world" and "Pirates of the Caribbean" take much more effort and expense to extract change. They are often only relieved of their treasures during major renovations, and unfortunately, that means that the money sits for years in water. The result is that many coins are destroyed by corrosion, rendering them unusable. Instead of heading to charity, these coins end up being discarded as scrap metal.
So, the next time you get the itch to toss a coin at Walt Disney World, first make sure you have a wish prepared. Second, make the effort to seek out the tranquility of Cinderella's Wishing Well. Your money has a much better chance of doing good.
Thanks for Popping In!