Magic Kingdom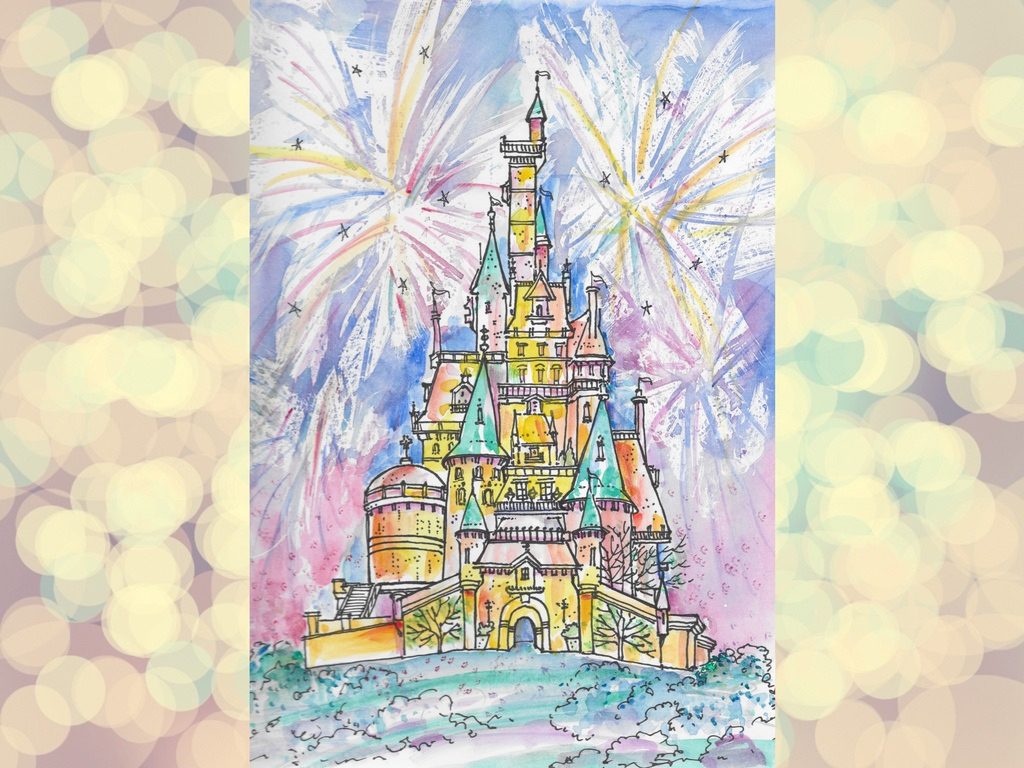 Welcome to the Magic Kingdom! Definitely the place most people envision when they think of Walt Disney World, but in reality, Magic Kingdom is just ONE of FOUR major theme parks.
Magic Kingdom is Walt Disney World's oldest park. It opened on Oct. 1, 1971, and while it is similar to Disneyland in California, it is not an exact replica.
Over the decades, the Magic Kingdom has expanded and changed to meet with the times. For repeat visitors, seeing what's new is one of the reasons they return again and again.
On this page, we strive to show what the Magic Kingdom looks like today. We "pop in" land by land and list its current attractions, restaurants, shops, and magical extras.
We try to update this page as much as we can, but if you see something we've missed or that we're showing something that isn't there anymore, please send an email to info@mainstreetpopin.com.
Now that we have all that outta the way, let's take a quick trip to the Magic Kingdom right NOW!
MAIN STREET, U.S.A.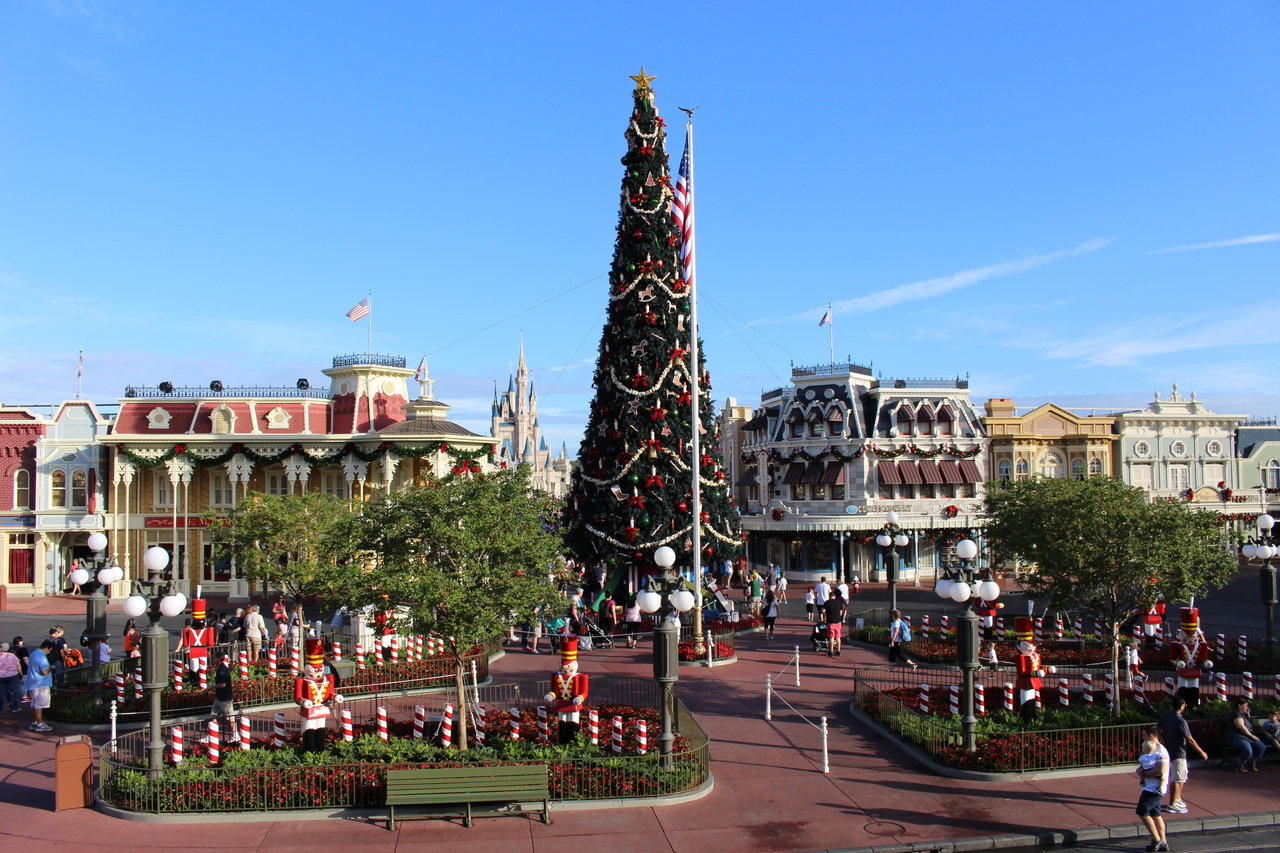 Main Street, U.S.A. is the perfect town that never was. Walt based it on his childhood hometown of Marceline, Missouri at the turn of the century.
Main Street U.S.A. Attractions
Walt Disney World Railroad: The Walt Disney World Railroad opened with the park on Oct. 1, 1971. Round-trip is 1.5 miles, includes stops in Frontierland and Fantasyland, and takes about 20 minutes. All ages and heights can ride the train.
Town Square Theater: The place to meet Mickey Mouse and get a photo with one of the world's most well-known icons.
Fire Station: Home base for the Magic Kingdom Fire Truck and patches from fire departments around the country.
Main Street Vehicles: If you are at the Magic Kingdom early in the morning, you may spot a horse-drawn streetcar, jitney, fire engine, or an omnibus moving up and down Main Street. Sometimes, guests can catch a ride.
Where to Eat on Main Street, U.S.A
Tony's Town Square Restaurant: A sit-down Italian restaurant (pasta, chicken parmesan, and salads), themed to Lady and the Tramp.
Main Street Bakery: A quick-service Starbucks cafe and bakery.
Casey's Corner: A quick-service location with ballpark foods themed to the 1946 Casey at the Bat animation short.
The Crystal Palace: A sit-down American buffet restaurant in homage to the Crystal Palace built in London to house the 1851 Great Exhibition. Characters from the Winnie-the-Pooh visit each table.
The Plaza Restaurant: A sit-down, turn-of-the-century style restaurant serving American comfort foods.
Plaza Ice Cream Parlor: A quick-service ice cream shop.
Where to Shop on Main Street, U.S.A.
Box Office Gifts: Magicbands, camera, and media supplies
Crystal Arts: Glass collectibles, tiaras, and jewelry. And, there is actually a glass-blower on site most days.
Curtain Call Collectibles: Apparel, accessories, Mickey ears, pins, toys, plushes, shoes, and Magicbands
Disney Clothiers: Apparel and accessories
Emporium: The Magic Kingdom's Flagship Store – a must-see
Main Street Confectionery: Baked goods, candy, and treats
Newsstand: Sundries
Uptown Jewelers: Pandora jewelry, handbags, watches, figurines, sketches, and art
Main Street Cinema: Merchandise varies with the times. It's been a location for Disney artwork, retro Disney gear, 50th Anniversary swag and more.
Magical Extras on Main Street U.S.A.
Harmony Barber Shop – A real working barber shop!
Town Square Flag Ceremonies – Early each evening cast members and a guest veteran lower the American flag for the day. The ceremony is extra touching on patriotic holidays, such a Veteran's Day.
Windows: LOOK UP at the second floor windows on Main Street's buildings. They all honor important Disney VIPs.
Salutes to Walt and Roy: The Partners statue of Walt Disney and Mickey Mouse (in front of Cinderella Castle) and the Sharing the Magic statue of Roy Disney and Minnie Mouse (in Town Square) are touching tributes to the Magic Kingdom's founding fathers.
Take Main Street, U.S.A.'s "Main Street" to its circular end (known as "The Hub") and you will come face-to-face with Cinderella Castle. The Castle is not only the Magic Kingdom's icon, it is the official entrance to Fantasyland.
FANTASYLAND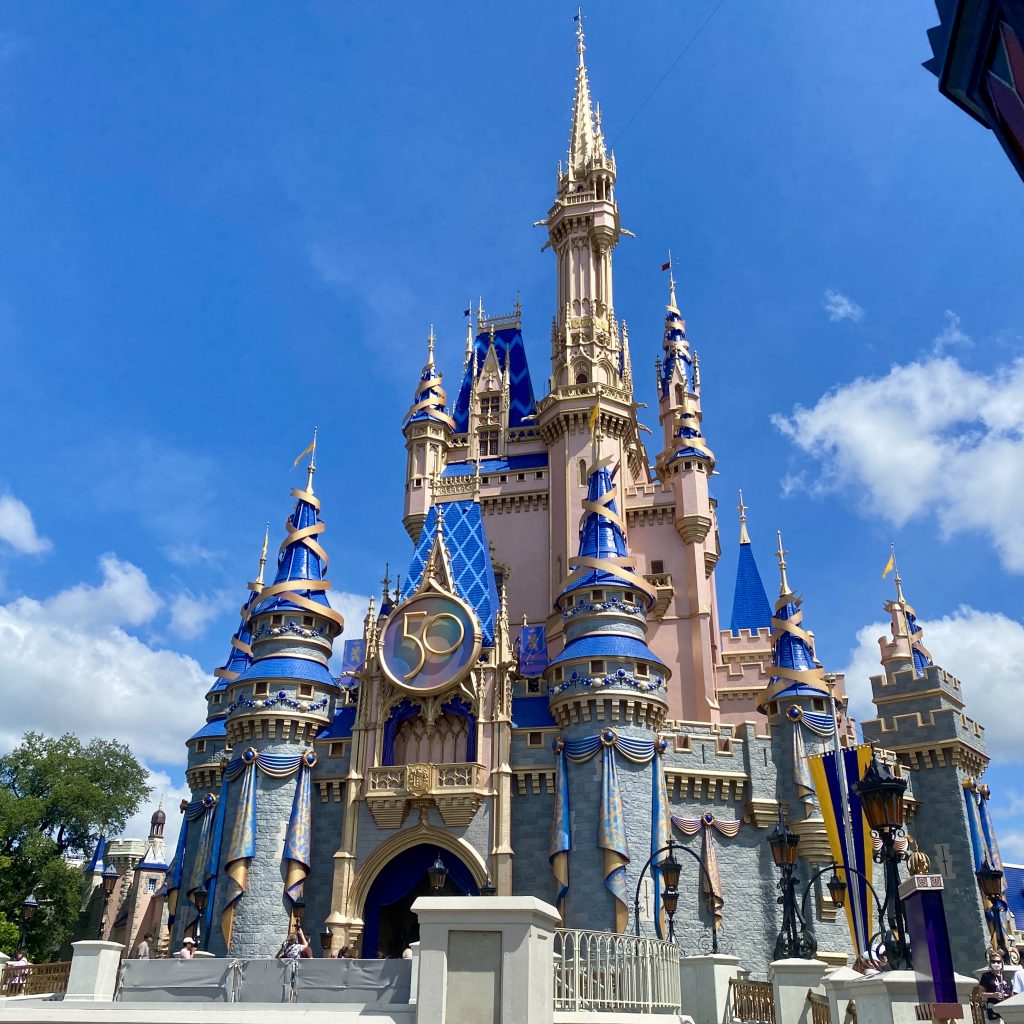 Fantasyland is by far the most popular stop for first-time visitors to the Magic Kingdom. Animated Disney classics come to life. In Fantasyland you can fly with Dumbo, take a boat ride around the world, or meet a princess.
Fantasyland Attractions
Prince Charming Regal Carrousel: Built in Philadelphia over 100 years ago for a theme park in Detroit, the carrousel was bought by Disney and restored for the park's opening on Oct. 1, 1971. Guests of any age and any height can ride.
Mickey's PhilharMagic: An animated 3D movie experience featuring popular characters and music. The performance, starring Donald Duck, lasts 12 minutes (a new scene featuring the characters from Coco was recently added). It opened on Sep. 30, 2003. Appropriate for guests of all heights and all ages.
Peter Pan's Flight: Since Peter Pan's Flight opened just two days after the grand opening of the Magic Kingdom, this attraction is considered an original. Fly on a magical pirate ship over London and Neverland. Appropriate for all ages and all heights.
it's a small world: Another classic, old-school attraction. It's a small world opened on Oct. 1, 1971. Any guest of any age can travel on this 10-minute journey through seven continents and one song.
Enchanted Tales with Belle: Relive the story of Beauty and the Beast, and see a magic mirror in action! Enchanted Tales with Belle opened on Dec. 6, 2012. Guests of any height or age may take part.
Under the Sea – Journey of the Little Mermaid: Take a tour under the sea and visit Ariel's world. Under the Sea opened on Dec. 6, 2012 and is ridable by guests of any age and height.
The Barnstormer: Many kiddos first rollercoaster ride, The Barnstormer is a gem. It opened on Oct. 1, 1996. Riders must be 35 inches or taller to take off, grownups included.
Dumbo the Flying Elephant The most iconic of attractions, Dumbo opened with the park on Oct. 1, 1971. Anyone of any age and size can enjoy this attraction. Special note, it has an indoor play area.
Mad Tea Party Hold on to you ear hats. Tea Party is a wild spin based on the Alice in Wonderland animated feature. It opened on Oct. 1, 1971 and can be ridden by teetotalers of any height.
The Many Adventures of Winnie the Pooh An adorable ride through the world of Winnie the Pooh. This attraction was one of Disney's first attempts at an interactive queue. It opened on June 5, 1999 and has no height or age requirements.
Seven Dwarfs Mine Train Even after it's opening on May 28, 2014, Mine Train is still the line guests run to when the park opens each morning. It is a mild rollercoaster themed to the Snow White and the Seven Dwarfs animated feature. Guests must be 38 inches or taller to ride.
Princess Fairytale Hall: Meet princesses in their natural habitat and take the opportunity to get some great photos.
Where to Eat in Fantasyland
Cinderella's Royal Table: A castle-themed, character dining, sit-down restaurant serving high-end entrees. Princesses visit during your meal.
Pinocchio Village Haus: A quick-service restaurant themed to Pinocchio serving flatbreads and American food.
Be Our Guest Restaurant: A castle-themed, sit down restaurant themed to Beauty and the Beast. The menu is French-inspired.
Gaston's Tavern: A quick-service snack location themed to Beauty and the Beast. Known for its cinnamon rolls and LeFou's Brew.
Prince Eric's Village Market: A quick-service snack location for jumbo pretzels, turkey legs, and frozen Cokes.
Cheshire Café: A quick-service cafe and pastry location. Best known for its Cheshire Cat Tail Pastry.
Storybook Treats: Quick service desserts like the Peter Pan Float, sundaes, and soft-serve ice cream.
The Friar's Nook: A quick-service spot to get lunch or a snack like gourmet tots, bratwurst, hot dogs, and macaroni & cheese.
Big Top Souvenirs: A place to get prepackaged and handmade treats, such as caramel apples, cupcakes, and cake pops.
Where to Shop in Fantasyland
Bibbidi Bobbidi Boutique: A beauty shop for princess and knight makeovers
Big Top Souvenirs: Character gifts, souvenirs, and handmade sweet treats
Bonjour! Village Gifts: Beauty and the Beast merchandise
Casey Jr. Railroad Mercantile: Apparel and accessories
Fantasy Faire: Apparel, plushes, toys, camera, and media
Hundred Acre Goods: Winnie-the-Pooh merchandise
Sir Mickey's: Charms, dress-up clothes, apparel, Mickey ears
Magical Extras in Fantasyland
Cinderella's Wishing Well, located between the castle and Fairytale Garden, is the place to toss spare change. Thousands of coins are thrown into the fountain each day. Once a large sum accumulates, Disney donates it to a central Florida charity.
Cinderella Mosaics: In the walkway through Cinderella castle, don't miss the entire wall of hand-set glass tiles sharing the story of Cinderella.
Sword in the Stone: Between Cinderella Castle and Prince Charming's Regal Carrousel, you may notice a stone with a sword in it. Yes, it's that sword of King Arthur's Legend. See if YOU can remove it from the stone!
Railway Stop: A Walt Disney Railway station is located at the back of Fantasyland.
Casey Jr. Splash 'N' Soak Station: A splash pad
Pete's Silly Sideshow: A character meet-and-greet location.
Fairytale Garden: A character meet-and-greet location.
TOMORROWLAND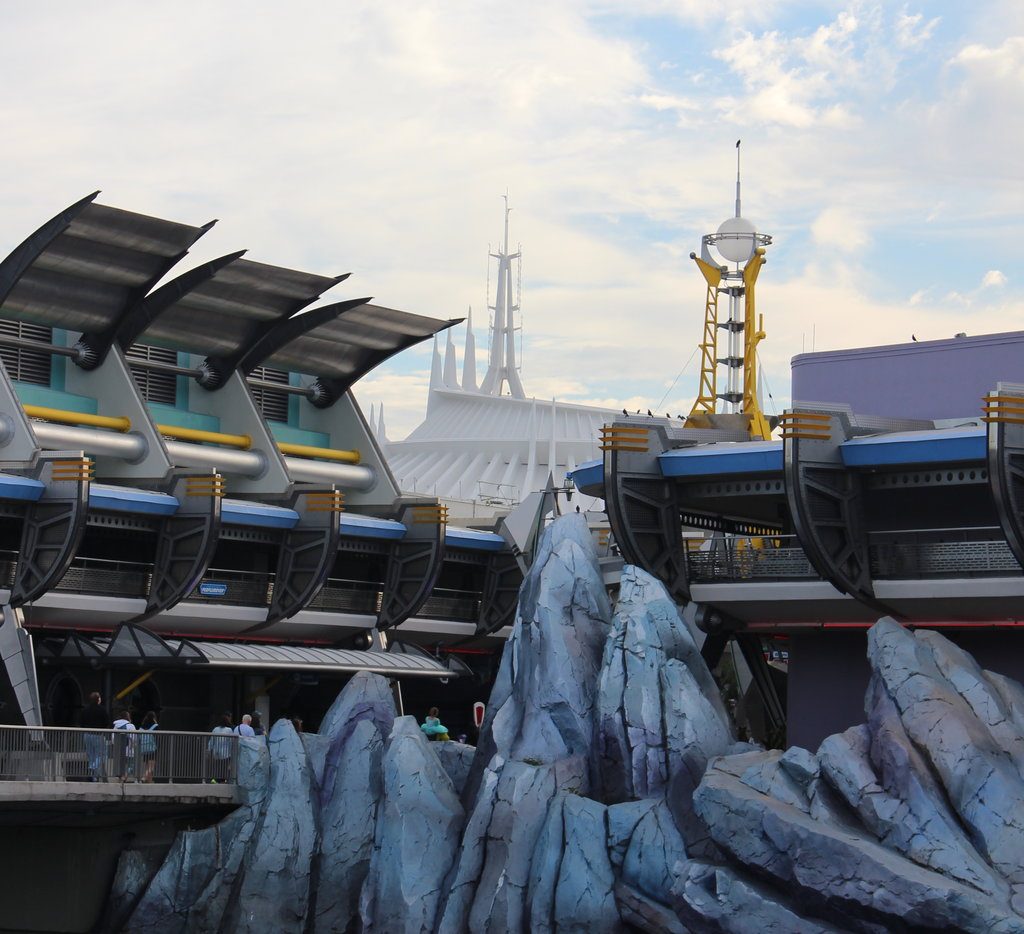 Tomorrowland evokes the feeling of post-war America's vision of the future. Anything is possible in Tomorrowland. Kids can drive, dads can rocket into space, and moms can battle aliens.
Tomorrowland Attractions
Tomorrowland Speedway: Take a break and let the kids drive. Open to guests 32 inches and taller. This attraction was there on the Magic Kingdom's opening day on Oct. 1, 1971
Space Mountain: Still one of the most popular rides in Walt Disney World, Space Mountain is rollercoaster journey through dark space. It opened Jan. 15, 1975 and is only for astronauts 44 inches and taller.
TRON Lightcycle/Run: This is Disney's newest and fastest rollercoasters based on the TRON movie franchise. It officially opens on April 4, but lucky spring breakers are getting the chance to experience the ride RIGHT NOW!
Astro Orbiter: With its retro look, surprisingly Astro Orbiter is NOT an opening day attraction. It appeared in Tomorrowland on Nov. 28, 1974. It is open to guests of any age and any height, but be warned – this ride sits on the roof of The Lunching Pad, so it's higher up there than you think.
PeopleMover: Beloved by many, the PeopleMover takes guests on a 10-minute tour of Tomorrowland. It opened Jul. 1, 1975 and anyone of any age or size can ride.
Walt Disney's Carousel of Progress: This attraction was personally worked on by Walt Disney himself for the 1964-65 World's Fair. It functioned briefly in Disneyland and then was moved to Florida for an opening on Jan. 15, 1975. The stage show, with a rotating auditorium for seated guests, accommodates guests of any age or size.
Buzz Lightyear's Space Ranger Spin: Zurg is stealing batteries from toys, but you can help. Use your blaster to defeat the space bad guy and collect points along the way. Open to guests of any age and any size, Space Ranger Spin has been around Tomorrowland since Oct. 7, 1998. 
Monster's Inc. Laugh Floor: An interactive show hosted by Mike Wazowski. It opened on Apr. 2, 2007, and jokesters of all ages and sizes are welcome.
Where to Eat in Tomorrowland
Cosmic Ray's Starlight Café: A quick-service space-themed restaurant serving burgers, hot dogs, chicken, pulled pork, and salads.
Auntie Gravity's Galactic Goodies: Quick-service ice cream treats.
Cool Ship: Quick service hot dogs, churros and drinks
The Lunching Pad: A quick-service hot dog stand with pretzels, churros, and slushes.
Tomorrowland Terrace Restaurant: A quick-service restaurant serving burgers, salads, and sandwiches
Energy Bytes: A quick-service kiosk themed to TRON. Chocolate donut holes and coffee in the a.m. and unique dumplings and treats during the day.
Where to Shop in Tomorrowland
Buzz Lightyear's Space Ranger Spin Photos: Toy Story merchandise
Merchant of Venus: Seasonal stuff
Star Traders: Character merchandise
Tomorrowland Light & Power Co.: Space-themed and Star Wars merchandise, MagicBands, phone cases, print-your-own tees
Ursa's Major Minor Mart: Mickey ears and pins
Joffrey's: While everyone is waiting in line at the Starbucks on Main Street, waltz over to the Joffrey's Coffee stand in front of the entrance to Space Mountain for coffee and one the the best sprinkle donuts on Disney property.
Magical Extras in Tomorrowland
Purple Wall: It was just a purple wall and Instagram made it an icon. Find it, love it, and get that selfie!
ADVENTURELAND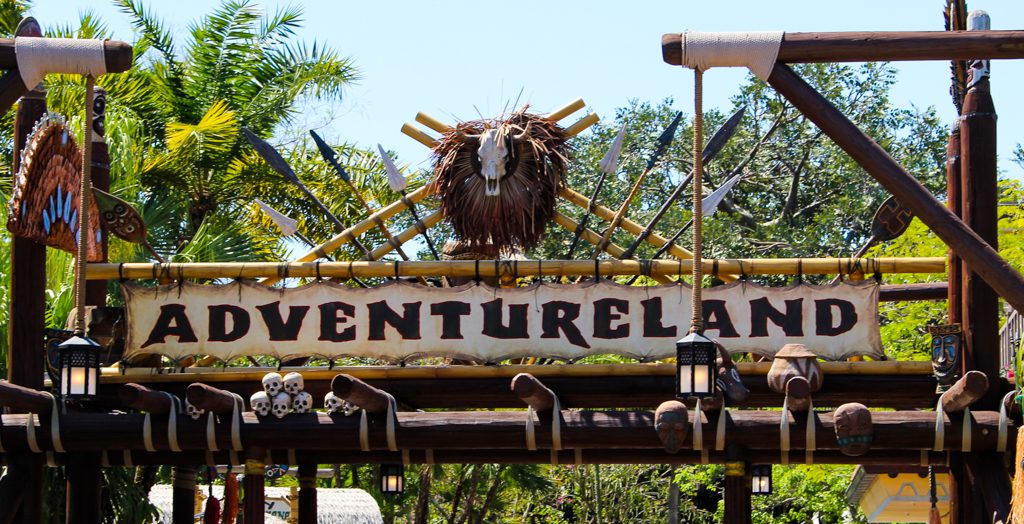 Adventureland was inspired by the True-Life Adventure nature films Walt Disney made from 1948-1960. Fans flock here to see pirates, cruise the jungle, and eat Dole Whips.
Adventureland Attractions
Swiss Family Treehouse: Some call this attraction a must-do and some call it "stairs". However you feel, the Swiss Family Treehouse is an opening day attraction that is unlike anything else at the parks. Open to all guests with the ability to climb stairs. Babies and toddlers may be carried.
The Magic Carpets of Aladdin: Adventureland's version of Dumbo. Magic Carpets opened on May 23, 2001. Open to all ages and sizes. As you approach, beware of the spitting camel.
Jungle Cruise: The Jungle Cruise just received a revamp, so if you have taken ridden in awhile, you're in for some new stuff. The original opened on Oct. 1, 1971. It's famous for its irreverent captains and Christmas overlay (The Jingle Cruise). Appropriate for all ages and heights.
Walt Disney's Enchanted Tiki Room: Enchanted Tiki Room opened Oct. 1, 1971 as Tropical Serenade. Audio-Animatronic birds put on a musical performance that can be enjoyed by all ages.
Pirates of the Caribbean: Pirates wasn't a part of the original Magic Kingdom plan, but the boat ride opened on Dec. 15, 1973 after guests demanded it. (It was as Disneyland favorite). Pirates of all ages my enjoy.
Where to Eat in Adventureland
Spring Roll Snack Cart: Spring rolls so popular they have their own following.
Sunshine Tree Terrace: One of two quick-service locations serving Dole Whip desserts and Citrus Swirls.
Jungle Navigation Co. LTD Skipper Canteen: A sit-down restaurant with Adventurer's Club memorabilia serving food inspired by the flavors of South America, Africa, and Asia.
Aloha Isle: A quick-service location for cold drinks and Dole Whip desserts.
Tortuga Tavern: A quick-service location serving Caribbean-inspired lunches, snacks, and dinners. It also serves turkey legs, hot dogs, and slushies.
Where to Shop in Adventureland
Agrabah Bazaar: Apparel, Accessories, food, gifts, housewares, toys, and plushes
Island Supply by Sunglass Hut: Sunglasses
La Princesa de Cristal: Cart with crystal figurines
The Pirates League: A location to get a pirate makeover
Plaza del Sol Caribe Bazaar: Pirates-themed souvenirs, clothing, art, and gifts
Magical Extras in Adventureland
Treasurers of the Seven Seas: Use maps to discover secrets all over adventure land. If you love scavenger hunts, you'll love this!
Mist Makers: When the tikis are in the right mood, they reward guests with a cooling mist.
LIBERTY SQUARE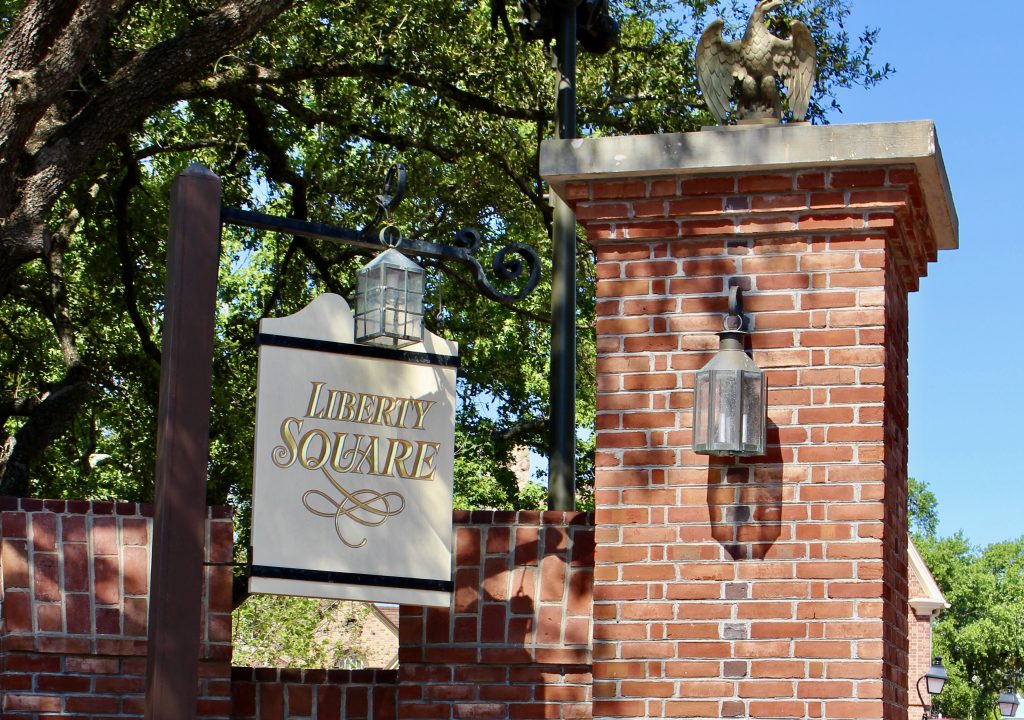 Liberty Square appeals to patriots and ghost hunters. You can eat a full Thanksgiving dinner any day of the year and ride aboard a fully functioning steam-engine, paddle-wheel boat.
Liberty Square Attractions
The Hall of Presidents: See all 45 U.S. Presidents plus an impressive display of Presidential museum pieces. The Hall of Presidents is open to all ages and presents a 25 minute show inside of an opulent air-conditioned theater. HoP is an opening day attraction that has been part of Liberty Square since Oct. 1, 1971.
Haunted Mansion: The ultimate haunted house experience. It includes scares and comedy. The mansion has been spooking guests since Oct. 1, 1971 and although it allows mortals of all ages and sizes, be aware that it can be scary for young children (and some grownups).
Liberty Belle Riverboat: The Liberty Belle is an authentic, steam-powered ship. A river boat of its type has been cruising around the Rivers of America since May 20, 1973 (The first ship was named the Richard F. Irvine).
Where to Eat in Liberty Square
Liberty Tree Tavern: A colonial themed, sit-down restaurant serving American holiday fare. Think Thanksgiving Dinner!
The Diamond Horseshoe: A western saloon restaurant serving comfort foods such as BBQ sandwiches, brisket, baked beans, cornbread, and macaroni and cheese.
Columbia Harbour House: A colonial themed, quick-service restaurant serving New England fare – lobster rolls, tuna sandwiches, fish, shrimp, chicken, and chowder. Team Tip: After you get your meal, head up to the second floor. It's much more relaxing.
Liberty Square Market: An outdoor spot to grab a quick snack or a hot dog.
Sleepy Hollow: A wildly popular, quick-service location serving meals and snacks. Famous for its waffle sandwiches and churro ice cream sandwiches.
Where to Shop in Liberty Square
Liberty Square Parasol Cart: hand-painted parasols
Liberty Square Portrait Gallery: silhouettes, portraits, and caricatures
Memento Mori: Haunted Mansion themed merchandise
Ye Olde Christmas Shoppe: Disney Christmas and other holidays decor
Magical Extras in Liberty Square
Liberty Bell: A replica of the real Liberty Bell stands in the town square.
Liberty Tree: Take a moment to learn about the tree where the Sons of Liberty gathered
Stockades: What would a trip to Liberty Square be without a photo op inside the stockades
One if by Land, Two if by Sea: Can you find the window with the lanterns that warned colonists how the British would be coming?
FRONTIERLAND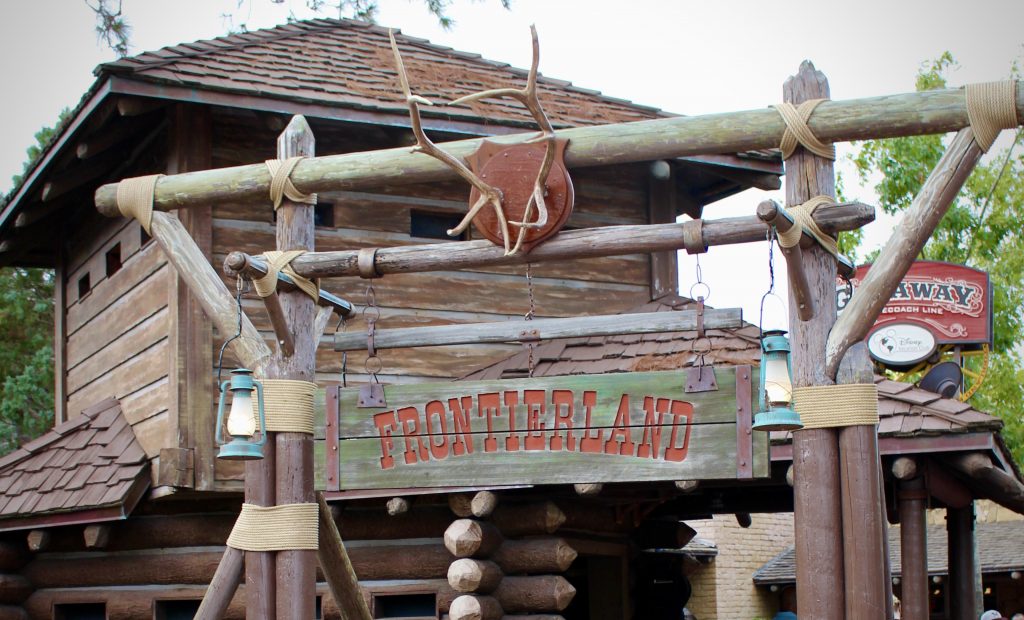 Frontierland is both laid back and wild. You can raft to an island for a quiet walk or take a dramatic drop into a briar patch.
Frontierland Attractions
Tiana's Bayou Adventure: Coming in 2024
Big Thunder Mountain Railroad: The wildest ride in the wilderness opened on Sep. 23, 1980. This rollercoaster races through a haunted mine and a deserted town. Guests must be 40 inches to ride.
Tom Sawyer Island: The place to go for a little exploration. The island has a windmill, caves, barrel bridge, and fort. Tom Sawyer Island opened on May 20, 1973. The rafts to get from the shore to the island are open to guests of all ages.
Country Bear Jamboree: The Audio-Animatronic country-western musical revue is one of the last Walt Disney helped develop. It opened with the park on Oct. 1, 1971. The show is for all ages and lasts about 16 minutes.
Where to Eat in Frontierland
Golden Oak Outpost: A great little stand to get chicken fingers, waffle fries, and onion rings.
Pecos Bill Tall Tale Inn and Café: A quick-service location serving Mexican fares like nachos, tacos, lettuce wraps, fajitas, and burgers.
Westward Ho: A place to get breakfast foods like egg croissants and muffins and snack foods like skewers, corn dogs, and frozen lemonade.
Where to Shop in Frontierland
Big Al's: Sunglasses, toys, and hats
Frontier Trading Post: Trading pins
Prairie Outpost & Supply: Candy Shop
Magical Extras in Frontierland
Shootin' Gallery: Lately, guests don't even need quarters to enjoy the the shootin' gallery. A whimsical break with lots of Disney humor inside.
Great Parade Watching location: Most guest pack The Hub and Main Street U.S.A. to watch parades, but Frontierland generally has plenty of space to watch.
Magical Extras
The Monorail
Technically, the Monorail is outside of the Magic Kingdom, but arriving to the Magic Kingdom via Monorail is highly recommended (especially for first-timers).
The Ferry
Cruising across The Seven Seas Lagoon by Ferry is also a pretty magical way to arrive at the Magic Kingdom. Stand on the upper deck facing Cinderella Castle and feel the excitement build as you sail closer and closer to the front entrance.
Fireworks, the Castle Show & Parades
Disney Enchantment – A nighttime fireworks show with lights and projections stretching from the Castle to Main Street. Beginning April 3, 2023, the Happily Ever After nighttime spectacular will return to Magic Kingdom park, featuring all-new projections down Main Street, U.S.A.
Beacon of Magic – A nighttime projection show at the Castle.
Mickey's Magical Friendship Faire – Mickey and friends entertain guests from the Castle Forecourt Stage throughout the day.
Festival of Fantasy Parade – The daytime Disney parade
Mickey Celebration Cavalcade & Disney Adventure Friends Cavalcade – Think of these as a mini-parades that pop up at various points throughout the day.
Whew! That'a a wrap for our Magic Kingdom 101!
Now that you've got the basics! Dive right in and start planning. We are not travel agents at MAIN STREET POP IN, but we love to give advice. Send us your questions at info@mainstreetpopin.com. We'd love to hear from you!
Thanks For Popping In!
Follow MAIN STREET POP IN on
facebook
instagram
twitter