Attraction: The Barnstormer
Theme Park: Magic Kingdom
Location: Fantasyland's Storybook Circus
Year Opened: October 1, 1996
Inspiration: Goofy
What's highly underrated and not just for kids?
The Barnstormer roller coaster.
Each time we ride this Fantasyland attraction, we appreciate it more and more. For one, it is a right-of-passage and the perfect first roller coaster experience. The 35-inch height requirement makes it one of the first "big kid" attractions a child grows into at the park. The train cars are comfy and large enough for grownups to accompany and enjoy the ride, too. And as a bonus, there is plenty of arm room to hug a little one close if needed.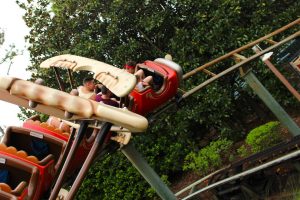 We think this ride is just as fun as the Seven Dwarfs Mine Train. For starters, the wait to ride is generally pretty quick. As far as thrills go, both coasters are about equal. Barnstormer travels 25 miles per hour and includes one small drop. Mine Train travels 34 miles per hour and includes two small hills.
Mine Train does offer an amazing queue, but when using a Fastpass, kids have to bypass all that anyway. (We highly recommend using a Fastpass for Mine Train, it can be a one- to two-hour wait otherwise.)
True, Barnstormer is a significantly shorter experience (one-minute as opposed to Mine Train's almost 3-minute journey). But, to make up for it, the Barnstormer can be ridden three times in the span of 30 minutes if you hit it first thing in the morning.
As to The Barnstormer's history, that's the fun part we learn more and more about each visit.
The attraction first opened in 1996 in the area of Fantasyland called Mickey's Toontown Fair. The premise was that guests could take flying lessons in Goofy's homemade airplane. (The big red barn the planes use for takeoff and landing was once the home to the park's petting zoo animals.)
In 2011, Mickey's Toontown Fair was demolished to make way for the new Fantasyland expansion. The area was renamed Storybook Circus. Fortunately, The Barnstormer ride was kept and re-themed as a place to take part in Goofy's daredevil flying act.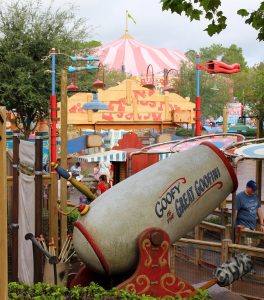 Today, guests board one of "The Great Goofini's" aerial acrobatics biplanes. Holding up to 16 passengers, the planes take off from an abandoned barn, rise 30 feet into the air, then curve downward over the circus fairgrounds. The most exciting part is flying through the billboard's giant plane-shaped hole.
For Goofy fans, there is a lot of theming to take in. The attraction includes several circus posters that reference Goofy cartoon shorts from the 1940s, 50s, and 60s including Tiger Trouble (1945), Goofy's Glider (1940), Hold that Pose (1950), Aquamania (1961), The Big Wash (1948), and Motor Mania (1950).
The Barnstormer's queue also overlooks the station where the Walt Disney World Railroad stops in Fantasyland. Here you can get a great view of one of the railroad's authentic steam-powered engines.
The Barnstormer is definitely a sentimental favorite that can best be described as short and sweet. After you've taken a few spins, don't forget to get your photo taken with The Great Goofini himself right across the way at Pete's Silly Sideshow. If you have time, do a little souvenir shopping or grab a sweet treat at Big Top Souvenirs. The caramel apples are one of our favorite snacks.
It's a great way to start or end a day at the Magic Kingdom.
Thanks for Popping In!
Or visit us on social media:
facebook
Facebook: facebook.com/mainstreetpopin
instagram
Instagram: @main.street.pop.in
twitter
Twitter: @mainstreetpopin