If your favorite Disney ride is the Haunted Mansion, then watch it come to life at Mickey's Not So Scary Halloween Party.
This year (2017), Halloween came to the Magic Kingdom on August 25. (Way too early, agreed.) But that didn't make the party any less fun. The Hocus Pocus Villain Spelltacular, Boo-To-You Parade, Happy Hollowishes Fireworks, and the trick-or-treat locations were all extras open only to guests who purchased tickets to this special event.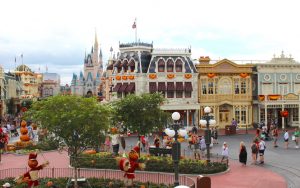 I had the chance to attend the August 29, 2017, Not So Scary Party with my mom and two kids.  We had an absolute blast! It was money well spent.
The party runs from 7 p.m. to midnight. We arrived at 6 p.m., although guests with Halloween tickets can enter as early as 4 p.m. We were given wristbands to indicate that we were good to stay past the day's 7 p.m. closing time.
Because it was pretty hot, we didn't go all out with Halloween costumes. The boys' little league t-shirts and hats were enough to make them feel costumed but comfortable. However, our eyes were treated to dozens of others' elaborate costumes. One family of four traveling in the bus with us dressed as elegant turn-of-the-century ghosts. The father wore a mildew-white top hat, while his wife and daughters laced up into silver brocade corseted dresses. An elderly couple on scooters dressed as Little Red Riding Hood and the Big Bad Wolf—super cute!
Costumes are not required for the event, but many people use the venue to showcase some mind-blowing Halloween fashions. It is really fun to see everyone's creations and talents. If you need inspiration for Halloween night, this is the place to get it. Please keep in mind, there are a number of rules about costumes. This is a "not-so-scary" Halloween party after all. So, if you are going to the party, please check Disney's rules in advance. You wouldn't want to be turned away.
Since my kids are little, the night for us was all about the rides and the candy. It's been a long time since I've been able to walk-on to Thunder Mountain or Space Mountain. But it happened! My 6-year-old's favorite ride, The Barnstormer, had no wait either. We rode it four times in a row, and once the kids and I were the only ones on the coaster.  Even the Seven Dwarves Mine Train wait went down to 30 minutes (during the first parade time) but we missed getting there before it went back up to 70 minutes.
The following attractions were open for the event: Swiss Family Treehouse, The Magic Carpets of Aladdin, Pirates of the Caribbean, Big Thunder Mountain Railroad, Country Bear Jamboree, Haunted Mansion, "it's a small world", Peter Pan's Flight, Prince Charming Regal Carrousel, Under the Sea, The Barnstormer, Dumbo the Flying Elephant, Mad Tea Party, The Many Adventures of Winnie the Pooh, Seven Dwarfs Mine Train, Princess Fairytale Hall, Monsters, Inc. Laugh Floor, Tomorrowland Speedway, Space Mountain, Astro Orbiter, PeopleMover, and Buzz Lightyear's Space Ranger Spin.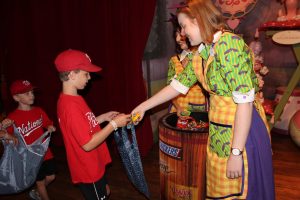 At least a dozen trick-or-treat stations were located in all corners of the park. Some stops had multiple bins, so kids (and grown-ups) could make a few stops at once. Generous handfuls of Skittles, Starbursts, Peanut Butter Snicker Bars, Dove Bars and all flavors of M&Ms were tossed into the bags at each stop. The kids' bags filled up after visiting only five trick-or-treat locations. The best part is that these lines moved very quickly, with the exception of the one in Liberty Square. I'm not sure why that particular line was so slow. Perhaps it was just too close to the night's mothership (a.k.a. Haunted Mansion).
Like Forrest Gump, we stumbled into a great viewing location for the first Mickey's Boo-To-You parade, which starts in Frontierland. We stopped as a crowd was forming just past Splash Mountain. The lights dimmed and the eerie green glow cast on all building facades set the mood. Then we heard an ominous, clop, clop, clop. Out from the darkness emerged the Headless Horseman who slowly passed us and headed toward Cinderella's Castle.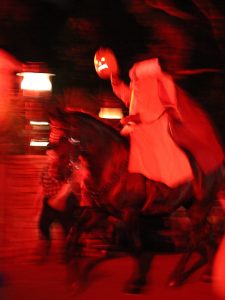 The boys were hooked and we stayed.
About five minutes later, Mickey's Boo-to-You Halloween Parade began. It was the best Disney parade I've seen to date. First came the sensational six: Mickey, Minnie, Donald, Daisy, Goofy, and Pluto. Then Captain Hook sailed by in the Jolly Roger with Peter, Wendy, and the lost boys aboard. Not to be out-pirated, Captain Jack Sparrow shortly followed.
The best part of the parade was the ghosts. We saw waltzing apparitions straight from the Haunted Mansion's Grand Ball Room; the infamous hitchhiking ghosts; zombie-like gravediggers, dragging their shovels and creating sparks along the route; and a rock band of glow-in-the-dark skeletons. To end the extravaganza, Maleficent and the rest of the Disney Villains made a brief appearance before taking the stage for The Hocus Pocus Villain Spelltacular.
The parade happens twice during the night, at 9:15 p.m. and 11:15 p.m. Catch it once and then use the other designated parade time to take advantage of some really short wait times.
The Spelltacular is an amazing, Broadway-like show on the Castle Forecourt Stage. Three actresses perfectly channel the Sanderson sisters characters, played by Bette Midler, Kathy Najimy, and Sarah Jessica Parker in the movie "Hocus Pocus". The singing and comedy are spot-on. I loved it. The show runs three performances at 8:15 p.m., 10:45 p.m. and midnight.
Tickets prices are tiered based on whether you are attending on a weekday or weekend. They also increase the closer it gets to October 31. For anyone age 10 or over, tickets cost between $79 and $99 (and a whopping $115 on Halloween Night) and between $74 and $94 for ages 3-9 ($110 on Halloween Night). Discounts are available to annual passholders and Disney Vacation Club members. With the exception of the Halloween Night party, these ticket prices are less than one would pay for a one-day ticket in October. Yes, you get only seven hours in the park as opposed to 10 during regular hours, but the smaller crowds and added entertainment let you do more overall. You can even squeeze an extra half-hour past the midnight closing time by jumping into an attraction line at 11:50 p.m. or staying for the midnight performance of the Hocus Pocus Villain Spelltacular.
Long character meet-and-greet lines were the one drawback. A number of characters only come out for this event (like Jack Skellington and Sally, for example) so unless character photo and signature collecting are your passion, you may find yourself frustrated.
Even though Halloween is more than a month away. This party really got me into the spirit. Is September 18 too early to start carving pumpkins?
Thanks for popping in!
To Subscribe to the Main Street Pop In weekly newsletter click here!