If you've been to Florida's Walt Disney World, then you have probably ridden the "Prince Charming Regal Carrousel" (yes, with two 'r's) which sits behind Cinderella's Castle in Fantasyland. But most people don't know that Detroit was the carousel's first home. It was called Liberty then, and was housed at Detroit's Palace Gardens in Electric Park.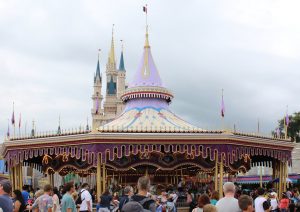 The owner of Palace Gardens paid $30,000 for Liberty when it was ordered 100 years ago. As carousels go, it was a masterpiece, built by the Philadelphia Toboggan Company and carved by some of the most talented German and Italian carvers of the early 1900s. In today's dollars, each horse is worth $20,000-$100,000, depending on the size, age, and amount of embellishments (the gold is actually 23-karat gold leaf).
Liberty (or PTC #46) was built during World War I, and captured the patriotic fever surrounding America at the time. The Philadelphia Toboggan Company manufactured Liberty in 1918. It debuted as a new attraction at Detroit's Palace Gardens in April of 1919. During that same time, Walter Elias Disney was just a teenager driving an ambulance for the Red Cross in France.
"PTC's #46 is one of the very best carousels that PTC ever made. Although it has been modified in some ways that many carousel aficionados might not like, it is still a pleasure to ride and behold," says Richard A. Gardner, author of the book, PTC Carousels: The History of the Philadelphia Toboggan Company Carousels. "It is the largest of the PTC carousels with 90 horses, all jumpers."
So, how did the Liberty travel from Detroit to Disney?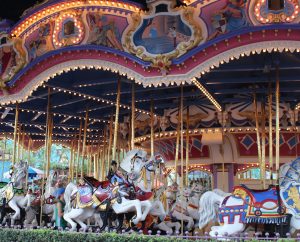 Palace Gardens was an amusement park that resided within Electric Park, which sat on the mainland side of the Detroit River on the east side of the Belle Isle bridge approach. Today the location is known as Gabriel Richard Park.
"Electric Park was an overall name, such as Coney Island which contains several separate amusement parks," says Lori Feret, a Belle Isle Conservancy Volunteer with the Historic Preservation Committee. "It had a carousel at the end of the boardwalk early on; however, it appears that in 1917 the world's largest Liberty Carousel was ordered from the Philadelphia Toboggan Company."
Rock Hopkins, former editor of The Carousel News & Trader, says carousels were popular in the early 1900s because of their romance.
"They were quite beautiful—hand carved detail all around, lights, music, spinning (pretty fast in those days)," Hopkins says. "In a huge population boom, industry and cities and urban populations grew and dating also entered the new world. These carousels were built for young adults."
In 1927, the owners of Electric Park and the city of Detroit entered into a long legal battle over the park's existence. Fires had destroyed sections of the park, and the area was considered an eyesore. The city condemned Electric Park in 1927, and the Liberty was returned to the Philadelphia Toboggan Company.
Because Liberty was such a master work, it wasn't long before it found a new home. Around 1929, Olympic Park in New Jersey acquired PTC #46, where it remained until 1967.
Although Liberty enjoyed a long career in New Jersey, Carousel production in general stalled out in the 1930s. The Great Depression was partly responsible for the decline, but so was the invention of the automobile. It is ironic that the Motor City of Detroit—the city Liberty first called home—was the same city that led to the demise in carousels' popularity.
"The world was different and Ford made it so," Hopkins says. "Cars could take people further."
In 1965, Liberty found itself once again at an amusement park closed by hard times. The fate of PTC #46 was headed toward the individual sale of her horses to collectors. Then in 1967, a company named Walt Disney was looking for a very large carousel to house at a new Florida theme park. Liberty was saved.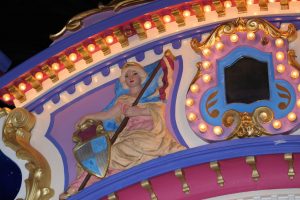 Disney extensively restored the carousel. Changes included making sure all the horses were jumpers rather than standers (a horse that didn't go up and down). All the steeds were painted white to match those in the Cinderella fairytale, and a pink and purple palette took precedence over most of the red, white and blue coloring.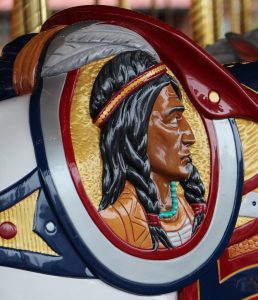 The American landscape paintings at top of the canopy were replaced by scenes from the Cinderella movie, but the Liberty Maidens themselves still adorn the exterior, and the old western influenced carvings on the horses also remain.
The only early photo of Liberty available to date appears on the PTC's archive website, but it's not clear if the photo was taken in Philadelphia or Detroit. Many photos of Electric Park exist on the Detroit Historical Society website, detroithistorical.org.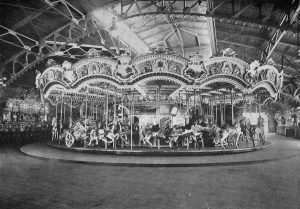 Often, a photo of another Philadelphia Toboggan Company carousel named Miss Liberty (PTC #47) is mistakenly used to identify Liberty. Miss Liberty currently operates at Hershey Park in Pennsylvania. It was built in 1919 by some of the same carvers as Liberty, and has a similar patriotic theme and décor. Many modern-day photos of Miss Liberty can be found online if you want to get a feel for what Liberty's original coloring may have looked like.
While thousands of carousels once entertained Americans before the depression, today the inventory is greatly diminished.
"Carousels were so popular in the heyday of amusement parks that many parks had more than one," Gardner says. "Estimates are that there were as many as 4000-5000 carousels in America during the "Golden Age" of carousels. Sadly, most have been lost. PTC #46 is a great remaining example of the artistry of carousel carvers, painters, and manufacturers."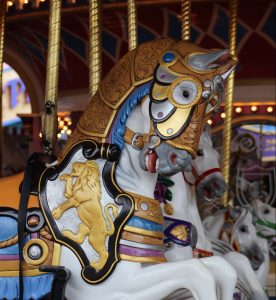 There is no rhyme or reason as to why Liberty was saved while so many other similar showpieces were not. By sheer coincidence, this massive, costly, wooden ride from up north needed a home at the same time a guy from Hollywood needed a show-stopping fairy tale carousel down south.
Probably no one who remembers Liberty's debut at the Palace Gardens remains to tell the tale. But it shouldn't be forgotten that the world's largest carousel got its start in Detroit long before it became a Disney icon.
In addition to the sources cited in this article, you can also learn more about Liberty/Prince Charming Regal Carrousel in the books The Revised Vault of Walt by Jim Korkis and Smile: A Picture History of Olympic Park by Alan A. Siegel.
Thanks for Popping In!