Traveling With Young Kids
Part IV in our eight-part series on visiting the Disney parks for the first time focuses on traveling to Hollywood Studios with young children (the 6-and-under set).
As we mentioned in Part I, II and III, every family is different. So, if there are any Disney pros out there reading, please add your own comments and suggestions below. We don't want to miss a thing.
Also, with all the Disney parks, it's best to arrive when the park opens (rope drop) on a weekday. If you can avoid major school holiday breaks, you will experience less crowds.
When scheduling your FastPasses, you can do so 60 days in advance if you are staying at a Disney Resort. If you are not staying at a Disney Resort, you can pick your FastPasses 30 days in advance.
How to Spend a First Day at Hollywood Studios with Young Kids
#1 Toy Story Land
When you arrive, head straight to Toy Story Land. It has three great attractions. If you can get to the land as soon as it opens, you'll be able to get on Alien Swirling Saucers right away. If you're lucky you may also get a short wait for Toy Story Mania–one of the best themed rides in the park. As you make your way through the queue, you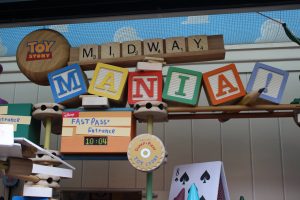 will notice that the toys are larger than life. Then you notice you're in Andy's room. Finally, it will dawn on you that, "you are a toy!" Next, you'll step onto your ride vehicle and be whisked away into a midway-style 4-D shooting game. This attraction is for all ages and sizes. The ball-shooter is easy for even the littlest riders to operate.
The most popular ride in Toy Story Land is the rollercoaster, Slinky Dog Dash. Try to get a FastPass for this one. You'll save yourself a ton of time. If your kiddo is too short to ride, ask a castmember (before you get into line) if you can do a rider swap.
#2 Walt Disney Presents
There isn't much in Disney World dedicated to Walt, but this mini-museum is one spot. For kids, it's a little boring. Steer them toward the miniatures. It'll give you enough time to take in a few of the archive photos and fun facts about the guy who made it all happen. There's a movie at the end, and it's totally fine not to stay and watch.
#3 Disney Jr.
Travel to Animation Courtyard next. Catch the Disney Junior—Live On Stage show. The 24-minute show is inside the theater, and you'll have to sit on the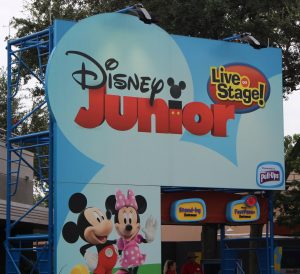 floor to watch. Don't pick a spot too close to the stage. Your view will be partially blocked.
#4 Frozen Ever After, Voyage of the Little Mermaid, and Beauty and the Beast—Live on Stage
If you have a princess fan, then he or she is going to want to see these shows. The best is the Frozen show. Click Here for more on this hilarious attraction.
Voyage of the Little Mermaid is about 17 minutes and takes place in an enclosed theater (great on hot days). It is dark in the theater, so have your little one in your lap if you think he or she might get scared.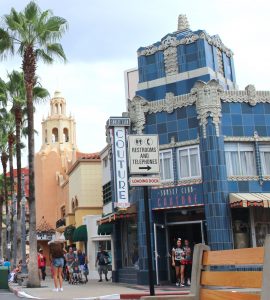 To see Beauty and the Beast, you'll have to walk down Sunset Boulevard to the outdoor amphitheater. This experience is a Broadway-style musical, retelling the animated classic in about 30 minutes. This show is spectacular, and even if you aren't a big fan of the movie, you will still enjoy the talents of these Disney castmembers.
#5 Time to Eat
The most fun you'll have eating is at the Prime Time Café (reservation recommended). The food is great and the service is one-of-a-kind. You will be seated in a location reminiscent of a 1950s ranch-style home. Your server will be a castmember pretending to be your aunt or your cousin. Be warned, they will treat you like family. Don't be surprised if you are reprimanded for not eating all your vegetables. Prime Time Café also has killer milkshakes. Save room for one, or start with one and order a smaller meal.
#6 Indiana Jones Epic Stunt Spectacular
Oh my gosh! Hollywood Studios has a lot of shows. Here's another based on the Raiders of the Lost Ark movie. Castmembers portray Indy and Marion as they reenact a number of movie stunts. The show is about 30 minutes, with lots of action and a little bit of comedy thrown in as well.
#7 Star Wars: Galaxy's Edge
For Star Wars fans this land is a must do (A FastPass is recommended for Smuggler's Run and do whatever it takes to get into a boarding group for Rise of the Resistance–although cast members playing the dark side characters are pretty intense and could come off a little scary to kids.).
Galaxy's Edge is totally immersive. Small kids will like the droid depot, pet shop, and toy shop. The Cantina has some really fun non-alcholic concoctions–that fizz, bounce BoBo balls and come with cookies.
Star Tours, an attraction just outside of Galaxy's Edge, is also a fun ride for kids. The theming is great. You enter by passing under the belly of an AT-AT. Inside, you'll see numerous droids in various states of disrepair. Next, you'll board a transporter and don some 3-D glasses.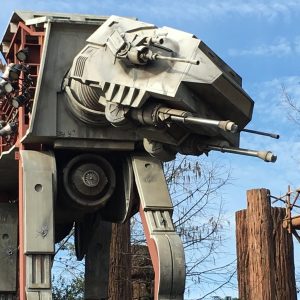 This is a motion simulator that takes you through various locations and scenes from the Star Wars franchise. The best effect is when the vehicle jumps to hyperspace. Children must be 40 inches or taller, and know that the ride is somewhat jostling. If your kiddo hates roller coasters, this may not be for him or her. Grownups, take turns riding. The attraction also has a great gift shop where kids can spend time making miniature droids. No purchase necessary.
#8 Muppets Vision 3D
This is a hilarious movie starring Kermit and the gang. If you are a fan of The Muppet Show, you'll love this. Kiddos do have to wear 3D glasses for this one, too, but they will love the effects. It's fun to watch audience members trying to grab at what seems to pop out of the screen.
#9 Fantasmic!
Since this is really a half day park, the best recommendation is to knock this one out in the morning, then spend the rest of your day at your resort or Disney Springs. If you are fireworks fans, then do return in the evening for Fantasmic! This show combines characters, music, pyrotechnics, and fireworks into one grand spectacle.
#10 Mickey and Minnie's Runaway Railway
It hasn't opened yet, but we are pretty sure this one is going to be a hit for all ages.
Congratulations! You just had a magical day.
More stories from our First Time Visitor Series:
Part I Magic Kingdom With Young Children
Part II Epcot With Young Children
Part III Animal Kingdom With Young Children
Part IV Hollywood Studios With Young Children
Part V Magic Kingdom Without Children
Part VI Epcot Without Children
Part VII Animal Kingdom Without Children
Part VIII Hollywood Studios Without Children