Visiting the Magic Kingdom for the first time as an adult is a very different experience from visiting with a child. Whether you're in it for the thrills, the nostalgia, the food, or a combination of all three—seeing the park without the pressure of making a kiddo happy is quite fun.
We're going to start off by telling you the must-do experiences: the Monorail, Main Street, U.S.A, the Haunted Mansion and the Momemto Mori gift shop next door, Space Mountain, Splash Mountain, Mickey's Philharmagic, the Festival of Fantasy Parade, and the Happily Ever After fireworks. You must also try a Mickey Bar (a Mickey Ice Cream Sandwich is a suitable substitute) and a bucket of Disney popcorn.
Now on with our recommendations for a first time visit to Magic Kingdom without kids.
If you're a morning person, definitely get to the park at rope drop (when it opens). You'll be able to explore and take photos without a lot of other guests in your way. You'll also experience an hour or two of shorter lines.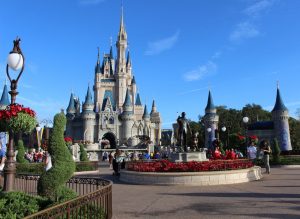 If you're not a morning person, acquaint yourself with the FastPass system. You'll save yourself hours of time.
Thrill ride seekers will want to experience the Seven Dwarfs Mine Train and all three "mountain" attractions (that's Space Mountain, Splash Mountain, and Big Thunder Mountain).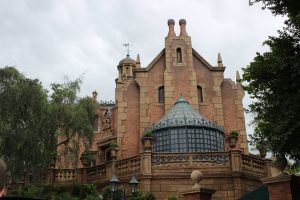 Those visiting for the classic Disney experience will enjoy Haunted Mansion, Jungle Cruise, Walt Disney World Railroad, "it's a small world", Dumbo, Peter Pan's Flight, People Mover, Carousel of Progress, Pirates of the Caribbean, and Hall of Presidents. All attractions are connected intimately to Walt.
For foodies, the advantage to visiting without kids is that you get to spend as much time as you want eating.
The new Jungle Navigation Co. Ltd Skipper Canteen restaurant has been a great addition to Adventureland, and it's one of the few places you can relax and have an adult beverage with your meal. Skipper Canteen's menu is quite exotic compared to all other restaurants at the park. It's also easy to get a table—two major pluses. Our favorite dishes include: Falls Family Falafel, S.E.A. Shu Mai, and Tastes like Chicken. You can also get a glass of Iron Horse Fairy Tale Celebration Cuvee Brut.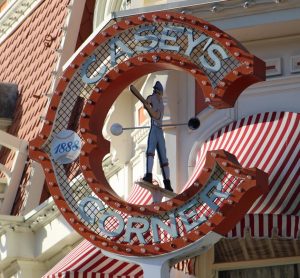 Liberty Tree Tavern is another good choice. It serves traditional American "holiday" food, family style (although at lunch, you can also order a la carte). The menu includes roasted turkey, pot roast, carved pork roast with mashed potatoes, seasonal vegetables, herb stuffing, macaroni and cheese, and cranberry relish. Dessert is the very popular Oooey Gooey Toffee Cake.
Be Our Guest and Cinderella's Royal Table are the two restaurant juggernauts. Both require a reservation about 6 months in advance. The food at both places is pretty good. Be aware that at Royal Table you will be visited by princesses throughout your meal.
If you want faster meal options, Casey's Corner has amazing hot dogs and fries (Walt—who was not a foodie—would have loved this place).
The Columbia Harbour House offers yummy comfort foods—like lobster rolls and chicken pot pie. Eat on the restaurant's second floor. The atmosphere is much calmer.
If you like southwest food, a third choice for quick dining is the Pecos Bill Tall Tale Inn and Café. It has a plentiful toppings bar.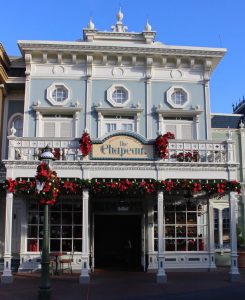 Now on to Main Street, U.S.A.
What we love most about Magic Kingdom without kiddos is the opportunity to soak in every detail of Main Street, U.S.A.  Take the time to watch castmembers embroider an Ears Hat at The Chapeau, wander Crystal Arts without fear that your child might break something, and check out every window display and Disney legend tribute.
Magic Kingdom is full of hidden gems that can easily be missed when traveling with a child. Whether it's reading each plaque in Liberty Square, getting up close to the mosaics in Cinderella's Castle, staking out a prime spot to watch the fireworks, or eating an entire caramel apple without having to share, you'll figure out why adults return solo again and again.
Congratulations! You just had a magical day.
More stories from our First Time Visitor Series:
Part I Magic Kingdom With Young Children
Part II Epcot With Young Children
Part III Animal Kingdom With Young Children
Part IV Hollywood Studios With Young Children
Part V Magic Kingdom Without Children
Part VI Epcot Without Children
Part VII Animal Kingdom Without Children
Part VIII Hollywood Studios Without Children