Even if you were born after 1973, you still probably know former President Richard M. Nixon's infamous line, "I'm not a crook."
But did you know those unforgettable words were uttered at Walt Disney World?
Believe it or not, they were said inside the Contemporary Hotel on Nov. 17, 1973, to a gathering of about 400 managing editors from the Associated Press. The event was nationally televised from the resort's 11,968-square-foot Ballroom of the Americas.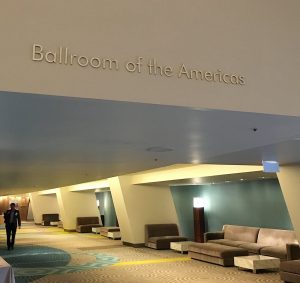 Although there is no plaque marking the momentous occasion, the ballroom is still in use today and easy to find on the second floor of the Contemporary's convention center. High schoolers use it for musical competitions, trade associations frequent it for conferences, and no doubt a dream wedding reception or two has taken place there.
We wonder how many visitors to the ballroom know its political history?
It just goes to show, that not every Disney moment is magical.
Thanks for Popping In!
facebook
Facebook: facebook.com/mainstreetpopin
instagram
Instagram: main.street.pop.in
twitter
Twitter: @mainstreetpopin