In celebration of Mickey Mouse's 90th year on the planet, we thought we'd share nine fun facts about the world's most famous cartoon character.
#1 Mickey's birthday is commonly celebrated on Nov. 18, 1928 (the release date of Steamboat Willie). But did you know that a few lucky movie-goers actually caught a glimpse of Mickey Mouse months earlier?
Here's the backstory.
Walt Disney created the idea for Mickey Mouse on a train trip from New York to California in March of 1928. He and his top artist Ub Iwerks worked together to produce the first Mickey Mouse cartoon, Plane Crazy. Plane Crazy debuted at a movie house on Sunset Boulevard on May 15, 1928. The audience liked it, so the pair made a second Disney short, The Gallopin' Gaucho. Unfortunately, Walt couldn't find a buyer for the second film. So, he hatched a new plan. In a last-ditch effort to save his studio, Walt decided to make the first cartoon synchronized to sound. The third feature starring Mickey Mouse was called Steamboat Willie. Steamboat Willie debuted in New York City on Nov. 18, 1928. Audiences loved it, and Mickey's star was born.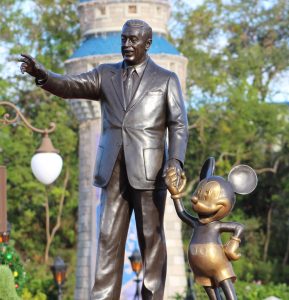 #2 Mickey Mouse has 14 million Likes on Facebook and 279,000 Followers.
#3 Despite 90 years as a company icon, Mickey Mouse has NEVER been featured in on any of the theme parks' moving attractions. All that will change in 2019 when the new Mickey & Minnie's Runaway Railway opens at Walt Disney World's Hollywood Studios. The ride will be located in the Chinese Theater, which once housed The Great Movie Ride. The attraction will be a dark ride, with a catchy new theme song, using 2 ½-D technology (which sounds like three-dimensional viewing without the need for 3D glasses).
#4 Walt Disney served as the voice of Mickey Mouse from 1928 to 1946. Others who followed included Jim Macdonald (1946-1976), Wayne Allwine (1976-2009), Bret Iwan (2009-present), and Chris Diamantopoulos for the Mickey Mouse TV series (2013-present).
#5 To prove that not all of Walt's ideas were winners, Walt himself says that when he created the mouse character in 1928, he actually named him Mortimer. It was his wife, Lillian Disney, who suggested he change the name to Mickey.
#6 Minnie Mouse shares the same birthday as Mickey. She was in both Plane Crazy and Steamboat Willie.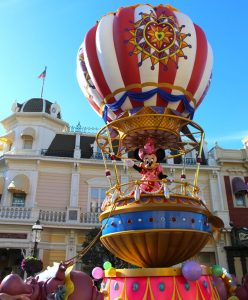 #7 Disney's control of Mickey's copyright expires in 5 years. (Somehow, I imagine legislation is in the works to fix that.)
#8 Rain or shine, Mickey Mouse is available to sign autographs for those willing to stand in line at the Town Square Theater on Main Street, U.S.A. (FastPasses are available for those who just can't wait.)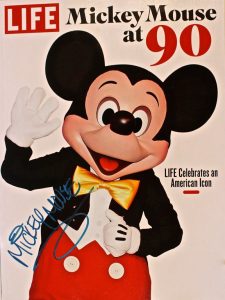 #9 Between 1928 and 2013 Mickey starred in 121 animated shorts and features. The new Mickey Mouse TV series has produced 82 episodes so far, with more on the way.
So, that's our nine fun facts about Mickey Mouse. Thanks for joining us on this quick trip to Disney, and as always, thanks for Popping In!
Follow MAIN STREET POP IN on