As far as locations go, both the Beach Club Resort and the Boardwalk Inn top our list of places to stay while in Walt Disney World.
Both resorts are within walking distance to Epcot and Hollywood Studios. They both enjoy views of Crescent Lake, and while the Boardwalk Inn literally sits on an actual Coney Island-style boardwalk, Beach Club is just a short distance away.
Each is visually stunning and well themed. Beach Club offers guests a cottage experience on a New England shore. It is full of light, pastels, and shell and beach décor. Its sandy beach with lounge chairs and swings is the perfect setting to read a good book.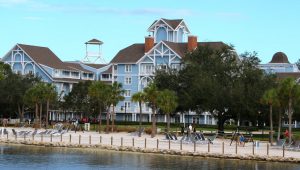 Boardwalk takes visitors to the turn-of-the-century Atlantic seashore. Vintage carousel and rollercoaster pieces decorate the interior and the outside reds, yellows, and striped awnings are beautiful. The nightlife outside the Inn is definitely a draw.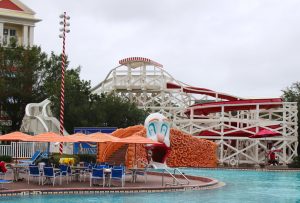 Both are deluxe resorts and are priced at the top of the scale when it comes to staying on Disney property (Rack rates range from $400-$600 per night for a standard room, well over $600 on major holidays. But Disney often offers discounts and deals, so don't let the rack rates scare you).
But despite the many things these two resorts have in common, Kim prefers the Beach Club and Brendan the Boardwalk Inn. So, we're on a quest to figure out, "why?"
For Kim, Beach Club edges out Boardwalk Inn for three reasons:
#1 Stormalong Bay
Beach Club's pool is the most extravagant on Disney property. It's almost a mini-water park with its shipwreck slide, lazy river, deep bottom swim area, kids play area, and sandy bottom pool. (Boardwalk Inn's main pool is fine. It has a slide, too, but the clown creeps Kim out.)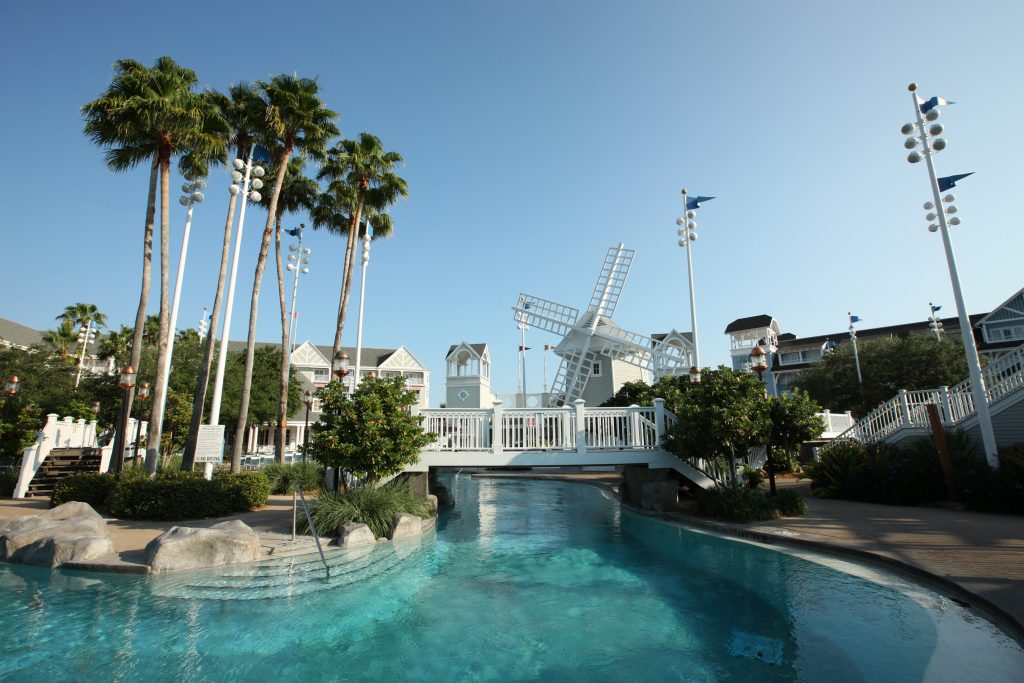 #2 Restaurants
Cape May Cafe hosts Kim's favorite character breakfast. It's her favorite because it includes both un-rushed character visits and good food (not always a guarantee at Disney's ridiculously expensive character breakfasts). Beaches & Cream Soda Shop is home to Kim's favorite sundae and the decadent "Kitchen Sink." (Boardwalk Inn does not have any restaurants within the resort itself, however, outside its doors on the actual boardwalk, there are bakeries, bars, restaurants, and carnival food stands.)
#3 Closer to Epcot
If you are blessed with a room on the extreme edge of Beach Club, you are literally steps away from the International Gateway entrance to Epcot. For Kim, that means she can book dinner every night in Epcot and eat in a different country every evening of her stay. Plus, if she wants to start the day with a flight on Soarin', she can pop in at rope drop, ride, and get back to the family before breakfast.
Brendan prefers Boardwalk Inn because:
#1 Community Hall and Quiet Pool
Brendan prefers any resort's quiet pool to the main pool. Boardwalk Inn's quiet pool is connected to the hidden gem Community Hall. At the Hall, kiddos can get a video game fix when they are done swimming but mom and dad need a few more minutes to relax. Castmembers host s'mores roasts in the afternoon, and the ping pong, pool, and air hockey tables provide a little dose of old fashioned family fun as well. (OK, Kim admits Stormalong Bay can be chaotic at times, and it's much easier to relax when the kids are always in eyesight at this location.)
#2 Bell Vue Lounge
Brendan likes to start his morning in the comfy chairs of this 1930s-style library. Early in the a.m., the location is pretty quiet and is a nice place to enjoy a coffee and a pastry from the Boardwalk bakery. It does get busier as the morning goes on, but it's never the hustle and bustle of a quick service counter. (It's a big contrast to a breakfast buffet with characters.)
#3 Availability
It always seems easier to find availability at the Boardwalk Villas than the Beach Club Villas. Brendan does not enjoy split stays (having to move hotels during a visit).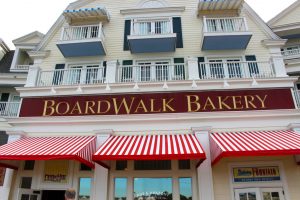 As for the rest of the Main Street Pop In team, our veterans prefer the Boardwalk Inn. For them, Boardwalk Inn comes alive at night. The lights, the restaurants, and the midway games all give them that "on vacation" vibe they crave. "It's great to walk out of the resort, have a corndog, and play some games," they say.
Others on the team (especially those with young kids) picked Beach Club as their favorite because they love the back gate entrance to Epcot and the great pool and outdoor bar (Hurricane Hanna's).
Let us know what you think. Boardwalk Inn or Beach Club Resort—which would you choose?
Thanks for Popping In!
Don't Forget to Subscribe to Our Newsletter. Exclusive Content Each Week!