Staying in Disney's Art of Animation Resort feels like staying in the Magic Kingdom itself. Seriously, the amount of theming and detail rivals an actual theme park attraction.
I must confess, until my stay at Art of Animation in August, I was a resort snob. As a Disney Vacation Club member, the best deal for me is to use my points to stay at Disney's deluxe resort accommodations. On occasion, when I've run out of DVC points and have had to pay for a resort stay, I still only chose moderate and deluxe hotels. I've always clicked past the value resort deals. What a mistake.
It was my son who saw a YouTube video review of Art of Animation and asked if we could try it on our next visit. When I had the chance to take a last-minute trip this past August, I initially booked a room at the Contemporary. The kids reminded me of their desire to see Art of Animation. So, I took a chance and changed the reservation.
From the moment we stepped into the Magic Express boarding queue at the airport until the moment we left our resort, we had a flawless vacation.
Art of Animation is rich in cartoon film history and design. The resort is centered around four major Disney animated films: The Little Mermaid, The Lion King, Finding Nemo, and Cars. We chose to stay in the Cars themed area.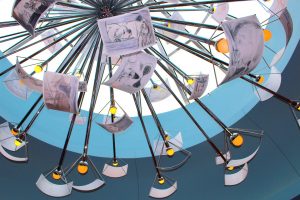 Our first night we spent exploring. The lobby offers a retro vibe and reminds me of the color selection cards at a paint store. The walls throughout are decorated with animation sketches, cells and original background designs. A star attraction is a fabulous modern chandelier featuring 77 animation storyboards. Ink & Paint gift shop is large and uncrowded. We did all of our souvenir shopping here, rather than at the parks. Ink & Paint even had dozens of original character sketches for sale. I'm kicking myself for not grabbing the one of the hitch hiking ghosts.
We ate our first meal at the resort restaurant called Landscape of Flavors. It was a great option because everyone wanted something different, and Landscape is a quick service location that operates much like a food court. Everything from hamburgers and pizza to Tandoori chicken and short ribs was available.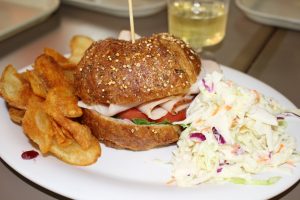 Animation Hall is the main building on campus and holds the lobby, concierge, business center, restaurant, arcade, and gift shop. In front are the Disney transportation bus stops that carry you around "The World", and behind is The Big Blue Pool, the resort's biggest swimming spot.
Our suite was just a short walk from Animation Hall, a lovely perk because it was close to the pool, buses, and food. When we walked into our room, on our right was a table for four (that is also a Murphy bed) and the doorway to a main bedroom with a queen bed, TV, dresser, and closet. Attached to the bedroom was a decent sized bathroom with a walk-in shower. To our left was a smaller bathroom with a tub/shower. Straight ahead was the suite's living room, complete with a TV, sleeper sofa, storage, and a mini efficiency kitchen.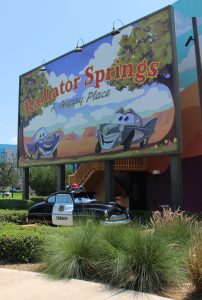 There was no doubt that we were staying in Radiator Springs. The lamps were topped with construction cone shades, the sofa was covered in two-toned faux leather just like the backseat of a 1960s automobile, and the car wash themed bathrooms had tiles imprinted with the texture of a mechanic's toolbox. There wasn't one square inch that didn't scream, Cars, which made our stay really fun. My youngest even found a small matchbox car on the coffee table when we arrived. Since it wasn't one of the vehicles from the movie, I'm pretty sure it was a toy left behind by the previous guest, but my guy thought it was a special welcome gift left just for him.
Next door, the Finding Nemo wing of the resort surrounded The Big Blue Pool. On the way from our room to the pool, we crossed paths with some enormous seagull statutes perched near the roof crying, "mine, mine, mine". I couldn't tell if the birds were motioned activated or sound activated. Just be careful passing by with a hot coffee in the morning.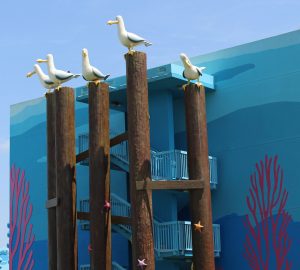 The Big Blue Pool is a zero-depth-entry pool, and it's pretty shallow throughout. The best feature is its underwater sound system. Hearing the Beatles sing Yellow Submarine every time we submerged was pretty cool. Right next to the pool is the Schoolyard Sprayground and the Righteous Reef Playground for little ones. Art of Animation also has two quiet pools. The Cozy Cone Pool is located in the center of the Cars wings, and the Flippin' Fins Pool is in the center of The Little Mermaid wings. An Elephant Graveyard (which is more of a photo-op, than a play area) is part of The Lion King section of the resort.
If you have more time to explore, cross the bridge over Hourglass Lake and check out Disney's Pop Century Resort on the other side. The is also a 1.3 mile jogging trail around the lake.
As a final plug, Art of Animation's service is top notch. While on the Magic Express to the resort, I got a text with our room number which allowed us to jump off the bus and head straight for our room. The Landscape of Flavors was staffed to the hilt and even when it seemed like there was a line, it moved swiftly with so many castmembers ready to assist. The buses ran promptly with hardly any wait, and whenever the line to use bus transportation was extremely long, two buses arrived to accommodate everyone. On our last day, the housekeeping staff graciously gave us an extra two hours at checkout. That meant that the boys could swim until noon and still have time for a shower and a quick lunch in the room before we had to the leave for the airport.
While everything went better than expected, one activity we missed was the resort's drawing classes. Much like the animation classes offered at Hollywood Studios years ago, Art of Animation's classes are led by real Disney animators who teach guests how to sketch real Disney characters. I guess something to save for next time, right?
Never again will I skip past the value resort options when booking a trip. In fact, I've told numerous friends (especially those with young kids) that they need to try Art of Animation on their next vacation. I'm so glad I did!
Thanks for Popping In!
And Don't Forget to Subscribe to the Main Street Pop In Newsletter!