One of the best family experiences we've had recently with our first and third grader was at the Rooftop Beverage Bar on top of the newly built Coca-Cola Store in Disney Springs. I loved this place, and I'm not even a pop drinker (not for health reasons, I just had a very bad Vernors-up-the-nose experience as a kid).
We've heard a lot about the rooftop lounge on various Disney fans sites, so we headed to the spot the minute it opened (11 a.m.). The walk to the rooftop was a journey up a very long ramp. The kids thought it was fun, but take the elevator if you're not keen on a route that will basically make you circle the entire building three or four times.
At the top, we ordered the International Tray for $9.  We received 16 generous samples from around the world and a tiny "Tastes Of The World" brochure identifying each drink.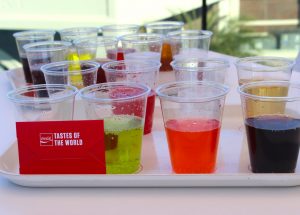 Now I know you can do your own taste testing at Epcot's Club Cool—and that's fun too. We did both experiences to compare. Club Cool is a self-service tasting experience and FREE —a rare find at Disney.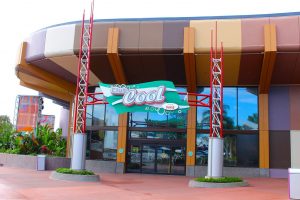 But Club Cool doesn't have as many choices, is a lot more chaotic, and our feet stuck to the floor. For very little cost, doing a tasting at the Rooftop Beverage Bar is worth a try. It offers a spectacular view of Disney Springs.
Arriving early gave us the run of the place, and we were able to grab a nice corner table. Drink orders are done at the counter, and the person working the register knew exactly what to recommend when we arrived. As soon as we said, "yes", she had 16 samples poured for us lickety-split.
Our drinks that day came from Tanzania, Uganda, Madagascar, Indonesia, Korea, Thailand, China, India, Italy, Spain, Georgia, Mauritius, Chile, Sweden, Peru, and Honduras.
Our three favorites were the Fanta Exotic Fruit Punch (Uganda), Fanta Apple Kiwi (Thailand), and the Aquarius Libre (Spain).
We all agreed Beverly (Italy) was the worst. But to be fair, I have a feeling that the bitter Beverly may be more of a mixer than a soda intended to drink straight. But if anyone in your group has never heard of Beverly, don't let them in on the secret. The face of anyone who tries it for the first time is priceless.
When you have finished your sampler, don't forget to take a browse through the merchandise stores below.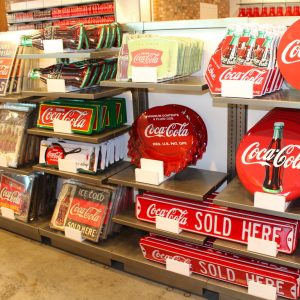 It's just fun to look at all the red and white merchandise, so orderly and vibrant. A great place to take photos.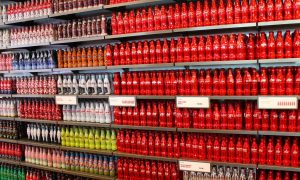 Thanks for Popping In!