Disney's 'Ohana restaurant appears on a lot of "must do" lists. Personally, I love it, but I can definitely see why many families walk away disappointed.
To help you decide if dinner at 'Ohana is right for your group, here are some pros and cons.
PRO #1 THE FOOD
'Ohana offers a set menu served family style (although there are made-to-order items available for those with special diets and kids' meal alternatives).
If you like barbeque flavors and Asian Pacific cuisine, then you will probably enjoy your meal. At your table you will receive ALL of the following: pineapple-coconut bread (sweet, mild in flavor); green salad with a sweet, passion fruit, honey-mustard dressing; pork dumplings in garlic-ginger sauce (delicious, but pan-fried not steamed); honey-coriander chicken wings (not spicy); sweet and sour chicken (grilled over an open oak fire); Szechuan sirloin steak (also prepared over the oak fire); spicy peel-n-eat shrimp (some shrimp get doused with a little more spice than others); noodles in teriyaki sauce; stir-fry vegetables (broccoli, red bells, water chestnuts, mushrooms, and onions); and for dessert an amazing bread pudding a la mode topped with a caramel sauce and bananas.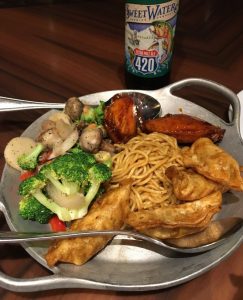 PRO #2 PLENTIFUL SERVINGS
'Ohana is all-you-can-eat, but it's not a buffet. Your server will bring you each course with enough for your whole table. If you run out of an item, just ask for more. The meat course is brought to you direct from the grill on skewers. After your first serving of all three types of meat, a server will usually return to your table a second time to see if you want more. But never hesitate to flag down someone and ask for another helping of any item.
PRO #3 THE LOCATION
The Polynesian Village Resort has been there since 1971. If Walt had lived to see the park's opening, the resort would probably be one of his favorites given his love for Hawaii and Polynesian culture. Polynesian Village is a great place to get away from it all. After dinner, stay for a while to stroll the grounds, catch the nighttime Electrical Water Pageant, or the fireworks from the beach. If you time your reservation right, you can see the fireworks from the restaurant. Window tables are best, so request one when you make your reservation and again at check-in.
'Ohana also offers casual entertainment at various times. Guests are often treated to the beautiful sounds of a strolling ukulele player or a castmember will gather guests into the center for a short hula lesson.
PRO #4 THE COCKTAILS
This is a minor pro, but because I love the theming of 'Ohana, I can rarely resist ordering one of its brightly colored cocktails. If you love fruity, island vacation drinks served in a pineapple or with a little umbrella, this is a fun spot to enjoy one.
CON #1 THE FOOD
Make sure you study 'Ohana's menu before booking. If you don't like the flavors, there are not a lot of alternatives available to you. The salads and meats may be more heavily dressed or sauced than you are used to. If your preference is for more deconstructed meals, 'Ohana may not be your thing.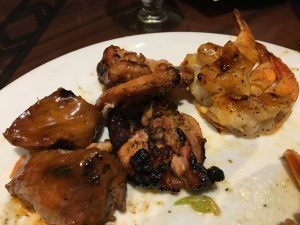 CON #2 THE EXPENSE
Dinner is priced per person and any drinks beyond water, coffee, tea, and soda are extra. Adult meals are about $40- $50 per person; children cost between $25-$30 per child. The tab for two adults and two children can easily reach $200.
CON #3 THE RUSH
Unlike the rest of Polynesian Village, 'Ohana's atmosphere is not relaxing. In an effort to get hot food to you and turn tables quickly, you will be served in a flurry. Courses are served regardless of whether the last one has been finished. Sometimes servers forget to ask if you want a second helping before moving on to the next course. It's very disconcerting in an environment that is supposed to be sending this chill, Zen, island vibe.
CON #4 THE CROWDS
This place is busy, always. There will be people waiting in line to check in, the bar is usually packed, and when waiting for your table, you'll find most of the lounge chairs to be full. The best tables are near the windows away from it all. Unfortunately, they are also the most requested, so asking for one may make your wait to eat even longer.
Is 'Ohana right for you? Only you can decide. But no matter what decision you make, don't miss visiting the Polynesian Village Resort on your next Disney trip. It's just a quick Monorail trip away from the Magic Kingdom. It offers plenty of places besides 'Ohana to relax and grab a bite to eat, such as Capt. Cook's if you need quick service, Kona Café for casual dining, or Pineapple Lanai if you just want a Dole Whip.
facebook
Facebook: facebook.com/mainstreetpopin
instagram
Instagram: @main.street.pop.in
twitter
Twitter: @mainstreetpopin