At Walt Disney World, eating entertains as much as exploring. If I'm at a park when meal time hits, here are my favorite places to grab breakfast, lunch, and dinner.
Animal Kingdom
Breakfast: Joffrey's Coffee and Tea Company
Before I even scan my Magic Band, I like to stop at the Joffrey's kiosk right at the main entrance. Joffrey's coffee and yeast doughnuts are the best. (Every park has at least one Joffrey's kiosk; Epcot has five.) The sprinkle doughnuts are my favorite. According to the Disney Food Blog, these doughnuts are baked locally at the Donut King donut shop.
Lunch: Tusker House
Since a coffee and doughnut breakfast doesn't keep me full for long, by lunchtime I am ready for the African flavors (curries, stewed meats, and grain salads) and mini desserts at the Tusker House Restaurant. This is an all-you-can-eat buffet with characters (last time my family visited we met Mickey, Goofy, Daisy, and Donald).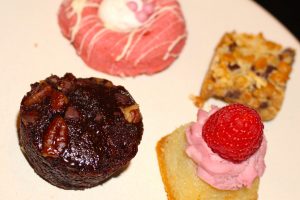 Dinner: Satu'li Canteen
Get your camera out. You are going to want to photograph your food before you eat it at Satu'li. My favorite menu items are the Cheeseburger Steamed Pods, Bowl Dinners, Blueberry Cream Cheese Mousse, and the Pandoran Sunrise.
Hollywood Studios
Breakfast: Fairfax Fare
I scoot down here for the breakfast sandwich (scrambled eggs, ham, swiss, and spinach) or the scrambled eggs bowl (eggs, chorizo, peppers, onions, and potatoes).
Lunch: Prime Time Café
This restaurant makes stuff just like grandma—beer-battered onion rings, chicken noodle soup, pot roast, chicken pot pie, meatloaf, and fried chicken. Can't decide. No worries. There's a sampler.
Dinner: Brown Derby
At first, you might feel out of place walking into this art deco, old-world Hollywood dining venue in your park clothes. But, you'll get over it after the first bite. The food here is among Walt Disney World's most outstanding. (Disney food is really expensive, so if you're going to spend a lot you might as well treat yourself to the best.) The Brown Derby invented the Cobb Salad, so don't pass it up, but maybe share the Cobb as an appetizer so you can also get a delicious entrée like the charred filet of beef with port wine glaze, the pork chop with ancient grain risotto, or the salmon with a goat cheese-polenta cake.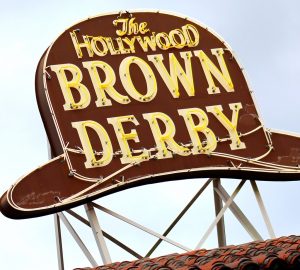 Breakfast: Garden Grill
Garden Grill is an all-you-can-eat character breakfast (Chip, Dale, Mickey, and Pluto) served in a restaurant rotating past part of the Living With the Land attraction. The meal starts off with its best offering—a giant, warm-from-the-oven cinnamon roll fit for a king. The next course is a skillet filled with eggs, bacon, sausage, tots, and Mickey waffles. There's fruit, coffee, and juice along the way, too.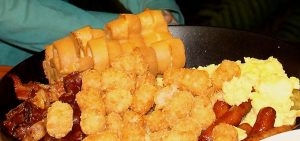 Lunch: Via Napoli Ristorante e Pizzeria
It's hard to find great pizza at the parks, and it's why I always stop here. Via Napoli's wood-fired pizzas are made with ingredients brought in from Italy. If you like your crust with a little chewiness, you will love these pizzas. All the standard pizza toppings you love will be there. But here, it is fun to be a little adventurous and try some of the suggested combinations like artichoke, eggplant, ham, and mushroom or prosciutto, cantaloupe, and arugula.
Dinner: Les Halles Boulangerie-Patisserie
A trip to Epcot is not complete without a stop here. I can't think of one entrée, side, or dessert that I don't like. Walk inside and take a few minutes to glance at all the French classics on display and let your eyes decide.
Breakfast: Joffrey's Revive Coffee Kiosk
When I enter the Magic Kingdom, I waltz right past the gigantic line at Starbucks on Main Street, U.S.A. and head to Revive in Tomorrowland. This is another Joffrey's coffee spot serving the same coffee and sprinkles doughnuts as the kiosk I mentioned for the Animal Kingdom.
Lunch: Columbia Harbor House
Fast Service (try mobile ordering). Good food. Quiet indoor seating away from the crowds. Harbor House is a no-brainer. My favorites are the tuna sandwich, chicken pot pie, chicken nuggets, and clam chowder.
Dinner: Liberty Tree Tavern
If you love being able to eat a full-blown Thanksgiving dinner any time of the year, this is the restaurant for you. Eating inside this authentic looking colonial tavern enjoying a Patriot's Platter (roasted turkey, pot roast, roasted pork, mashed potatoes, green beans, herb stuffing, and macaroni and cheese) is a time-honored Disney tradition.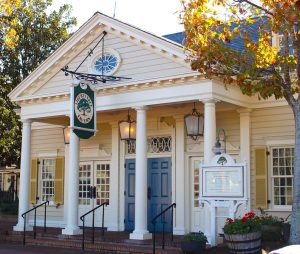 Disney dining can be overwhelming, so I hope my quick overview is helpful. If you want to learn more, full menus are available to explore at the Disney Food Blog, All Ears, and DIS.
facebook
Facebook: facebook.com/mainstreetpopin
instagram
Instagram: @main.street.pop.in
twitter
Twitter: @mainstreetpopin