Like any vacation, it's important to bring home a memento of your time spent away. However, I have often returned home from Disney with an adorable, but completely nonsensical souvenir. So many times, I have unpacked an item from my suitcase only to ask, "Why?"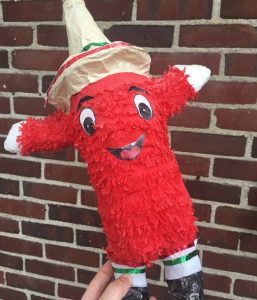 Some examples of my shopping mistakes include a hot pepper piñata, a Tigger mug that is neither microwave nor dishwasher safe, and a front desk bell from the Hollywood Hotel.
I've finally learned to ask myself this question before I buy, "Where am I going to put this?" Many times, it has saved me from purchasing a tiara or a Haunted Mansion table setting for four.
Now when I choose my souvenirs, I channel the wonderful Mary Poppins and make choices that are "practically perfect". Here are a few that have served me well.
Pens
Who doesn't need multiple pens? There are a plethora of pens available for purchase at nearly every gift shop in Walt Disney World. I have classy professional pens, wacky pens, pens that display the name of a favorite resort, and basic pens that I've taken home from my hotel room. (In this category I would also add pencils. Why use a yellow No. 2 when you can have one that reminds you of a special place?)
Pins
Some people collect pins to wear and trade. I like to get a pin each visit to use on my bulletin board at home. Now, I'm not saying buy 50 pins to replace all your push pins. Just add one to commemorate your trip. It's just a very subtle reminder of your resort, a thrill ride you finally conquered, a special event, or character that you love.
Organizational Items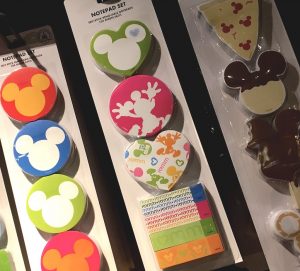 Calendars, phone cases, post-it notes, and magnet clips are all things I need anyway. Why not pep up these necessities with a little Disney flair added to them. Everyone knows the Minnie Mouse phone is mine. No chance my husband will take it to work by accident.
Mugs
Until I started drinking coffee, I was annoyed by mugs. Now that I need java to function (thanks kids), I figure I may as well be looking at the faces of Mickey and friends. However, I always make sure that any mug I purchase can go in both the dishwasher and the microwave. (The poor hand-wash-only Tigger mug is just a pen holder these days.)
Books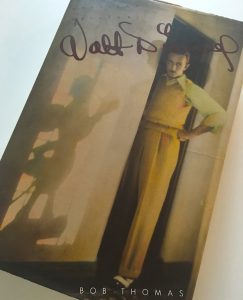 There are a number of amazing books for sale at Walt Disney World. My favorite is a coffee table book called, "The Art and Flair of Mary Blair." She is the artist behind it's a small world and many other Disney icons. Another great book to have is An American Original Walt Disney by Bob Thomas. It's a good read, and I love the cover.
So, there you have a list of my practical souvenirs. But only you know what's practical to you. Is it a trivet, a hoodie, a print, or pair of sunglasses? The fun is in the discovering.
facebook
Facebook: facebook.com/mainstreetpopin
instagram
Instagram: @main.street.pop.in
twitter
Twitter: @mainstreetpopin