A great Disney day starts with something delicious, unique, and shaped like Mickey! If you love breakfast like the team loves breakfast, read on!
Here are five places to enjoy the most important meal of the day at Walt Disney World.
Trattoria al Forno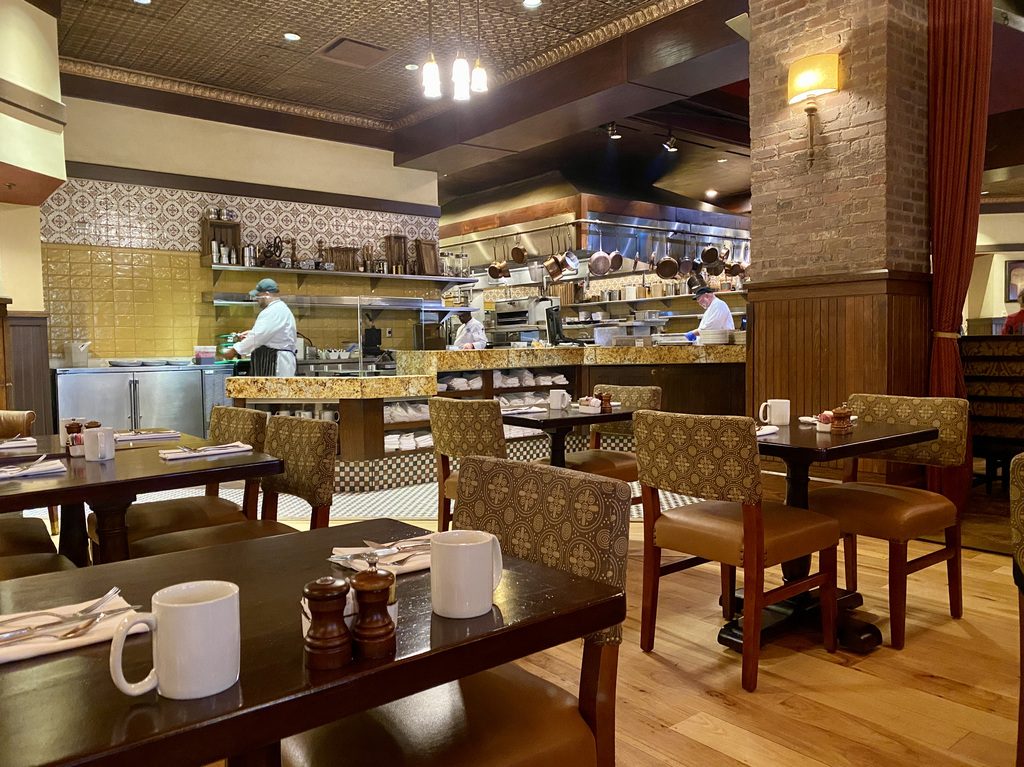 Trattoria al Forno has it all when it comes to a great breakfast – a low-key atmosphere, traditional AND out-of-the-ordinary menu items, and excellent service.
Let's start with the coffee. If you love it, may I suggest the French press for two. The menu describes the blend as having a sweet berry and milk chocolate aroma and citrus and dark berry flavor.
As to the main event, Trattoria al Forno offers both an Italian-inspired and American menu. Out-of-norm options include a Tiramisu Bread Pudding, a Caprese Omelet, and Al Forno Eggs. But if you just want some bacon and eggs or Mickey Waffles to fuel your Disney day, Trattoria al Forno has that too.
My favorite menu item is the Al Forno Eggs. This rich dish of eggs roasted in a skillet of polenta, fennel sausage and spiced tomato sauce, features many flavors. It's a plentiful plate, which can easily be shared.
The buttermilk pancakes with a berry compote are delicious as well. (In fact, I'd ask for a side of the compote with an order of Mickey Waffles, too.)
Trattoria al Forno opened in December 2014. The backstory starts at the turn of the century. Back then, the place was a modest family-owned tavern and boarding house that became so popular that all the boardinghouse rooms had to be turned into dining areas.
Editor's Note: At one time, breakfast at Trattoria al Forno was a character dining experience, but currently, character dining is not available.
Boma – Flavors of Africa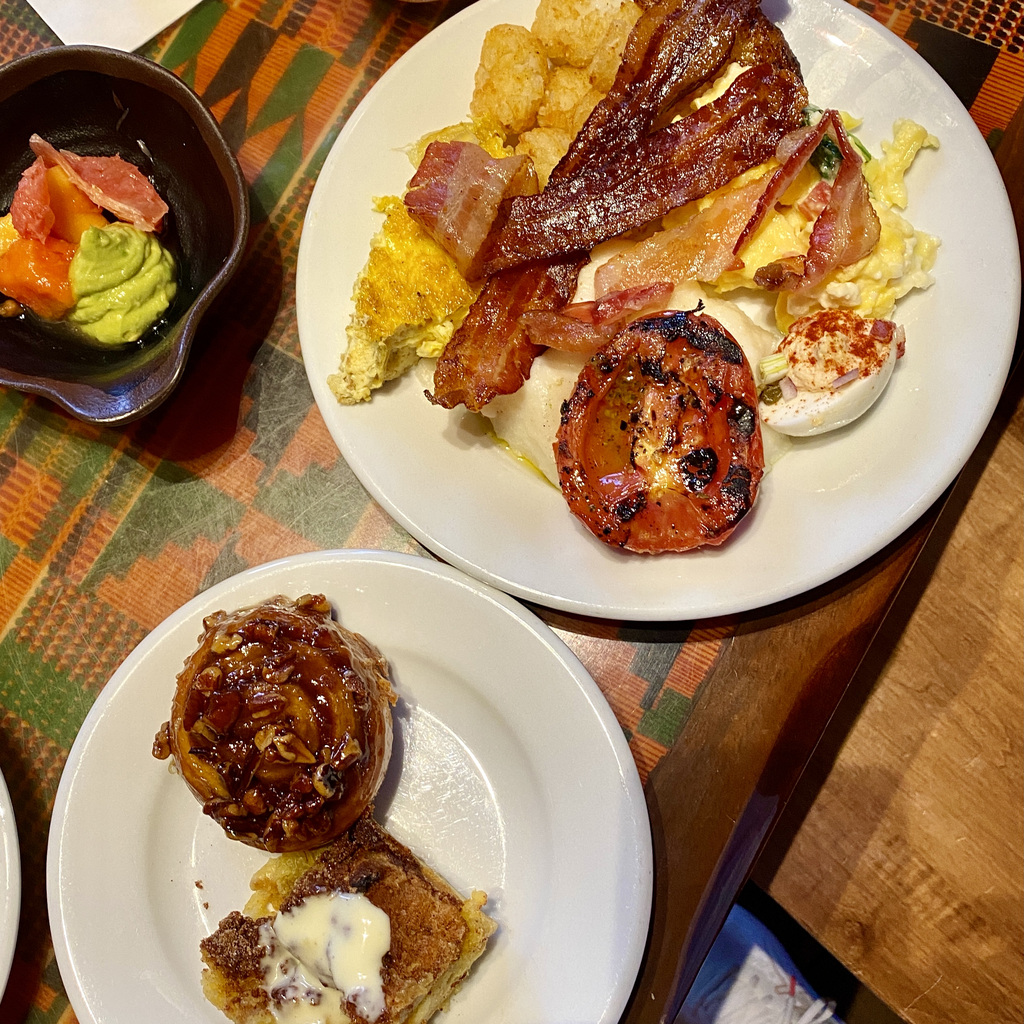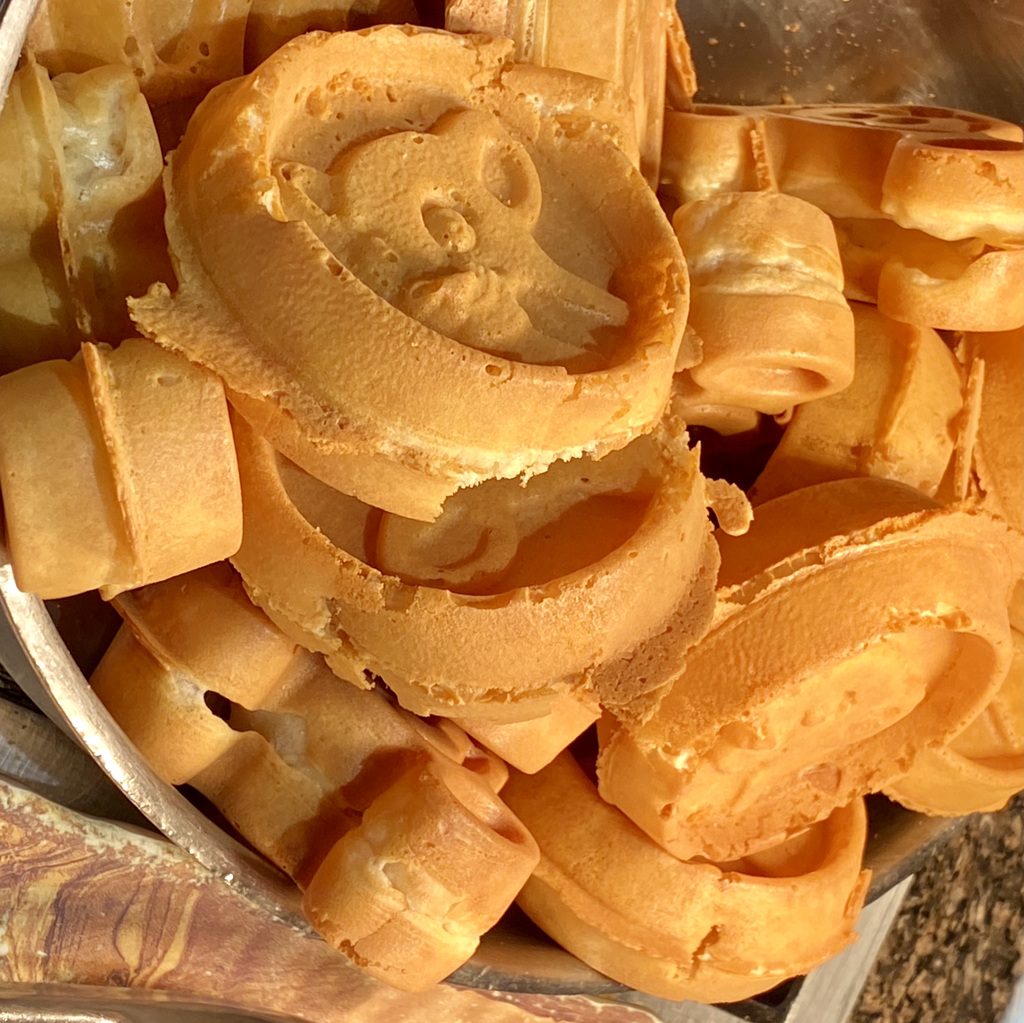 Nine times out of 10, if the family wants a big breakfast, Boma is the choice.
Boma serves breakfast buffet style and at a good value ($35 for adults and $15 for kids). The all-you-care-to-eat restaurant offers American and African flavors in a dining room full of natural light.
Here you can enjoy an unlimited supply of POG juice. It's a mix of orange, guava, and passionfruit juices, which is only available at a few Disney restaurants.
Once you are assigned a table, you are free to grab and plate and join the buffet line. The savory dishes with African flavors come first, then the American classics, followed by some cold offerings. If your plate is full before you reach the sweet treats, don't worry. There are some small plates waiting for you.
Favorite Boma offerings include: the carved ham, roasted tomatoes, asparagus, tots, sausage and bacon, Mickey AND Simba waffles, deviled eggs, sticky buns, apple turnovers, and bread pudding.
Boma is located at the Animal Kingdom Lodge – Jambo House. If you've planned an Animal Kingdom park day, it's the perfect place to enjoy breakfast before heading over to the park.
The place doesn't have much of a backstory. It opened in 2001 and was designed to resemble an African marketplace. The word Boma originates from Swahili and means, "enclosure or fort to protect livestock."
Kona Island & Capt. Cook's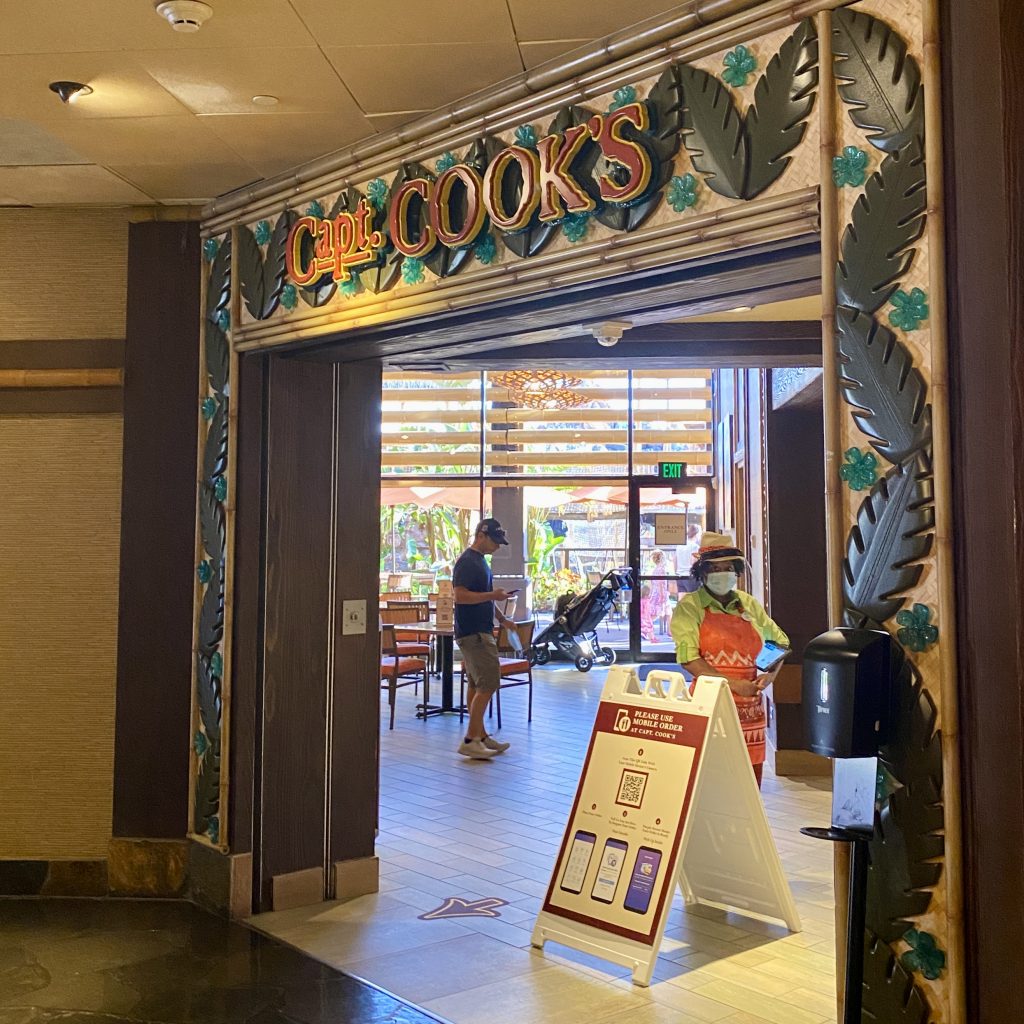 This breakfast option requires two stops while at the Polynesian Village Resort, but if you have the time, you'll be surprised at how good a breakfast at Disney can be.
The first stop is Kona Island, a coffee counter located inside the Polynesian Resort's Great Ceremonial House on the second floor (just above the main entrance). Kona Island serves 100% Kona Coffee, a real treat on any vacation.
Once you have coffee in hand, head downstairs to Capt. Cooks, located on the lagoon side of the Great Ceremonial House. Here you'll want to order the Tonga Toast, banana-stuff sourdough bread, battered, deep-fried, and dusted with cinnamon-sugar.
Once you've made both stops, step outside of Capt. Cook's onto the patio and enjoy the fresh air and sun.
The Polynesian Village Resort opened in 1971 along with the Magic Kingdom. Step back in time and feel like a kid again at the Poly. You'll almost forget you are in one of the most popular vacation destinations in America. The vibe is that relaxing.
Les Halles Boulangerie-Patisserie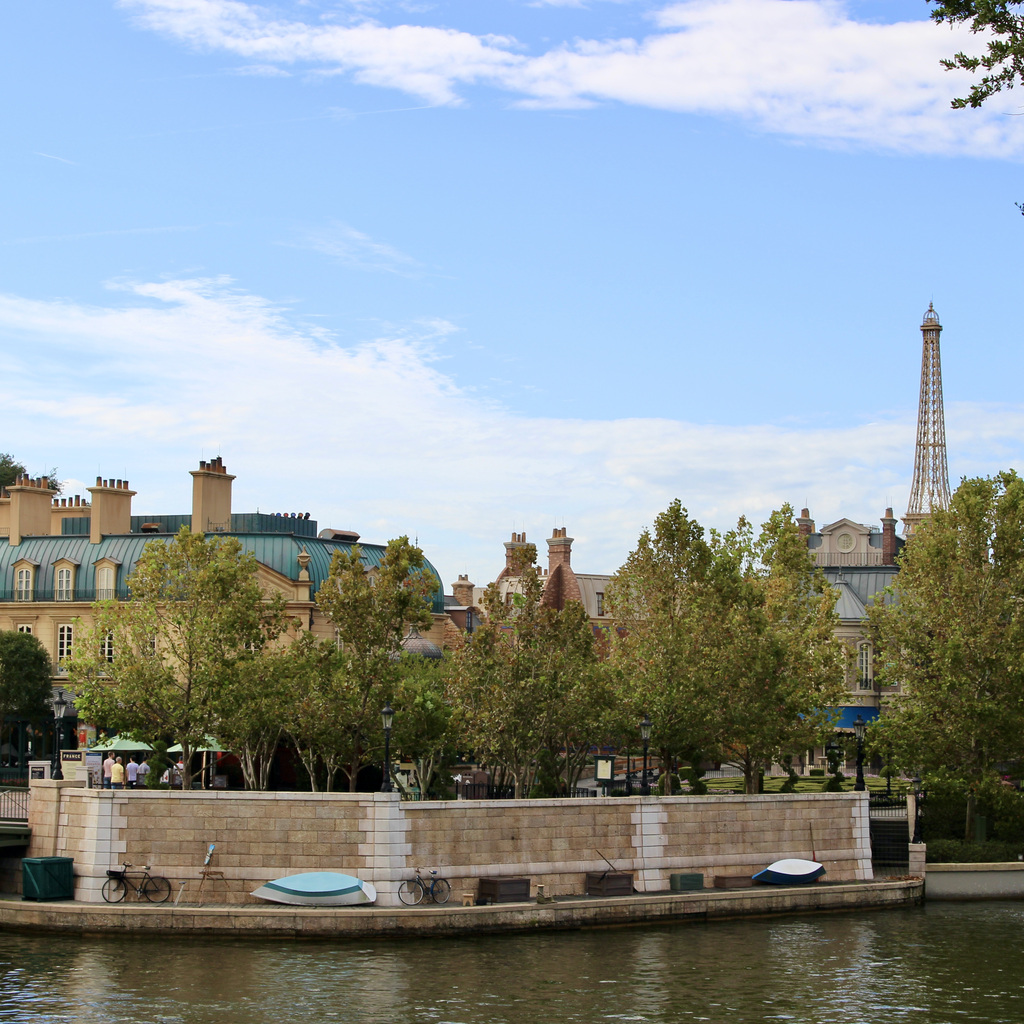 This stop requires a park ticket to indulge, but if you are planning on an EPCOT day anyway, why not start it with breakfast in France?
There are so many great options at Les Halles: quiches, croissants, eclairs, and of course cappuccinos and mimosas! C'est bon!
Les Halles was originally named Boulangerie Patisserie (French for, bakery pastry), but was named Les Halles in January of 2014. In France, Les Halles was the name of Paris' central fresh food market until it was demolished in 1973.
Primo Piatto
One of the newest breakfast options on the team's list is Primo Piatto, located at the Riviera Resort, which opened in December of 2019.
Inspired by the flavors of the Italian and French Riviera, Primo Piatto is a quick service location that serves up unique items such as Croque Madame, scrambled eggs over Mascarpone polenta, and blueberry-lemon pancakes.
The team's favorite option are the pancakes, three blueberry pancakes topped with mascarpone cream and lemon zest.
Primo Piatto means first course in Italian. The theming matches the whole esthetic of the Riviera Resort, which was built to celebrate the travels of Walt and Lillian Disney and Roy and Edna Disney who did a "Grand Tour" of Europe in 1935 to celebrate each of the couples' 10th wedding anniversaries and the success of Snow White and the Seven Dwarfs.
__________________________________________
Are there only five great places to breakfast at Disney? Certainly not! This is just a list of places the team finds themselves returning to again and again. As you know, Disney is always changing, and new eateries and menu items pop up all the time. So who knows what good things are in store for us breakfast-lovers in the future.
What's your favorite breakfast spot? Would you like to be a guest writer and tell our reader's all about it? If so, send us an email at info@mainstreetpopin.com
Thanks for Popping In!
Click Here to Subscribe to our FREE Main Street Pop In Newsletter. Every month, we "POP IN" and take a Quick Trip to Disney!
Have a question or a suggestion for a future post? Email us at info@mainstreetpopin.com
Follow MAIN STREET POP IN on
facebook
instagram