There is no better use of $11 than by ordering a No Way José sundae from the Beaches & Cream Soda Shop at Disney's Beach Club Resort in the Epcot resort area.
So, what is a No Way José and how did it get its name?
The ingredients are simple: chocolate and vanilla ice cream, melted peanut butter, hot fudge sauce, whipped cream, chocolate and peanut butter chips, and a cherry. If you love Reese's Peanut Butter Cups, you'll love the No Way José.
Usually, the sundae comes in a large schooner glass, which is always packed to the brim so expect the sauces to gush a little over the side. The whipped cream is generously piled on top and the morsels and cherry sit on top.
This sundae is definitely large enough for two to share, especially if you've already filled yourself with a burger or a Beaches & Cream grilled cheese and tomato soup.
The best part about the No Way José is that it's simple to make at home when you need a Disney food fix between vacations. While Disney uses Edy's ice cream to make this sundae, what brand of ice cream you use is really not that important (which proves that it's the toppings, not the ice cream, that makes the No Way José out of this world).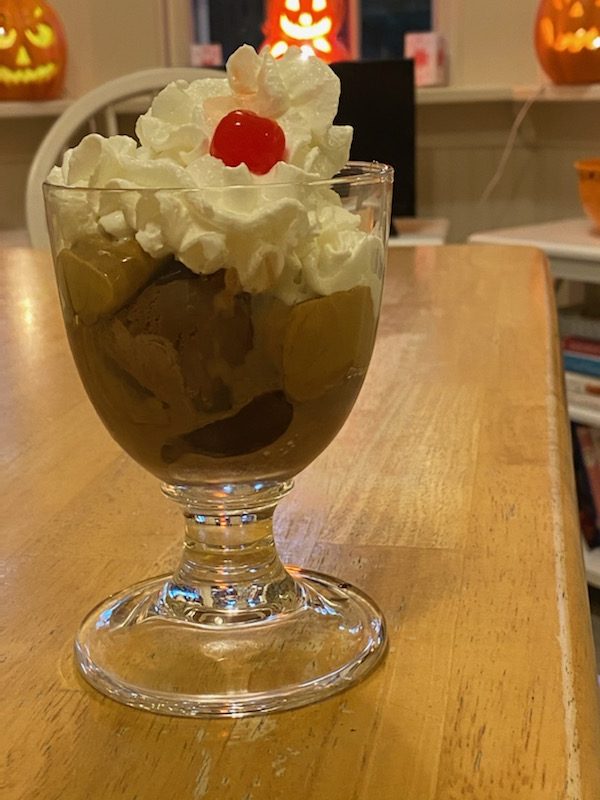 Our homemade NWJ included Breyer's chocolate ice cream, Peter Pan peanut butter (melted in the microwave for 30 seconds), Hershey's Chocolate Syrup, Reddi-Wip, and a maraschino cherry. Even without the vanilla ice cream and chips on top, our version tasted just like we remembered.
And now to answer the question, "Why is it called the No Way José?"
Well, it's part of the theme. You see a visit to Beaches & Cream is like stepping back in time to a 1960s American diner – complete with burgers and malted milkshakes, a jukebox, and a soda counter. No Way José is a slang expression that originated in America in the 1960s. It usually means definitely or absolutely not, but it can also be used to convey shock or surprise, perfectly summing up the feeling of seeing and tasting a No Way José sundae for the first time.
Thanks for Popping In!
To check out more in our Primo Eats series, CLICK HERE
Click Here To Subscribe To The Main Street Pop In Newsletter. It's FREE!
Follow MAIN STREET POP IN on
facebook
instagram
twitter