Queue Information Updated on March 7, 2022
Attraction: Remy's Ratatouille Adventure
Park: EPCOT
Location: France Pavilion
Opening Date: October 1, 2021
Movie Inspiration: Ratatouille (Pixar)
Queue: Standby Line or purchase Individual Lightening Lane access (Prices vary by date, currently fluctuating between $7-$15 per rider.)
Other Info: No height or age restrictions. Guests may remain in a wheelchair or ECV if needed. Some guests report feeling motion sickness.
Remy's Ratatouille Adventure blends Disney's classic attraction elements and new technology into a ride that EVERYONE can enjoy.
Remy is a dark ride through the kitchens seen in the animated Pixar film Ratatouille. The ride vehicle is shaped like a rat (a cute one) on a magnetic track that holds six riders.
Guests experience "running" through the kitchen of Gusteau's Restaurant from a rat's perspective. Screens are used to animate the action. Larger-than-life props (but no Audio-Animatronics) are part of it as well, especially in the refrigeration room. 3D glasses are required to enjoy the effects.
The magnetic tracks are smooth and quiet. Vehicles zip through each room in ballet-like fashion to the film's French soundtrack. There is some light spinning and backward motion, so those with motion-sickness issues beware.
Remy does not have a height requirement, so everyone can enjoy it. It makes my heart happy to see Disney opening another ride that toddlers and great-grandmothers can enjoy together!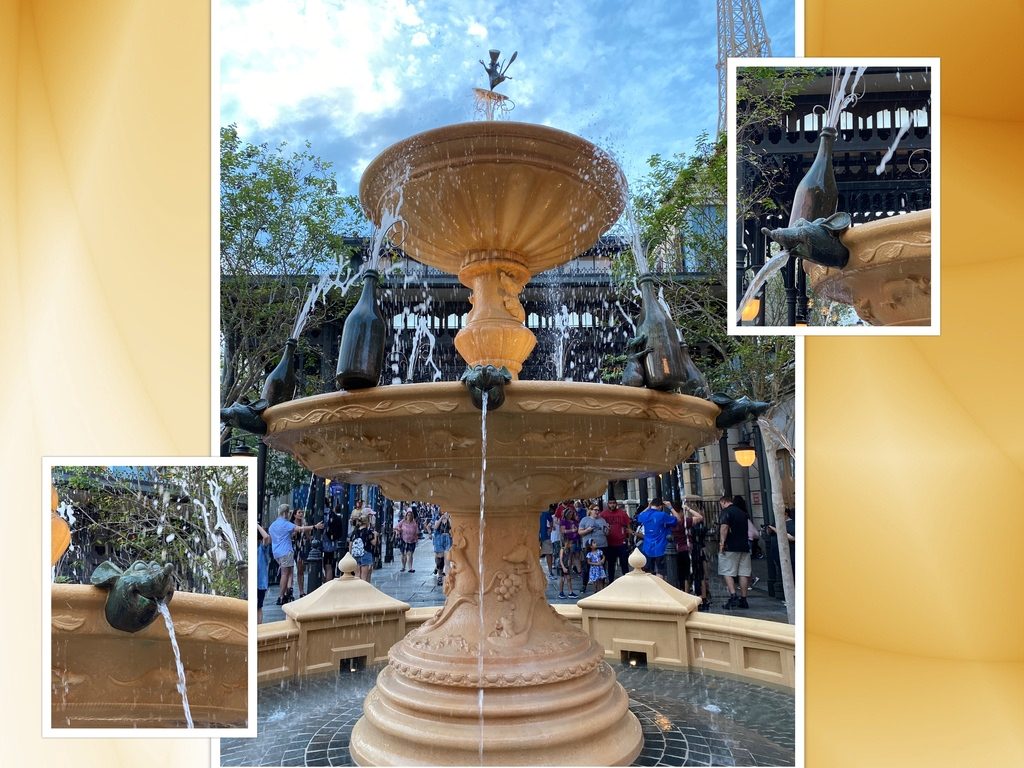 Thanks to a preview event, two on our team got the chance to test out Remy and loved it. The walk up to the queue (an expansion of the France Pavilion) is stunning. They loved the new fountain.
Here are the details they shared:
"The beginning of the queue is outdoors but under a shaded canopy. The inside section of the queue is one of the most impressive we've seen. (You'll feel like you are standing on the rooftops of Paris at night.) The familiar Gusteau's sign is there and it will periodically come to life with a short welcome in French or English. "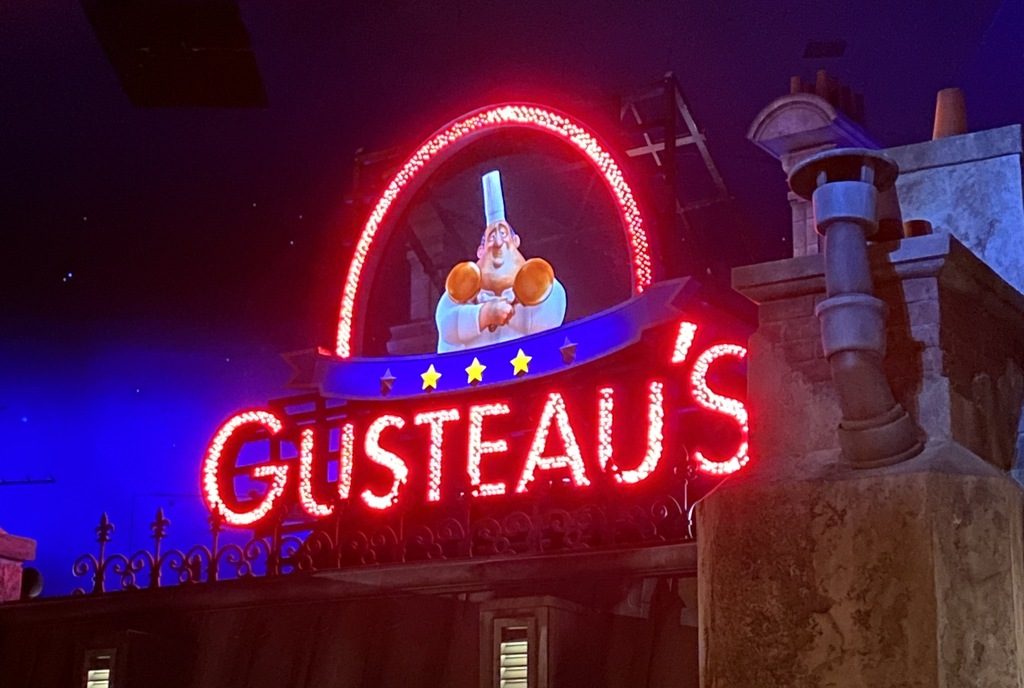 The hallways are covered in red wallpaper, which you'll want to look closely at as you pass. It's specially themed.
The ride vehicles are sectioned off with three seats in two rows. The back row sits higher than the front. A bar lowers to give guests something to grip.
Once secure and seated, you're off, virtually "dropping" into the kitchen through a window. From there it's a race to get from place to place without getting stepped on. Disney uses wind, heat, water, and the smells to make all the action feel real.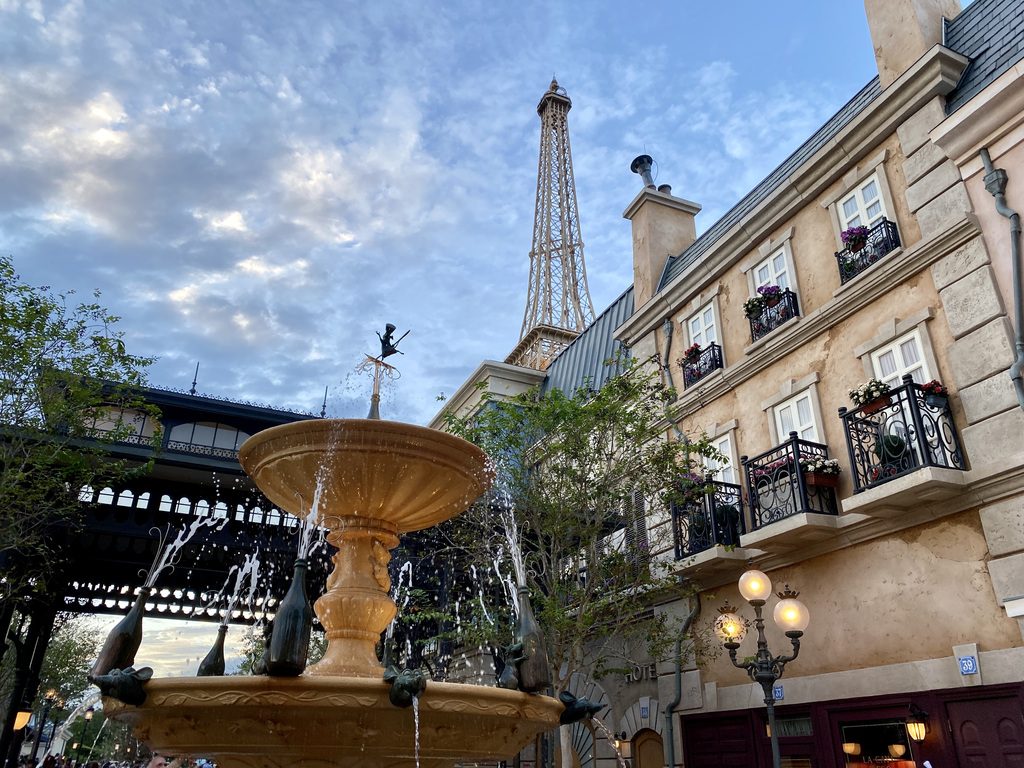 Remy's Ratatouille Adventure is a magnificent addition to what we think is the best pavilion in EPCOT's World Showcase. It is a fast-paced adventure where something new can be discovered with each ride. That's the kind of Disney creativity we like! Well done!
Thanks for Popping In!
Click Here to Subscribe to our FREE Main Street Pop In Newsletter. Every month, we "POP IN" and take a Quick Trip to Disney!
Have a question or a suggestion for a future post? Email us at info@mainstreetpopin.com
Follow MAIN STREET POP IN on
facebook
instagram
twitter