Located at Disney's Wilderness Lodge, Copper Creek is a wonder. Not only in its look and design, but in the fact that it offers a quiet oasis from the hustle and bustle of the Magic Kingdom and the monorail loop.
If you are a first-time traveler to Walt Disney World, I would highly recommend staying at this resort. It's hard to enter the six-story lobby and not be awestruck by the 82-foot stone fireplace, teepee chandeliers, and totem poles. It honestly looks like a national park lodge built by the Works Progress Administration in the late 1930s. If your first glimpse of Cinderella's Castle gives you goose bumps, then Wilderness Lodge is for you.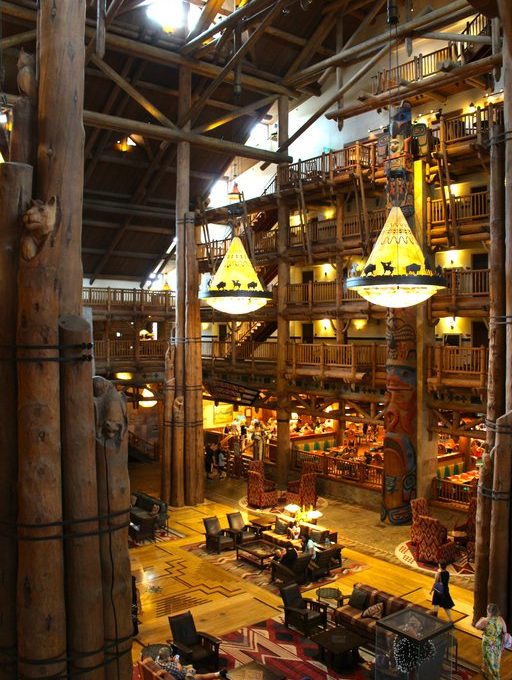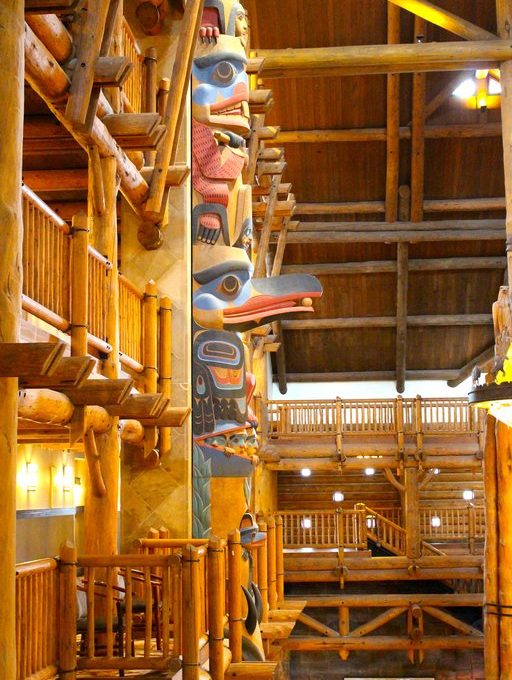 Technically, Wilderness Lodge is three resorts. The original Wilderness Lodge opened in 1994 as a traditional Disney hotel. In 2000, Disney Vacation Club added on the Boulder Ridge Villas, to offer studios and condo-like space to the property. In July of 2017, DVC expanded and added the Copper Creek Villas & Cabins. The three resorts, however, function as one unit. Yes, Boulder Ridge is a separate building, but there really is no feeling that guests belong to one resort or the other.
The good news is that Copper Creek is not just a place for DVC members. Anyone paying "cash" (not really, you need to put down a credit card) can book a Copper Creek studio, condo, or waterfront cabin. The price is steep (the room average per night is $532). I would highly recommend using a travel agent to book. You'll be much more likely to find a discount or package deal with a travel agent's help.
So, what's it like staying at Copper Creek?
It cracks me up that Disney uses the word "rustic" to describe the place. The accommodations are anything but. Being immersed into this Pacific Northwest hideaway with relaxing views of Bay Lake and acres of forest certainly made us forget we were 10 minutes away from the most magical (and crowded) place on earth. Log buildings, stone structures, and rock formations are everywhere. Plus, a geyser erupts every hour in homage to Old Faithful. That's the Disney part!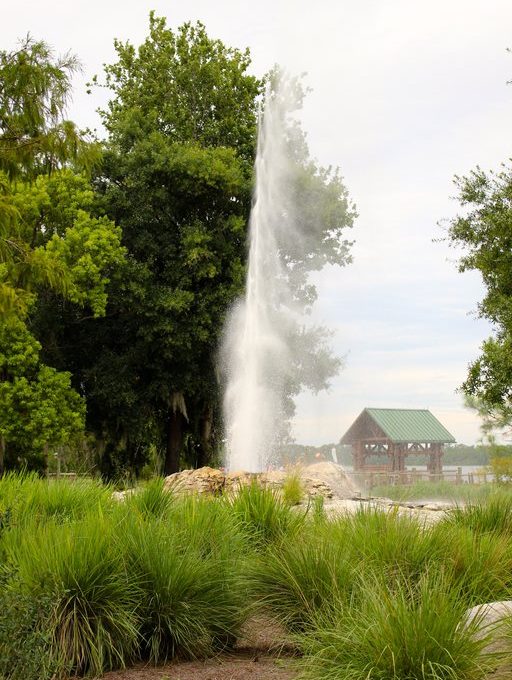 [Like what you're reading? Sign up here for the MAIN STREET POP IN newsletter to get stories like this and more delivered straight to your inbox every Monday afternoon.]
For this more recent visit, my family and I stayed in a one-bedroom villa. The room decor was bright and contemporary, with natural elements like a raw wood headboard and agate slice printed on glass.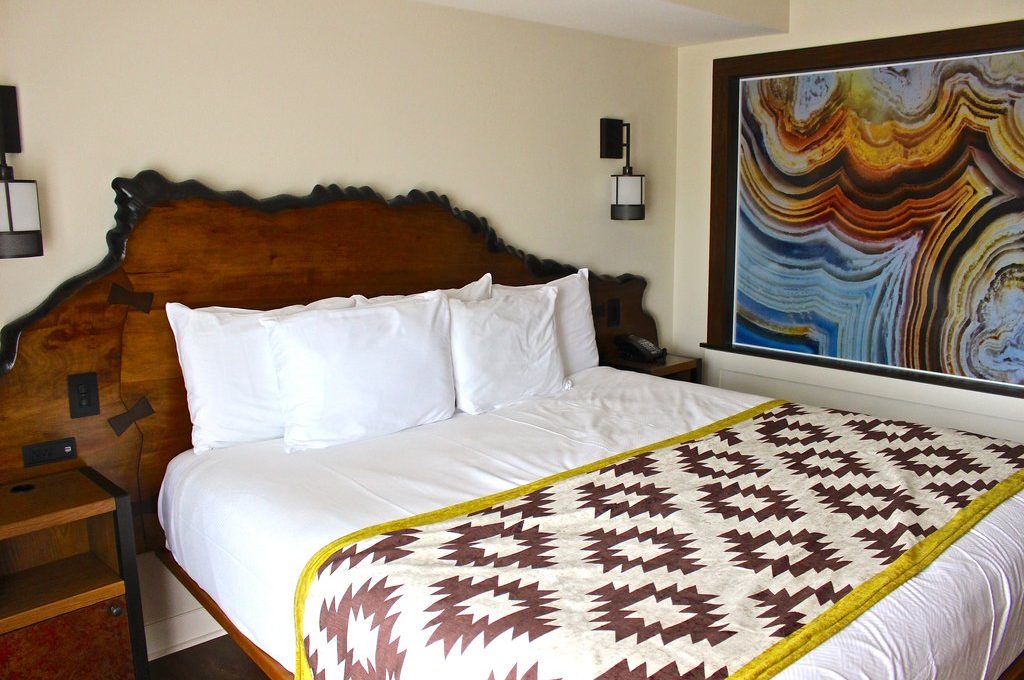 When we entered our room, we were between the kitchen and hallway to the bathroom. The kitchen was a single-wall galley kitchen with full-size stainless-steel appliances.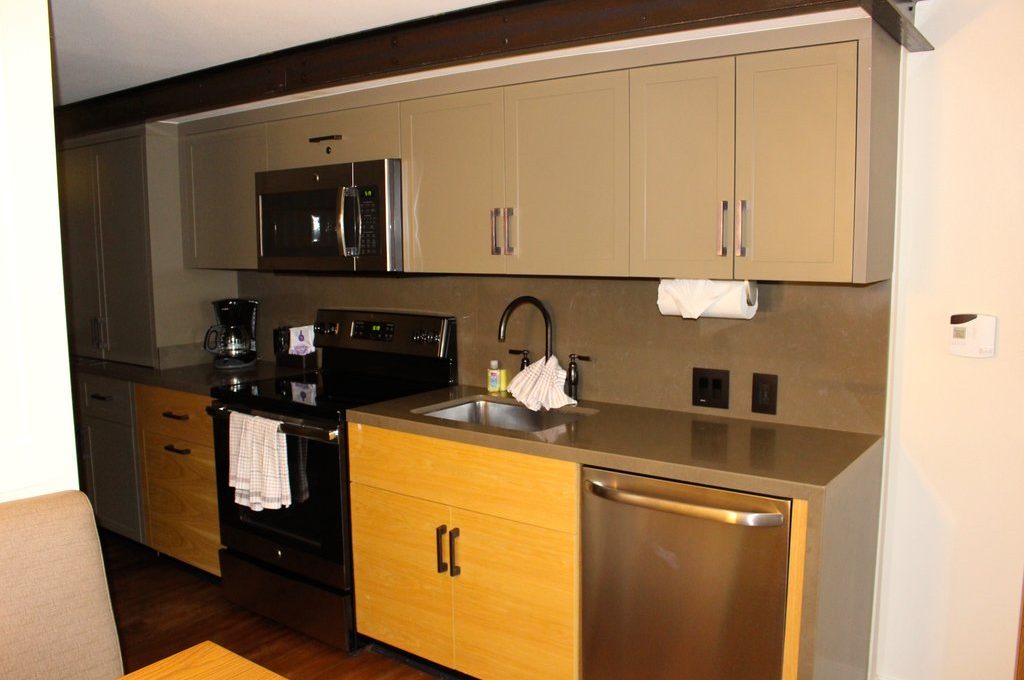 The living room had a dining room table for six, a couch with a pull-out bed, a large flat-screen television, a large dresser, a chair, and a coffee table.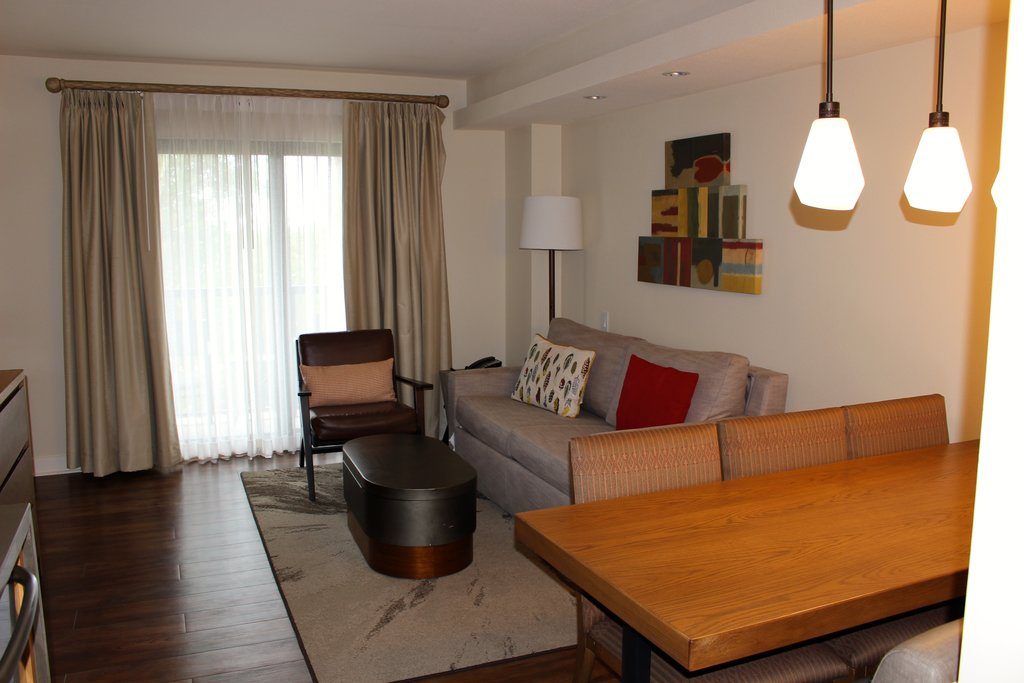 The master bedroom had a king bed with two-side tables, a second tv, a large dresser, a small armoire, and a workstation. The master bathroom was two rooms, one with a whirlpool tub and sink with a large countertop and storage, and the second room with a large walk-in shower, toilet, and sink with large countertop and storage. A stackable washer and dryer, a cute storage cubby area, another large closet and a safe, made up the rest of the room.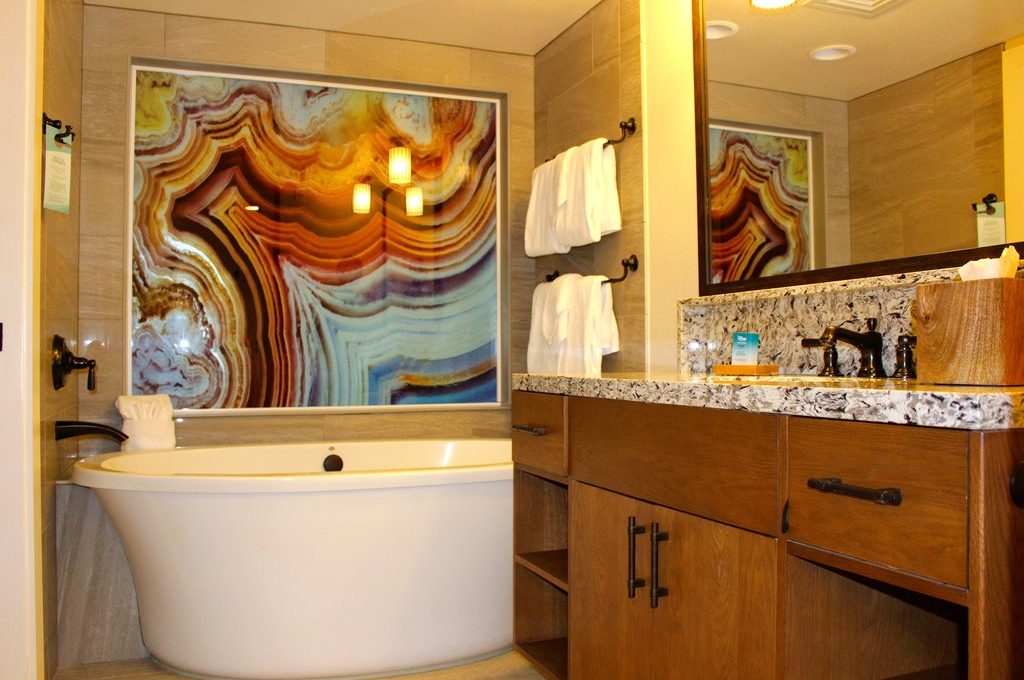 Outside we had a balcony that ran across the full unit. It had four chairs and two small drink tables and offered a view of Bay Lake and the surrounding woods.
The amount of storage in the unit was impressive, the most I've ever had at any rental. Everyone had plenty of drawers and hanging space for clothing. The kitchen had a large pantry, so all our food could be tucked away out of site. The cubby was great for hanging up our backpacks and storing our Magic Bands, sunglasses, sunscreen and bug-spray. The beds were high, so unpacked suitcases fit neatly underneath and out of the way. (So neatly, we actually left behind our carry-on suitcase, which lost-and-found has yet to find.)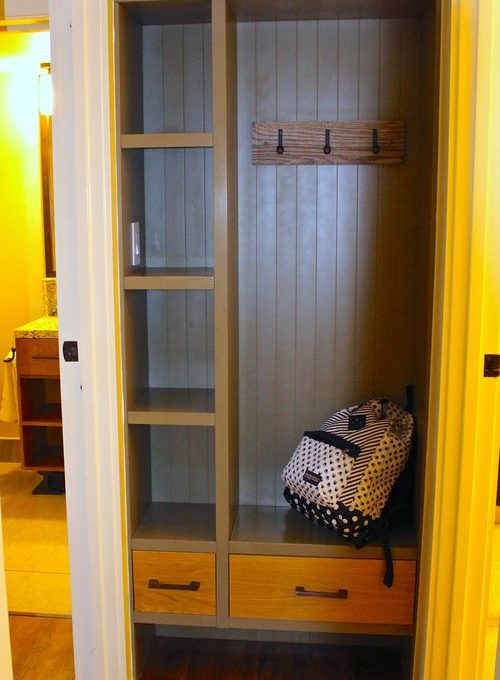 The resort has five dining options: the quick-service Roaring Fork; the small plate Territory Lounge; the sit down and silly restaurant, Whispering Canyon Café (where no whispering EVER takes place); the elegant Artist Point (which is a character meal featuring Snow White, the Evil Queen, Dopey, and Grumpy); and the outdoor Geyser Point Bar & Grill.
Our favorite place to eat was Geyser Point. Upon arrival, I highly recommend checking in and plopping yourself right down into a comfy Geyser Point chair. All the stress of traveling to Walt Disney World will immediately melt away. Both the food and the view made us really happy. The signature sangria (which is on the sour side) was my favorite cocktail of our entire trip. If you love a thick, juicy beef burger, try the bison burger. It was really good and definitely enough for two people to share. I also loved the crab cakes, which came with a spicy sauce, slaw, and onion strings.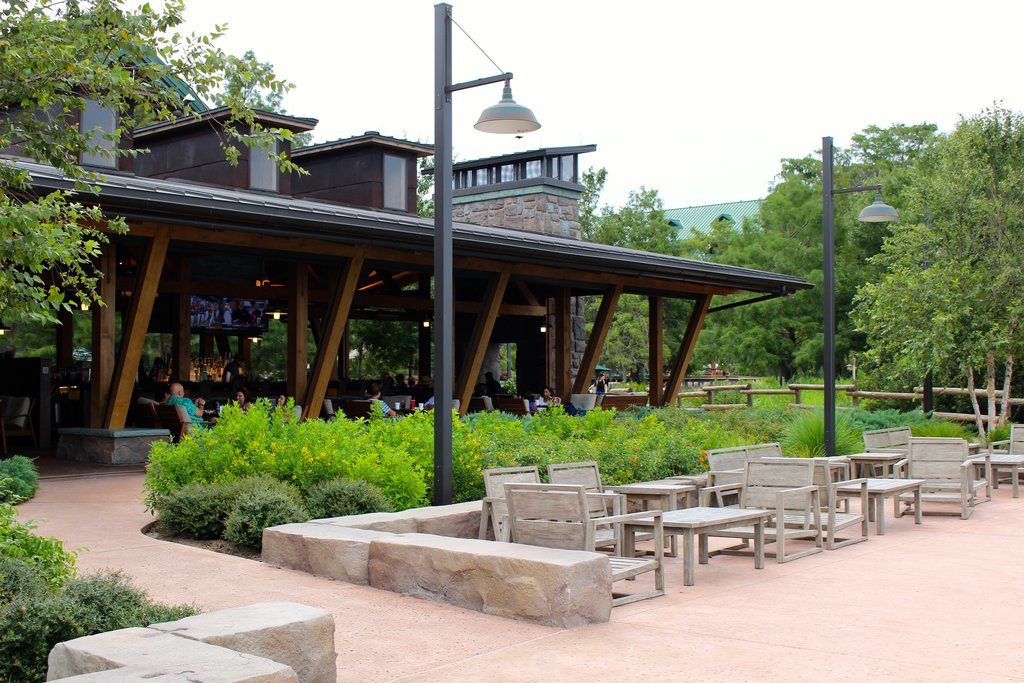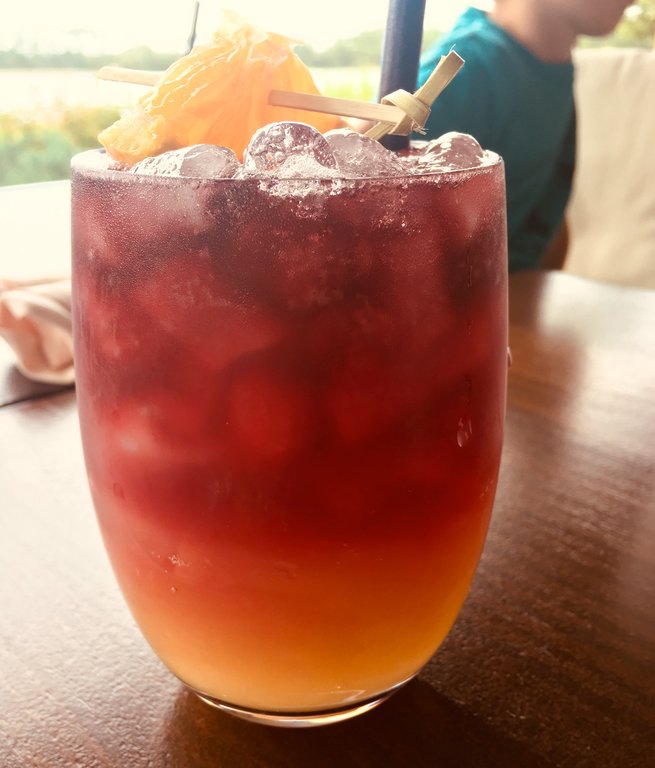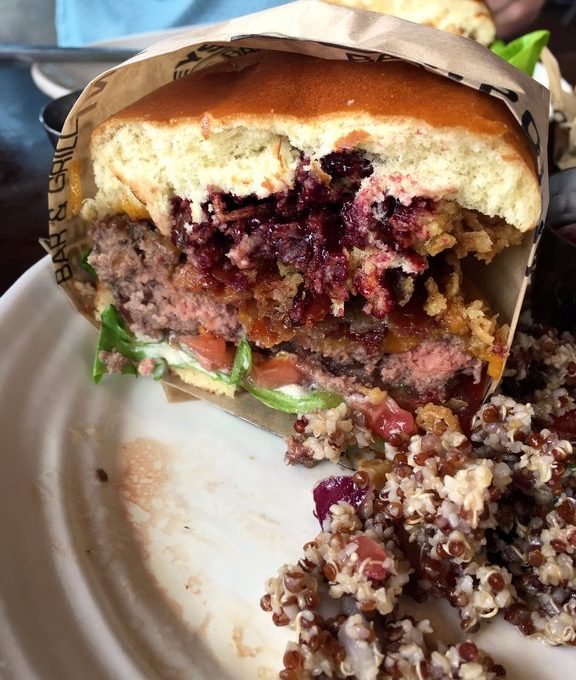 Wilderness Lodge offers lots of options for getting yourself around all of Walt Disney World. Of course, there are the Disney buses will take you everywhere but the Lodge offers water taxi services to the Magic Kingdom, Ft. Wilderness Campground (where you can eat at the awesome Trail's End buffet, go horseback riding, or take an archery class), and the Contemporary Resort (where you can visit and hop on the Monorail). When we were tired and leaving the park late at night, I was so grateful for the water taxi and its short wait, unlike the massive lines for the buses, Monorail, and ferry.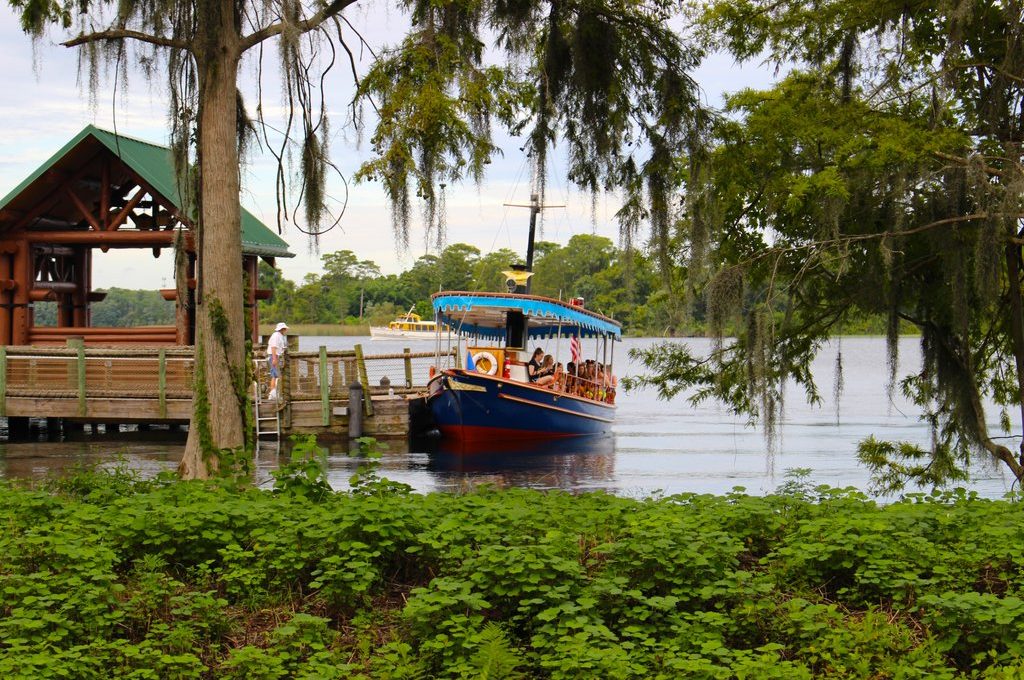 What's really special about Copper Creek are its 26 waterfront cabins. These private stand-alone units sleep nine and feature great views, a wraparound porch and private whirlpool tub. Some face the Magic Kingdom. Imagine watching the fireworks from the privacy of your own hot tub on the water. Pure indulgent luxury.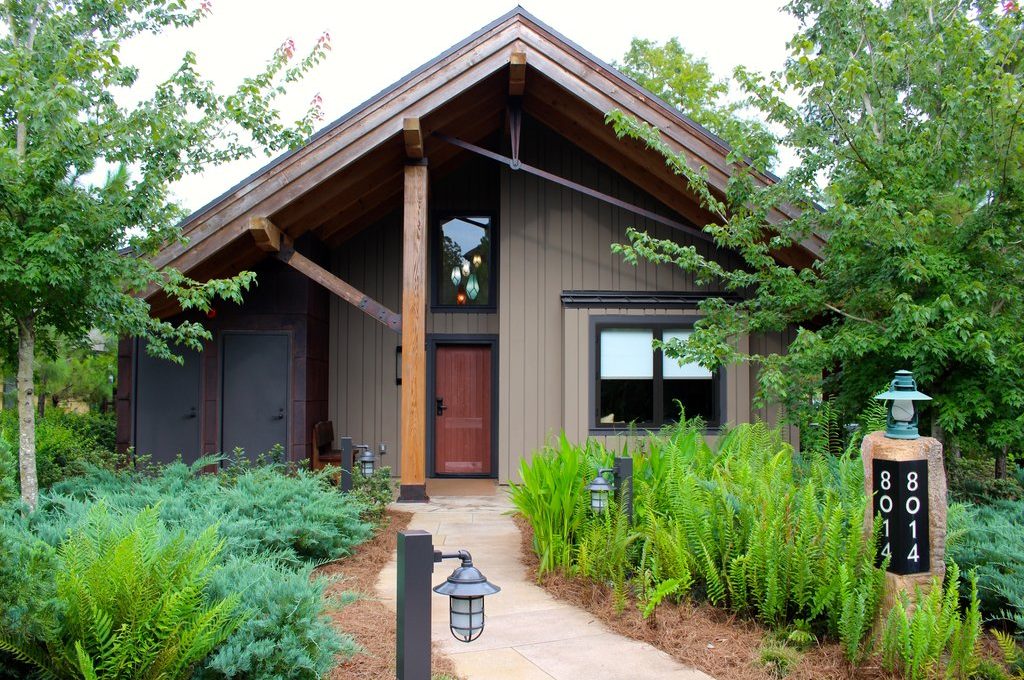 Wilderness Lodge has two pools. Copper Creek Springs Pool is the main pool. It's the largest and features a waterslide, splash-pad play structure, hot tub, poolside activities, and excellent Disney lifeguard supervision. The quiet pool is the Boulder Ridge Cove Pool. It's a zero-depth entry pool and offers a hot tub and cabanas. There is no lifeguard on duty at this pool.
My visit to Copper Creek reminded me how much I love the Wilderness Lodge campus. Its proximity to the action (the Magic Kingdom and the Monorail Loop), its relaxing get-away atmosphere, and how its rooms are spaciously setup for long-term stays makes me think it could rival the Beach Club as my favorite deluxe Disney resort.
Thanks For Popping In!
Click Here To Subscribe To The Main Street Pop In Newsletter. It's FREE!
Follow MAIN STREET POP IN on
facebook
instagram
twitter