Disney's Yacht Club is my go-to when I'm traveling without children and I want to spend a lot of time in Epcot, enjoy the nightlife on the BoardWalk, and ensure I can enter Hollywood Studios without having to depend on a bus, boat, or skyway.
It has an upscale vibe, great décor, subtle hints of Mickey, a "captain" at the door, and a great little shop!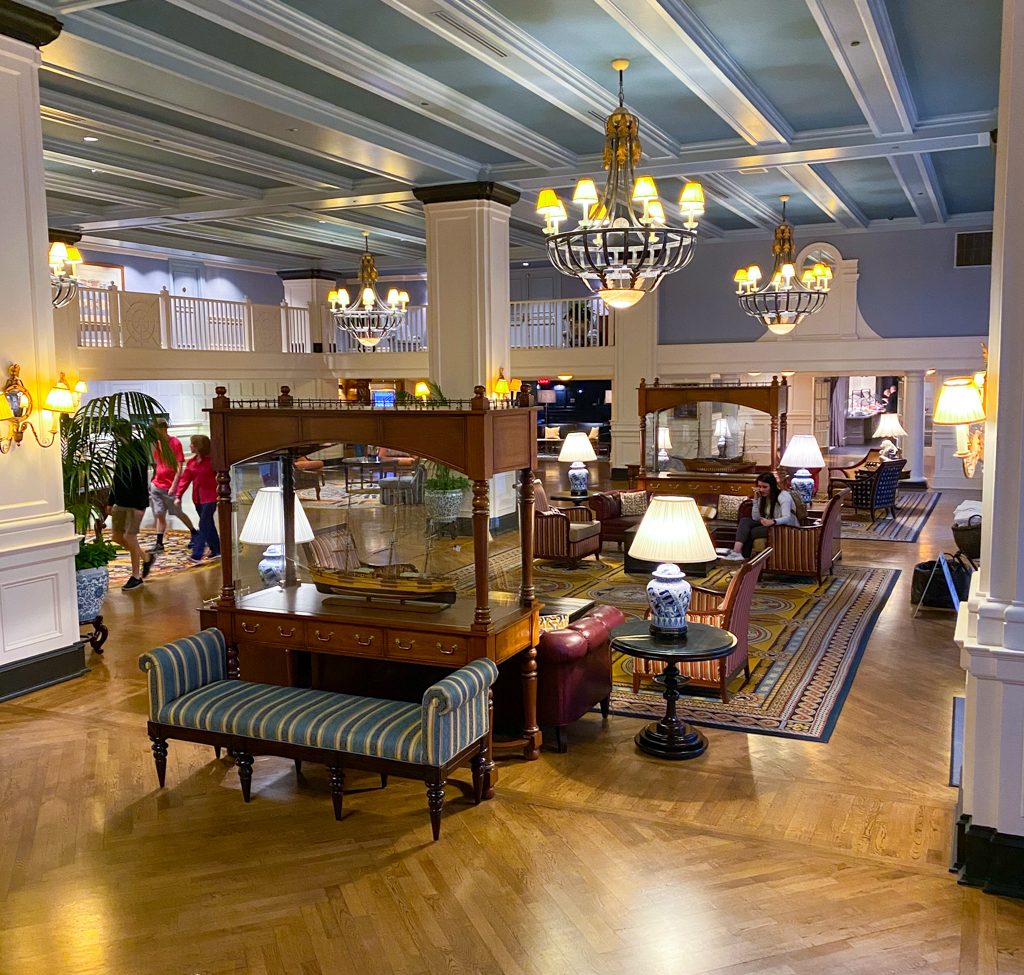 When Star Wars: Galaxy's Edge's Rise of the Resistance newly opened, there is NO WAY I would have made it to Hollywood Studios before 7 a.m. to snag a boarding pass had I not stayed at a BoardWalk Area resort (Yacht Club is one of five BoardWalk Area resorts—the others are Beach Club, Boardwalk Inn, Swan, and Dolphin). With so many people rushing to Hollywood Studios for rope drop that morning, my Yacht Club stay allowed me to walk to the park. Technically, I could've arrived in the same amount of time by bus, boat or Skyline, but I didn't want to risk getting stuck in traffic or a breakdown.
But I digress. The need to be an early bird to ride Rise of the Resistance won't last forever. There are dozens more reasons to book the Yacht Club.
But first, let me give you a little backstory about the place.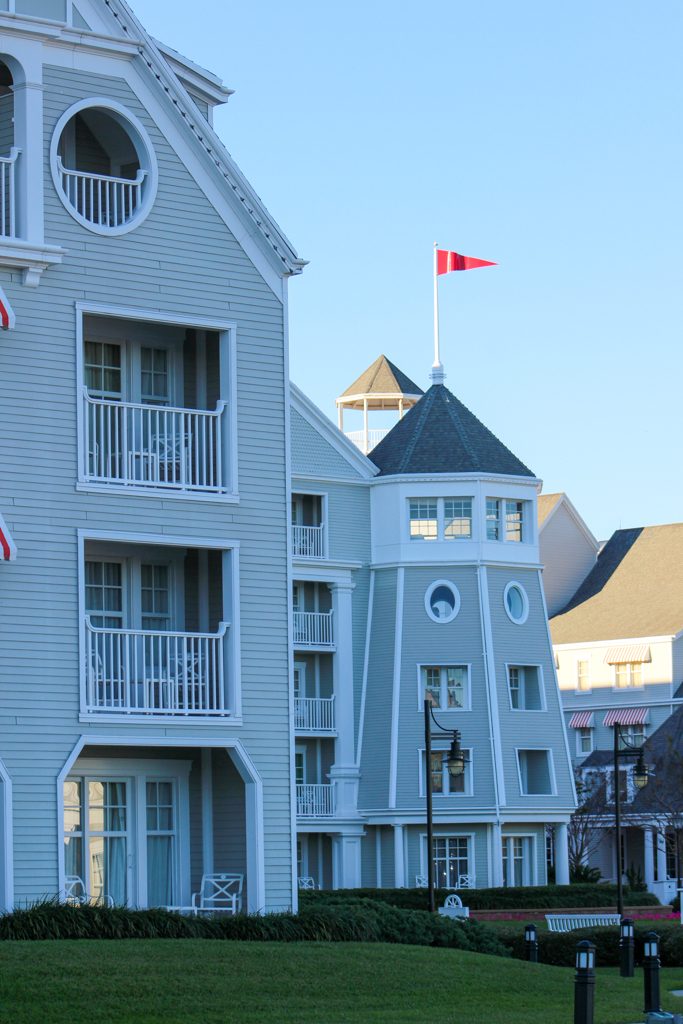 Yacht Club opened on Nov. 5, 1990 and was designed by Robert A. M. Stern, whose career includes dean of Yale School of Architecture (1998 to 2016), designer of some of the tallest structures in the U.S., and architect for the George W. Bush Presidential Library. For Disney, Stern also designed the Beach Club, worked on the masterplan for Celebration, Florida, and served on the board of the Walt Disney Company (1992-2003).
A lakeside hotel, the Yacht Club is themed after the New England shore hotels of the 1880s and is physically connected to Disney's Beach Club and a 73,000 square-foot convention center. If you're strolling along the nearby boardwalk, the Yacht Club is the oyster-gray colored half of the structure. The Beach Club is the sky-blue half.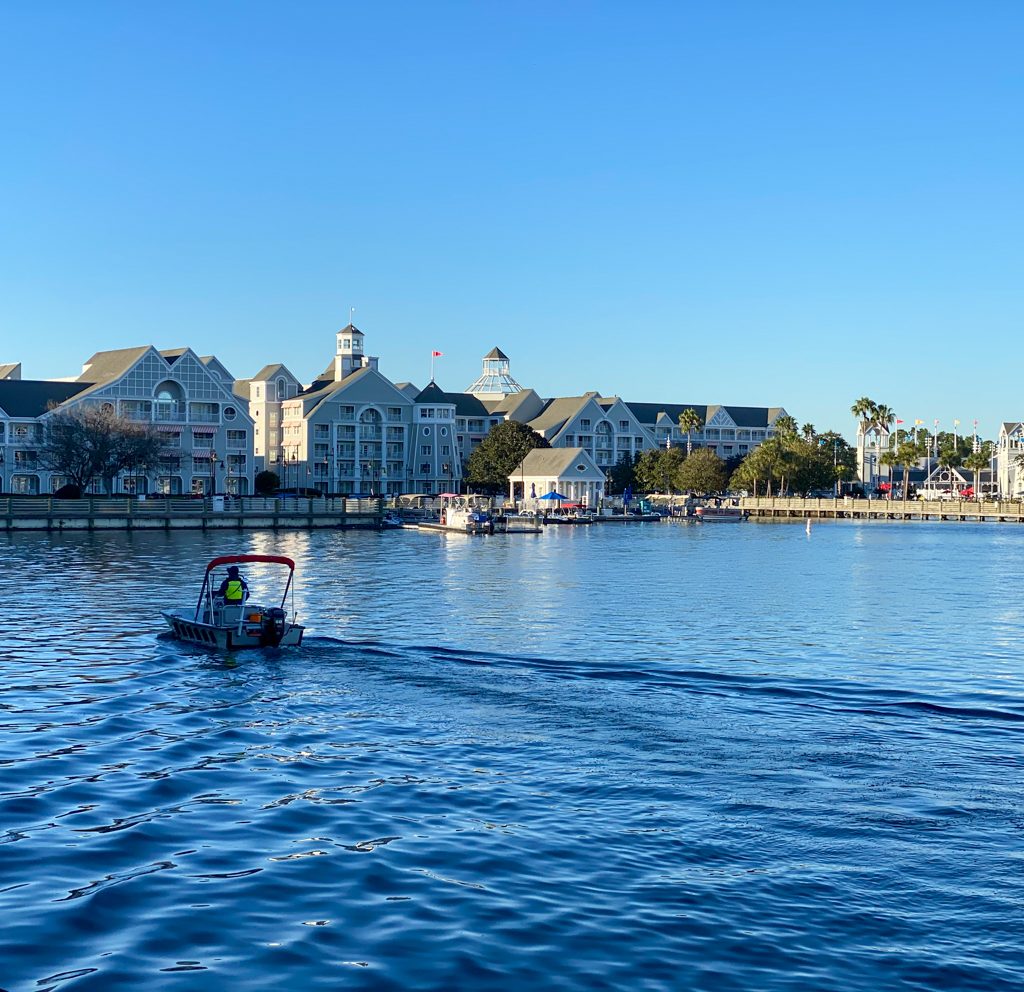 Yacht Club offers 621 rooms, including presidential and vice-presidential suites. Rooms are decorated in creams and dark woods. The floor is a dark wood laminate and the bedding is white. Navy drapes decorated in constellation patterns cover the doorway to a private patio or balcony. The rooms have ample storage and a split bathroom.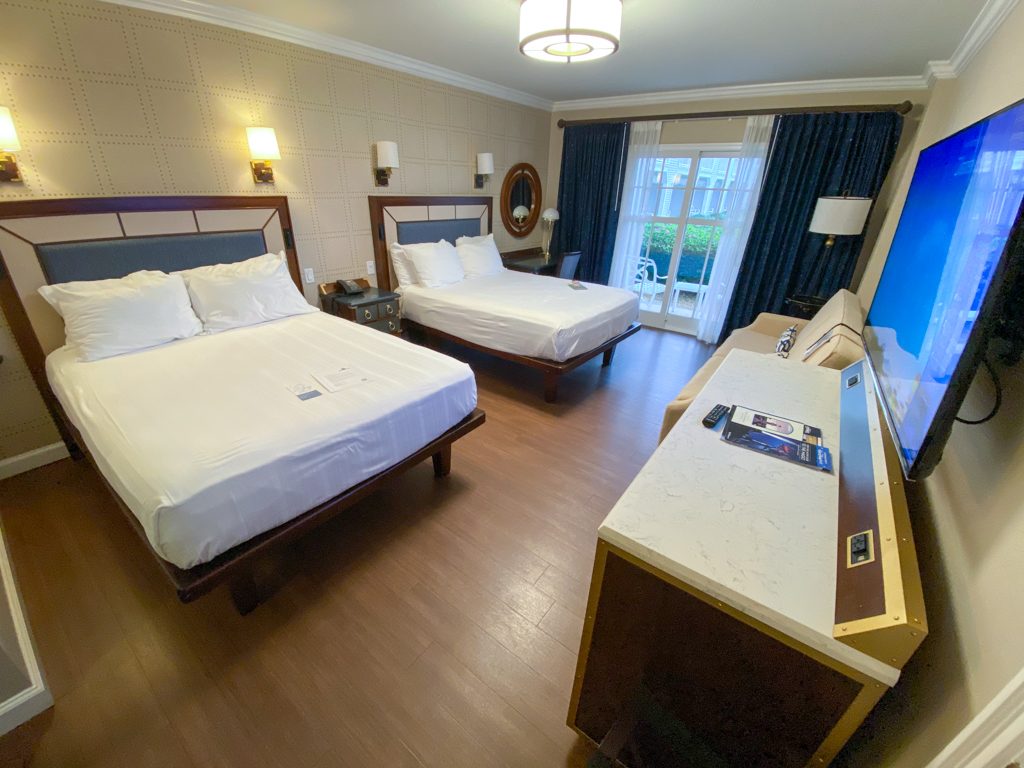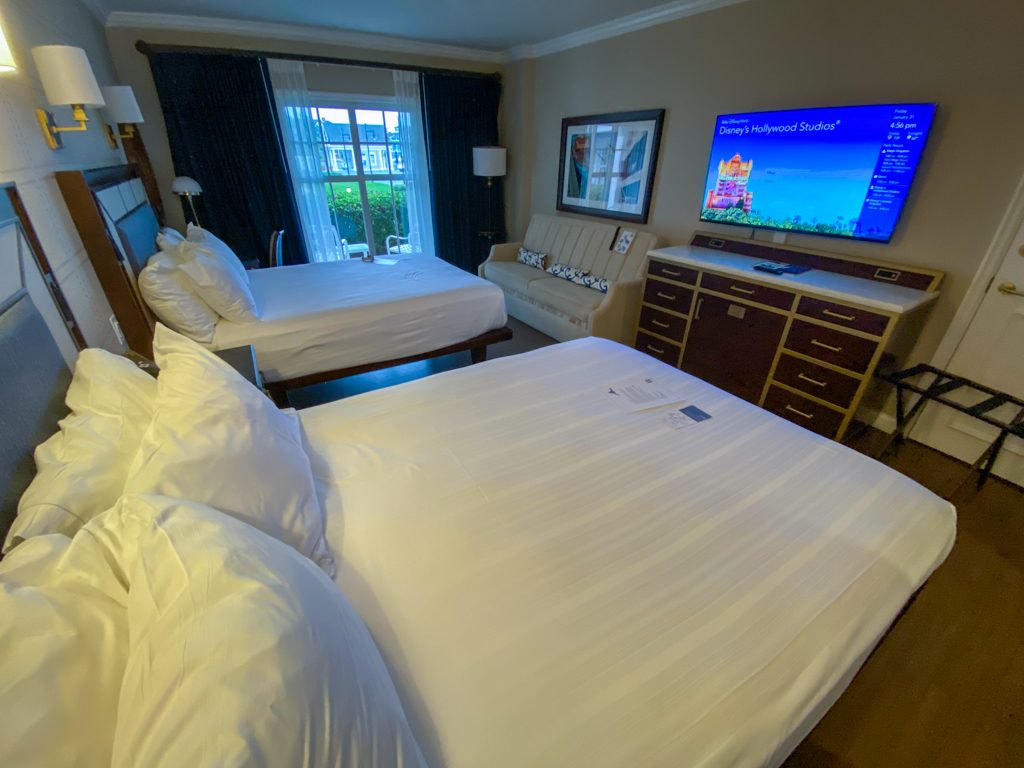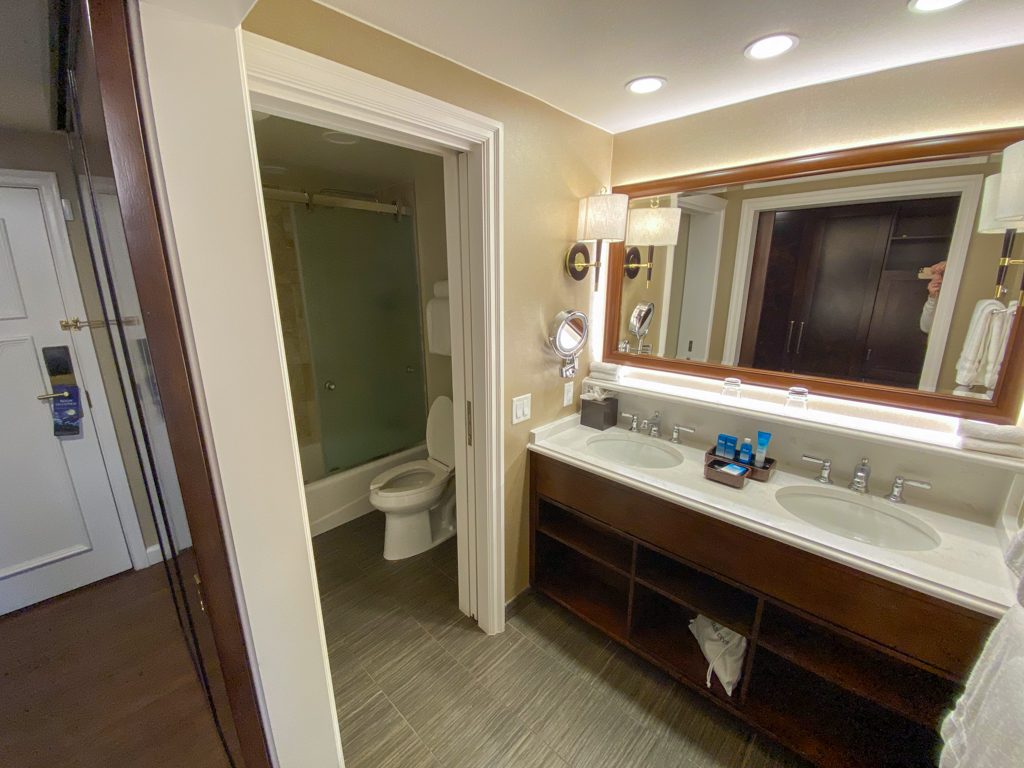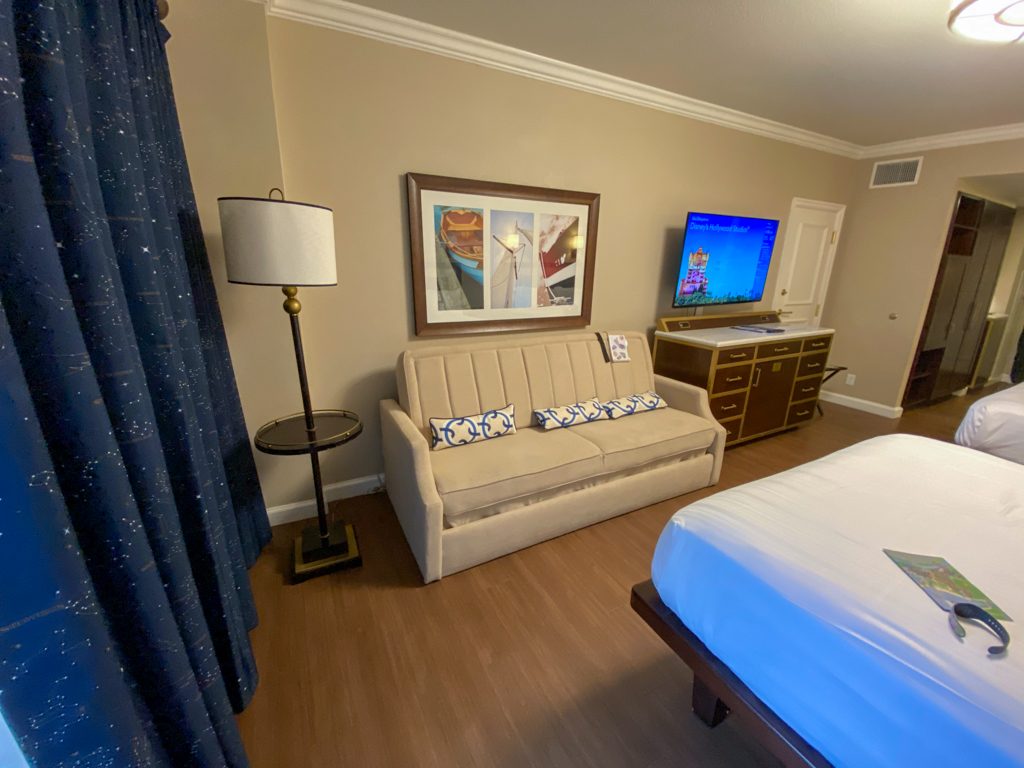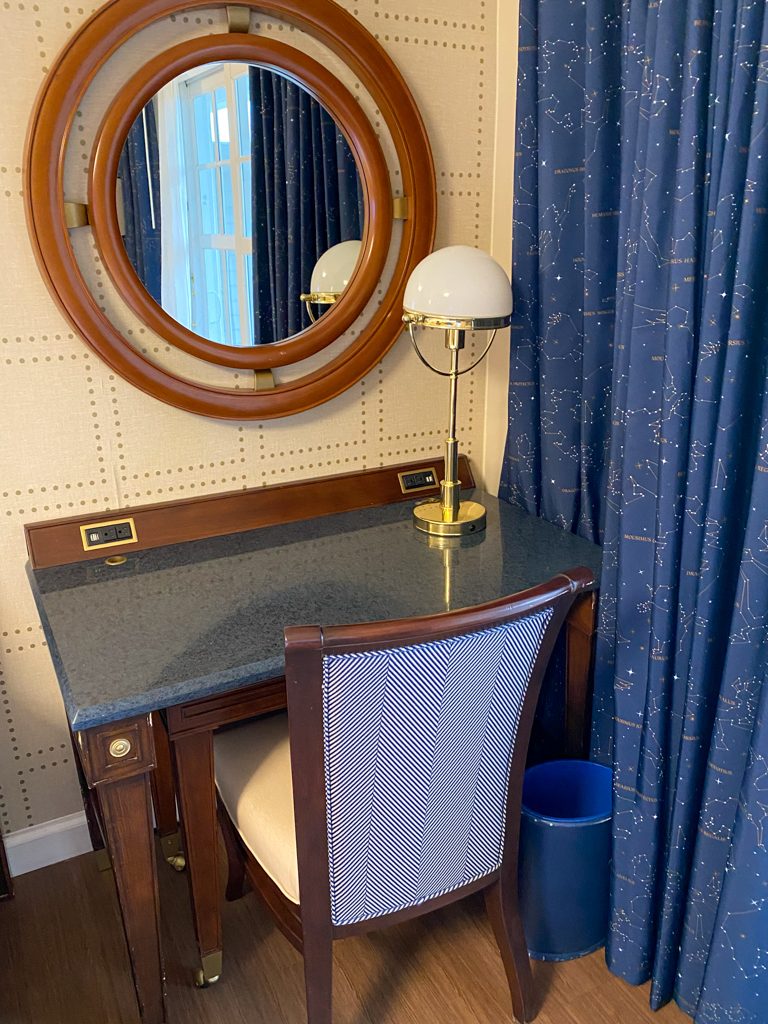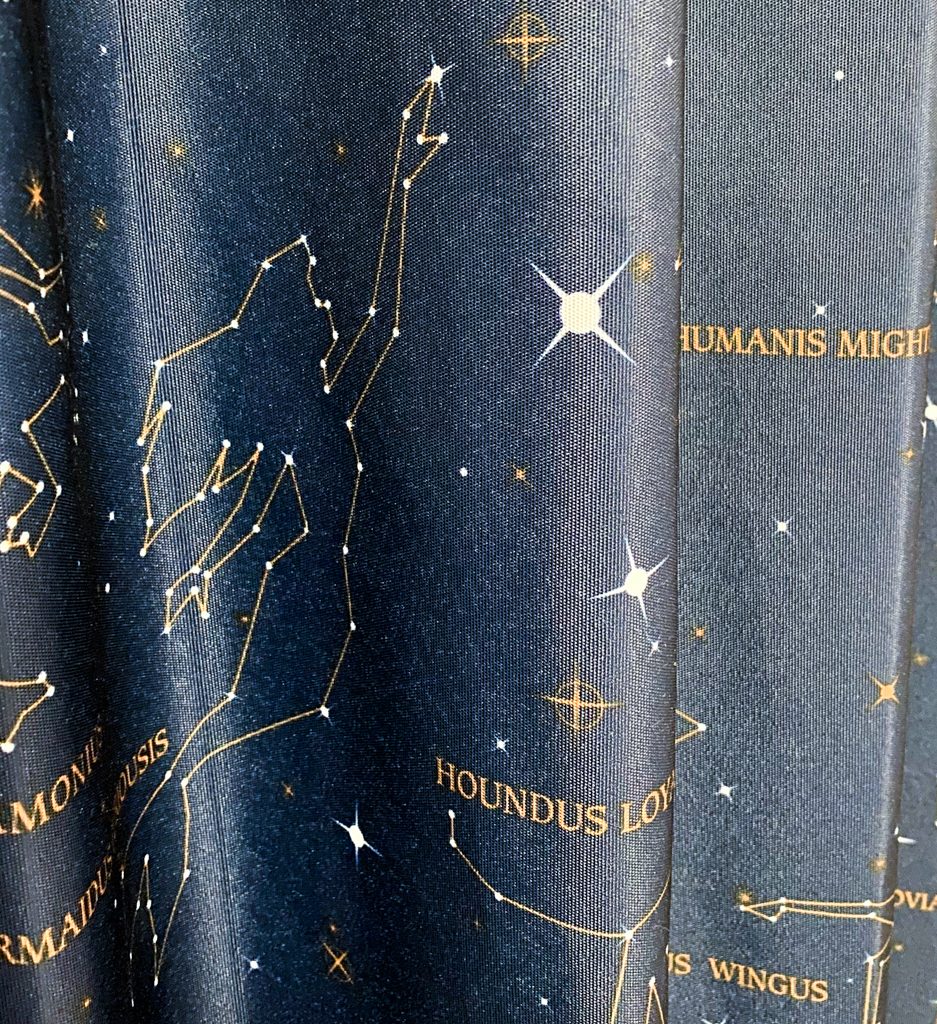 The lobby, with its oak floors and brass, puts off a nautical, yet classy, country club vibe—but not in a snooty way. It's very quiet and has an excellent gift shop for stocking up on preppy duds and the latest Disney crockery. There are a lot of conventioneers and not a lot of children at the Yacht Club. The place seems to get overlooked by families with kids—who prefer the Beach Club Resort next door. (When bringing the whole family, I prefer the Beach Club, too, with its larger apartment-like villas with full kitchens, a character breakfast, and the same pool and walking convenience as the Yacht Club.)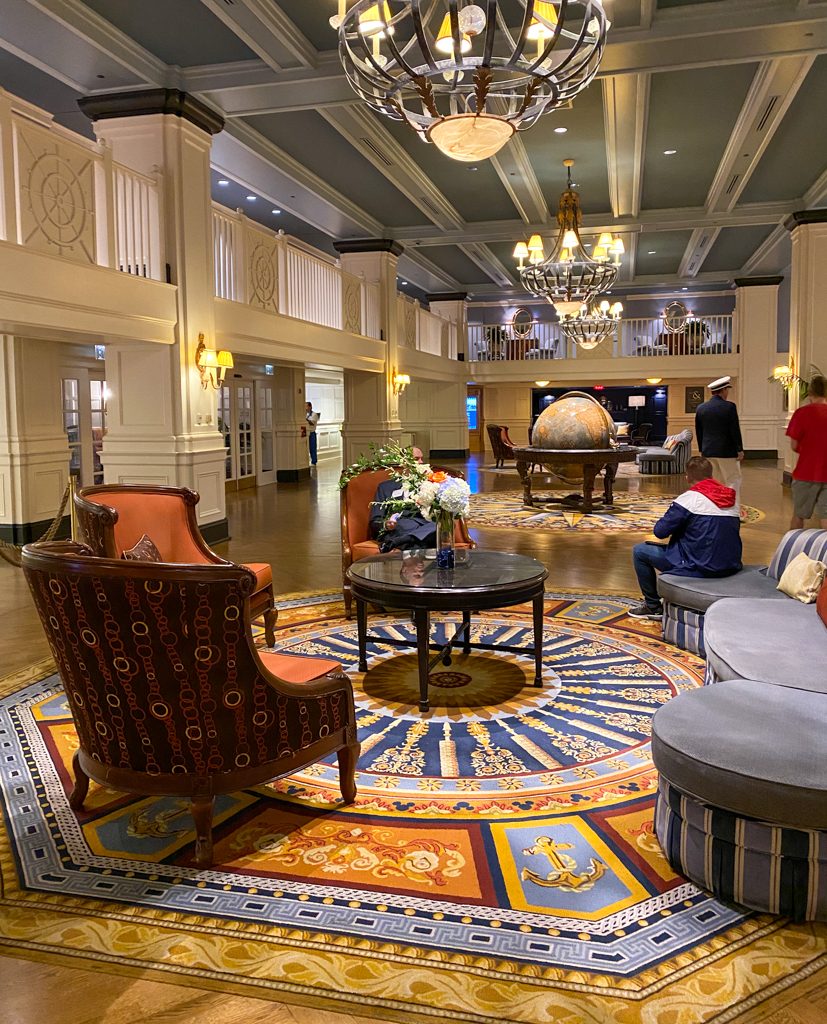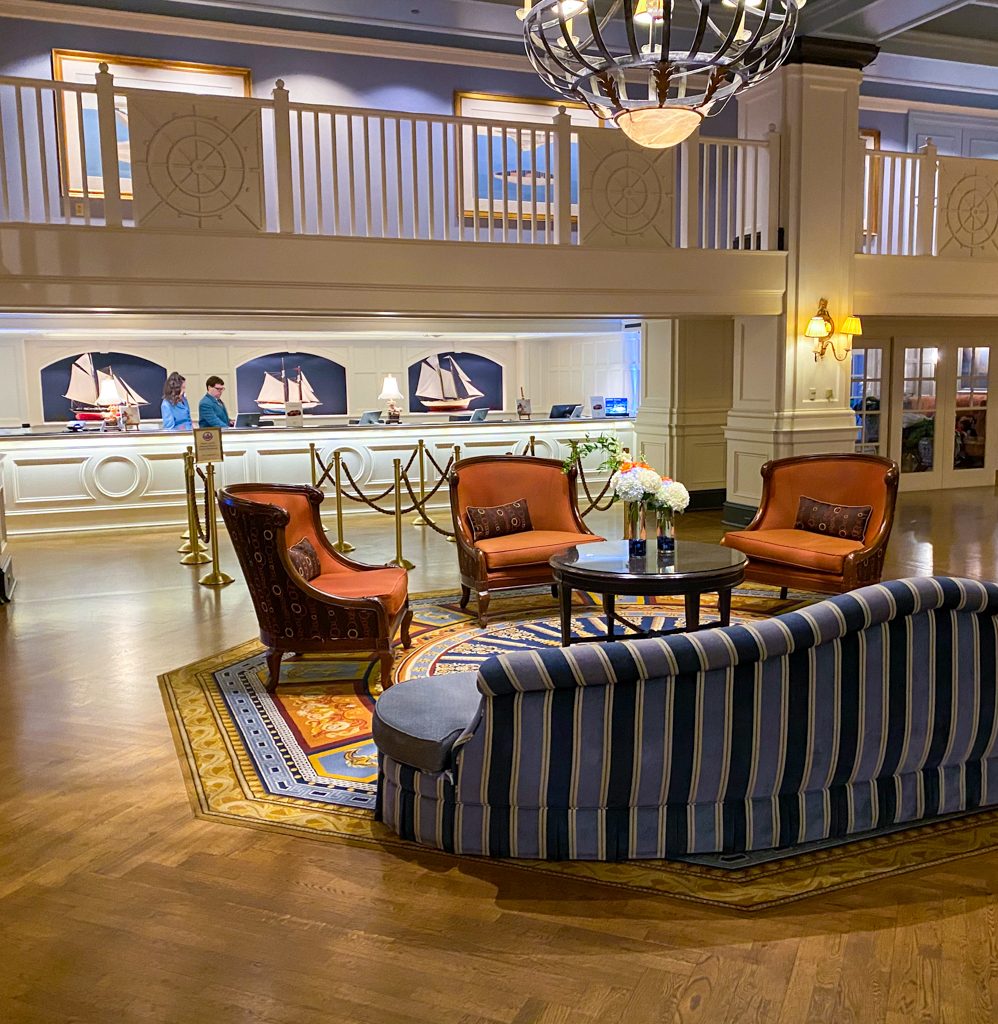 While a family of five could technically fit in a Yacht Club room, the room is better suited for a party of 2 or 3. I usually book this resort when my hubby and I want a getaway or I'm on a weekend with a close friend or two.
The Yacht Club's Ship Shape Health Club offers massages and facials and a salon provides hair and nail services. They even advertise "Character Couture" services for those 12 and under. Captain Hook's Pirate Crew and the Albatross Treasure Cruise (two childcare activities) are hosted at "The Clubs" as is Painting in the Vineyard—an instruction led painting class on Fridays.
More important, Yacht and Beach Club share the extremely popular Stormalong Bay, a 2 ½-acre sand-bottom pool with a shipwreck water slide, zero-depth-entry kids' area, and a whirlpool. It is the best resort pool inside all of Walt Disney World.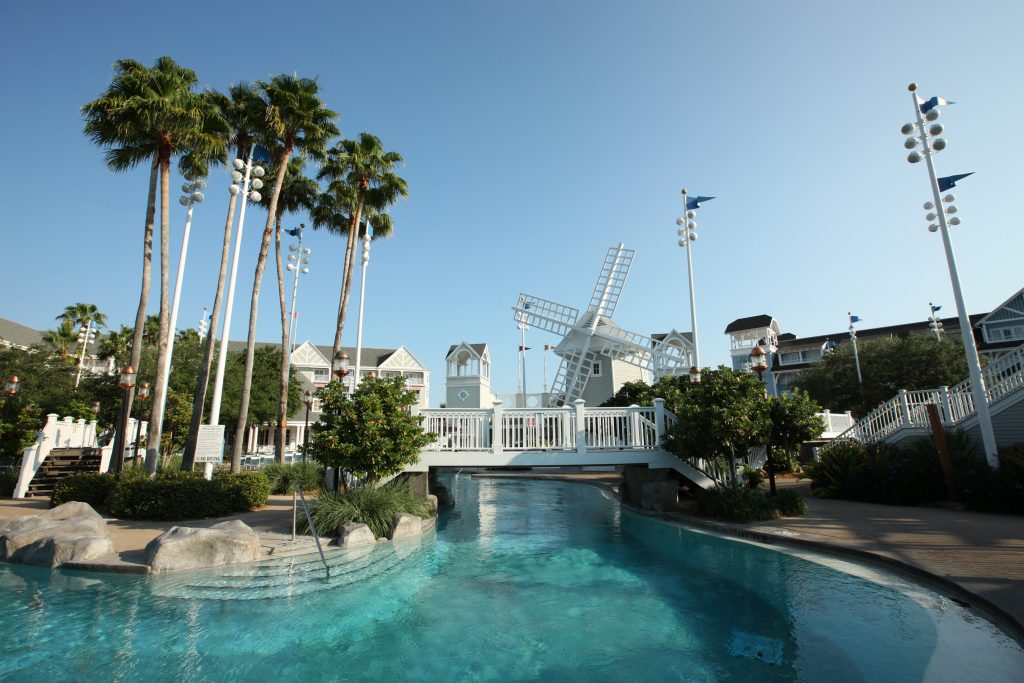 Food options inside the Yacht Club include, The Market, great for quick meals, fountain drinks and snacks. In the lobby, The Ale & Compass Lounge is my favorite place to relax and have a lobster roll and park with my laptop and get some work done (I've come here even when I'm not staying at the resort). In fact, Yacht Club has tons of little nooks and crannies to escape to, which shows how much it is geared toward convention goers.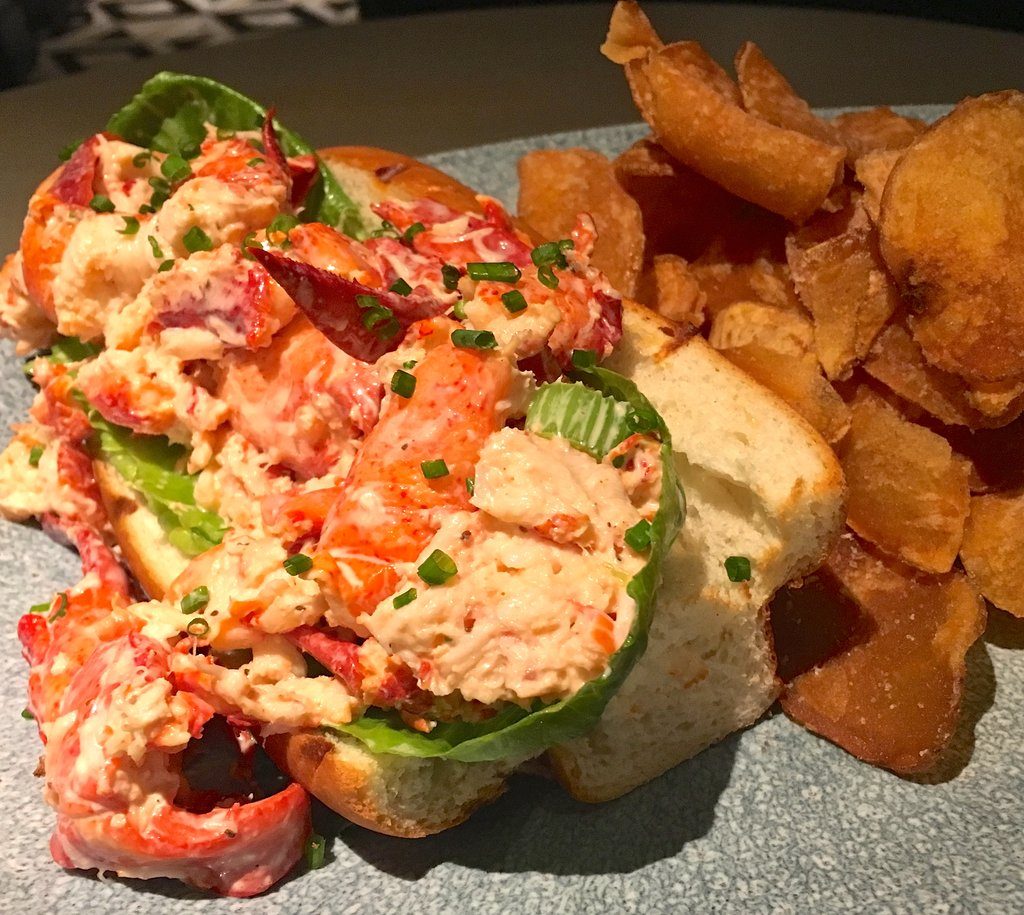 I'm less enthusiastic about eating at the Ale & Compass Restaurant, also attached to the lobby. There are so many excellent places to eat that are all within a short walking distance of the Yacht Club (Il Mulino in the Swan Hotel, Beaches & Cream Soda Shop at the Beach Club, Shula's Steak House in the Dolphin Hotel, Flying Fish on the BoardWalk, Big River Grille & Brewing Works on the BoardWalk, and all of Epcot). Lots of Disney fans rave about the Yachtsman Steakhouse, where guests can select his or her own cut of meat. I haven't tried it yet, so I would recommend visiting the Disney Food Blog to get A.J.'s take on that one.
Outside the Yacht Club are a number of "beachside" activities. There is the BoardWalk itself, which circles Crescent Lake and provides walking access to Epcot, Hollywood Studios, the Boardwalk Inn, and the Swan and Dolphin resorts.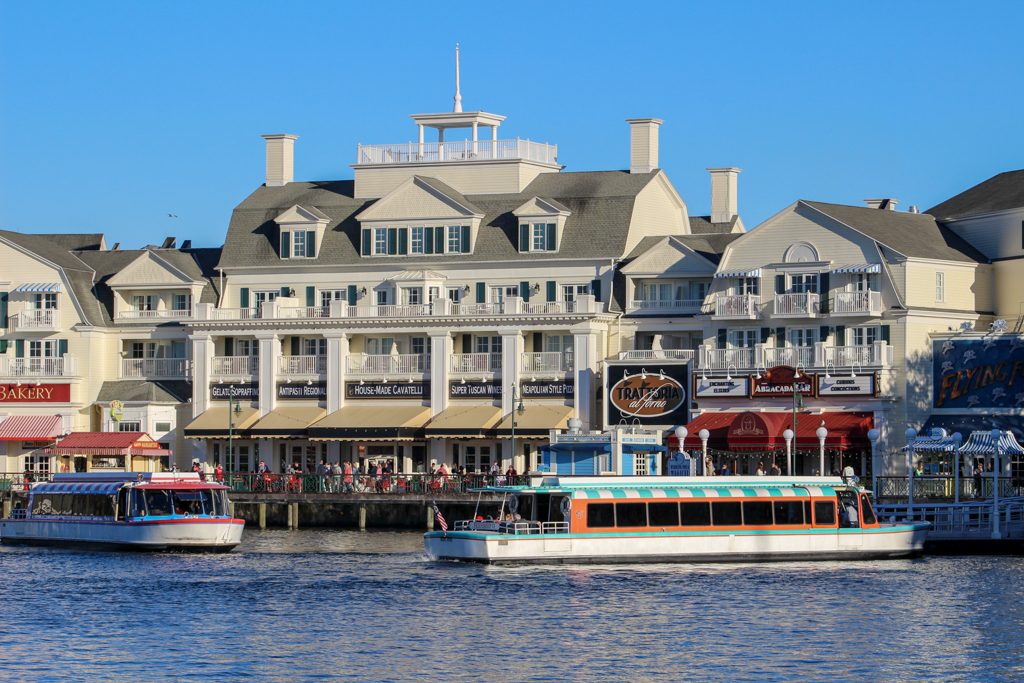 The Bayside Marina offers boat rentals and excursions. Yacht Club also has tennis courts, a quiet pool, a croquet lawn, and a daily recreation calendar.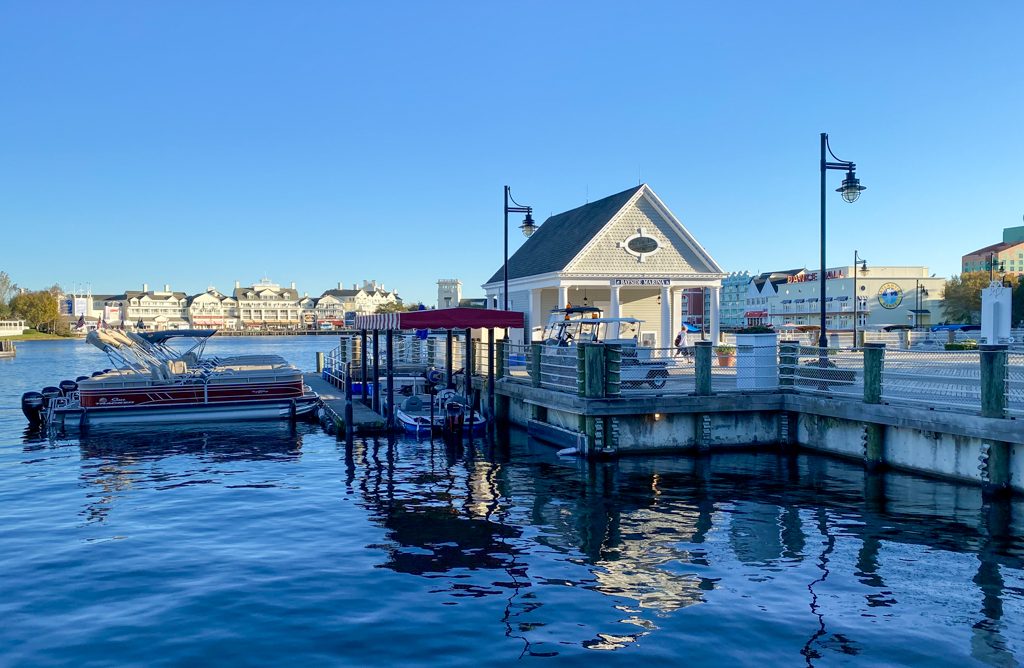 The Yacht Club is a deluxe Disney resort, so all this style comes at a hefty price (a standard room runs about $450 a night during the value season). This is a place that works best with our family's budget when Disney offers a promotion and I've accumulated a couple hundred dollars in Disney Visa Rewards dollars to offset the cost. As a Disney Vacation Club owner, I've booked with points here, too, but it's not the best use of points in most cases.
When I can make it work, the Yacht Club is a gem of a resort. Its excellent location makes it a first choice when I want to spend the majority of my time at an Epcot festival or need to get to Hollywood Studios before sunrise.
If there's anything else you'd like to know about Disney Yacht Club Resort, please send an email to info@mainstreetpopin.com.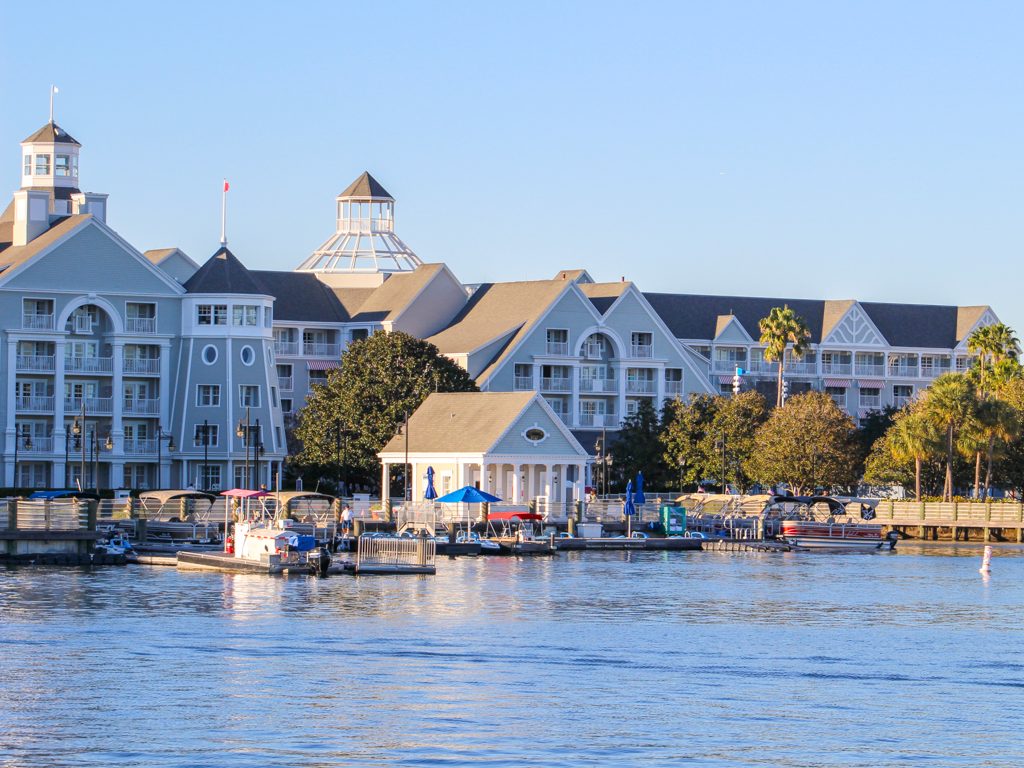 Thanks For Popping In!
Click Here To Subscribe To The Main Street Pop In Newsletter. It's FREE!
Follow MAIN STREET POP IN on
facebook
instagram
twitter