Sometimes I can't decide which I like better, Disney or Christmas. But as a wise friend always reminds me, "why choose?"
So, I won't. This month is dedicated to Disney Christmas!
First, it's time to make those Christmas-themed Disney plans.
Did you know that you don't have to be at Disney on Christmas Day to feel like it is "Christmas Day"? Disney celebrates the holiday for most of November and December.
Start planning right now and give yourself a "Bonus Christmas" this year. The decorations are just as brilliant and the atmosphere is just as cheery on November 17 as it is on December 25. (And you'll save a pretty penny. A moderate resort is almost $100 a night cheaper on Nov. 17 than on Dec. 25 and a one-day ticket is more than $25 per person less, too).
Make those resort plans now, because today (July 12), Disney announced that it WILL BE HOLDING AFTER HOURS CHRISTMAS PARTIES THIS YEAR! If you are a resort guest, you will get early access to buying tickets in August. Parties will run on select nights between Nov. 8 and Dec. 21. Click here for more info directly from Disney.
Need a little Christmas now? Head on over to the Blizzard Beach Water Park. It's always Christmas there. Spend all day with snow people, those awesome mini donuts, and holiday music!
Next, splurge on some Disney ornaments.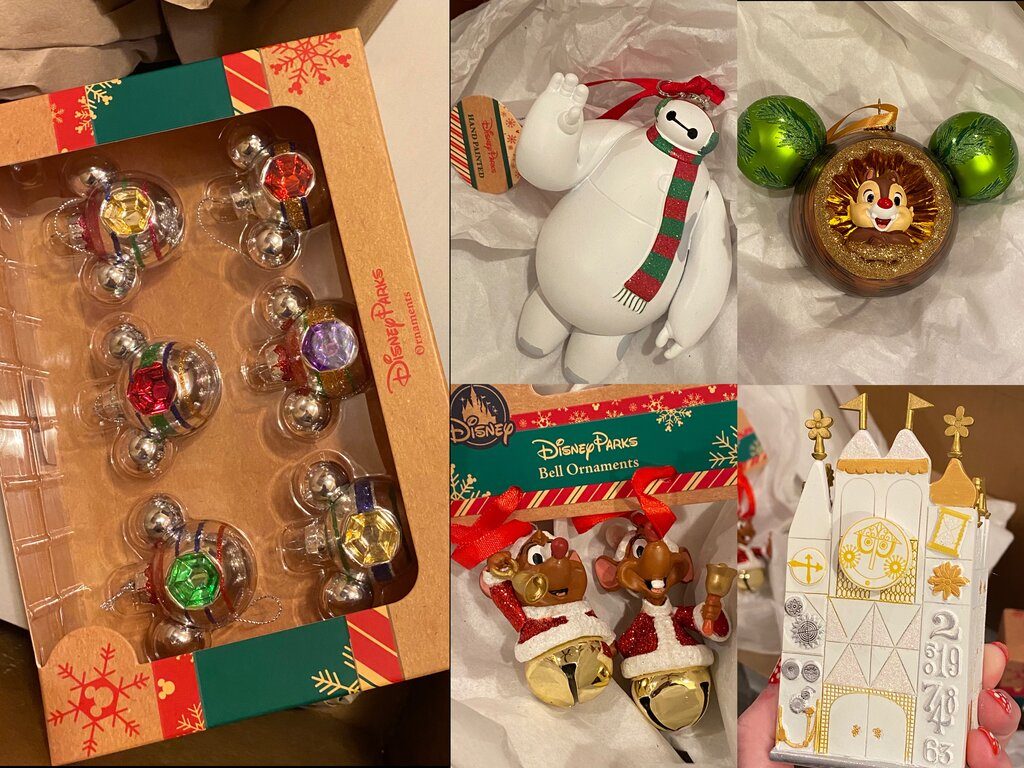 Walt Disney World has two year-round Christmas shops currently open, Days of Christmas at Disney Springs and Ye Olde Christmas Shoppe at the Magic Kingdom. (Hollywood Studios also has a Christmas Shop called It's a Wonderful Shop, but unfortunately it is closed at this time.)
Don't worry about having to carry your finds home. Take advantage of Disney shipping. You'll have to pay, of course, but it's quite reasonable. Recently, I spent about $17 for a Cast Member to wrap and ship home a medium size box full of ornaments. The best part was opening that box after my Disney vacation. It felt like…well…getting a Christmas present!
Check out the ornaments for sale on ShopDisney. Its offerings are available year-round and are always changing. Another quality website to receive Disney ornaments year-round is Bronner's Christmas Wonderland.
And lastly, spend the summer testing out potential gifts.
Here are five Disney-themed things I've purchased recently and would recommend for gift-giving this December.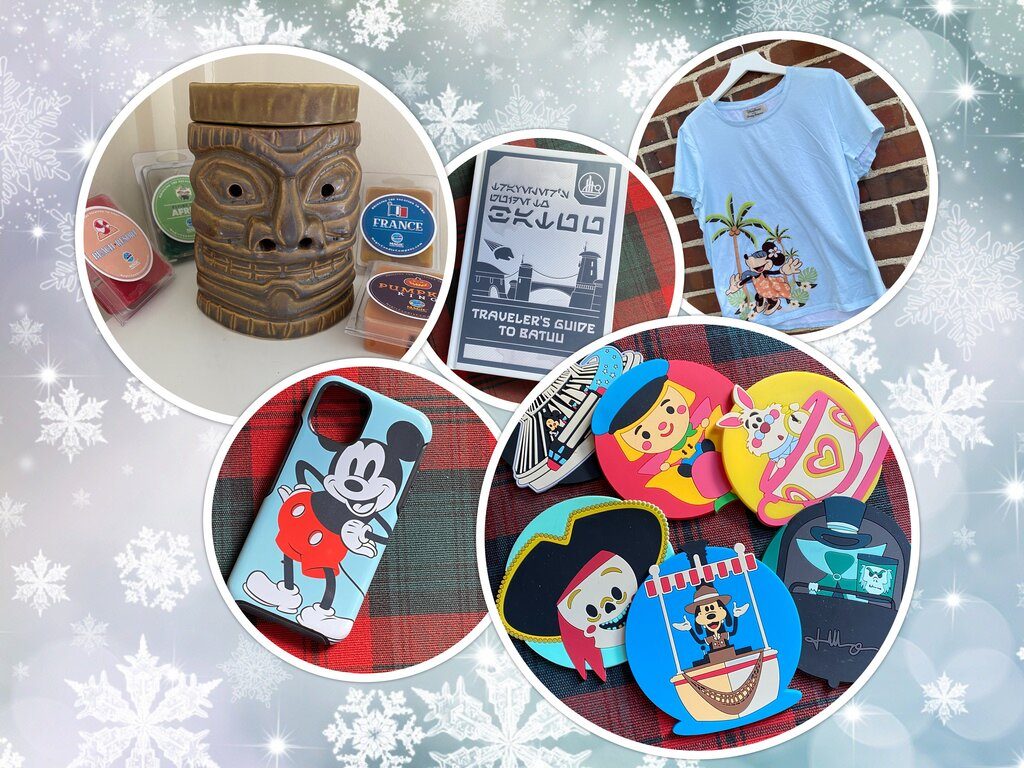 Tiki Warmer ($30) from the Magic Candle Company. Here's something that will remind you of the Polynesian Resort or Adventureland every time you use it. And don't forget to fill it with wax melts that replicate your favorite Disney smells.
Traveler's Guide to Batuu ($13) by Cole Horton from Amazon. One-hundred thirty-nine pages all about Batuu by a Star Wars historian.
Tommy Bahama Minnie Mouse Tee ($70) from BouTiki at the Polynesian Resort. This shirt is pricey, but the soft, airy fabric is perfect for a hot day in the park. Also available at the Tommy Bahama Shop at Disney Springs.
Otter Box Mickey Case ($50) from The Darkroom at Hollywood Studios. I love the classic nature of this case and the Otter Box brand is much sturdier than Disney's own D-Tech brand. This case can also be purchased online directly from Otter Box.
Attraction Coasters ($25) from the Marketplace Co-Op at Disney Springs. Anyone who enjoys "cute" can appreciate these coasters and the many other home goods made by artist Jerrod Maruyama.
(All prices are the rack rates listed on July 9, 2021. The Magic Candle Company often runs discounts ranging from 10-20%. If you are a Disney passholder, Disney Vacation Club member, or Disney Chase Visa Card Holder, you are eligible for discounts as well. Using my annual pass, I received 20% off the coasters, phone case, tee, and Christmas ornaments.)
And there you have it. A quick Disney Christmas fix in three easy steps.
Thanks for Popping In!
Click Here to Subscribe to our FREE Main Street Pop In Newsletter. Every month, we "POP IN" and take a Quick Trip to Disney!
Have a question or a suggestion for a future post? Email us at info@mainstreetpopin.com
Follow MAIN STREET POP IN on
facebook
instagram
twitter