If you were on Jeopardy and Alex Trebek said, "The creator of Mickey Mouse." You might answer, "Who was Walt Disney?"
But you'd only be half right.
Mickey Mouse wasn't created by Walt alone. Walt created the backstory, the voice, the spirit, and the icon. But it was animator Ub Iwerks who created the circles and sticks that put Mickey Mouse on the page and the smooth movement that made him "an actor". If you think of Walt Disney as Mickey's father, then you have to call Ub Iwerks his mother.
So why doesn't the universe know more about Ub? Was he bothered that Walt got all the credit for Mickey? Early on, Ub reportedly snapped at Walt when he asked Ub for a quick sketch of Mickey so he could sign it. Ub allegedly replied, "Draw your own Mickey!" and stormed out.
But later in life, when Ub was asked why he wasn't more upset about not getting credit for the most famous cartoon figure in history, Ub replied, "It isn't creating it; it's what you do with it…and Walt did something with it."
So, who was Ub Iwerks? Let's take a short and sweet history lesson to find out.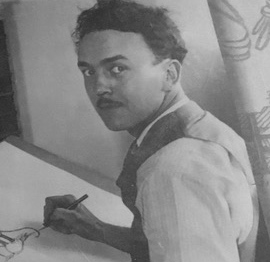 Ub was born on March 24, 1901 in Kansas City, Missouri (9 months before Walt Disney). His father was a German immigrant (some books say he was Dutch) and Ub's mother (an American) was his third wife. Ub's father had various jobs, but his four years spent as a photographer sparked Ub's interest the most. Unfortunately, Ub's father left when his son was in high school, and the two never spoke again.
At 18, Ub took a job at a commercial art studio. A month later, Walt Disney was hired as well. When they both got laid off, they started Iwwerks-Disney Commercial Arts Studio (Ub changed the spelling of his last name in 1926) but the business only lasted a few months. Both were quickly hired by the Kansas City Film Ad Company and were exposed to a new thing called "animation."
They were hooked. Walt decided that animation was what he wanted to do, so he created Laugh-O-gram studios and convinced Ub to join him. That business went belly up, too. Determined, Walt moved to Hollywood with his brother Roy and started the Disney Brothers' Cartoon Studio. A small amount of success convinced Ub to make the move as well in 1924.
Ub was the highest paid Disney employee (making more than even Walt) and the studio's top animator. At this point, Walt stopped animating all together.
Ub was in inventor and had lots of ideas on how to make the animation process better. His first innovation was his style of drawing. Instead of drawing extreme actions and filling in the "in-between" movement later on, Ub did his animation start to finish, creating a smoother visual.
Ub helped Disney on the Alice Comedies, a combination of live-action and animation. He also was the lead behind the Disney Brothers Studio's first cartoon character, Oswald the Lucky Rabbit, which unfortunately Walt never owned. The actual owner hired away the Disney staff and continued the cartoon without Walt and Ub.
This forced the friends to create a new character—the result of which was Mickey Mouse.
Drawing a mouse was practical, which was good for Ub, who managed to produce an astounding 700 drawings per day to get the first cartoon short made.
Walt loved Mickey. He had a great backstory that the idea came from memories he had of the mice that visited his desk in Kansas City. And he loved to share the fact that it was his wife, Lillian Disney, who came up with the name Mickey after he suggested calling him Mortimer.
But it was really Ub that literally drew the character to life.
Together, Ub and Walt, created two cartoon shorts, Plane Crazyand The Gallopin' Gaucho. The shorts were good, but Walt wanted his new character to break the mold and do something that no other cartoon had done before. Then he found the hook. Mickey would star in the first cartoon synchronized to sound. The picture was called Steamboat Willieand it was a sensation.
Walt and Ub had done it. It was 1928, and the friends went on to create more Mickey cartoons and the popular Silly Symphonies.
However, in 1929, a rift occurred. They parted and Ub started Iwerks Studios in 1930. Iwerks Studios succeeded in many ways. Ub was truly a jack-of-all-trades. He could letter, animate, write stories, create music, process and develop film, enhance color, and create special effects. If a machine didn't exist to create something Ub needed, Ub could build it—sometimes out of old car parts.
Ub was also good at hiring great talent. Many on his staff went on to do great things for Disney and Warner Brothers. He also didn't engage in union-busting. He felt he had been there and understood his workers' plight. His employees loved him.
However, the depression hit the studio hard. By 1936, Iwerks Studios was out of money. Ub opened a commercial work-for-hire house that lasted a few years, but in 1940 he returned to Disney studios as a technician, engineer, and inventor. The rift between Ub and Walt was forgotten.
After rejoining Disney, Ub spent 26 years being tested by Walt and testing the leader in return.
"Ub enjoyed the challenge of working with Walt again, being pushed by Walt, pushing him back, each man stimulated by the other to widen his own concept of what was possible," wrote Leslie Iwerks and John Kenworthy in their book The Hand Behind the Mouse.
During those years, Ub lived the life of an inventor and problem-solver. There wasn't anything Ub couldn't fix, and Walt was well aware of it. He even won two academy awards. Some of his greatest innovations included:
Wet Gate Printing, a process to remove scratches from film;
CircleVision, a 360-degree filmmaking process still used in the parks today;
Better color. Ub improved the saturation and contrast performance of Kodak's three-color system so much that Kodak couldn't even figure out how he did it; and
Using Xerox technology to copy original drawings directly onto animation cells. This vastly reduced production costs and allowed animators' original art to populate the screen (before that, cells were traces of original art).
Ub was "loaned" to Alfred Hitchcock to create the frightening bird scenes in the film The Birds. Conversely, the same technique was used to create the sentimental scene of birds circling St. Paul's Cathedral in Mary Poppins.
For park fans, you should also know that Ub created:
The photoelectric control system that allow the Audio-Animatronics Lincoln to move and speak realistically for the 1964-65 World's Fair;
The technic of projecting film of a talking human face onto a wig stand—creating Madame Leota; and 
The electronic candles used in the Pirates of the Caribbean. He devised a circuit that made lightbulbs flicker.
What is most touching about Ub's story is that to know Ub more is to know Walt more. They were both so much alike. They were creative geniuses that thrived on challenges. They were stubborn men who worked day and night to prove the impossible possible. And they took up projects obsessively only to drop interest in them completely once they were done. (Ub's son said he took up bowling as a hobby, played until he bowled a 300, and then never bowled again.)
Ub passed away on July 7, 1971—about five years after his friend Walt. In 1989, the Disney Company posthumously named Ub a Disney Legend and acknowledged that he truly was the designer of Mickey Mouse.
Just think, if Walt and Ub had never met in Kansas City or if Ub had not had the idea to turn Oswald's floppy ears into circles and creating Mickey Mouse. Would the Disney Brothers' Studios have survived? Would Walt Disney World exist today?
Perhaps when Walt said, "it was all started by mouse", he wasn't talking about Mickey at all. He was talking about Ub Iwerks.
Resources: Iwerks, Leslie and Kenworthy, John.The Hand Behind the Mouse. New York 2001. Smith, Dave. Disney A to Z: The Official Encyclopedia 5thEdition. New York 2016. Thomas, Bob. Walt Disney: An American Original. New York 1994.
Thanks For Popping In!
Click Here To Subscribe To The Main Street Pop In Newsletter. It's FREE!
Follow MAIN STREET POP IN on
facebook
instagram
twitter