Attraction: Big Thunder Mountain Railroad
Park: Magic Kingdom
Land: Frontierland
Year Opened: 1980
Theme Music: "Oh, My Darling Clementine", "Home on the Range", "Little Brown Jug", "Red River Valley", and "Turkey in the Straw"
Movie or TV Tie-In: None
Literary Tie-In: "Big Thunder Mountain Railroad", a five-part comic series by Marvel Comics
____________________________
"Climb aboard 'n hang on for the wildest ride in the wilderness."
For four decades, Big Thunder Mountain Railroad has been making that claim. The attraction is one the Magic Kingdom's infamous "mountains" (Space Mountain and Splash Mountain being the other two). It's a rollercoaster, but a mild one that races downward at about 35 mph. Most kiddos who enjoy lesser rides and meet the height requirement (40-inches) have a blast on this attraction. Also, sit in the back if you'd like to take the "wildest" ride.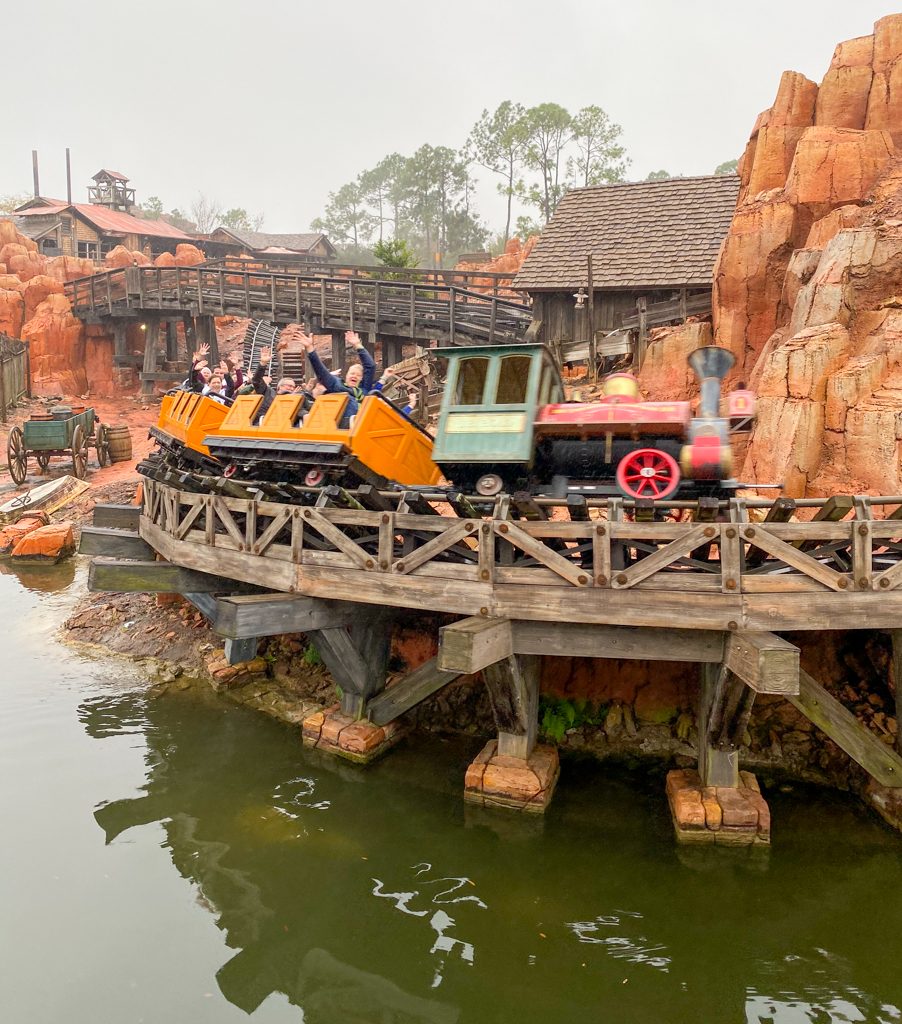 Like all Disney attractions, Big Thunder Mountain Railroad has a backstory, and it's a good one.
In the 1850s, the Big Thunder Mining Company struck gold in a picturesque southwest mountain. The company, owned by Barnabas T. Bullion, set up a headquarters and started digging. The town of Tumbleweed sprung up nearby to serve the miners and their families.
Unfortunately, the careless company carved its mine into sacred land. Suddenly, strange things started to happen. Locals began to claim the mountain didn't want to give up its gold and that the mine was haunted. Then, a mysterious flash flood hit the cursed town. The scared settlers took off. Tumbleweed turned into a ghost town. But the abandoned trains continued to run, racing about the mountain guided by no one at all.
Looking at the Big Thunder Mountain Railroad from afar, you may swear that its red rock formations are real. But alas, they are all artistically "Imagineered" from cement and paint.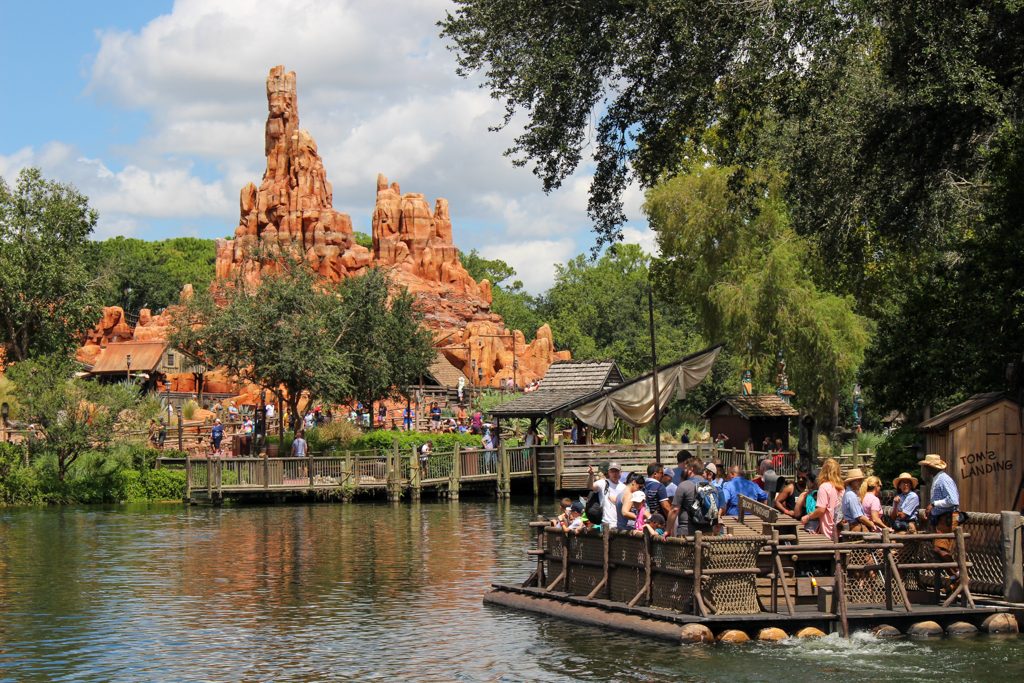 As you enter the abandoned headquarters, you'll find lots that the miners left behind. Be careful what you touch, you may trigger an "explosion". The whimsical interactive queue is one of our favorites at the Magic Kingdom, so take your time as you wind your way through.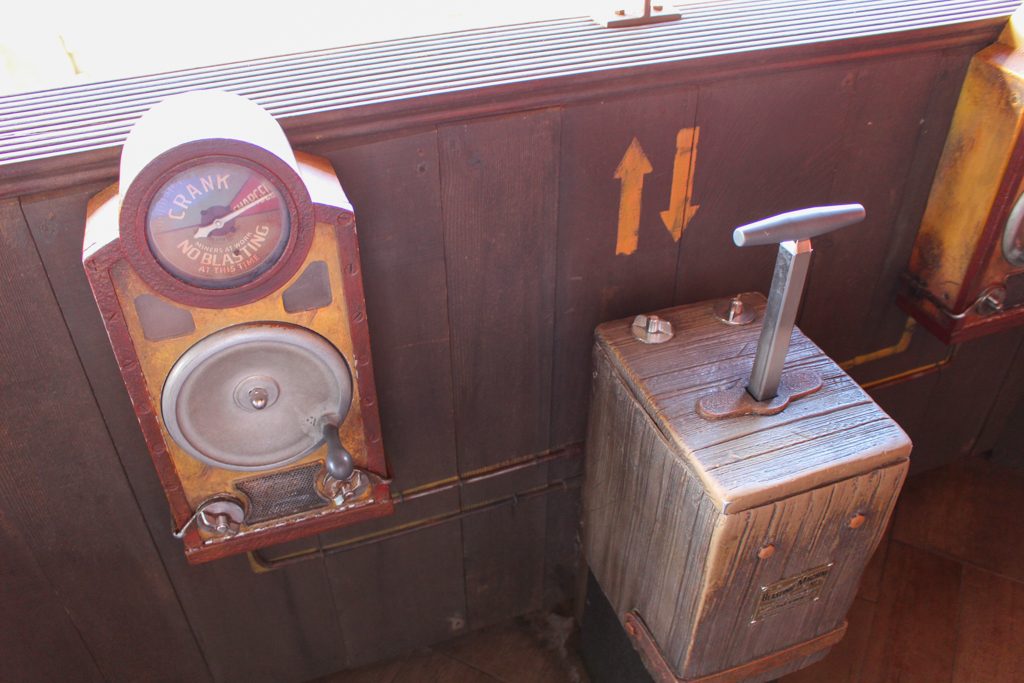 When you arrive at the vehicle loading area, you'll find a 15-row coaster waiting. The trains have goofy names, like U.B. Bold, I.M. Brave, or U.R. Daring. Two to three passengers can fit per row and there's not much holding you in (just a seatbelt and a lap bar), so be prepared to be jostled.
Quirky But True! In 2016, the Journal of the American Osteopathic Association published a paper by Michigan State University urologist Dr. David Wartinger that found that 70% of kidney stone patients can successfully pass a kidney stone if they sit in the back car of Big Thunder Mountain Railroad. (The same study was conducted on Space Mountain and Rock 'n' Roller Coaster, but those rollercoasters failed to produce the same results.) Could the Big Thunder Mountain Railroad be a homeopathic remedy for kidney stones?
For a rollercoaster, Big Thunder Mountain Railroad is a long ride, a little over three minutes. It doesn't offer any big drops, rolls, or loops, but its tight turns make it a thrill. You'll race through a whirlwind of scenery like a bat-infested cave, phosphorescent pools, and a waterfall. (Warning: The enclosed cave areas are extremely loud, and you may want to cover your ears.) As you wind down the mountain, you'll enter the abandoned mine, escape an earthquake, see the flooded ghost town, and tunnel through the bones of a dinosaur.
Twenty Audio-Animatronic animals populate the attraction. The only "human" you may see is Professor Cumulus Isobar (a.k.a., the rainmaker).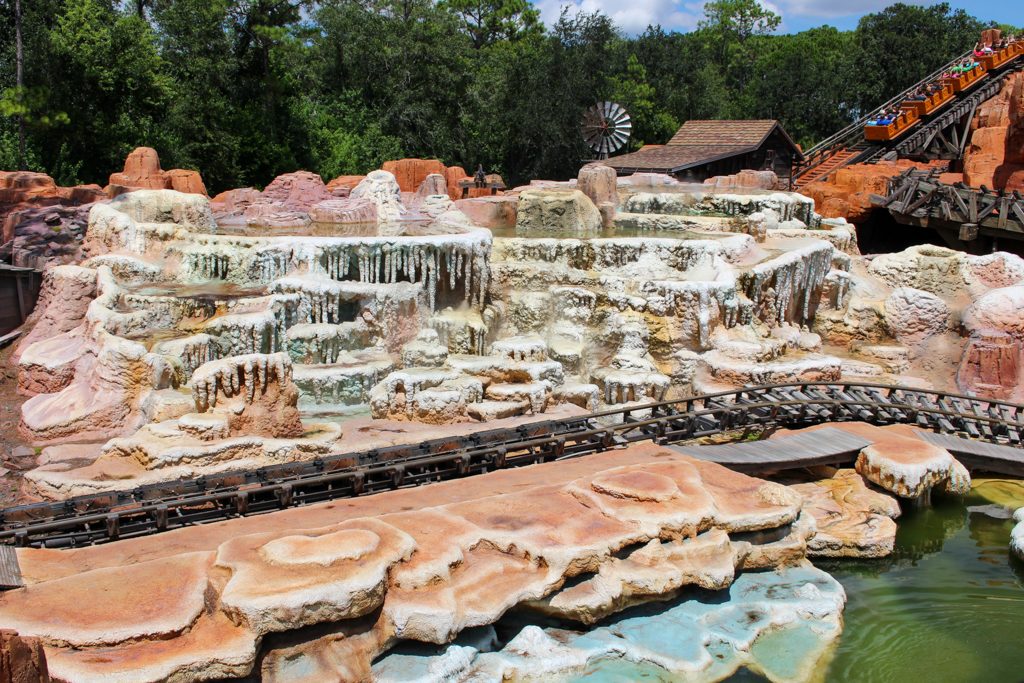 If you are into thrill rides, then Big Thunder Mountain Railroad is a must-do. FastPasses (a free, virtual reservation to skip the line) are available, but they book up quickly. Get online to grab one 60 days in advance if you're staying at a Disney resort, or 30 days in advance if you're staying off property. Without a FastPass, you can still ride fairly quickly if you go directly to the attraction after the Magic Kingdom opens (a.k.a. rope drop). Even without a FastPass, however, we'd recommend that Big Thunder Mountain Railroad is worth a wait of 45 minutes to an hour.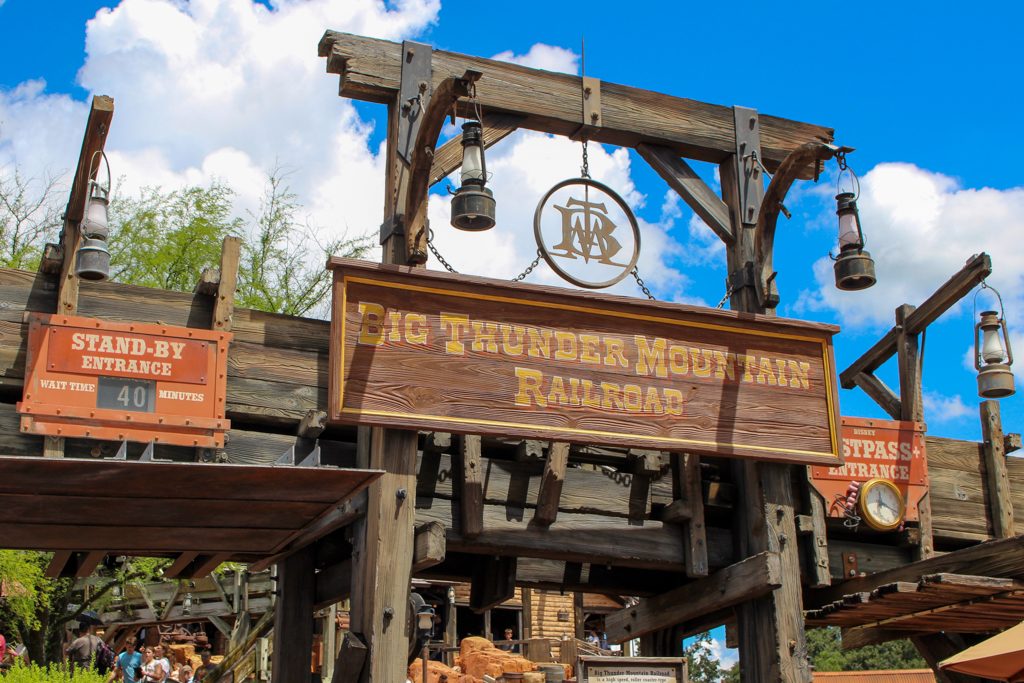 Magical Moment! Time your ride so that you're on the train during the nighttime fireworks over Cinderella's Castle. It's amazing.
Big Thunder Mountain Railroad was designed by Imagineer Tony Baxter (a Disney Legend, who also designed Splash Mountain). It's one of the first Disney rides to use computer-aided design. Disney historians say the attraction took 10 years of planning and 18 months of construction to complete. The 2.5-acre mountain is completely man-made of 630 tons of steel and 4,675 tons of "mud/cement" painted to look like the red rock buttes of Oljato-Monument Valley in Arizona. The tallest point stands 197 feet above sea level.
Costing $17 million, Big Thunder Mountain Railroad cost the same to build as all of Disneyland in 1955! To create an authentic feel, Imagineers visited ghost towns and purchased real cogwheels, buckets, ore carts, and mining gear to decorate the attraction.
If you like rollercoasters and great Disney theming, then Big Thunder Mountain Railroad is the attraction for you. The best part, the more you ride, the more new things you'll discover.
Resources for this article include, "Disney A to Z" by Dave Smith, "Walt Disney World 20 Magical Years" (published by Disney), "disneyworld.disney.go.com", "ScienceDaily.com", "Wikipedia.com", and "Touring Plans.com"
Thanks For Popping In!
Follow MAIN STREET POP IN on
facebook
instagram
twitter