If you're like me and you don't live in central Florida, it's impossible to visit Walt Disney World as much as you may like. This fact is really hard to deal with during the holidays—especially Halloween.
I love the way Disney has raised the bar for Halloween. Who knew in 1995 when Mickey's Not So Scary Halloween Party first started that Halloween would become such a huge part of Disney fandom?
If I could go to all of the MNSSHPs, I would. But since I can't, I've come up with 20 ways to get ready for Halloween at home "Disney Style".
#20 Watch the best Disney short of all time (in my opinion), Lonesome Ghosts. Released in 1937, Lonesome Ghostsstars Mickey, Donald, and Goofy as ghost exterminators. Was this short the inspiration for Ghostbusters? Goofy's line, "I ain't a-scared of no ghosts" sounds awfully familiar. The short is available on the Walt Disney Treasurers – Mickey Mouse in Living Color DVD or on YouTube.
#19 Make your caramel apples taste as delicious as Disney's. Just this past August, I asked a castmember at Goofy's Candy Co. why Disney caramel apples taste so much better. She told me the secret is powdered sugar in the caramel dip.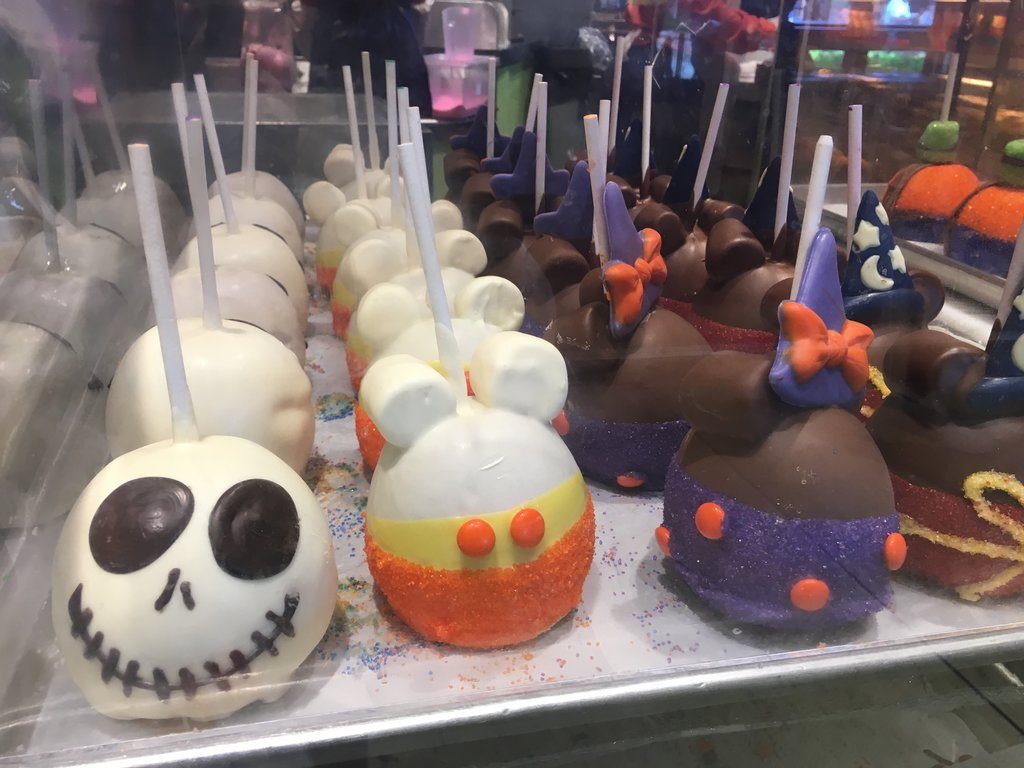 #18 Thankfully the Mickey silhouette is pretty easy to add to any jack-o-lantern. Just print a silhouette onto paper in the size you desire, tape the paper to a pumpkin, use a pin to poke holes around the silhouette, take off the paper and carve along the dotted line
#17 Read The Haunting of Hill House by Shirley Jackson. It inspired the 1963 movie, The Haunting, that inspired the construction of the Haunted Mansion Attraction. (If you're extremely brave, watch Netflix's 2018 series, The Haunting of Hill House.)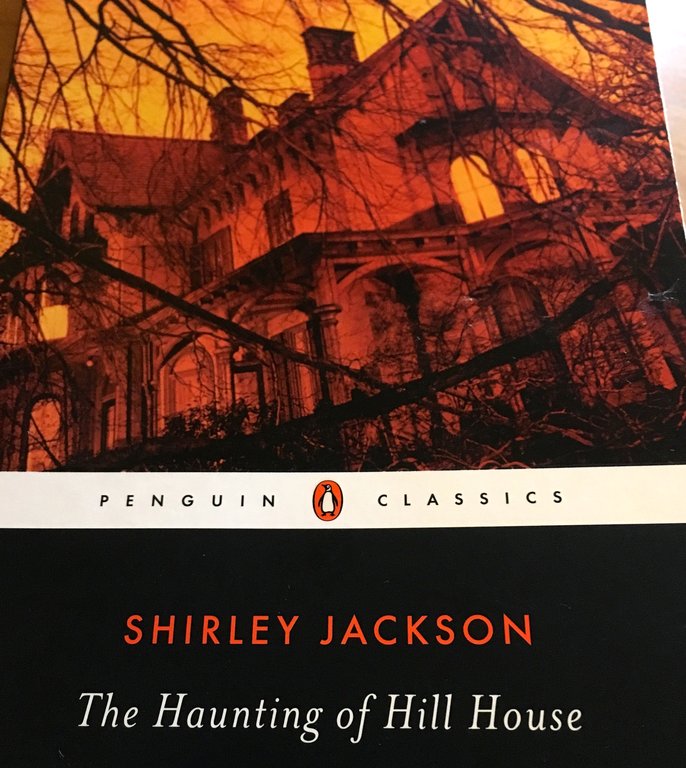 #16 Download some free Halloween wallpaper for your phone, tablet or computer at the Disney Parks Blog Wallpaper page.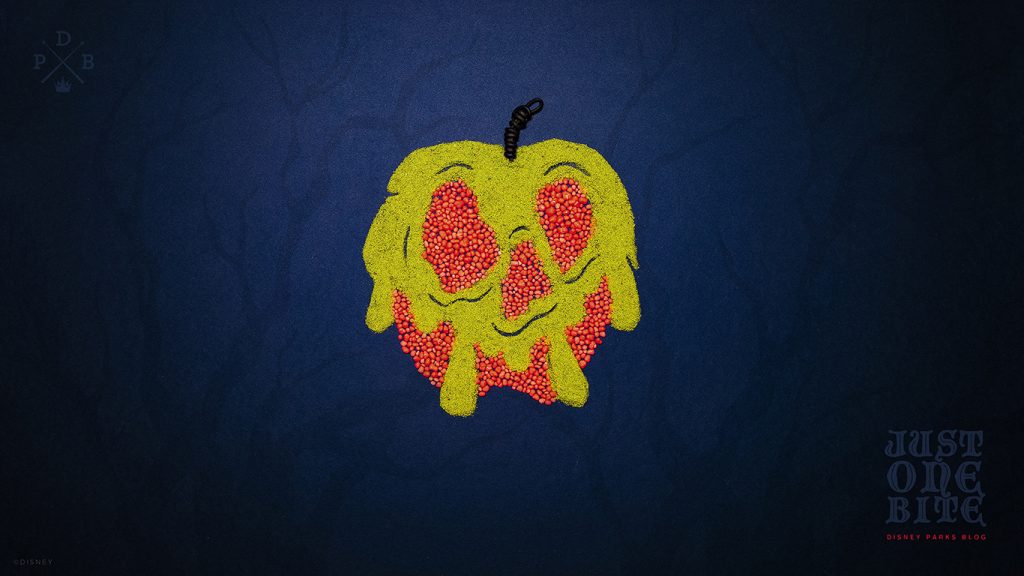 #15 Make your own Disney Halloween wreath. We added an old Jack Skellington mask from Halloweens' past to a store-bought wreath for our feature photo at the top.
If you have real artistic talent and can turn a craft pumpkin into a Mickey pumpkin, attach it to a faux maple leave wreath and you'll have something worthy of hanging in the Magic Kingdom.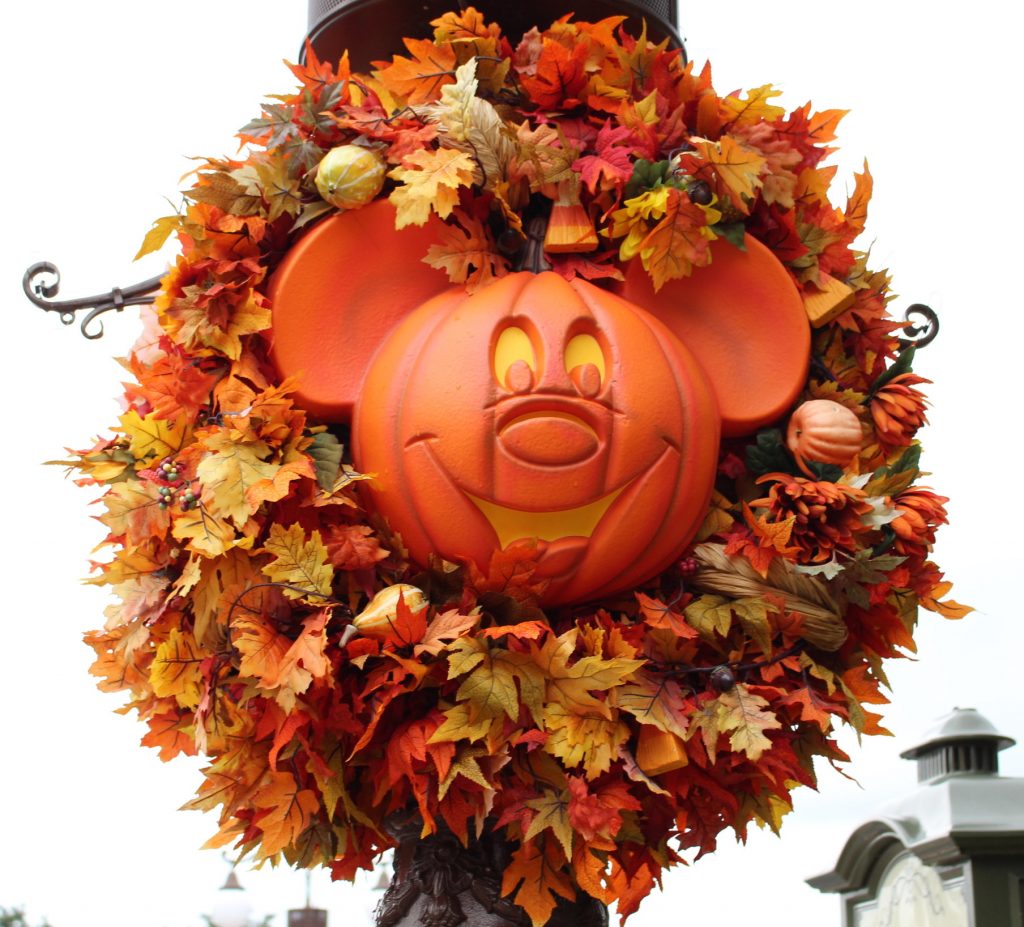 #14 Add Grim Grinning Ghosts, This is Halloween, and Yo Ho (A Pirate's Life For Me), to your Halloween playlist.
#13 Watch Disney's 1949 animated feature The Adventures of Ichabod and Mr. Toad. The Ichabod animated film is the telling of Washington Irving's The Legend of Sleepy Hollow and features the dreaded Headless Horseman.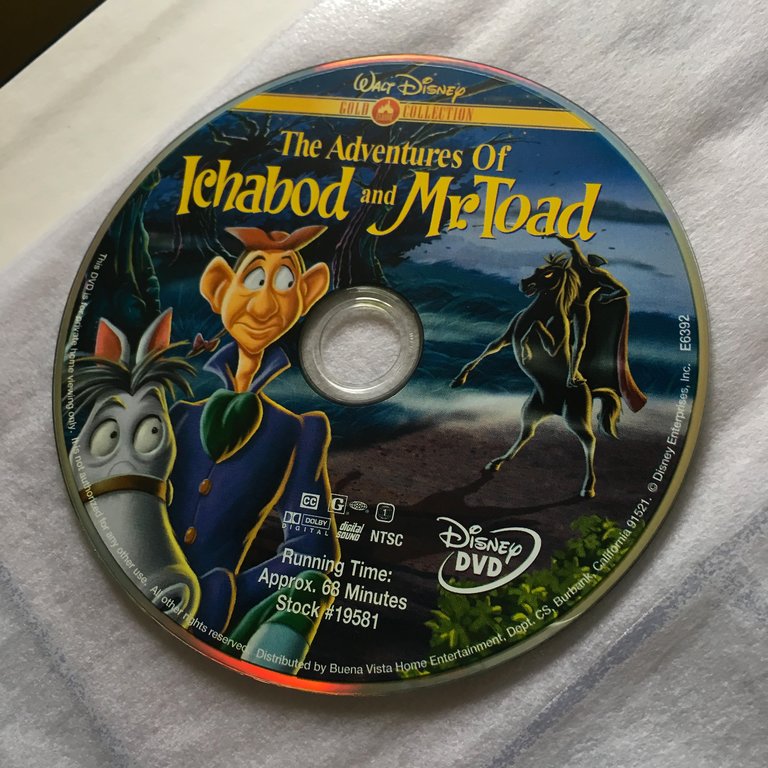 #12 Follow MAIN STREET POP IN on Instagram during the month of October and see our Countdown to Halloween #cd2hw.
#11 Login to My Disney Experience and check the wait times for the Haunted Mansion. Then use YouTube to take a virtual Doombuggy ride.

#10 Disney Popcorn buckets are great containers for the toddler set to use trick-or-treating on Halloween night.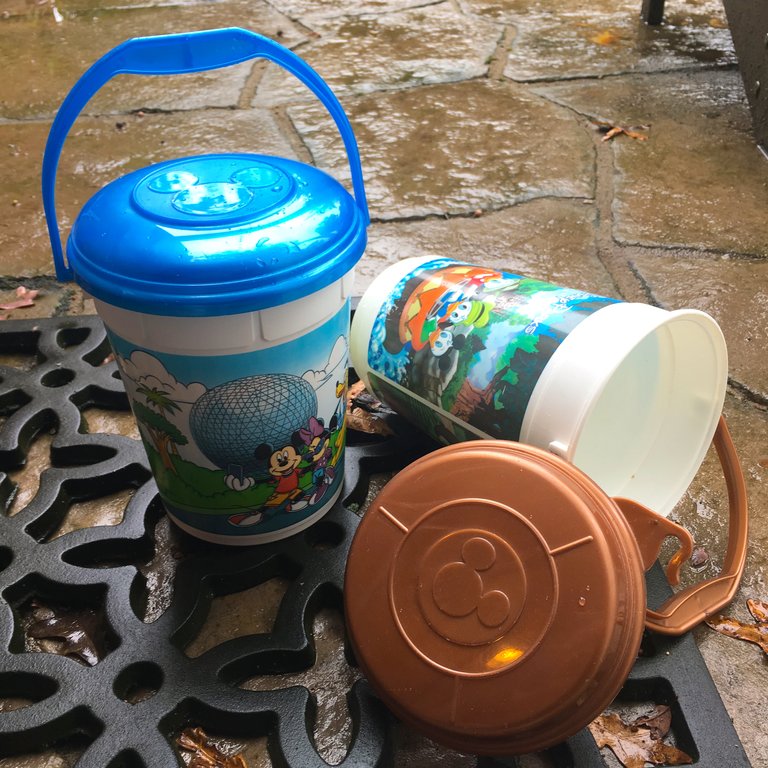 #9 Light the black flame candle and bring forth the Sanderson Sisters by watching the 1993 cult classic, Hocus Pocus. Did you know that critics and the public hated this film when it was released, and it lost Disney an estimated $16.5 million? Fast forward to today. The film is so popular that the Magic Kingdom's Hocus Pocus Villain Spelltacular show is the highlight of Mickey's Not So Scary Halloween parties.
#8 Forgo dusting for a month and you'll have a house that resembles the Tower of Terror lobby.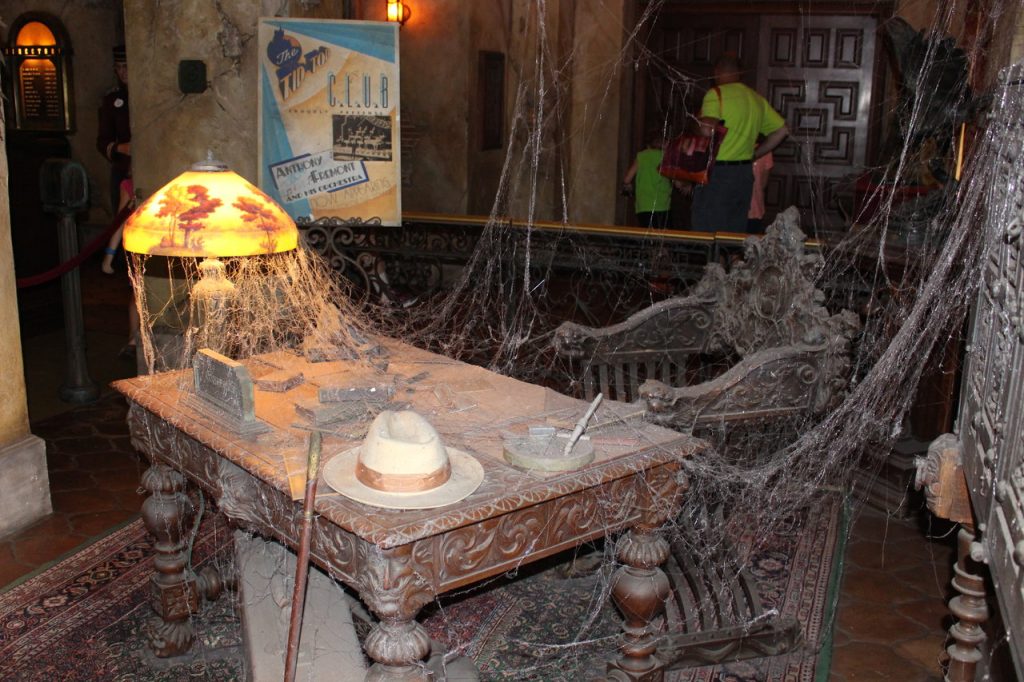 #7 Make some LaFou's Brew. It's just apple juice with a little mango juice and toasted marshmallow syrup tossed in and frozen. On top is mango-passionfruit whipped cream. (To make the topping just whip together 2 cups heavy cream, a ½ cup mango juice, a ¼ cup passionfruit juice and 6 tablespoons of powdered sugar.)
#6 Watch the Magic Kingdom's new for 2019 Halloween nighttime fireworks show on the Blog Mickey channel.
#5 Do you have 6 minutes for a fix? Go to YouTube and watch Trick or Treat starring Donald and his nephews. The short was released on Oct. 10, 1952, and is directed by Jack Hannah. Huey, Dewey, and Louie team up with Witch Havel to teach Uncle Donald a lesson.
#4 Instead of a costume, break out your best "Disney Bounding" outfit. Disney Bounding is the art of using your everyday clothes to dress like a Disney character. Pinterest is a great place to find ideas.
#3 Read The Haunted Mansion Comic Book series. The 5-book series crafted by Marvel in 2016 is an all-new story about the Haunted Mansion and its 999 ghosts. But don't worry, Madame Leota, Constance the Bride, and Master Gracey are all part of the action.
#2 Ever dream of working in the Confectionary on Main Street U.S.A.? All you need are some marshmallows, Rice Krispies, and candy melts in Halloween colors.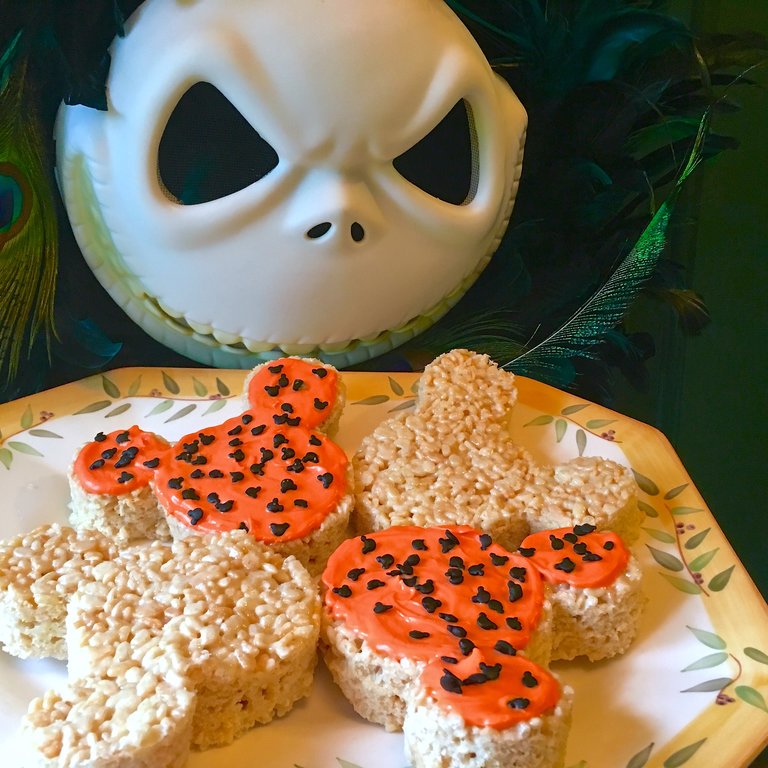 #1 Last but not least, don't let Halloween go by without watching The Nightmare Before Christmas. Is it best to watch the 1993 Tim Burton classic on Oct. 31 or Nov. 1? It's up to you to decide.
Getting ready for Halloween "Disney Style" is the perfect way to get a Disney fix until the next time you score a ticket to Mickey's Not So Scary Halloween Party. Have fun, and "watch out for hitchhiking ghosts!"
Thanks For Popping In!
Click Here To Subscribe To The MAIN STREET POP IN Newsletter. It's FREE! 
Follow MAIN STREET POP IN on
facebook
instagram
twitter