For over a year, I've been pretty down on Disney's Hollywood Studios. The attraction closings, the construction, and the end of the Osborne Family Spectacle of Lights irritated me to no end. I wasn't recommending friends visit the Studios because it wasn't Disney at its best. To me, it just felt half-baked.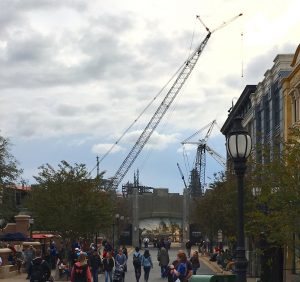 But then I reflected.
What place has all the new stuff I want to see on my next visit? Hollywood Studios.
Where are three of my favorite rides? Hollywood Studios.
Where are two of my favorite restaurants? Hollywood Studios.
Where is my favorite 3D movie? Hollywood Studios.
And, where do I get my Star Wars fix? Hollywood Studios.
The fences and construction dust are still there, but a phoenix is rising. I absolutely cannot wait to see the newly opened Toy Story Land, where I'll be shrunk down to the size of a toy and travel through Andy's backyard. I still have young kids. So, I love that the two newest rides—Slinky Dog Dash and Alien Swirling Saucers—are geared toward them. No need to cajole them onto to a thrill ride. They'll be game from the get-go. I can't wait to try to the new theme park fare served at Woody's Lunchbox. The Totchos (a combination of tater tots and nachos) and Box Tarts (a.k.a. Pop Tarts) sound so "bad" they may be good.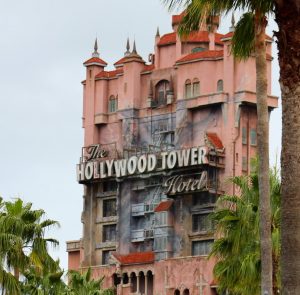 I'm also excited to visit my regular Studio haunts. Yes, I'll always miss The Great Movie Ride and Backstage Studio Tour, but I must remember that my absolute favorite thrill ride, rollercoaster, and family ride all live at Hollywood Studios: Tower of Terror, Rock 'n' Roller Coaster, and Toy Story Mania!
When it comes to restaurants, Hollywood Studios gives me the choice between my Great Gatsby, romantic, and elegantly delicious favorite—The Hollywood Brown Derby (Menu) and my casual, LOL, comfort food favorite—50's Prime Time Café (Menu)
Of course, I have to catch the Muppet*Vision 3D. Priceless Muppet comedy and a vital role-server in the park: it's entertaining, it's not a long wait, and it's an air-conditioned place to sit down.
And then there is Star Wars.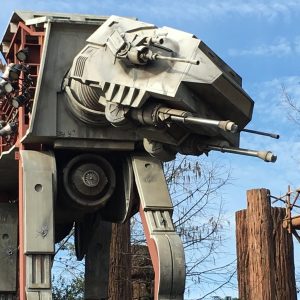 What would I do without Star Tours, Launch Bay, Tatooine Traders, Jedi Training, and the nighttime show? I get both giddy and frightened when the Stormtroopers patrol through Animation Courtyard. And don't forget what's to come. Soon, Star Wars': Galaxy's Edge will be open (late fall of 2019) and a whole new reason to visit Hollywood Studios.
Hollywood Studios, despite your cranes and jackhammers, you feel whole to me once again. I'm sorry I doubted you. I judged you by your dust and dead ends, and not by what you are inside.
See you soon!
facebook
Facebook: facebook.com/mainstreetpopin
instagram
Instagram: @main.street.pop.in
twitter
Twitter: @mainstreetpopin